Shrimp And Grits Recipe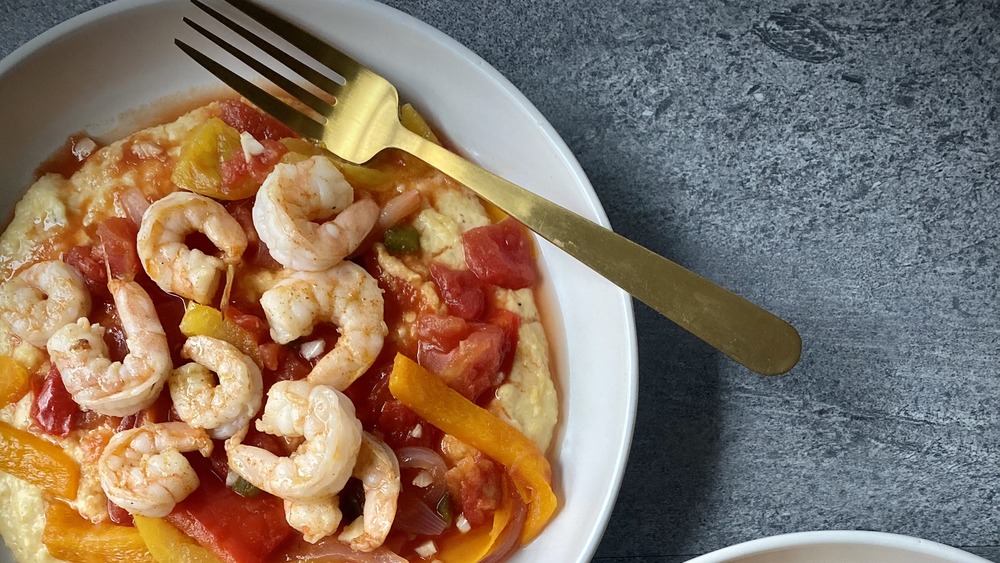 Ashley Schuering/Mashed
Cheesy shrimp and grits is a classic Southern recipe Ashley Schuering, who blogs at Confessions of a Grocery Addict, says she learned to love while working in a restaurant in Nashville, Tennessee. "Before I moved to Nashville, I never really liked or understood grits," she admitted to Mashed, adding, "But it turns out, grits are delicious if you season them correctly and use correct proportions of liquid to corn." Okay, don't get intimidated, because according to Schuering, "This recipe is pretty dang easy for just about anyone to pull off." She will concede that "the hardest part is probably having the patience for the grits to cook through." The things is, she says, "They start looking ready about five minutes into cooking, but they won't be cooked through yet."
Schuering told us her inspiration for this take on the classic dish comes from the restaurant where she worked. "I added quite a bit more heat to the dish by adding jalapeño and cayenne," she says, but tells non-spice lovers these flavors can be tempered down depending on preference. 
And, get this: Schuering prefers using frozen shrimp for this recipe, which makes it super easy and accessible for those of us averse to peeling and deveining those little tasty crustaceans. Plus, you can tailor the cheese you use to taste, making this a truly customizable meal for any time of day, from brunch to dinner.
Gather your shrimp and sauce ingredients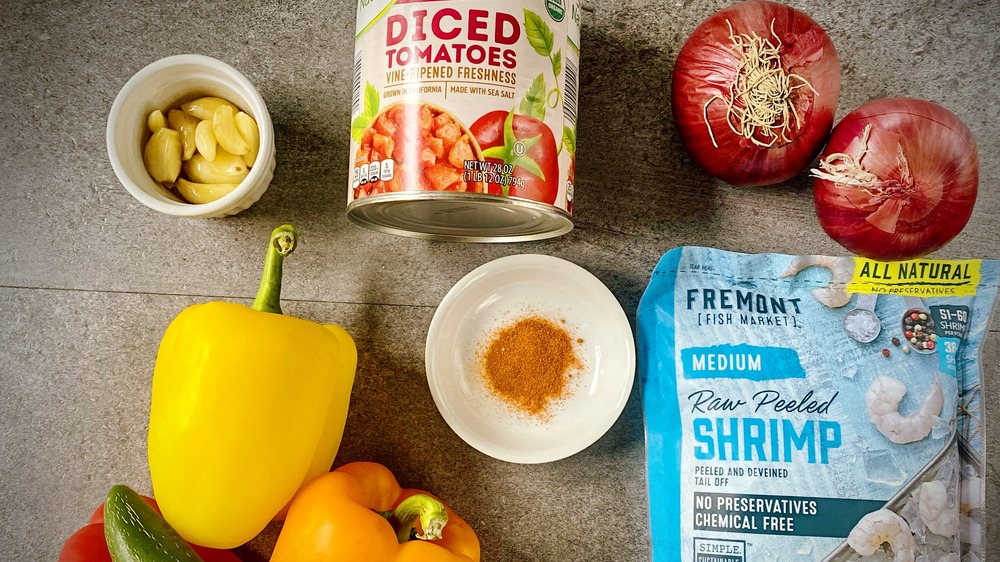 Ashley Schuering/Mashed
First you'll see what ingredients for the shrimp and sauce you have on hand, and which you need to pick up at the grocery store. First and foremost, you may be wondering how to pick quality shrimp, as we were. Schuering told Mashed, "Honestly, I generally reach for frozen shrimp at the grocery store because I know the quality is bound to be good. They're flash frozen quickly after they are caught! I also love that you can opt to buy shrimp that have been deveined and peeled when you buy frozen, and they're often much cheaper than buying fresh."
But if you aren't a fan of frozen seafood, the Nashville cook adds, "If you're buying fresh seafood in general, I recommend getting it from the meat counter rather than the shrink-wrapped stuff in the meat case. I also recommend giving any fresh seafood the sniff test. It should smell like the sea — fresh, briny, and salty. If it smells overwhelmingly fishy, it's on the way out."
You'll also need bell peppers for this shrimp and grits recipe — which Schuering says can be any color, but assorted makes the dish prettier — as well as a jalapeño or two, depending on your preference for heat, red onions, minced garlic, a can of diced tomatoes, Kosher salt and pepper, and cayenne. 
Gather the ingredients for your cheesy grits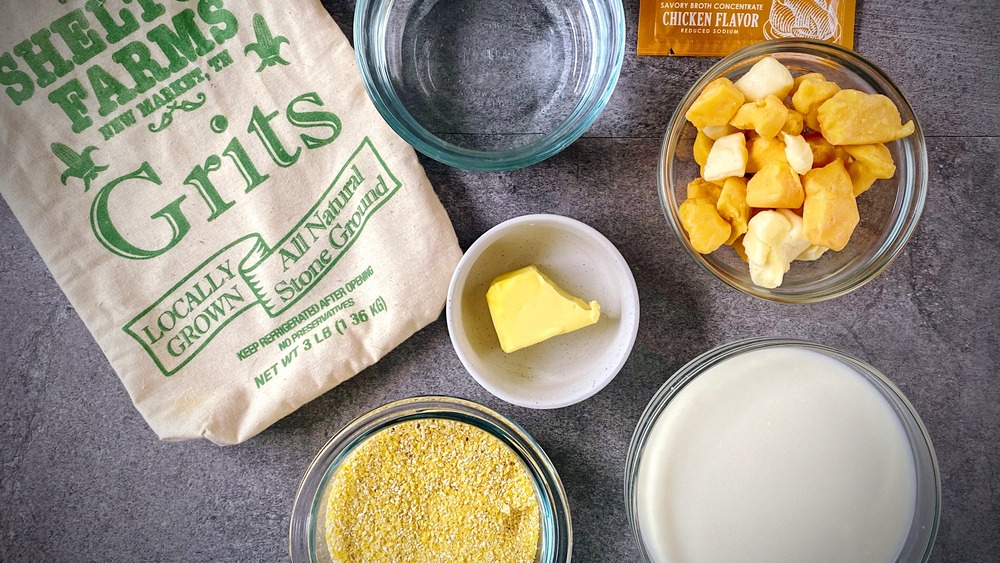 Ashley Schuering/Mashed
You won't need much to make delicious, flavorful grits: grits (obviously), milk (coconut milk works well here, too), butter, stock — chicken or vegetable works for this — and cheese. And that's where you can get creative. According to Schuering, "Grits have a tendency to take on the flavor of anything you throw at them." With that in mind she says, "I recommend choosing cheeses that you like." 
"Parmesan tends to be a bit saltier and nuttier than cheddar," Schuering tells us. "It's also a good option if you're not very dairy friendly, as it has a lower lactose content than softer cheeses." Her preference? "I happen to like sharp cheddar in this recipe since the shrimp have almost a fajita vibe to them," she said, adding, "If you're a fan of spicy foods, pepper jack is a fun cheese to add in," and, "smoked gouda grits used to be my favorite and would go swimmingly with this dish," and, "goat cheese will end up creamy and tangy." 
Yes, there are a lot of different directions you can go in with this dish. Buy hey, as Schuering notes, "If cheese isn't really your thing, you can omit the cheese and add a bit more flavor by sautéing a bit of garlic in the butter before adding it at the end." Oh, and vegan cheese is okay, too. "I recommend choosing a brand that does a good job of melting like cheese," Schuering tells us, adding, "At the end of the day, basically any cheese should do the trick as long as you like it and it' melty."
Prep your veggies for this shrimp and grits dish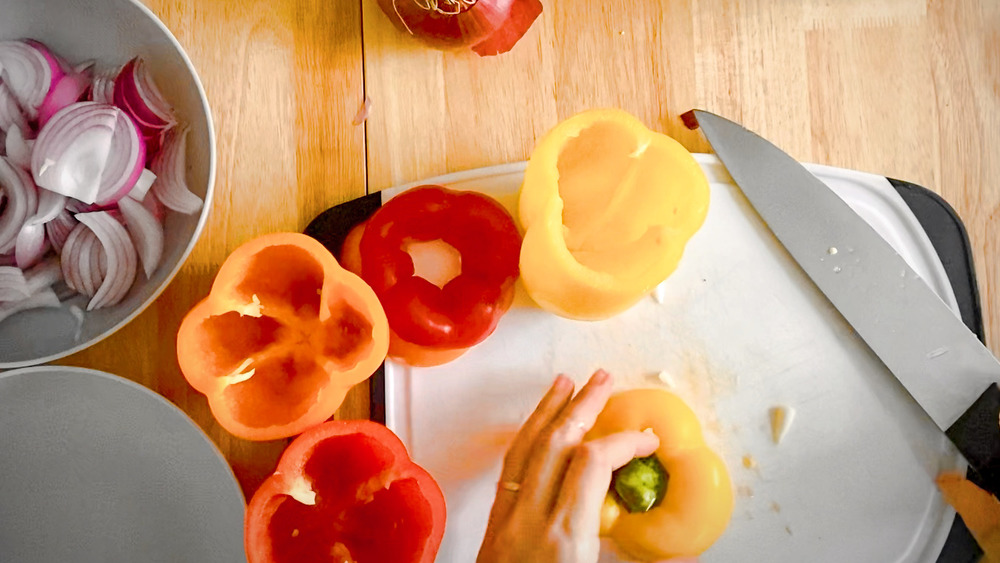 Ashley Schuering/Mashed
We asked Schuering why she chose to add colorful vegetables to this shrimp and grits dish, and we love her answer: "I'm a person who loves veggies at every meal, so adding vegetables to the shrimp seemed like a natural thing to do." But that's not the only reason to pump this meal full of peppers. "Without the sauce — which is acidic and spicy — there's not much to counter the natural sweetness of the shrimp and the sweet and cheesy nature of the grits. The bell pepper, tomato, and jalapeño combo gives the dish a lot more depth, and also makes it feel a bit healthier."
Prep your onion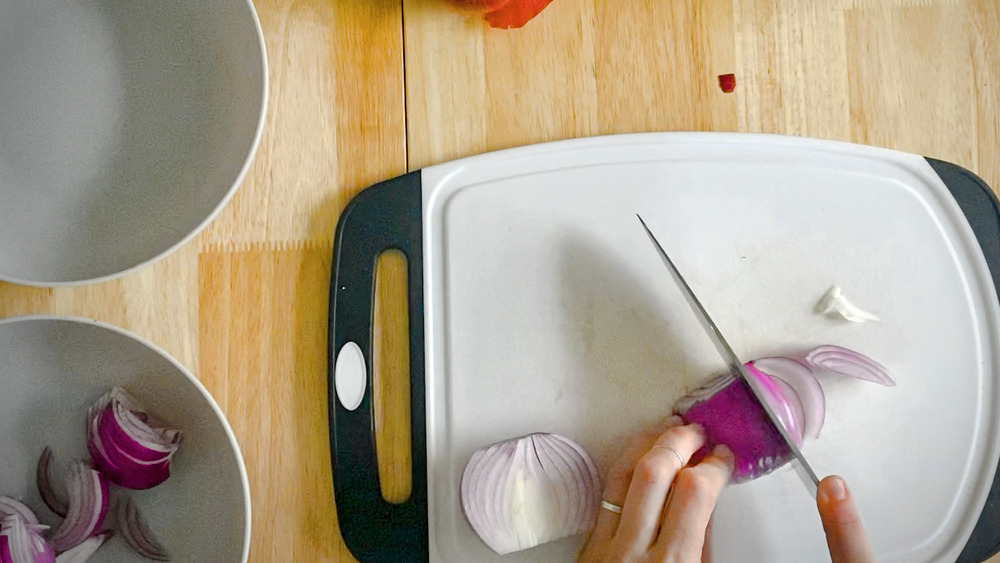 Ashley Schuering/Mashed
After slicing your peppers and jalapeño for your shrimp and grits dish, prep your onion. Schuering tells us, "This recipe would honestly work well with any kind of onion, but I personally lean towards either red or yellow, because they're naturally sweeter than white onions." She adds, "I also love the color of the red onions and am someone who tries to 'eat the rainbow' as often as possible." Sounds yummy to eat and look at!
Sweat your veggies to prepare them for this shrimp and grits dish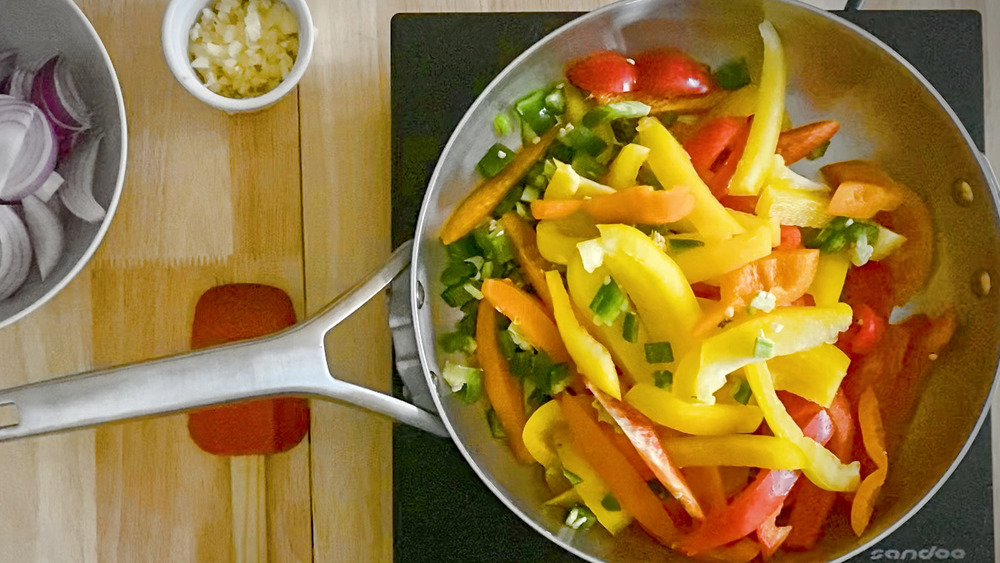 Ashley Schuering/Mashed
You'll slice your peppers and onion, then add the veggies to a preheated pan with oil, and add in salt to sweat them in preparation for this shrimp and grits dish. "Sweating is kind of what it sounds like!" Schuering explained to Mashed. "You cook the veggies, getting them nice and hot, which releases the water they naturally hold. Salt seems to help the process along by pulling the liquid out a bit faster than if you omit it."
Create your sauce for the shrimp and grits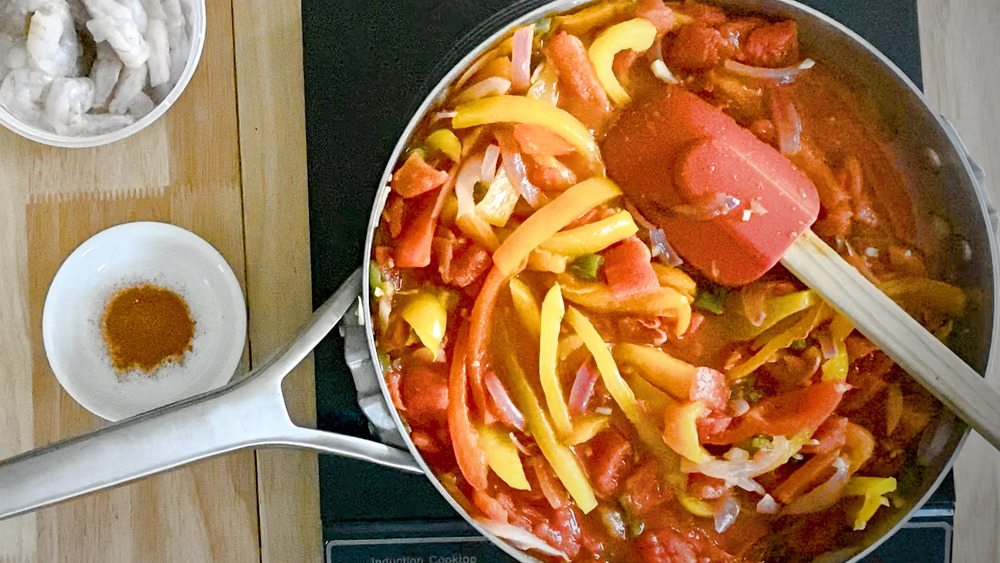 Ashley Schuering/Mashed
Next, add garlic, cook for less than minute, and then add in your tomatoes, with the juice. Allow the flavors to combine for about ten minutes, and season with salt and pepper to your taste. Set the veggies and sauce aside. It's time to try your hand at making the grits for this shrimp and grits dish — but don't worry. Schuering has some awesome tips to help even the most inexperienced grit maker turn out some super creamy, tasty grits.
Cook your grits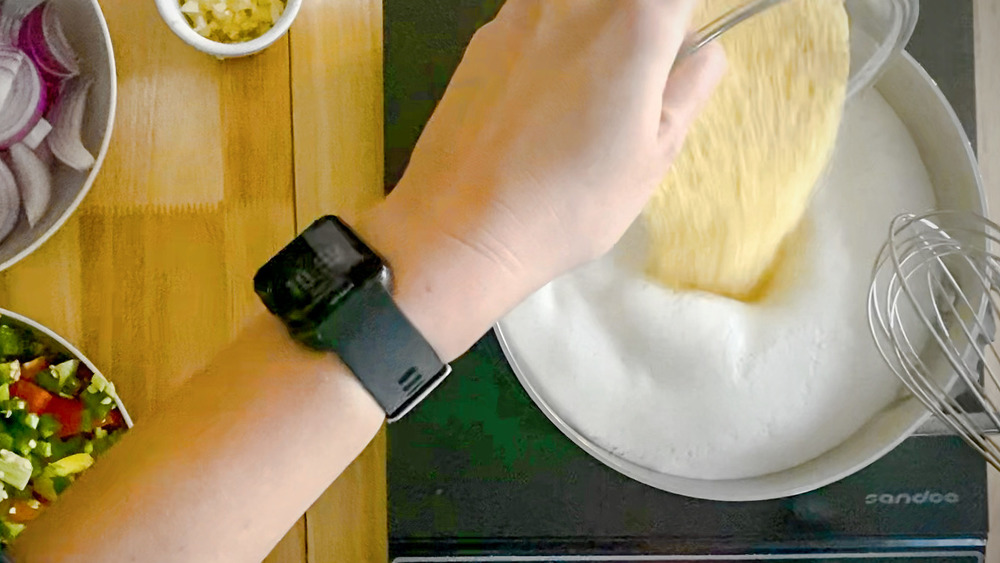 Ashley Schuering/Mashed
First bring your milk and stock to a boil. Then add your grits. And relax, because as Schuering told Mashed, "I personally don't think grits are super finicky. They need a bit of attention, sort of like steel cut oats, but aren't crazy. The main thing is keeping them from burning to the bottom of the pan or cooking unevenly."
To that end, she says, "I'd recommend stirring every five or so minutes, being sure to really get the bottom of the saucepan. I also recommend keeping the heat on your grits on the medium/low setting. They should be simmering, not boiling!" And remember everyone makes mistakes, so as Schuering counsels home cooks, "If you end up with a clump because you forgot about them, chuck the clump in the bin and pretend it never happened." 
After about 20 minutes, add butter and your cheese of choice. Now, on to your shrimp!
Cook your shrimp for this shrimp and grits dish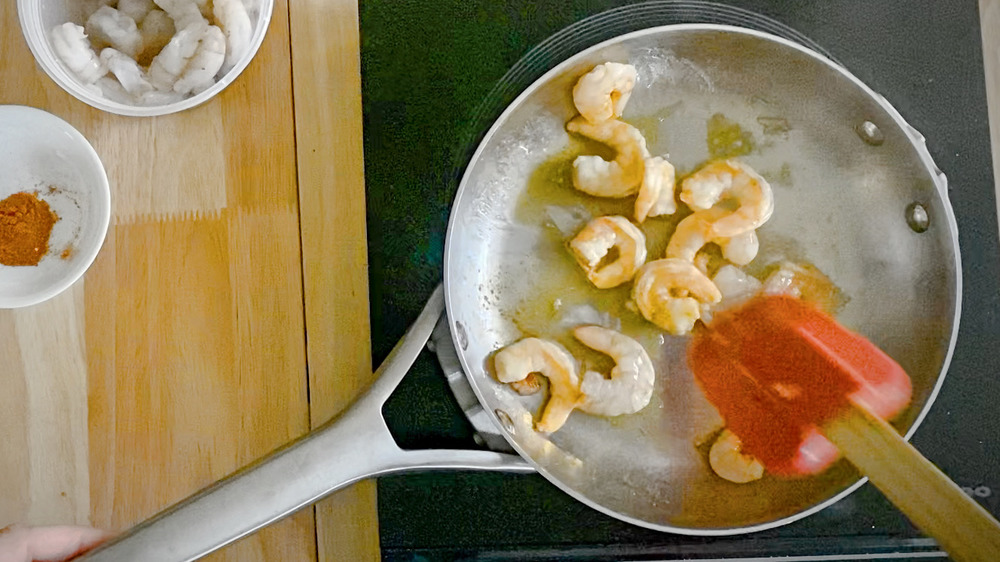 Ashley Schuering/Mashed
After rinsing your shrimp, add olive oil to your pan and preheat it. This is a very important step in this shrimp and grits recipe, according to Schuering, who says, "You can actually see when the pan is hot by checking your oil. If you tip the pan so the oil can run across it, the oil will look streaky or 'shimmery' when it's hot. This is the time to add your shrimp" — and cayenne if you crave spice. "If you add the shrimp to a cold pan, you risk having the shrimp cook too slowly and sticking to the pan, and not realizing that your shrimp have already cooked until it is too late and they are tough."
She offers another tip for cooking your shrimp just right: "Raw shrimp are sort of a blueish gray and kind of transparent, whereas cooked shrimp turn nice and pink and opaque. The trick to cooking shrimp is to stop when they are opaque and have just turned pink on both sides. Don't keep them on the heat past then." 
It's time to assemble your shrimp and grits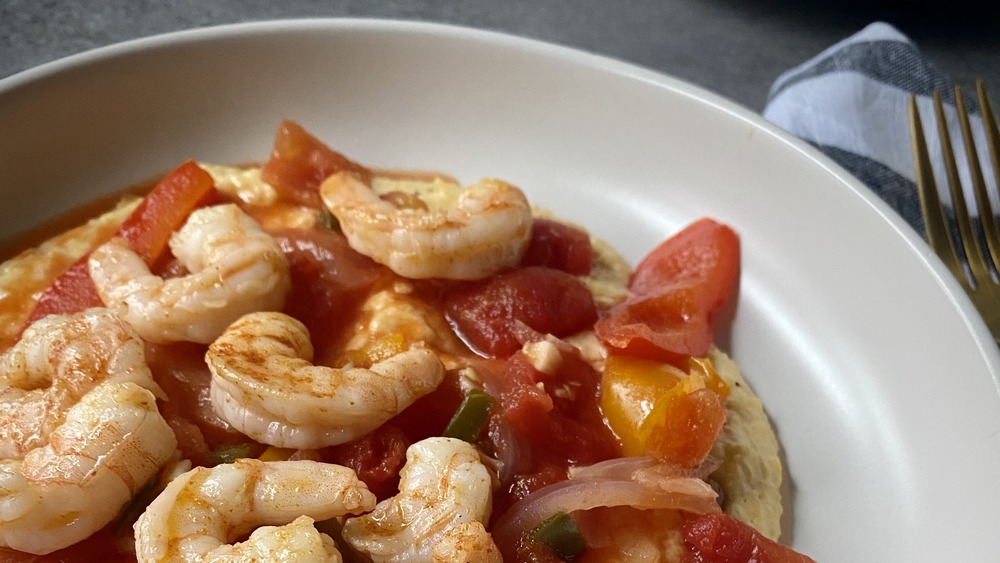 Ashley Schuering/Mashed
The final step before digging into the deliciousness is to assemble the elements. Add grits, then sauce, then shrimp to bowls. Eat up!
And remember, as Schuering says, "The beauty of shrimp 'n grits is that it's kind of an 'anytime meal.' I personally think this recipe is ideal for brunch — a lot of people associate grits with breakfast, and the shrimp and sauce flavors are savory enough to not be too 'breakfast-y.' That said, my husband and I ate what was left from this recipe for dinner the other night."  
Yup, whatever time of day it is, go ahead and get started so you can enjoy Southern-style cheesy shrimp and grits ASAP!
Shrimp And Grits Recipe
Cheesy shrimp and grits is a classic Southern recipe that anyone can make. Plus, you can tailor the cheese you use to taste — as well as the heat level.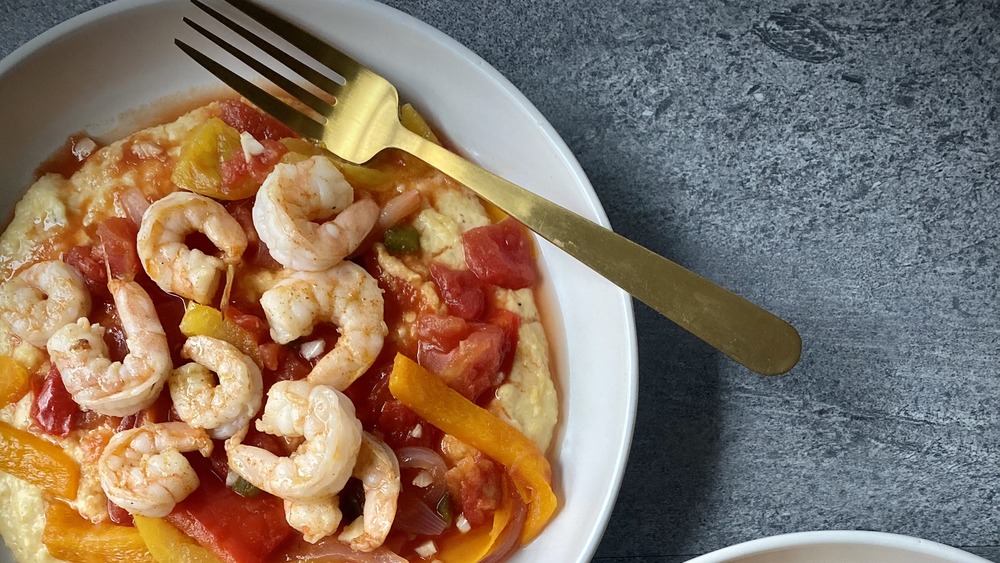 Ingredients
2 Tablespoons olive oil, divided
3 bell peppers, vertically sliced (any color, but assorted is prettier)
1-2 jalapeño, small dice (depending on heat preference)
2 red onions, vertical slice
6-10 cloves garlic, minced
28-ounce can diced tomatoes (with sauce)
Kosher salt and pepper to taste
1 cup grits
2 cup milk
2 cups stock (chicken or vegetable)
1-½ cup cheese (cheddar, jack, pepper jack, smoked gouda, Parmesan)
3 Tablespoons butter
1 pound shrimp (51-60 or larger size, peeled)
½-1 teaspoon cayenne (depending on heat preference)
Directions
Heat 1 Tablespoon of olive oil in a sauté pan until shimmering.
Add peppers and onions with a five finger pinch of salt to encourage sweating. Cook until softened. To make dish less spicy, cut back to one jalapeno and remove ribs and seeds.
Add garlic, stir and cook until fragrant, about 30-45 seconds.
Add tomatoes and juice, simmer about 5-10 minutes. Taste. Season with salt and pepper as needed.
Bring milk and stock to a boil in a separate saucepan.
Whisk in grits, stirring relatively frequently while grits cook. They will take about 20 minutes to cook through.
Stir in cheese of choice, then butter.
If needed, peel and devein shrimp.
Rinse shrimp.
Heat remaining Tablespoon of olive oil in a sauté pan until shimmering.
Add shrimp and sprinkle with cayenne. Sauté until just pink and cooked through. Remove from heat.
Scoop a ladleful or so of grits into a pasta bowl. Top with sauce, then add 6-10 shrimp per bowl. Enjoy!