Chili's Newest Margarita Has A Fun Holiday Twist
When you picture a festive holiday drink, you may think of eggnog or a steaming mug of hot cocoa (preferably with peppermint, whipped cream, and marshmallows). Odds are, margaritas aren't the first beverage to come to mind. Thanks to Chili's, however, your celebration can have a tequila twist with a special holiday margarita — the Merry Berry 'Rita. What makes this 'rita so merry? The stem of the glass is wrapped in its own little Christmas garland.
"Introducing December's $5 Merry Berry 'Rita," the chain posted to Facebook. "A premium blend of Lunazul Tequila Blanco, Cointreau, blackberry and strawberry, all wrapped in a tiny garland. Perfect for decorating, celebrating...or anything-brating tbh."
The garland is made to look like the spruce of a wreath or a Christmas tree, and it's decorated with little "lights" to give the feeling of decking the halls in the most miniature of ways. Plus, you can take the garland home, so all your cocktails this month can be festive if you want. 
What people are saying about Chili's new margarita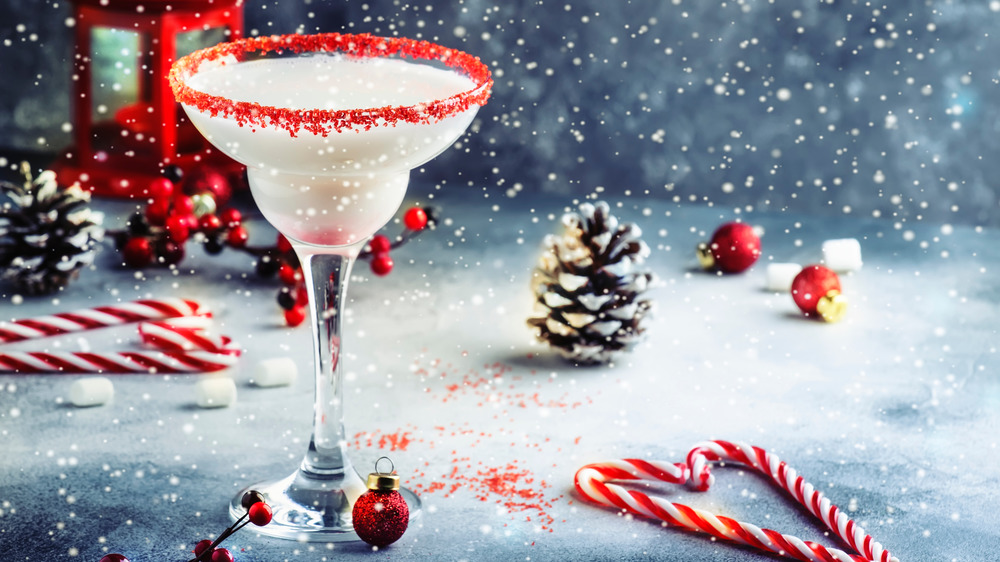 Shutterstock
This festive offering is December's $5 Margarita of the Month following November's autumnal Hennessy Harvest margarita and October's spooky Spider Bite 'Rita. Why have a $5 Margarita of the month at all? 
"At Chili's, we know quality and value, and at our bar, we're always raising the bar," the Chili's Marg of the Month site explains. "That's why we created the $5 Margarita of the Month to give our guests a premium margarita at a sensible price, always."
Last year's Margarita of the Month for December was the Berry Blitzen 'Rita, which like this month's offering, featured blackberry and strawberry flavors and Cointreau, but unlike this year's December margarita, 2019's was made with Sauza Silver tequila instead of Lunazul Tequila Blanco (via MyRecipes). They're pretty similar though — the biggest difference being the teeny Christmas garland. So head to Chili's now to enjoy the holiday season without having to eat another snowman-shaped sugar cookie or pretend you know what juniper tastes like.