The Pringles Mascot Will Be Getting A New Look In 2021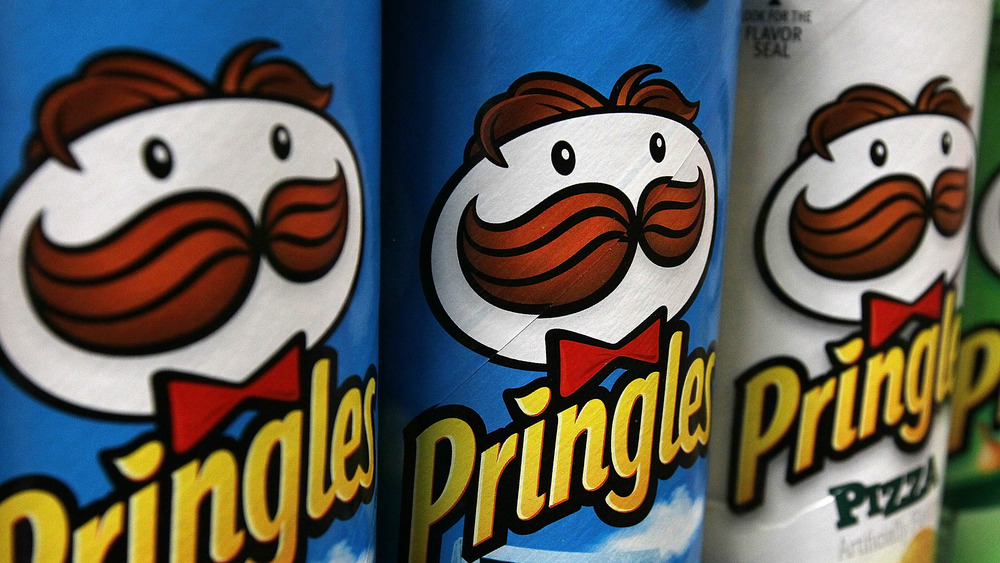 Justin Sullivan/Getty Images
Who doesn't love Pringles? The crispy, crunchy chips are one of the most satisfying snacks ever and come in amazing flavors like cheddar cheese, sour cream and onion, and BBQ — to only name a few. The brand, which has been around for over 50 years, shows no signs of slowing down when it comes to innovation. By the way, the brand's cute mascot, Julius Pringles, has been on the team since its inception and is a crucial part of Pringles' brand identity (via Mental Floss.) If you've taken a good look at the mascot, you probably have noticed his iconic center-parted hair and mustache and well, the fact that he doesn't really have a mouth but is adorable all the same.
Well, guess what? The mustachioed, charming Mr. P is set for a proper makeover next year. According to Delish, Pringles released a statement on December 2 explaining that its cans were transforming for the first time in 20 years. Cool, right? Read on for all the juicy makeover details.
Expect a few changes on the Pringles can
As Delish explains, Pringles' new offerings will have bolder colors and a neat design. Mr. P will go minimalistic as well with a "more dynamic mustache, sharper bow tie, sparkling eyes, and expressive eyebrows." Interesting. While you can already catch glimpses of this new design on the brand's Scorchin' line this month, the new design will be far more visible on Pringles' cans early next year across the country. The early snapshots seem to indicate that Mr.P's hair has gone away for the time being too.
This decision isn't a sudden one, as it turns out. Per Food Network, the design change was something the company was working on for two years. Also, just in case you're worried, the chips and their flavor profile won't be affected in any way. Gareth Maguire, senior director of marketing for Pringles, told Food Network that Mr.P's new look "reflects the bold flavor in every Pringles' crisp and stack." Is your curiosity piqued yet?