One-Pot Jambalaya Recipe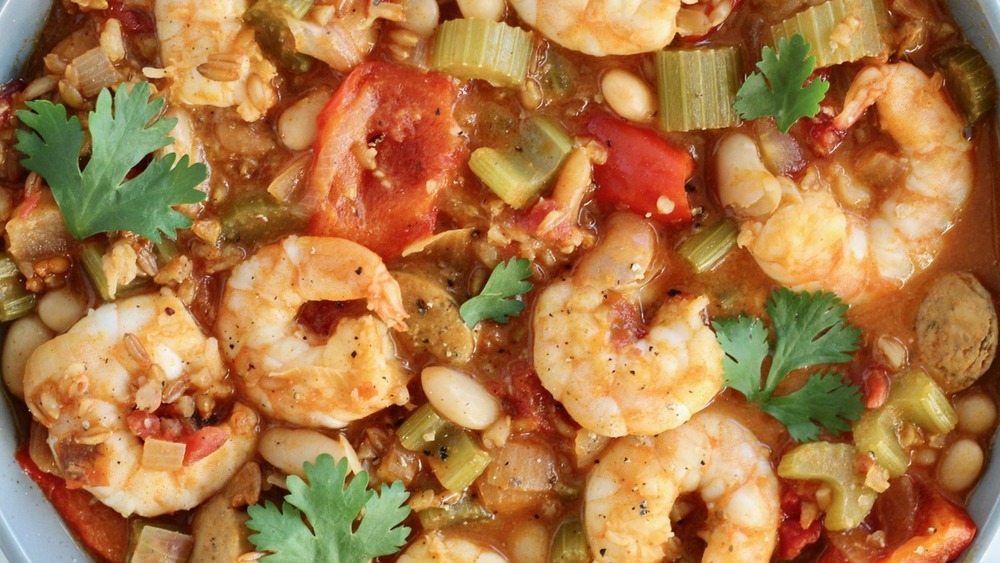 Mackenzie Burgess/Mashed
How many types of food have a song named after them? Quite a few, actually, but if you take out songs that name check random fruits and vegetables ("Strawberry Fields Forever," "Green Onions"), celebrations of drinking ("Red, Red, Wine," "Whiskey in the Jar," and every bro country song ever), or are obvious metaphors ("American Pie," "Cherry Pie," and any other mention of pie, honey, sugar, or candy), there aren't many musical odes celebrating one particular dish. There's "Cheeseburger in Paradise," there's "Gimme an RC Cola and a MoonPie," but perhaps the greatest food song of all is "Jambalaya," the 1952 hit by Hank Williams (Senior, since Junior was kind of young at the time).
While the song's about a party, the foods it mentions — jambalaya, along with crawfish pie, filé gumbo, and some mysterious substance consumed from fruit jars in best hipster restaurant/boho chic wedding style — seem to be at the heart of all that bayou fun they'll be having. If the mere mention of this song makes you hungry for its eponymous dish, you're sure to enjoy this healthy one-pot jambalaya recipe developed by Mackenzie Burgess. Burgess, who is a registered dietitian nutritionist and founder of the Cheerful Nutrition food blog, tells us: "I love jambalaya, but I wanted to create a unique spin on the traditional dish. Jambalaya can sometimes be filled with extra sodium and saturated fat. Here, I am using some simple swaps to make the recipe a bit lighter."
Understand what makes this one-pot jambalaya Creole rather than Cajun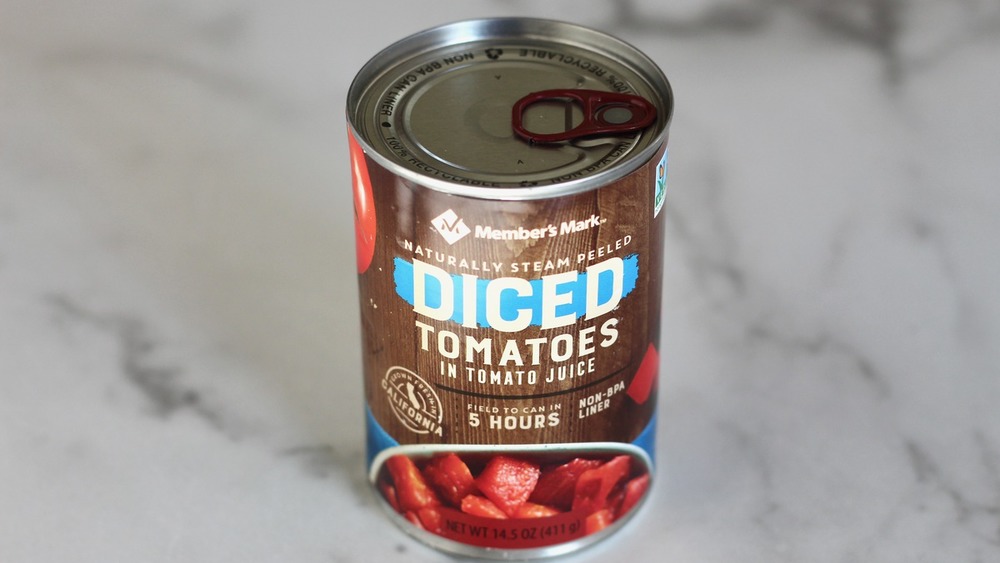 Mackenzie Burgess/Mashed
In case you thought this one-pot jambalaya was a Cajun dish, The Spruce Eats explains that it's actually both. Well, that is to say, both types of cuisine have their own versions of jambalaya, but what makes one version Creole as opposed to Cajun is the addition of just one ingredient: tomatoes. This recipe does include tomatoes, so this makes it a "red," or Creole, version, as opposed to a "brown," or Cajun, one. Burgess tells us, "The tomatoes help bring that beautiful bright color to the dish," but color isn't all they add. She says that "tomatoes are also rich in lycopene, a powerful antioxidant."
Get acquainted with the holy trinity for this one-pot jambalaya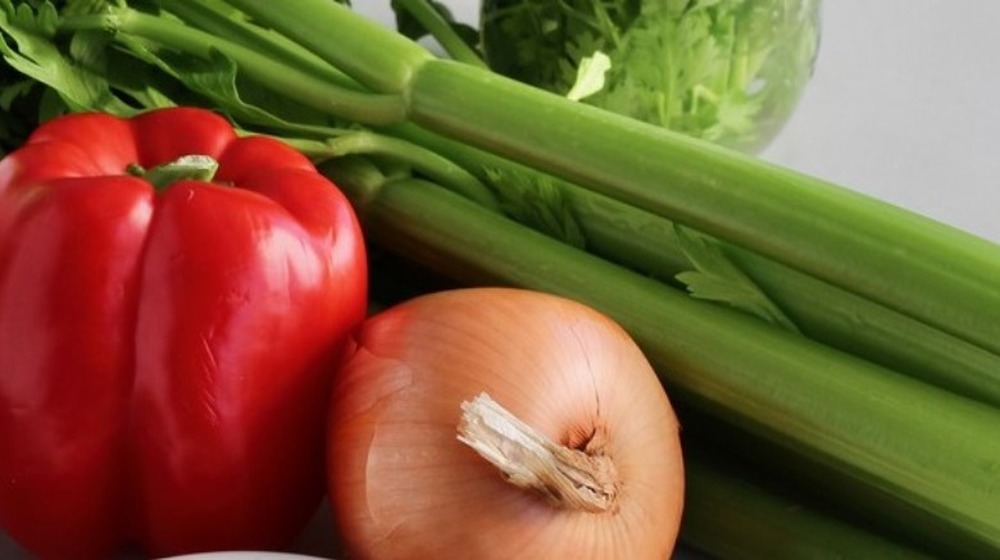 Mackenzie Burgess/Mashed
The "holy trinity," according to the Times-Picayune, is a term that originated who knows where or when, but was popularized by the late great Paul Prudhomme, the chef whose K-Paul's Kitchen helped popularize Cajun cuisine. Oh, and he may also have introduced turducken to the U.S. Anyway, "holy trinity" does not refer to the turkey/duck/chicken of John Madden's favorite Thanksgiving dish but instead to the classic trio of chopped onion, celery, and bell pepper that make up the foundation of nearly every classic creole and Cajun dish.
Instead of using the more typical bell pepper, this one-pot jambalaya recipe makes use of red bell pepper. Burgess says, "You could also use a green pepper too, it's just a little more bitter, adding that "whatever pepper you choose, it is a great source of vitamin C, vitamin E, and folate."
Introducing your new favorite rice substitute for one-pot jambalaya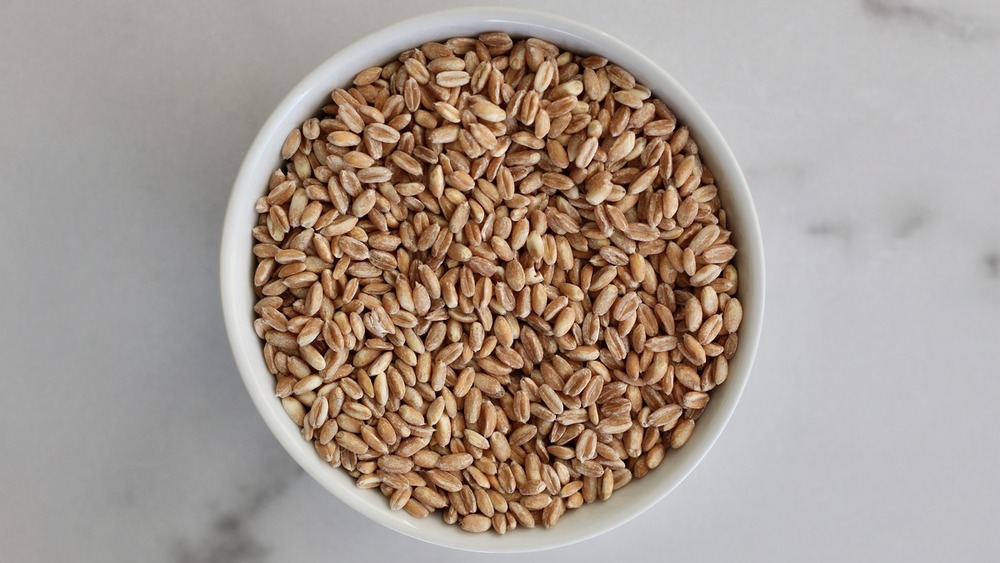 Mackenzie Burgess/Mashed
According to NewOrleans.com, the official website for the New Orleans tourism industry, jambalaya is traditionally made with rice, but this recipe makes use of farro instead. Farro is something that may not be familiar to many of us. It's an ancient grain that Burgess says, "provides beneficial nutrients like fiber, iron, and B vitamins." She likes to swap it out for rice not only for its nutritional benefits but also "for a change of texture."
Good Housekeeping explains that farro is available in three different varieties: einkorn, a.k.a. farro piccolo; emmer, a.k.a. farro medio, and spelt, a.k.a. farro grande. Farro also comes in different forms: pearled, which has the shortest cook time, whole, which has a stronger flavor but requires both soaking and a much longer cook time, and semi-pearled, which is in between the two in terms of flavor and cook time. Burgess says she uses pearled farro but allows that "you can use whole farro too — it will just take a bit longer to cook."
Meet the heart-healthy meats for this one-pot jambalaya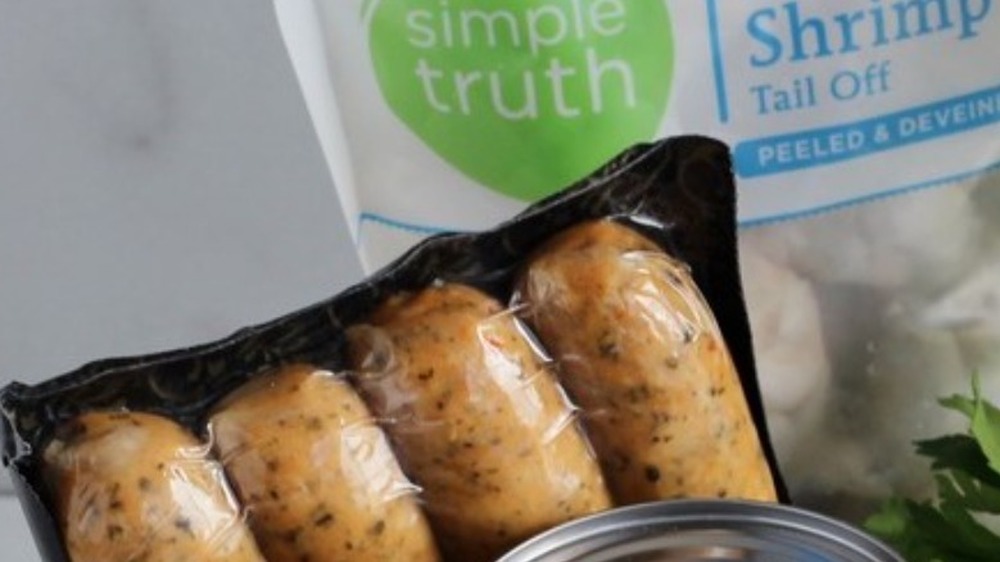 Mackenzie Burgess/Mashed
Traditional jambalaya is also made with three different types of meat: chicken, andouille sausage, and shrimp. This slimmed-down, healthier version retains the shrimp, which is extremely low in calories (Fat Secret says there are just nine calories per large shrimp). Instead of the first two ingredients, however, it uses Italian-style chicken sausage instead.
Burgess says that in this one-pot jambalaya recipe, she meant for "shrimp to be the star," because this seafood is "packed with lean protein and low in calories." She tells us that swapping out the chicken and andouille sausage for chicken sausage provides yet more lean protein while decreasing the overall amount of saturated fat.
Prep the veggies and meat for your one-pot jambalaya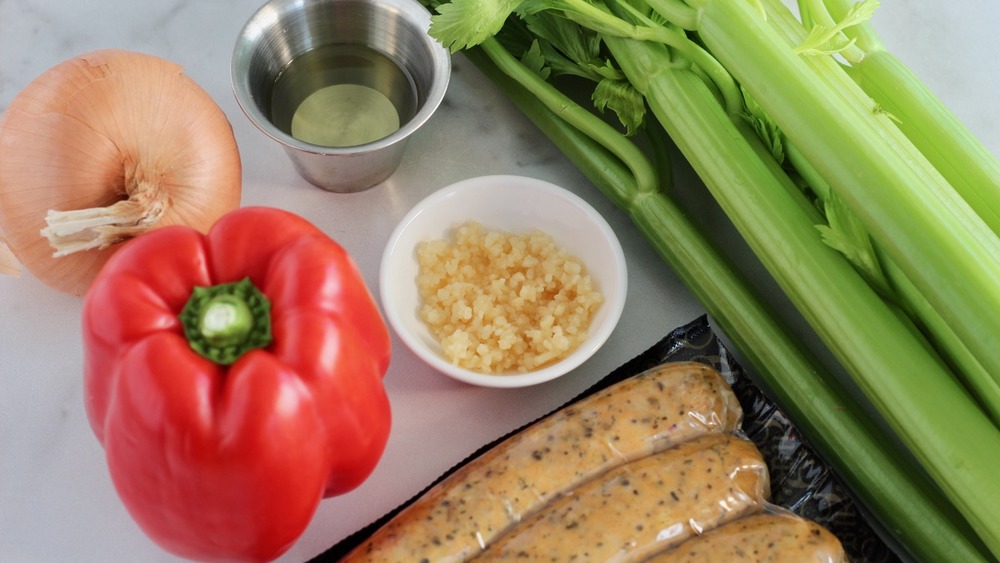 Mackenzie Burgess/Mashed
Gather your holy trinity plus a few cloves of garlic for your one-pot jambalaya (since what doesn't taste better with garlic?). Mince the garlic, dice the onion, chop the pepper, and slice the celery stalks into half moons. Then, take your chicken sausage (the recipe calls for six ounces, which should be about two links) and slice it into coins. If you're more used to cooking with pork sausage, Burgess explains that "chicken sausage typically comes already cooked, so it's very easy to slice into coins before cooking."
If your shrimp are frozen, you'll need to thaw them. This can be done quickly by putting the shrimp in a bowl in the sink and running a slow stream of cool water over them for about 15 minutes. You'll also need to make sure they're peeled, de-veined, and have their tails off, too. It might be easiest just to buy them in this state — but don't get the pre-cooked kind.
Time to get your one-pot jambalaya cooking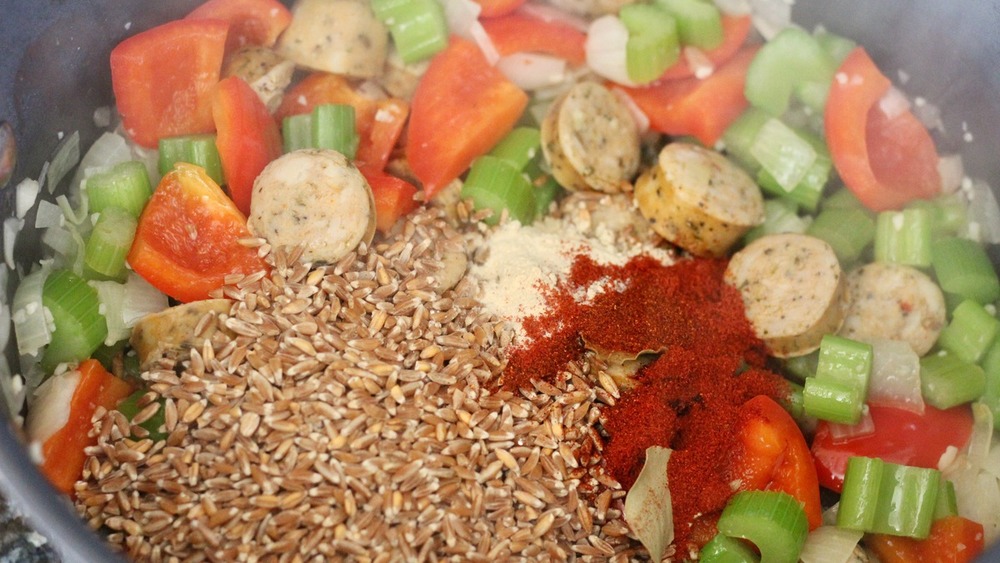 Mackenzie Burgess/Mashed
Heat the olive oil in a large pot over medium heat for your one-pot jambalaya. Burgess says: "You can use another oil of choice like canola oil or grapeseed oil" but explains that she typically uses olive oil in cooking "because it's the one I always have on hand." She also mentions that "it packs in heart-healthy unsaturated fats too!"
Once the olive oil is sizzling, add the chopped veggies and sausage and cook until the holy trinity is slightly softened, which should take about five minutes. Stir in the farro along with the spices (bay leaves, garlic powder, smoked paprika, and chili powder), and let these additions toast for a minute or two.
Make the one-pot jambalaya red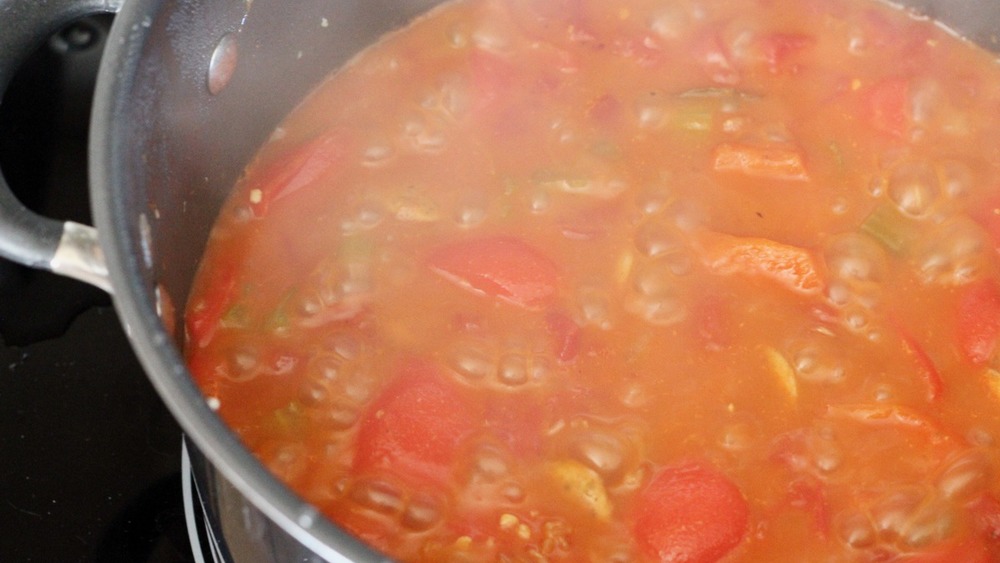 Mackenzie Burgess/Mashed
At this point, it's time to add the diced tomatoes and chicken broth to the pot and stir everything up until all the ingredients are well-combined. Let the mixture come to a boil, then turn the heat down until it's just simmering. Cover the one-pot jambalaya with a lid (if you don't have a lid that fits the pot you're using, aluminum foil makes a perfectly serviceable substitute), then let the jambalaya to cook for half an hour. Every once in a while, open the lid (or foil) and give it a stir to make sure nothing is sticking to the bottom.
Add the finishing touches to your one-pot jambalaya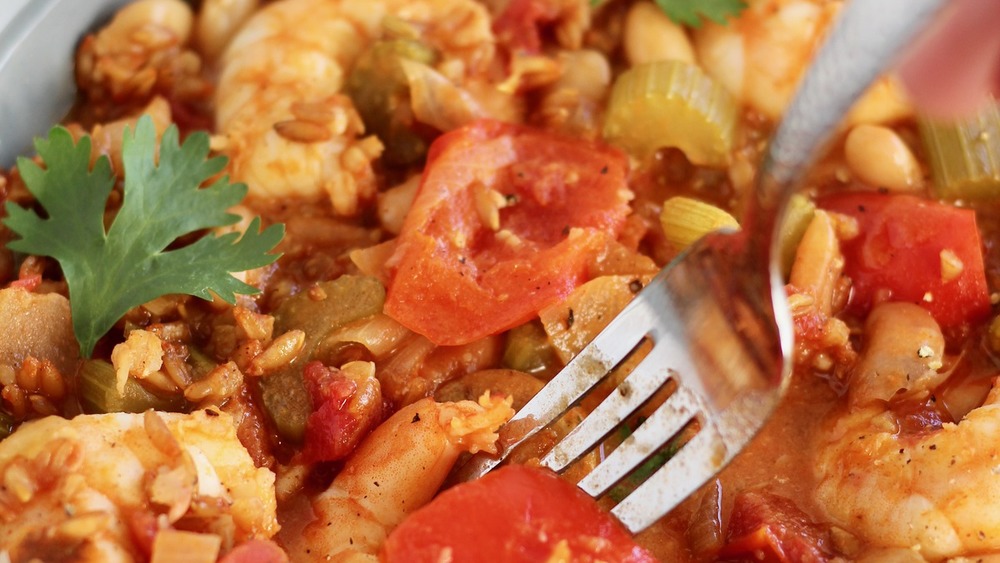 Mackenzie Burgess/Mashed
After half an hour, check to make sure the farro is cooked in your one-pot jambalaya. Burgess tells us, "Farro has a pretty chewy texture when it's done, but it should not feel overly hard." She says if you taste it and it seems like it's not quite done, you can just cook it a few minutes longer and then check again. If it still tastes like it's not done, cook it for a few more minutes and check again. Once the farro is sufficiently al dente, stir in the shrimp along with a can of cannellini beans. While jambalaya doesn't typically contain beans, Burgess explains that she adds these "to provide some extra protein and fiber, which helps keep us fuller longer." She also feels that these beans "go great with the flavors here."
Heat the jambalaya for another five minutes until the shrimp is cooked through and the beans are warm. At this point, remove the bay leaves, then the jambalaya is ready to dish up! Burgess says to season it with salt and pepper and also suggests a sprinkle of chopped cilantro. You can also go ahead and douse the dish with Frank's if you like — after all, that stuff was also born on the bayou — not to mention spicing up your food has health benefits, too.
One-Pot Jambalaya Recipe
Try this one-pot jambalaya recipe out for yourself! It's delicious and simple to make. It might just become a new favorite in your house.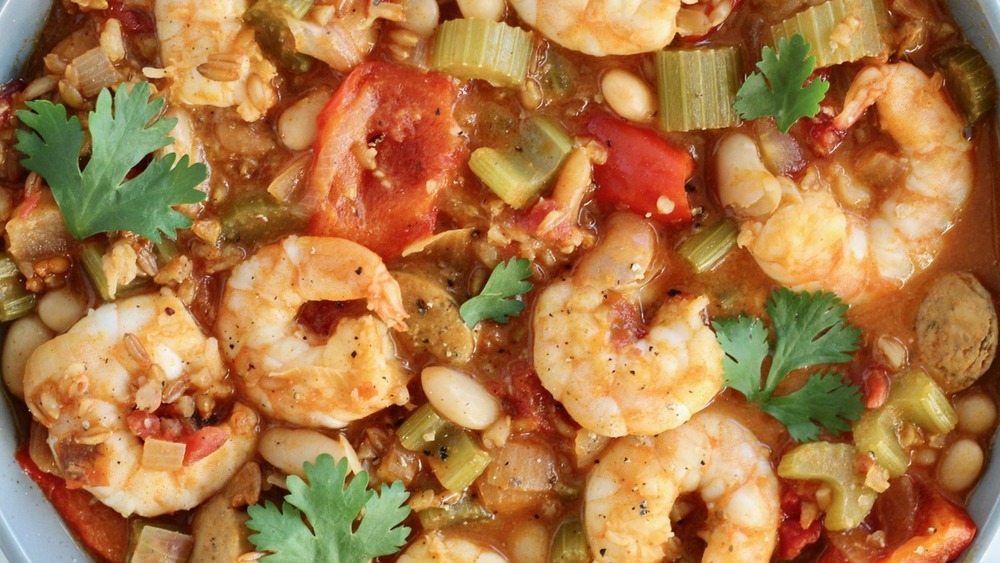 Ingredients
3 tablespoons olive oil
3 cloves garlic, minced
1 small yellow onion, diced
5 stalks celery, sliced into half moons
1 red bell pepper, chopped
6 ounces Italian-style chicken sausage (about 2 links), sliced
1 cup whole farro, uncooked
2 bay leaves
2 teaspoons garlic powder
2 teaspoons smoked paprika
1 teaspoon chili powder
1 15-oz can diced tomatoes
3 cups chicken broth
1 15-oz can cannellini beans, drained and rinsed
1 pound large uncooked tail-off shrimp, peeled and deveined, thawed
Salt and black pepper, to taste
Cilantro, for garnish
Directions
Heat olive oil in a large pot over medium heat. Add garlic, onion, celery, red pepper, and sausage and cook until slightly softened, about 5 minutes.
Stir in farro, bay leaves, garlic powder, paprika, and chili powder. Allow everything to toast for 1 to 2 minutes.
Add diced tomatoes and chicken broth, and stir until combined. Bring mixture to a boil, then reduce heat to a simmer, and cover with a lid. Cook for 30 minutes, stirring occasionally.
Once farro is cooked, stir in the beans and shrimp. Heat until cooked through, about 5 minutes. Remove bay leaves.
Season with salt and pepper to taste and garnish with fresh cilantro, if desired.
Nutrition
| | |
| --- | --- |
| Calories per Serving | 411 |
| Total Fat | 12.9 g |
| Saturated Fat | 2.4 g |
| Trans Fat | 0.0 g |
| Cholesterol | 113.3 mg |
| | |
| --- | --- |
| Total Carbohydrates | 49.5 g |
| Dietary Fiber | 10.1 g |
| Total Sugars | 7.9 g |
| Sodium | 1,076.3 mg |
| Protein | 26.8 g |