Everything You Need To Know About Bobby Flay And Giada De Laurentiis' New Show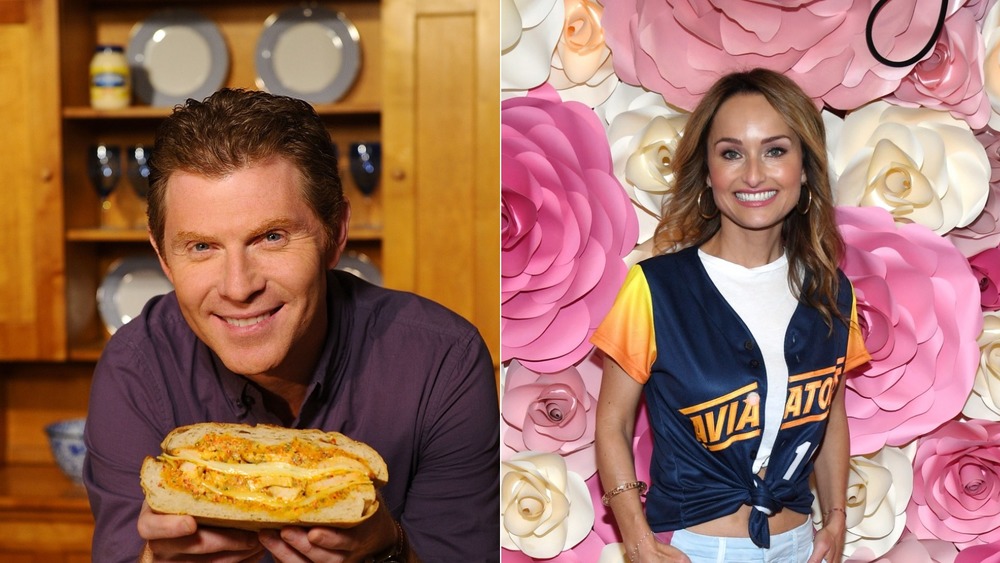 Larry Busacca, Ethan Miller/Getty Images
What are you going to be doing in early January 2021? Clear your calendars, and start preparing your viewing parties, because Bobby Flay and Giada De Laurentiis are starring in a new series, Bobby and Giada in Italy, coming to you exclusively via Discovery + on January 4. Yes, it's a new streaming platform, and yes, you'll have to pay at least $4.99 a month to use it, The Verge reports. But in addition to Bobby Flay and Giada De Laurentiis prancing through ancient streets of Rome and sampling delicious Italian dishes, you'll also have access to your favorite Food Network shows featuring Guy Fieri and Ina Garten.
From the looks of it, Bobby and Giada in Italy is pretty much everything we'd hoped for and more. "Longtime friends Bobby Flay and Giada De Laurentiis take viewers on a culinary tour of Italy. It's the ultimate road trip across the most delicious country on earth," Discovery + says (via AP). Bobby Flay teased the show via Instagram on Wednesday, December 2, and we're happy to report that his fans feel exactly the same way that we do. "OH MY GOD," pretty much sums it up. 
What you might see in Bobby and Giada in Italy
Given, the details that Discovery + has provided up until now are scant. But both Flay and De Laurentiis gave us an enticing, behind the scenes look at the new series in 2019 while they were filming it. Back then, Delish noted that the pair had "stopped by the Piazza Navona, Campo de' Fiori, and the Spanish Steps." People salivated over a picture of Flay downing a Chinotto soda and a porchetta sandwich, as taken by De Laurentiis. Should you need further confirmation that the new series is going to be eye candy, take a look at Flay's Instagram Stories, yourself.
Watch, as he walks through farmers' markets, filled with a vibrant medley of fresh tomatoes and bananas, and fennel, and eggplants, and freshly squeezed juices, and peppers, and leafy greens. Imagine the episodes where Bobby and Giada eat farm to table plates at restaurants that treat them like family. And, finally, let out a sigh as the two fast friends lean down to pet a baby boar in the streets of Tuscany. Need we go on?