The Secret Ingredient Your Fried Green Tomatoes Have Been Missing
Although it's a useful way to thin out a bumper crop of summer tomatoes or to keep the last of the season's tomatoes from succumbing to frost, fried green tomatoes are delicious enough to be celebrated in their own right. What's so great about fried green tomatoes? Lots of things. The firmness of the unripe fruit holds up well to frying. Second, their tart, slightly acidic flavor mellows into a nice, tangy flavor when they are cooked. Finally, the softness of the cooked fruit plays nicely against the crunchiness of the breadcrumb or cornmeal coating (via House of Nash Eats and Smithsonian Magazine). 
Fried green tomatoes are thought of as an old Southern summer classic, but in actuality, this iconic dish didn't reach its peak popularity, even in the South, until after the 1991 release of the famous film Fried Green Tomatoes, according to the Charleston Gazette-Mail. (Interestingly, it's thought that the dish has origins in the Northeast or Midwest, according to Smithsonian.)
The basic recipe for fried green tomatoes has just a few ingredients, but one surprising ingredient can take this savory classic to another level.
Pass the sugar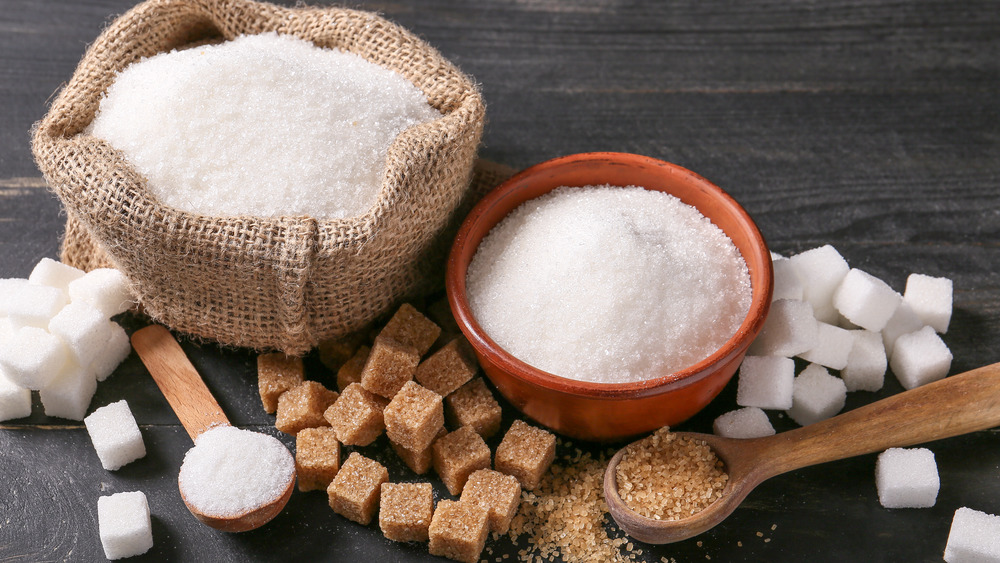 Shutterstock
The recipe for classic fried green tomatoes is fairly simple, as demonstrated by Southern Living magazine: Take unripe tomatoes, cut them into quarter-inch slices, dredge them in flour, and dip them in a mixture of eggs and buttermilk. Then, coat the slices in a cornmeal and flour mixture seasoned with salt and pepper, fry them in vegetable oil until golden and crispy, season with a bit more salt, and serve.
But some recipes cleverly call for the addition of a surprise ingredient in this savory dish: sugar. In fact, according to Delishably, sugar is crucial because the acidity and ripeness of unripe tomatoes demands some sweetness to create balanced flavor. Delishably's recipe calls for the sugar to be sprinkled onto the slices along with salt and pepper, right after you slice them up. Then, waiting 15 minutes allows the sugar, salt, and pepper to pull the liquid from the slices. This helps the flour and cornmeal stick to the tomatoes when you're coating and frying up the slices.
Taste of Home does it slightly differently, calling for brown sugar and adding it to the flour coating mixture that precedes the egg/milk step and subsequent breadcrumb coating steps. Although different recipes call for different ways to add sugar to fried green tomatoes, it's true that sugar's sweetness is the secret ingredient to bring balance to the tart and savory flavor of fried green tomatoes.