This Prosciutto Pack From Costco Is A Total Steal
Sorry to get graphic, but some of us would like nothing more than to be left alone so we can eat prosciutto straight out of the package. Without sharing. It's just facts. Sadly, not so long ago, the prohibitive cost of this transcendent, aged Italian ham snack squashed these distant dreams. But not anymore. Costco has a two-pack of Citterio 18-month prosciutto di Parma on sale now for $8.99, according to Instagram account @costcodeals. That price will give you 12 ounces of prosciutto, which for anyone who knows anything about cured meats, is an unheard-of deal.
Take the Boar's Head equivalent 3 ounce package (aged for a mere 12 months, not to put too fine a point on it). It's $7.99 on Fresh Direct, only a dollar less for a quarter of the quantity. They both even sport the "Protected Designation of Origin" label of approval, which means it's the real deal — prosciutto from Parma, Italy itself (via Consorzio del Prosciutto di Parma).
What Costco fans are saying and how to use prosciutto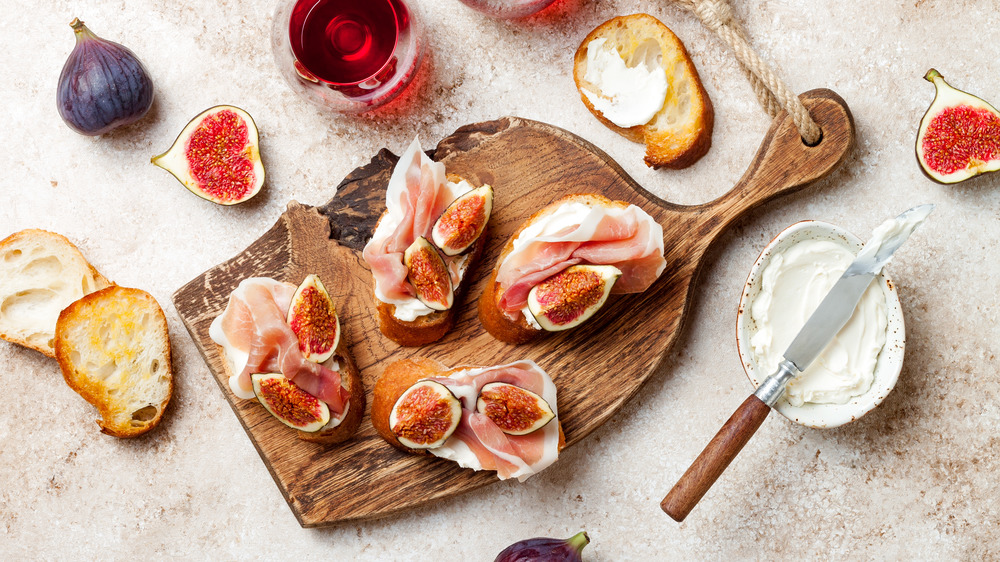 Shutterstock
Costco meat enthusiasts were appropriately amped for the deal, which lasts until December 6. One account, @nobullet, wrote in a comment on the Instagram post, "These are amazing. I wasn't expecting them to be that great since they are pre-sliced. But they melt in your mouth." Another commenter, @ronalandrew, lamented, "bought that other day want 8.99 though 🤦🏻‍♂️"
But before you run from your couch to the door to Costco in the name of a sale on aged pork, have a plan. Because you don't want to end up doubled over on the floor, having inhaled almost a pound of straight prosciutto standing at the fridge. Try your prosciutto in a simple sandwich, or in a fancy appetizer with thin slices of fresh fig or cantaloupe (via the Spruce Eats). Prosciutto can be a delicious pizza topping with fresh arugula, or paired on a charcuterie board with cheese and thin, crispy bread (via the Spruce Eats). You'll thank us later.