The Ridiculous Number Of Ways You Can Customize A Five Guys Burger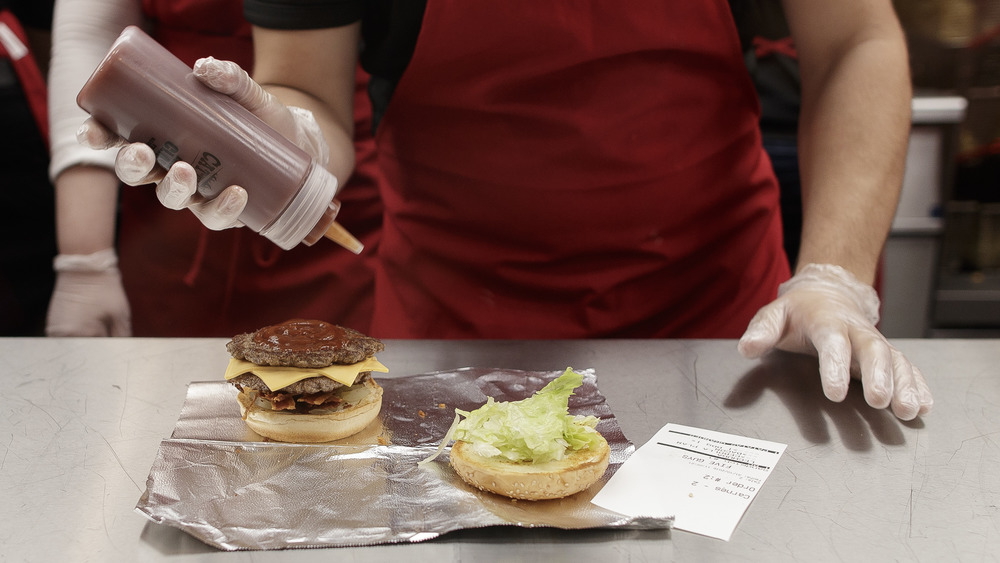 Eduardo Parra/Getty Images
Restaurants like Chipotle and Subway pride themselves on their totally customizable menu items, whether you're building a burrito from scratch or selecting your sandwich toppings one by one. However, those popular build-your-own chains aren't the only fast food restaurants that offer customers the opportunity to create their own meal off the menu. Unbeknownst to many, Five Guys is the perfect place for those who like to pick and choose what goes into their order (or in this case, on top of their burger).
Since it first opened its doors in 1986, Five Guys has prided itself not only on its burgers made from 100 percent fresh ground beef and its crispy French fries made in pure peanut oil but also on its wide variety of customization options. You definitely don't just have to settle for lettuce, tomato, and mayo at the popular carry-out burger joint. The possible topping combination options aren't endless, per se, but according to the Five Guys website, they are very vast. 
You have hundreds of thousands of options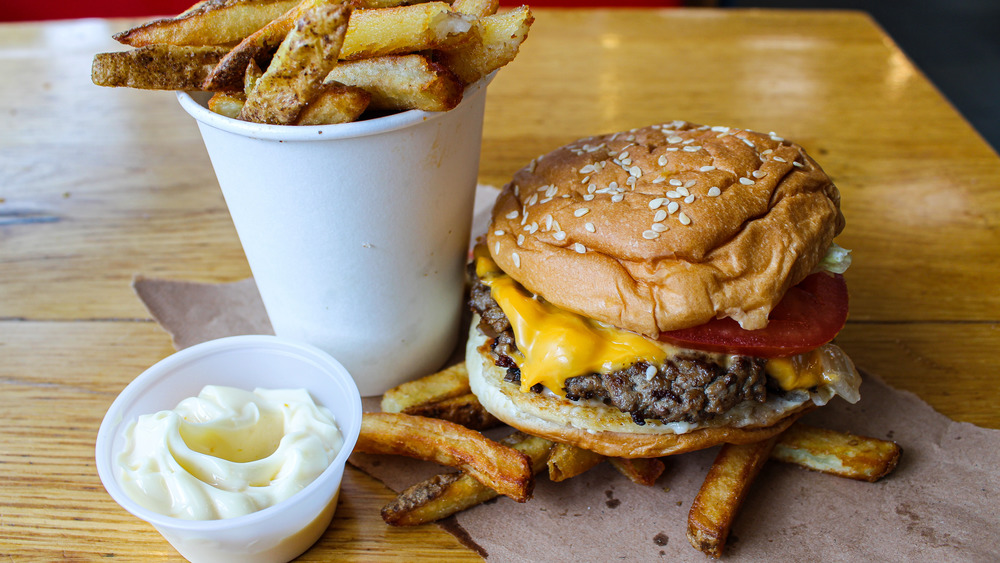 Shutterstock
Just how many possible customizations are there on the Five Guys menu? Based on the fast food chain's fans page, there are over 250,000 ways to personalize your next burger. There are 15 different free toppings you can choose from. In terms of veggies, you can top your burger with lettuce, pickles, tomatoes, grilled onions, grilled mushrooms, raw onions, jalapeno peppers, and green peppers. And in terms of condiments, you have the choice of mayonnaise, ketchup, mustard, relish, barbecue sauce, A1 sauce, and hot sauce. You can choose as many or as few of the above to deck out your patty, but that's not all. You can also add bacon or cheese to your burger, of course.
If you aren't sure where to start, Wide Open Eats recommends some of the combos from Five Guys' lesser-known secret menu. Not only can you order the "patty melt" (which is essentially a burger patty on a grilled cheese sandwich), but you can also order the "presidential burger," which is allegedly what President Obama orders at the fast food restaurant and which features cheese, lettuce, tomato, jalapeño peppers, and mustard.