Easy No-Bake Energy Bites Recipe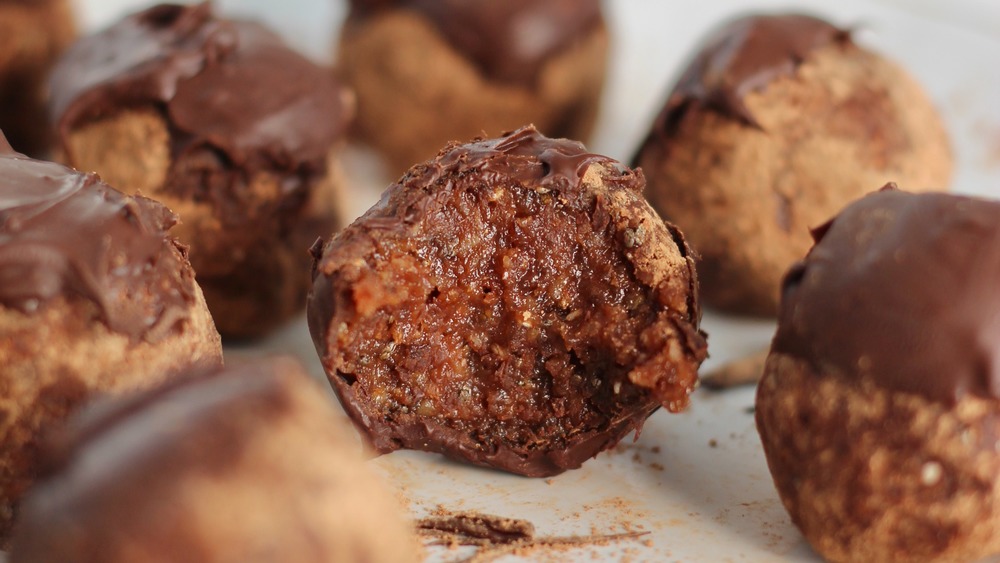 Mackenzie Burgess/Mashed
We know, we know — we had you at "no-bake." There are even more reasons to love this recipe though. These double chocolate no-bake energy bites are the perfect snack to prep if you're trying to eat healthy even when you most definitely get an afternoon (or morning) sweet tooth. Have these at your disposal and you'll satisfy your chocolate craving while also giving yourself a relatively good-for-you pick-me-up. 
We scored the recipe from Mackenzie Burgess, a registered dietitian nutritionist who created the blog Cheerful Choices. She tells us, "Energy bites are a snack I always have around my house. It's perfect to make in advance and grab on the go." We'd venture to say these will make you feel less weighed down in the afternoon than a handful of Oreos (nothing against Oreos, of course).
While you don't need an oven to make these energy bites, you will need a food processor or a high speed blender. 
Gather the ingredients for your no-bake energy bites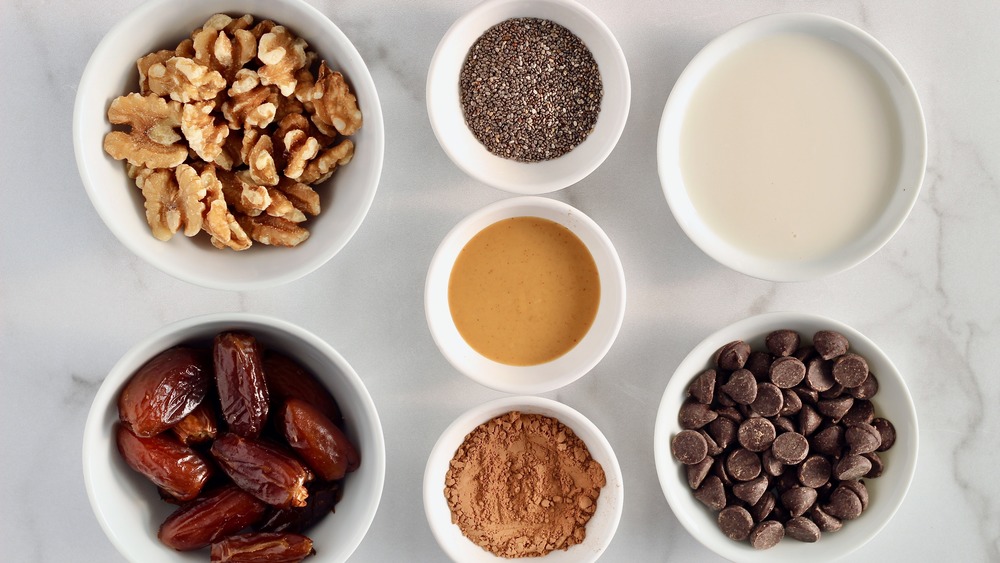 Mackenzie Burgess/Mashed
There aren't a lot of ingredients involved in this no-bake energy bites recipe but it's best to go ahead and gather, then measure out, what you need before you start prepping the dough. The term "dough" is somewhat misleading because that word usually conjures images of sugar cookies and loaves of bread. This "dough" is actually pretty healthy and chock-full of nutrient-packed items that will keep you fuller for longer. You'll need 1/2 cup of walnuts; 1/2 cup of chopped, pitted dates; one tablespoon of chia seeds; one tablespoon of peanut butter; one tablespoon of cocoa powder (plus more for coating the bites later); one to three teaspoons of almond milk or water; and 1/4 cup of dark chocolate chips.
Per Burgess, "These no-bake bites are filled with a few simple ingredients rather than processed ones often found in the snack aisle. I love using nuts, nut butter, and chia seeds in energy bites because they provide plant-based protein and heart-healthy fats." There is also the option to make these completely dairy-free — just melt 1/4 cup of vegan chocolate chips, which are available at most major grocery stores now.
Blend the walnuts and dates in a food processor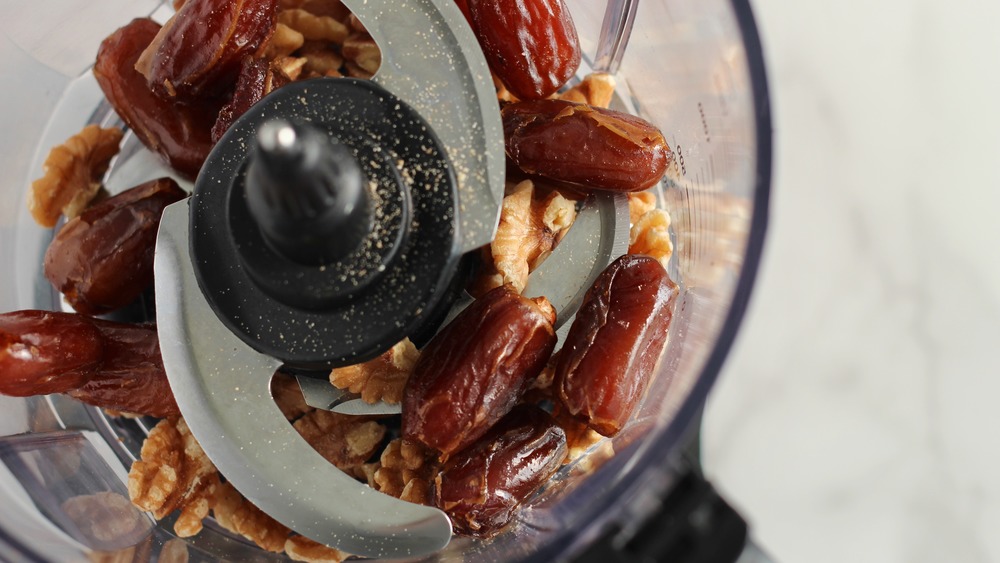 Mackenzie Burgess/Mashed
The first items to go on the chopping block (or food processor or blender) are the dates and the walnuts. This no-bake energy bites recipe calls for pitted dates, that are chopped. The keywords here are "pitted" (so you better make sure those giant seeds are removed) and "chopped" (don't go dropping full-size dates on the blade). The dates might need to be softened prior to going in the processor. How can you tell? "If your dates are slightly squishy they should be fine to throw right in the food processor," Burgess says. "However, if they've been sitting around for a while and are pretty hard, soak them in hot water for 10 minutes before throwing in the food processor to blend." 
Can you substitute a different nut if you don't like walnuts? We asked Burgess about that too and she assures us, "If you don't have walnuts, you can use another type of soft nut like pecans. You can also use almonds, they will just take a little bit longer to blend since they are a harder type of nut." The walnuts and dates do seem like a winning combo, though. And there are lots of good reasons to eat walnuts. And as for dates, those have perks too. Burgess praises dates because they, "pack in natural sweetness without any added sugars. The fiber in dates also helps keep our digestive health in check." 
Add chia seeds, peanut butter, and cocoa powder to the food processor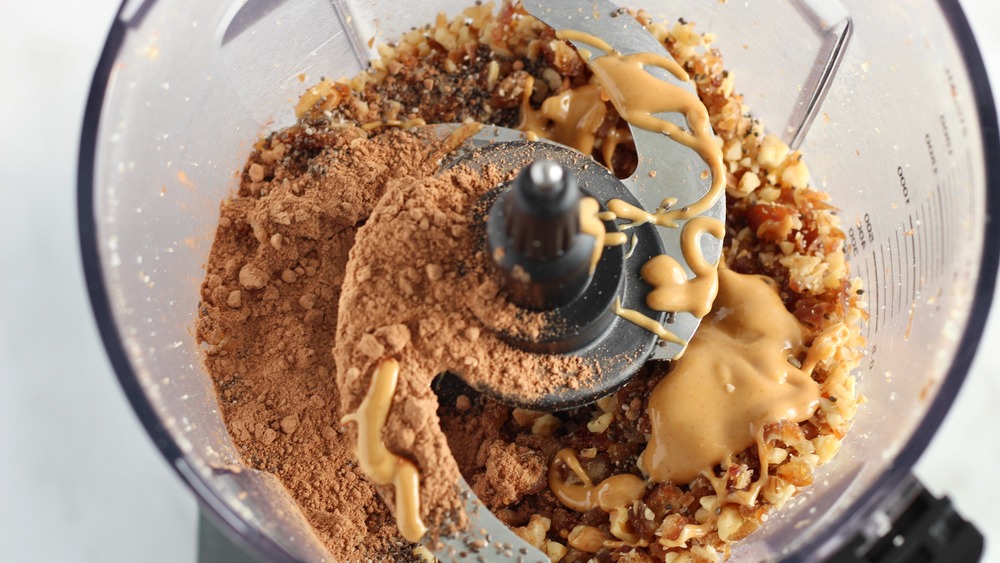 Mackenzie Burgess/Mashed
After the walnuts and dates have been sufficiently chopped, you will now add the peanut butter, chia seeds, and cocoa powder to the food processor or blender. 
If you are someone who doesn't like or can't eat peanut butter, what a time to be alive, as there are SO many other nut butters available for your consumption. The peanut butter is not a requirement for this no-bake energy bites recipe. Burgess agrees: "I like to use peanut butter in this recipe because it's the type of nut butter I always have on hand. However, you can swap for another type of nut butter as well," she promises. "Cashew butter, almond butter, even walnut butter could make a great substitute here. Whatever nut butter you choose, it's going to be a great source of fiber, magnesium, potassium, and folate." So as you can see, all the nut butters in this context are RDN-approved.
Check to see if the no-bake energy bite mixture needs liquid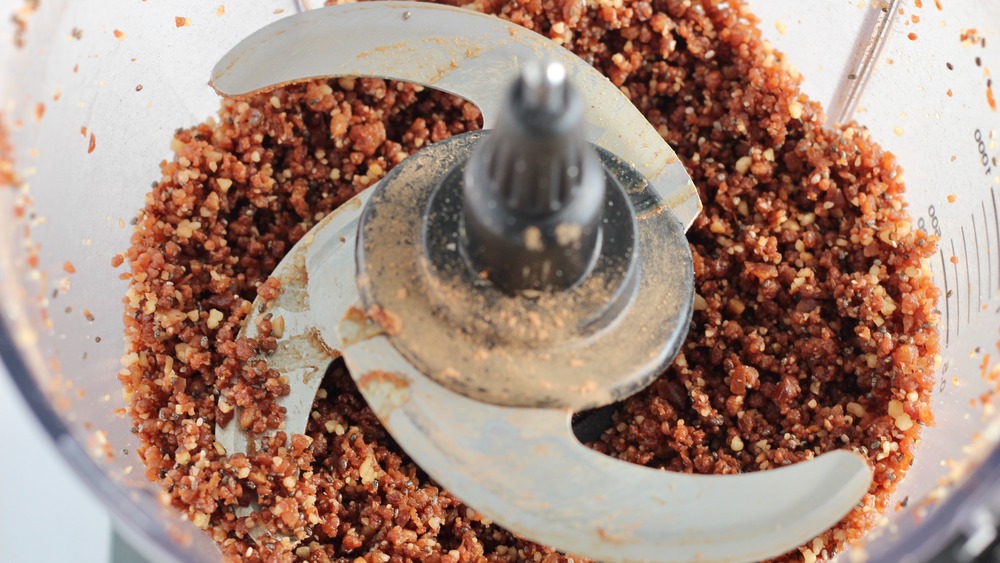 Mackenzie Burgess/Mashed
Now that almost all of the ingredients have been incorporated, you should check to make sure the dough is on the right track. The texture is important because the mixture should be starting to stick together at this point. If the no-bake energy bite dough is still too crumbly, you can gradually add one to three teaspoons of water or almond milk (which some people might argue are one and the same), then pulse a few more times in the processor, to help smooth it out somewhat to get that perfect texture.
You're going to be rolling the dough into balls with your fingers (spoiler alert), so it's important that it be the right consistency. Not all food processors are alike, so this step might come down to what kind you have and/or what type of blade you're using.
Roll the no-bake energy bite dough into balls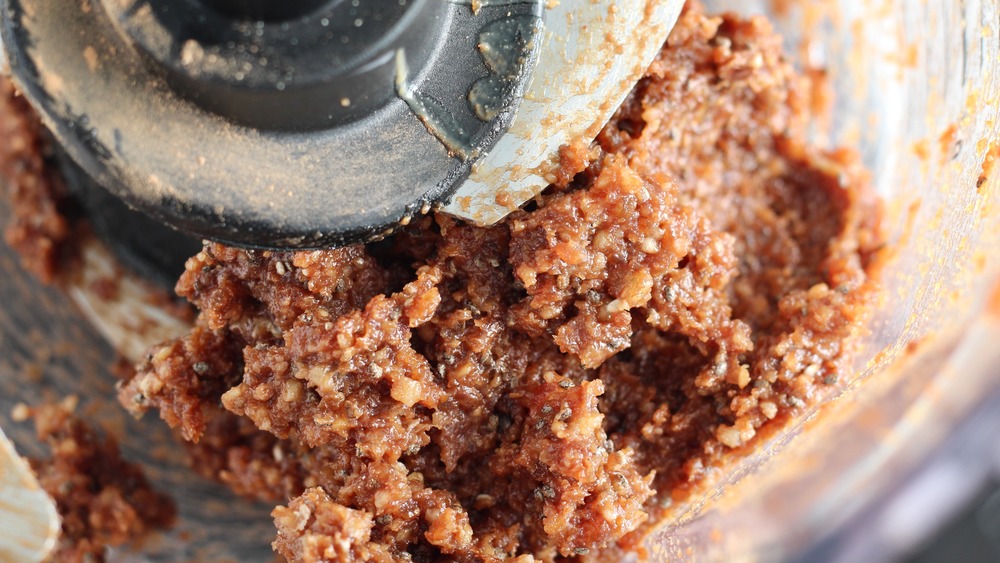 Mackenzie Burgess/Mashed
Once your dough has been pulsed and chopped to the correct consistency and texture, it's time to form these double chocolate (we're getting to the good part with chocolate in this step) no-bake energy bites. Each ball should be about a tablespoon's worth of dough. Feel free to eyeball this — we trust your judgment.
If you're getting more of the dough on your fingers than into the actual ball, do not despair. It can happen to the best of us. As a solution to this dilemma, Burgess suggests putting a bit of cocoa powder on your fingers, which will help the dough to not get stuck to them — similar to using flour on your hands when working with other types of dough. You're going to be coating the bites in the cocoa powder in the next step, so it will all make sense soon.
Coat the no-bake energy bites with cocoa powder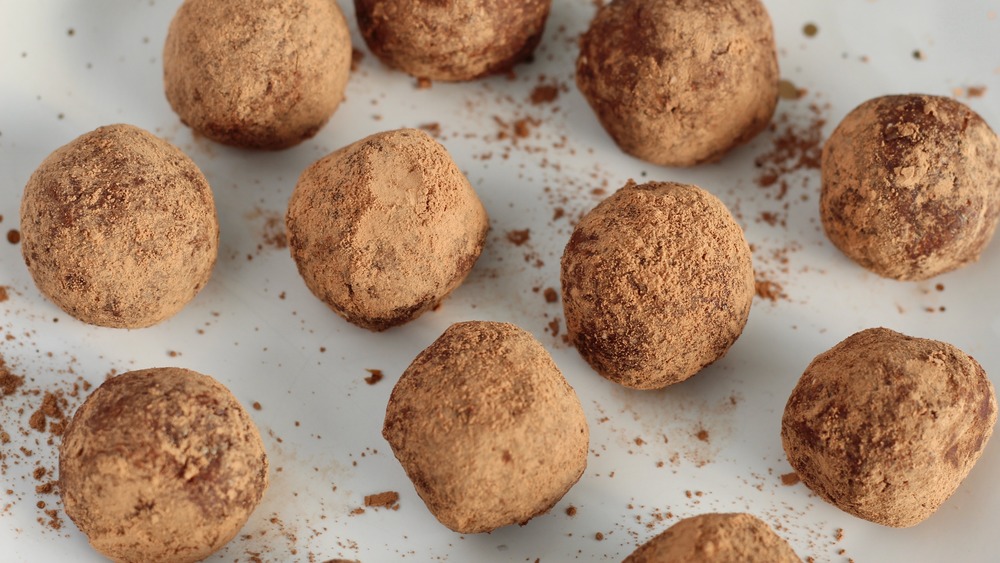 Mackenzie Burgess/Mashed
As you form each no-bake energy bite into a ball with the dough, the next step is to gently roll the dough in a dish of cocoa powder. Repeat this step until all of the bites are coated with the powder. 
If you're a superfood nerd, you've probably also heard of cacao powder, which should be noted is different from cocoa powder. We asked Burgess about the two from a dietitian's perspective. She explains, "Cacao powder is made from beans that have not been roasted. They are also processed at a low temperature before being milled into a powder. This allows them to be a bit higher in nutrients but also quite bitter." This is something to keep in mind if you only have cacao powder on hand when making these no-bake energy bites. 
As far as cocoa powder, Burgess says it is, "made from beans that are both fermented and roasted. They are then processed at a much higher temperature. This allows for a slightly lower nutrient content, but also a much less bitter flavor. I find that cocoa powder is also easier to find in stores. You can use either, it's really just personal preference for taste and nutrient content." Just know that the powder you choose can affect how the bites end up tasting.
Dip the no-bake energy bites in chocolate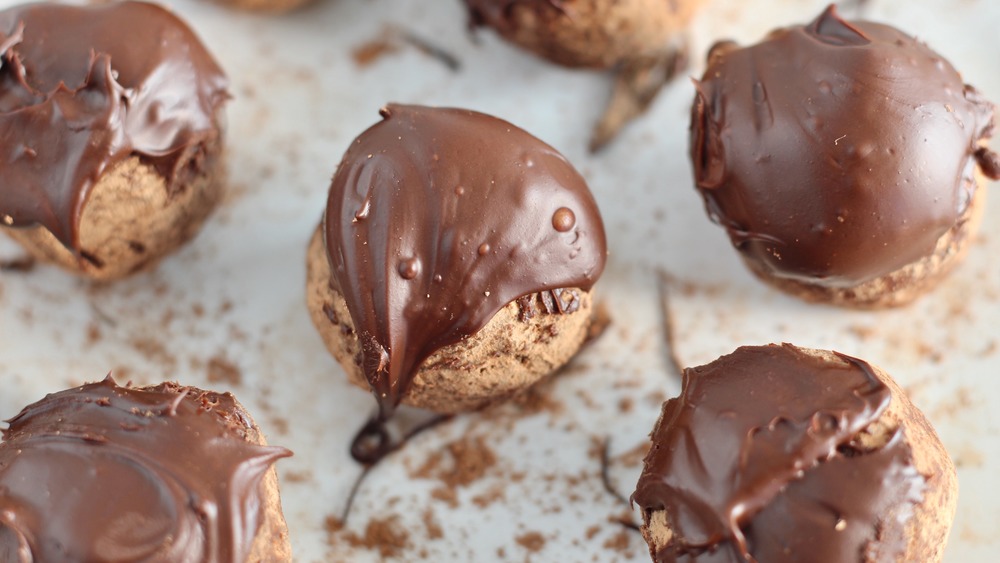 Mackenzie Burgess/Mashed
In this step, you add the extra layer of chocolate (yay). Because we are extremely detailed oriented and love the nitty-gritty on food, we asked Burgess what type of chocolate she likes and why she chose dark chocolate for these no-bake energy bites. "I like to choose dark chocolate that has a cocoa content of 70 percent or higher. The higher the percentage, the more flavanols there are," she explains. "Flavanols are naturally occurring compounds found in plant foods. They have been linked to many beneficial health effects like lower blood pressure, improved cholesterol, and anti-inflammatory effects." 
So the dark chocolate with this 70 percent plus cocoa content has some health benefits, but if there is another chocolate you really want to use, go for it.
After all the bites are half-coated with the melted chocolate, they're ready to eat! You can store the bites in the fridge for up to one week, or freeze them for up to three months. What's convenient about these bites is that they stay nice and soft straight from the freezer too.
Easy No-Bake Energy Bites Recipe
If you're trying to eat healthy and fulfill your sweets craving, these no-bake energy bites are a wonderful pick-me-up.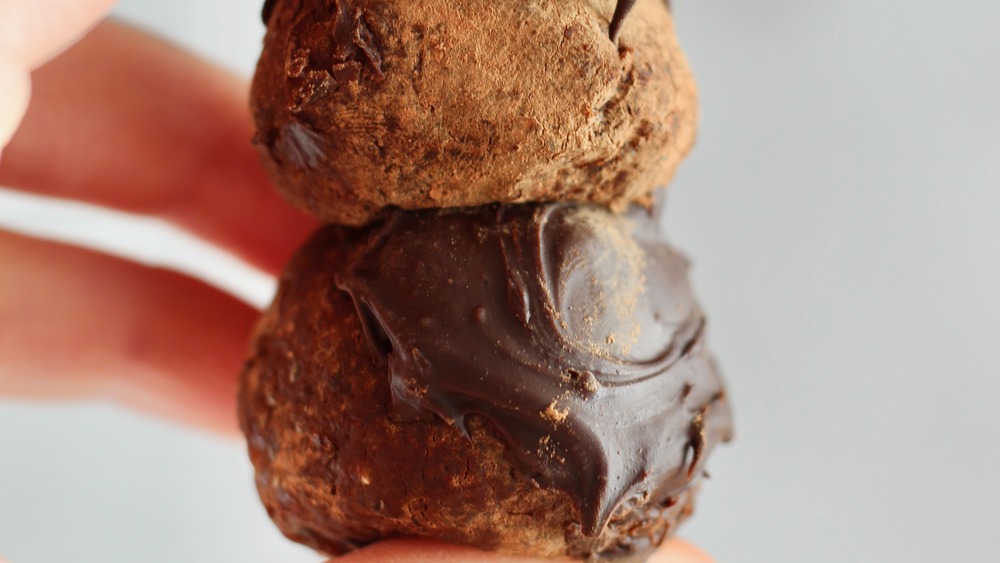 Ingredients
½ cup walnuts
½ cup pitted dates, chopped
1 tablespoon chia seeds
1 tablespoon peanut butter
1 tablespoon cocoa powder, plus more for coating
1-3 teaspoons almond milk or water
¼ cup dark chocolate chips, melted
Directions
Add walnuts and dates to a food processor or high-speed blender and blend on high for a couple minutes until coarsely chopped.
Add in chia seeds, peanut butter, and cocoa powder and blend until mixture begins to stick together.
If the mixture is too crumbly, add 1-3 teaspoons of almond milk or water and pulse until mixture begins to stick together.
When dough is done, separate about a tablespoon and use your hands to roll into a ball. Roll bites in a small dish of cocoa powder to coat and set aside. Repeat until dough is completely used. Allow bites to set in the freezer for 30 minutes.
After they are chilled, dip the bites halfway into the melted chocolate to coat the top and enjoy!
Store bites in the fridge for up to one week or freeze for up to 3 months.
Nutrition
| | |
| --- | --- |
| Calories per Serving | 64 |
| Total Fat | 2.8 g |
| Saturated Fat | 1.1 g |
| Trans Fat | 0.0 g |
| Cholesterol | 0.1 mg |
| | |
| --- | --- |
| Total Carbohydrates | 9.8 g |
| Dietary Fiber | 1.6 g |
| Total Sugars | 7.3 g |
| Sodium | 1.9 mg |
| Protein | 1.0 g |