Trader Joe's Fans Are So Excited About This Festive Trail Mix
Although most of us are specifically avoiding grandmother's house this winter, that's no reason to deny ourselves the festive treat that is Trader Joe's holiday season-exclusive Over the River and Through the Wood Trek Mix (via Trader Joe's). After all, whether you choose to gobble your trail mix while hiking, snow shoe-ing, or even cross-country skiing, there are plenty of outdoor, socially-distanced activities to enjoy even during a pandemic, and they're sure to leave you more than a little peckish.
Inside the bright red, festively decorated bag, you can expect to find a variety of sweet and salty ingredients, namely: roasted salted almonds, sweetened dried cranberries, pumpkin pie spiced pecans, roasted salted pepitas, roasted salted pistachios, and white and dark chocolate-covered pretzels (via What's Good at Trader Joe's). Plus, a whole bag will only set you back $4.99, so you can easily stock up to fuel a season full of wintery activities, or just to munch on while you're curled up in front of a roaring fireplace.
What fans have to say about Trader Joe's Over the River and Through the Wood Trek Mix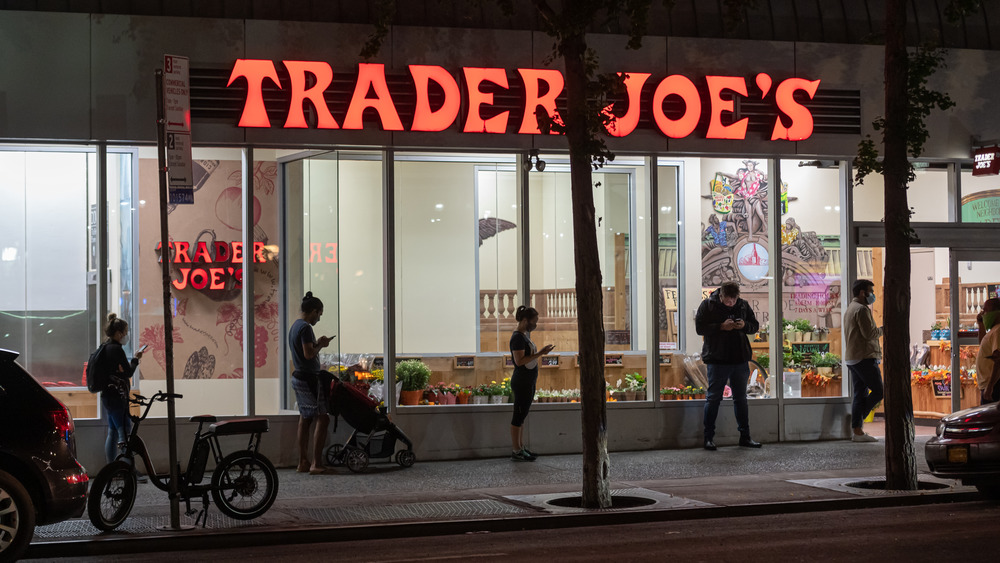 Noam Galai/Getty Images
Instagrammer @traderjoeslist just shared on Dec. 12 that they spotted the mix on shelves at their local store. The post already has over 4,500 likes, with comments like "Cutest name alert" and "When you're in the parking lot outside of TJs after you made your purchases, you see this and go back in." 
Of course, while some have waited months to stock up on this mix, others find it just so-so, which might have something to do with the overall lack of color in the mixture. For instance, the blog Club Trader Joe's found that, while the dark and white chocolate-covered mini pretzels were delicious, the mix was more than 50 percent salted almonds, with barely any pistachios or pepitas, which made it feel, overall, unbalanced. If you don't have time for all those salted almonds and want to get straight to the sweet stuff, you might want to pick up Trader Joe's Jingle Jangle mix instead.