Easy Roasted Fingerling Potato Recipe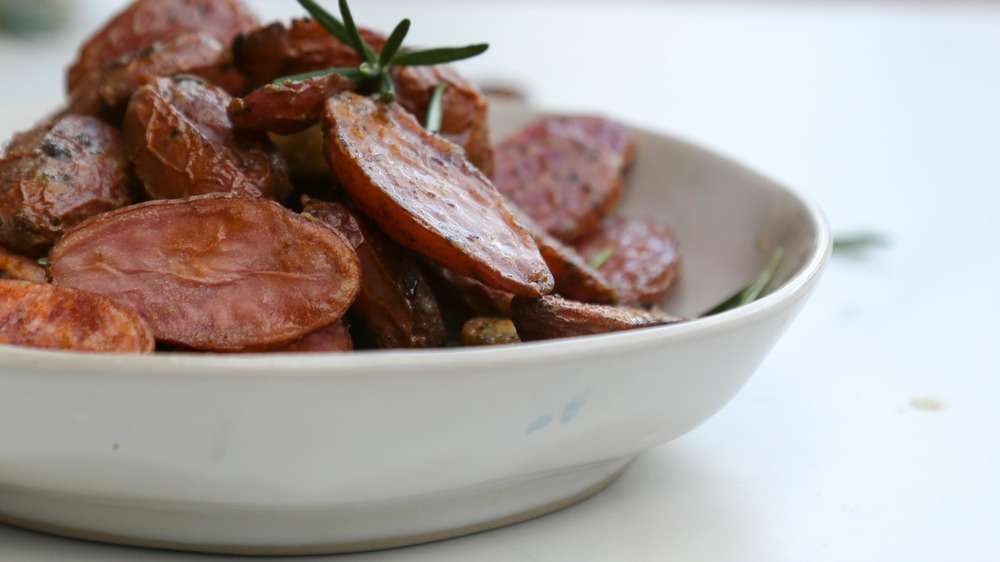 Maren Epstein/Mashed
Roasted potatoes of the many potato varieties available are always delicious, but, you know what makes this recipe for roasted fingerling potatoes extra tasty? Compound butter with roasted garlic, that's what. Honestly, you can't go wrong with garlic or butter. Combine them together and you've basically got heaven in a pan coating a starchy carb. What could be better?
We got this recipe from holistic health chef Maren Epstein, who curates the healthy eating blog Eating Works, which has tons of recipes for lots of different eating styles, including gluten-free, vegan, and soy-free options. We asked what inspired this garlicky potato creation. "When I make challah I always make a garlic compound butter to go with it. So, I thought that a garlicky compound butter would taste great with roasted potatoes," she says. 
This roasted fingerling potato recipe is easy to make and doesn't require a lot of ingredients. It's a great side option for the protein of your choice but could also be enjoyed solo, as it packs a ton of flavor and potatoes can be pretty filling on their own.
Prepare the garlic for your roasted fingerling potatoes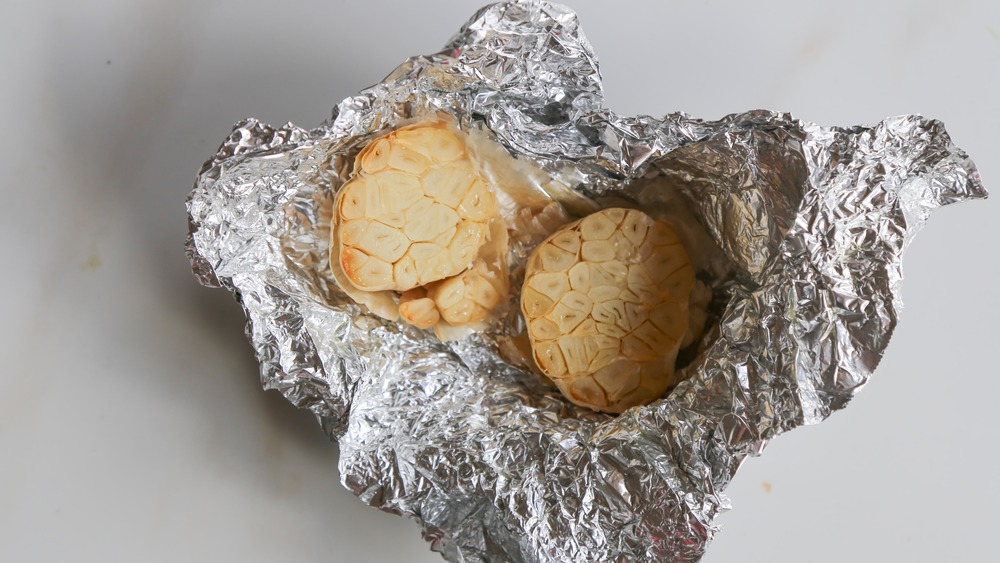 Maren Epstein/Mashed
For the first part of this recipe, you'll need one bulb of garlic and some aluminum foil. Preheat the oven to 325 degrees Fahrenheit and slice the garlic bulb in half horizontally. Next, spray the halved bulb with olive oil cooking spray and season it with salt. Then, carefully wrap the garlic in aluminum foil. Make sure the foil is fully sealed, though the garlic doesn't have to be wrapped super tightly.
You can place the wrapped garlic directly on the rack in the oven and roast it for about 20 minutes. That time may vary a bit, depending on your own oven's cooking speed and power. The garlic should appear wet when it's been properly roasted. If the garlic turns brown, it's burned. If just some of the cloves are burned, Epstein says you can discard them prior to moving on to the next step. 
Mash the roasted garlic cloves with a fork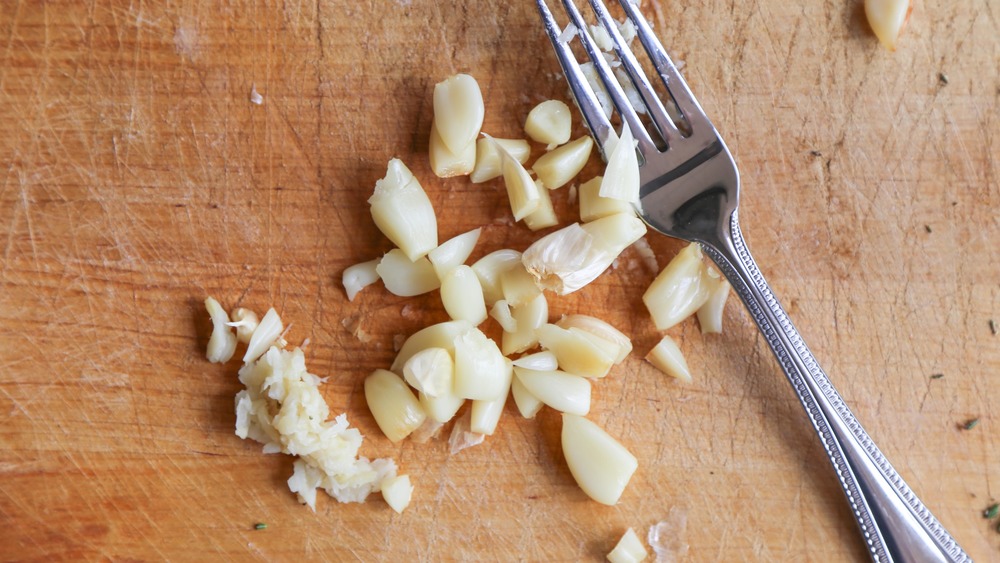 Maren Epstein/Mashed
After you've taken the roasted garlic cloves out of the oven, bump up the oven temperature to 350 degrees Fahrenheit. Next, gently squeeze the garlic cloves out of the papery layer (you know the one—it's the bane of all our existence when peeling raw garlic), discard any burned cloves, and gently mash the rest with the tongs of a fork. Your hands are gonna smell fantastic. Just kidding, they will reek of garlic until the end of time, unless you follow this beautiful cooking-with-garlic hack from Epstein:
"To get the garlic smell off of your hands while cooking, you can rub one teaspoon of salt, one teaspoon of baking powder, and a little bit of water on your hands for 30 seconds. The baking powder neutralizes the smell of garlic," Epstein says. You're welcome, world, or at least those in the world who can't stand the smell of garlic on their hands for days on end.
Melt the butter for the roasted fingerling potatoes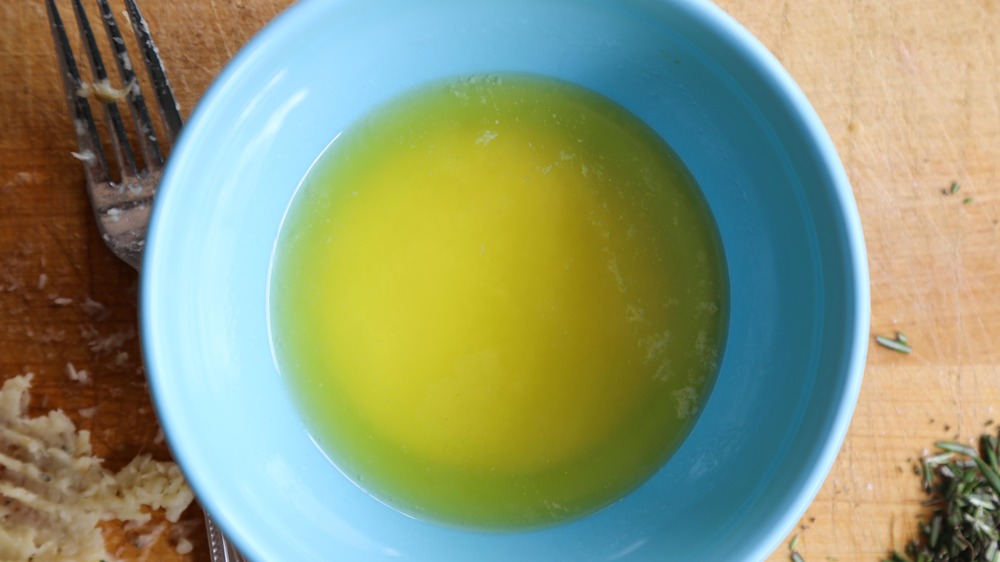 Maren Epstein/Mashed
After the roasted garlic has been adequately smashed, set it aside while you melt the cup of butter. Prepare to say "you're welcome" to everyone in your house who drifts through the kitchen at this moment, as they will be enjoying the fragrant scent of both roasted garlic and melted butter. What a savory combo, right?
It should only take about one minute to nuke the butter in a microwave-safe dish in the microwave. If you're old school and want to go stovetop, just make sure to watch it constantly so it doesn't burn. If you are going to microwave, you'll be adding in other ingredients to mix with this melted butter in the next step, so use a microwave-safe dish that's large enough to also hold and combine the garlic, rosemary, and salt. If you're totally out of some seasonings, you can consider some substitutes for rosemary, too. 
Combine the melted butter with garlic, salt, and rosemary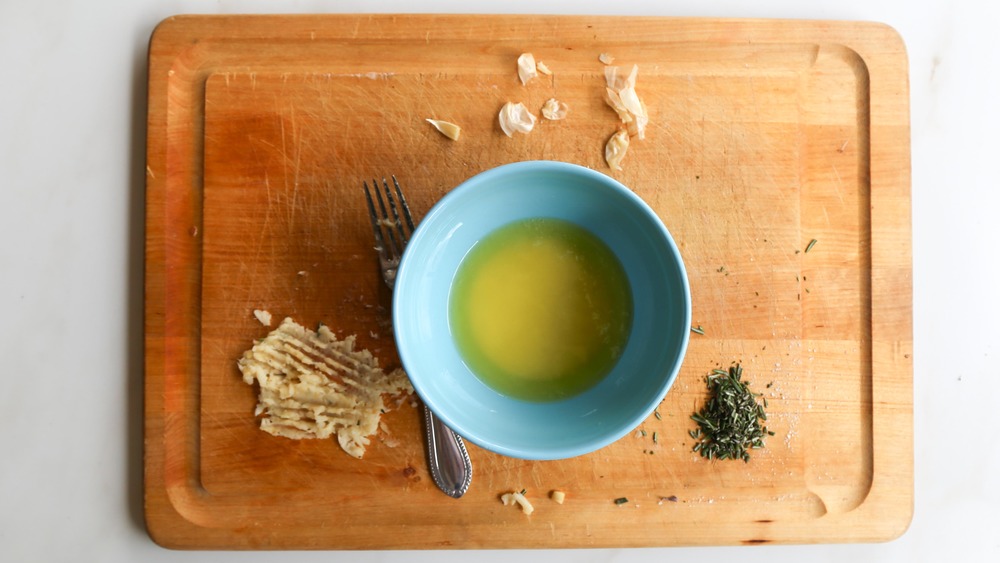 Maren Epstein/Mashed
Okay, so you've got your melted butter and your mashed, roasted garlic ready to go. Now, it's time to combine them along with the two tablespoons of chopped fresh rosemary and 1/4 teaspoon of salt, in order to form the delicious delicacy that is compound butter. If you didn't know already, flavored butter is very easy to make and often proves to be a real crowd-pleaser. If you want, feel free to add a few more teaspoons of salt, but the butter and garlic should provide ample flavor on their own. 
Whisk together the butter, garlic, rosemary, and salt. Epstein notes that, for a smoother butter, you can emulsify the butter mixture in a blender. If you're debating whether or not to use one, Epstein reminds us that "while emulsifying the compound butter isn't necessary, it does help break up the rosemary and cut the garlic into the butter. It creates a smoother finished product." 
Refrigerate the compound garlic butter for your roasted fingerling potatoes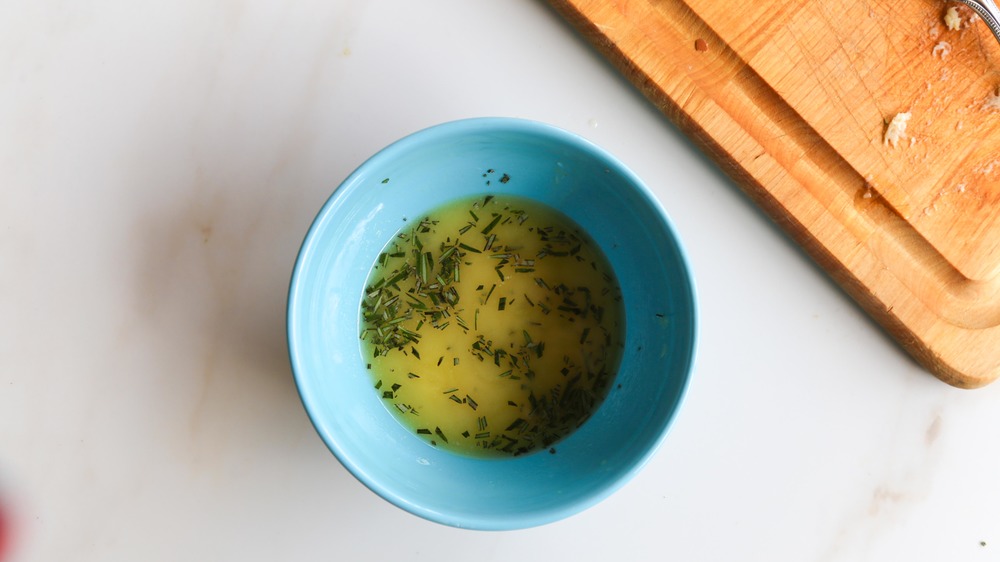 Maren Epstein/Mashed
After you've blended or whisked the butter, garlic, rosemary, and salt, place the soon-to-be compound garlic butter in the refrigerator to solidify. How long should it be in the fridge? Per Epstein, "You should put the butter into the fridge for a few minutes to help it solidify a little bit, so the butter holds the garlic."
When the butter is ready, you'll massage it into the potatoes. You can actually do this step before roasting the spuds. "You can prep these potatoes ahead of time if you're making them for dinner," Epstein says. "I like to slather them with butter and put them in an airtight container until I'm ready to cook them. This makes hectic dinners (like Christmas and New Year's) run a little bit smoother for the host." Saving yourself some time the day of the actual meal for multiple people is always a good call for you, your family, and your guests.
Halve the fingerling potatoes and massage them with compound butter before roasting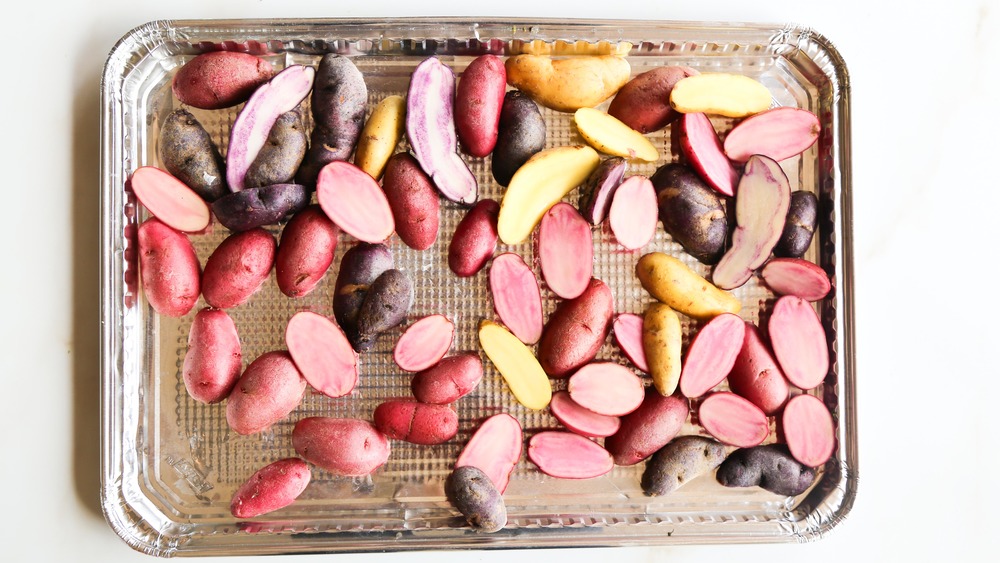 Maren Epstein/Mashed
This recipe calls for a pound of fingerling potatoes. If tri-color ones aren't available, just regular ol' gold ones will do the trick. Before massaging in the compound butter and roasting the potatoes, thoroughly wash, scrub and dry them. Then slice them in half lengthwise. 
After the butter has solidified in the fridge, remove it and massage the mixture into the halved potatoes. Spread the potatoes evenly onto a sheet pan. Epstein ensures us that, because of the butter, you don't need to add any extra oil or cooking spray to the pan. "The sheet tray does not need any extra oil because the butter acts as the nonstick agent here. Just make sure you use quite a bit of butter," she says. You may want to rethink always using cooking spray on a pan, anyway. For easy clean-up, you can use either a nonstick baking tray or simply line the pan with aluminum foil.
Some recipes for roasted potatoes suggest you put the sheet pan in the oven while it preheats, so it's already hot when you add the potatoes. While you can technically do that here, Epstein says that it isn't necessary. 
Roast the fingerling potatoes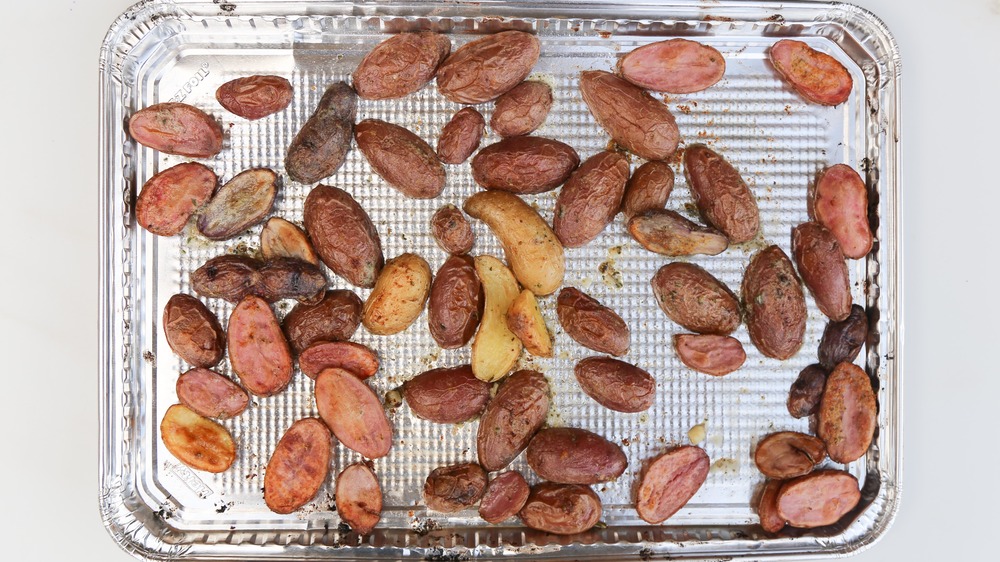 Maren Epstein/Mashed
Roast the fingerling potatoes for 25 minutes, flip all of them, then roast for an additional 10 minutes. The flipping part is key if you want the potatoes to cook evenly, so make sure you take the time to turn every single potato in the pan. Sometimes, it's confusing which rack to roast on so we asked Epstein about that, too. "I put my potatoes on the middle rack, but, if they aren't crackling and browning towards the end of cooking, put them on the top rack for 5-10 minutes," Epstein recommends. 
This yields three cups of potatoes, which should serve about eight people, depending on how hungry everyone may be. We'll let you be the judge of that.
In terms of storage and reheating, Epstein says, "These potatoes stay good in the fridge for up to 5 days if you keep them in an airtight container. You can reheat them in the microwave oven or on a skillet. If you heat them on a skillet, add a dash of olive oil to prevent them from burning before they get hot enough to eat."
Easy Roasted Fingerling Potato Recipe
These roasted fingerling potatoes are delicious with compound butter made using roasted garlic and rosemary. This recipe is easy to make on a busy weeknight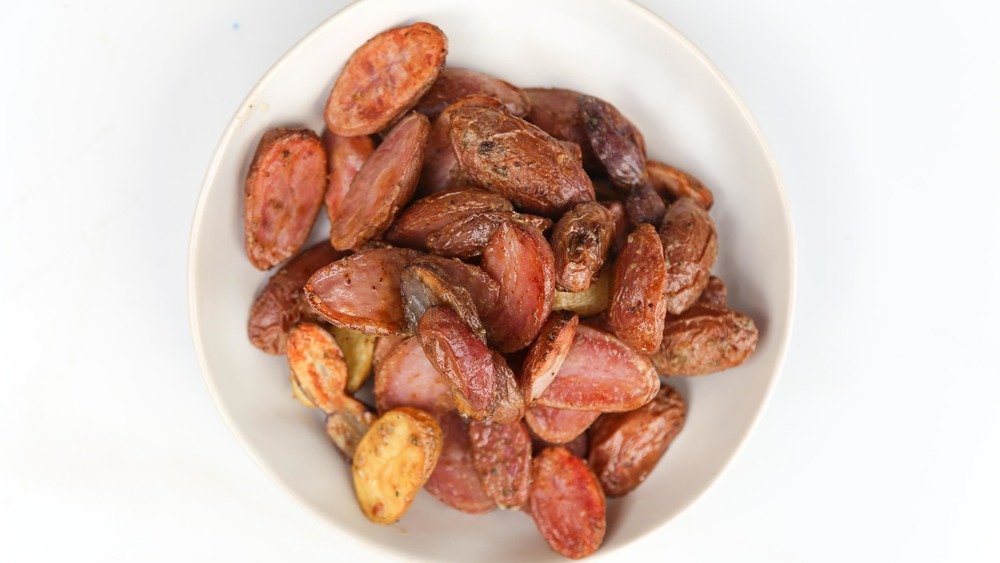 Ingredients
1 garlic bulb, sliced in half horizontally
Olive oil spray
2 pounds fingerling potatoes, halved
1 cup butter
2 tablespoons fresh rosemary, chopped
¼ teaspoon sea salt
Directions
Preheat the oven to 325 F.
Spray the halved garlic bulb with cooking spray, season with salt, and wrap in foil. Roast for 20 minutes. When the garlic is done it will look wet, not brown. If it turns brown that means it's burning. Discard any burnt cloves and raise oven temp to 350 F.
Squeeze the cloves out of the paper then mash the cloves with a fork.
Melt the butter in a microwave-safe dish.
Combine garlic, butter, salt, and rosemary into a bowl and whisk until combined. For a smoother butter, emulsify in a blender. Place in the fridge to solidify into compound butter.
Massage the compound butter into the potatoes.
Arrange the potatoes evenly in one layer on a sheet tray. Roast for 25 minutes, flip, and roast for another 10 minutes or until the potatoes are golden brown. If the potatoes seem dry, add more butter after they've roasted.
Nutrition
| | |
| --- | --- |
| Calories per Serving | 306 |
| Total Fat | 23.7 g |
| Saturated Fat | 14.7 g |
| Trans Fat | 0.9 g |
| Cholesterol | 61.0 mg |
| | |
| --- | --- |
| Total Carbohydrates | 22.0 g |
| Dietary Fiber | 2.7 g |
| Total Sugars | 1.0 g |
| Sodium | 69.9 mg |
| Protein | 2.9 g |