This Is The Best Type Of Mushroom For Pasta Ai Funghi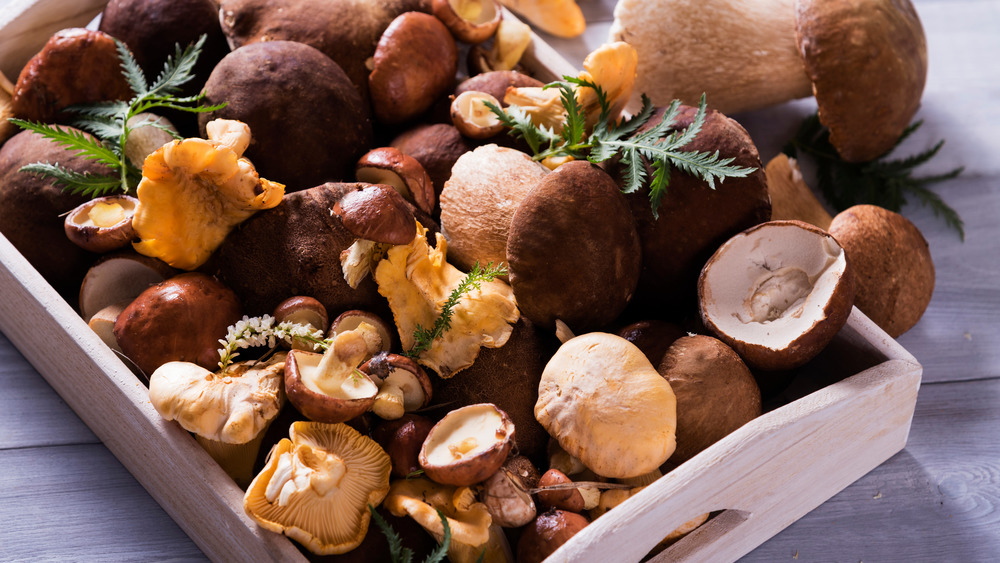 Shutterstock
There's something about a rich bowl of pasta with mushrooms that encompasses everything that's good about cold weather: the smell, the umami, the carb-y goodness. And like everything else about this season, it might also make you want to crawl right back into bed — but in a good way. If you're going to try your hand at the classic Italian dish, pasta ai funghi ("pasta with mushrooms" in Italian), you had better get your mushrooms in order. This is no time for messing around with your run-of-the-mill cremini.
Italians will wax poetic about the richness and variety of mushrooms available each season in their home country — according to one blog, local doctors and pharmacists will even examine mushrooms to make sure they are safe after mushroom hunting expeditions for free (via La Cucina Italiana)! But sadly for us average Americans, not every grocery store offers a huge choice in the mushroom department. If you do have access to a store that sells many different mushrooms, there's one fungi that rises above the rest for its intense aroma and taste. Even if you can't find it, however, there are other ways to recreate this elegant, yet supremely comforting, pasta dish.
What's in the mushroomy pasta ai funghi?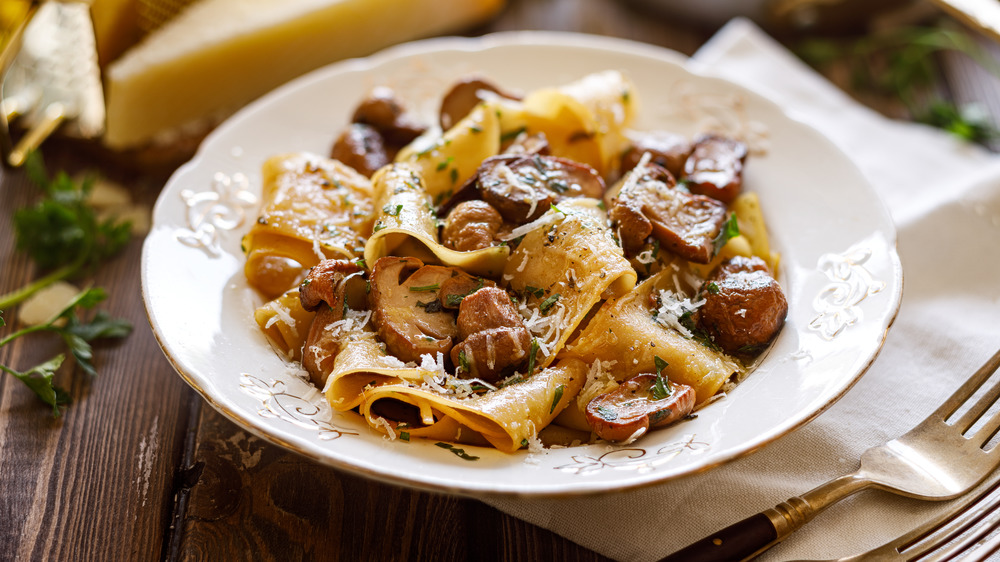 Shutterstock
According to The Guardian's take on this mushroom-y favorite, you can and should use multiple varieties of mushrooms to build the base of your dish, but porcini mushrooms are valued above the rest for their deep flavor and meaty texture. They're usually only found in short windows in the autumn, but in a pinch, The Guardian said shiitake can work too (via La Cucina Italiana). Their recipe includes dried porcini (which are readily available online) and chestnut mushrooms, which are the same as common white or brown button mushrooms, aka cremini. A bit confusing, but the important part is the porcini.
The key to the execution of this fragrant mushroom dish, however, is a mushroom paste made from dry mushrooms blitzed to a powder and rehydrated. The mushroom paste results in extra umami and flavor throughout, and a splash of sherry or white wine adds a level of complexity. Serious Eats even adds chicken stock, fish sauce for even more savory flavor, and gelatin — yes, gelatin — for a "glossy, pasta-coating thickness." Recipes call for either a short pasta like casarecce or gemelli, or a long, wide noodle like fettuccine or tagliatelle. And of course, plenty of parmesan.