Here's What You Can Substitute For Chicken Broth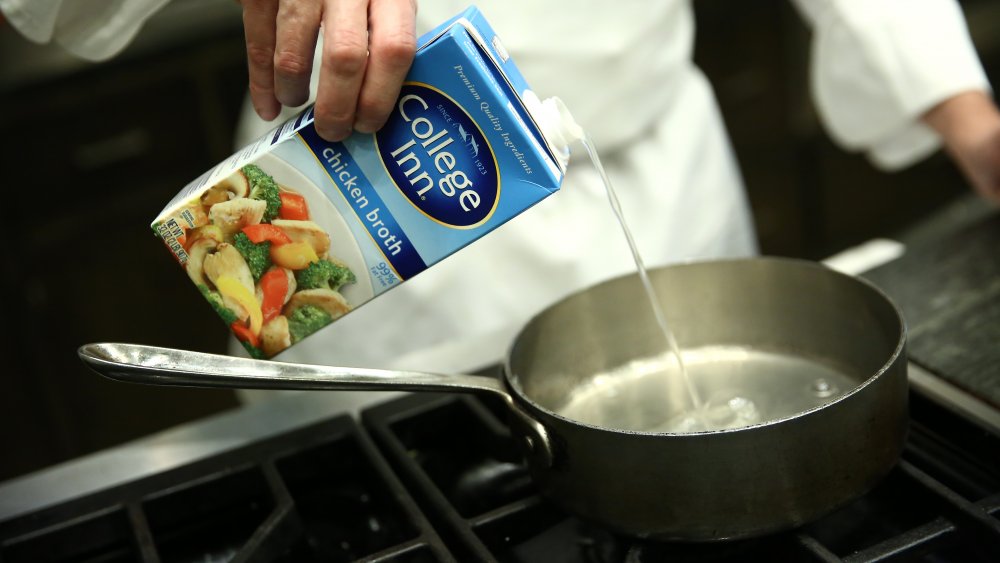 Monica Schipper/Getty Images
Chicken broth is a liquid (generally water) that has had meat cooked in it. Cooking site The Kitchn explains that the difference between broth and stock lies in the fact that broth is seasoned and does not gel when chilled. Broth can be used in the same manner as stock to make hearty and healthy soups, sauces, braises, and more.
Homemade broth is generally best and has more nutrients, and knowing how to pull it together is handy when you're out of storebought broth. As LiveStrong points out, homemade broth allows you to avoid excessive sodium. But sometimes, there just isn't time or resources to do so. In fact, Bon Appetit calls homemade stock or broth a luxury, not a necessity, and suggests that there is a much better alternative that is free and can produce better results. That substitute is water.
Water can serve as a broth base that is then infused with a myriad of flavors by the other items used to create the dish. For example, bacon has an incredible aroma, so it should come as no surprise that it can add great flavor to a water-based broth. Additionally, onions, legumes, and dried beans can be used to create a hearty broth, all on their own, that tantalizes the taste buds. 
Water is a great substitute for chicken broth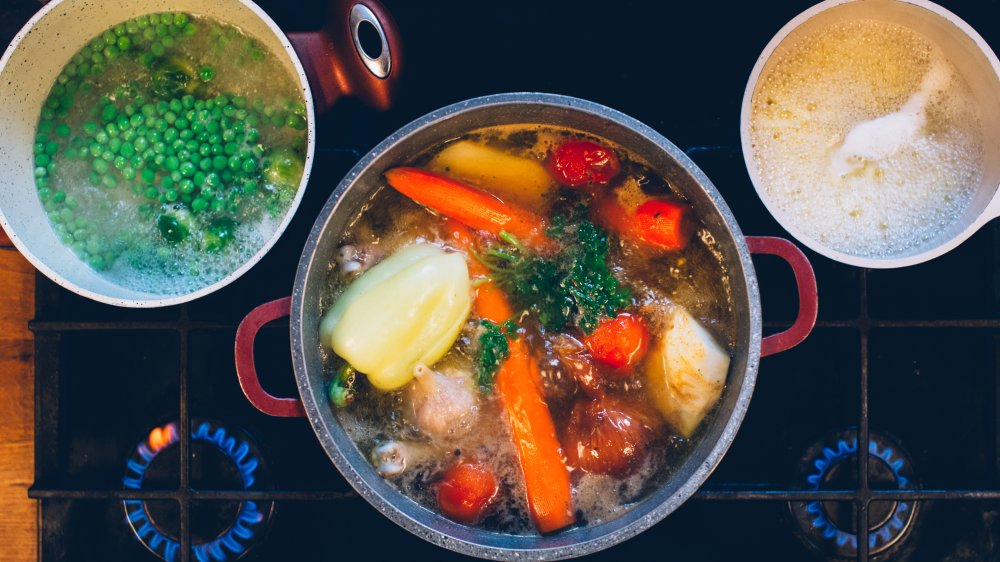 Shutterstock
Chris Gardner, executive chef at Peohe's restaurant in Coronado, CA, said in an interview exclusive to Mashed, "Most soups are full of flavor lending ingredients. If you are out of chicken broth/stock it is not the end of your culinary day. If you're using it for soups, stews, or sauces, look towards your vegetables for the flavor. Look for any onion ends — use the brown peelings too — even the ends of green onions, celery and the ends of celery, any tomatoes or tomato product even canned will work." 
Additionally, Gardner suggested using carrots to help create the flavor. "Baby carrots, whole carrots, or even simply the ends of carrots can contribute to this. If garlic is available, fresh or minced, this can be added. Open up the spice cupboard. Look for dried thyme, bay leaves, whole or table pepper, dried parsley can work. A combination of roasted vegetables and dried herbs combined in the right ratios can create a broth/stock to be used in place of any meat stock."
Other substitutes for chicken broth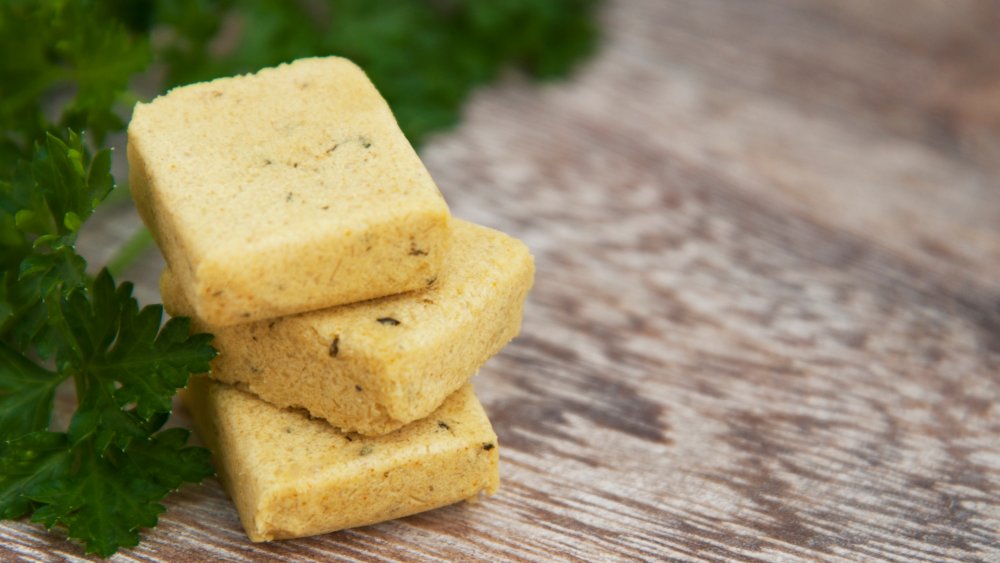 Shutterstock
Additionally, The Spruce Eats recommends using bouillon cubes as a substitute for chicken broth by combining one cube with one cup of boiling water to create the equivalent of one cup of broth. However, if you use bouillon to make your broth, you may want to cut back on any additional salt, as bouillon tends to be salty. And if you don't have any bouillon, The Spruce Eats notes that just as you can substitute chicken broth for white wine, you can substitute equal amounts of white wine for an equal amount of chicken broth. While it may slightly change the flavor, it will add depth and be equally tasty. 
So the next time you find yourself without any chicken broth or stock in the cupboards or refrigerator, remember there are plenty of creative options that can work just as well, if not better.