The Five Guys Secret Menu Item That People Are Most Excited To Try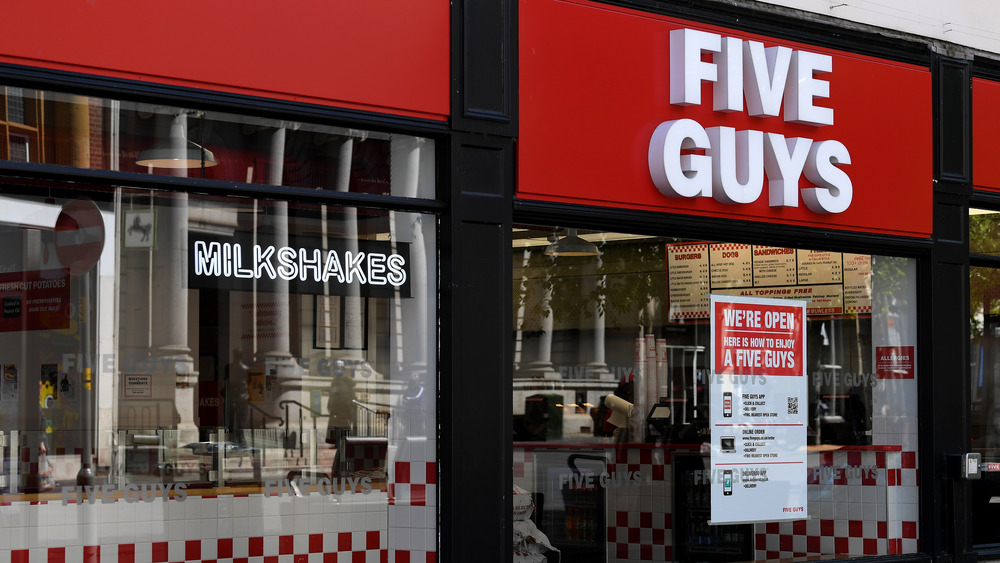 Ross Kinnaird/Getty Images
The funny thing about "secret" fast-food menus is that, well — they aren't actually that secret once they're unleashed upon the internet. And please, folks, employees would often prefer you to tell them what's in the secret menu item when you order it. There's enough for fast-food employees to keep track of without you coming in demanding a "Presidential Burger" and expecting them to somehow know the recipe (via Wide Open Eats and Business Insider). But that doesn't mean you can't stroll into Five Guys, the much-loved burger chain, feeling ultra-cool, and order off-menu.
There's a number of off-menu "hacks" that are totally doable with the ingredients Five Guys kitchens have on hand. Employees can whip you up a patty melt, a "double-grilled" cheeseburger, or a Sloppy Joe. They can top your fries with nacho cheese, or even put together a jalapeño popper sandwich. But which menu items are the people most excited about? We decided to find out. Mashed conducted a survey of 656 people and asked them which secret menu item at Five Guys they've always wanted to try. The results might surprise you.
People are hyped about this one Five Guys secret menu item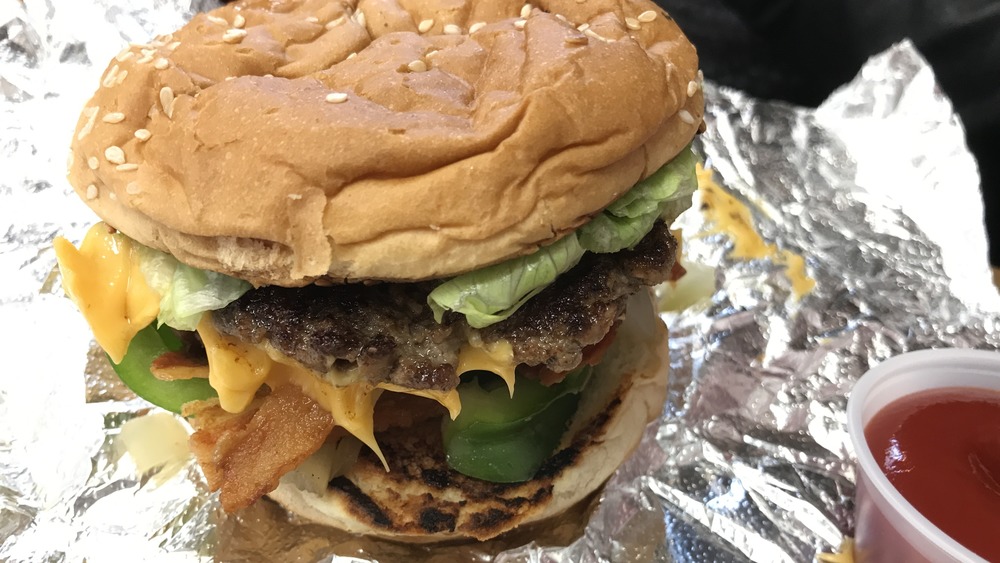 Shutterstock
First, the low scorers. Not as many people were excited about a secret "Sloppy Joe," with 10.98 percent of the vote or a "patty melt" with 14.02 percent. It's not strictly science, but we'd hazard a guess that you can get these classic sandwiches at any old lunch spot, not just at Five Guys. But while the Five Guys "patty melt" is pretty much what you'd expect: a burger inside a Texas toast grilled cheese (via Business Insider) — turns out the "Sloppy Joe" is anything but. It's a hamburger topped with grilled green peppers, grilled onions, ketchup, and barbecue sauce — none of that soupy ground beef you'd expect (via Wide Open Eats).
The top choices, however, are a little more unexpected. The runner up was a "Double Grilled Cheeseburger," with 24.09 percent of the vote. This king of all sandwiches is a cheeseburger between two whole grilled cheeses. This thing is loaded, and apparently, very delicious. But the top choice was the "nacho fries" with 25.46 percent of the vote. It's just Five Guys' regular delicious fries in a foil container, topped with nacho cheese and any other ingredients of your choice — jalapeños or bacon, for example (via the Recipe). Your arteries probably won't thank you, but your mouth sure will.