The Game-Changing Trick To Perfectly Cooked Scalloped Potatoes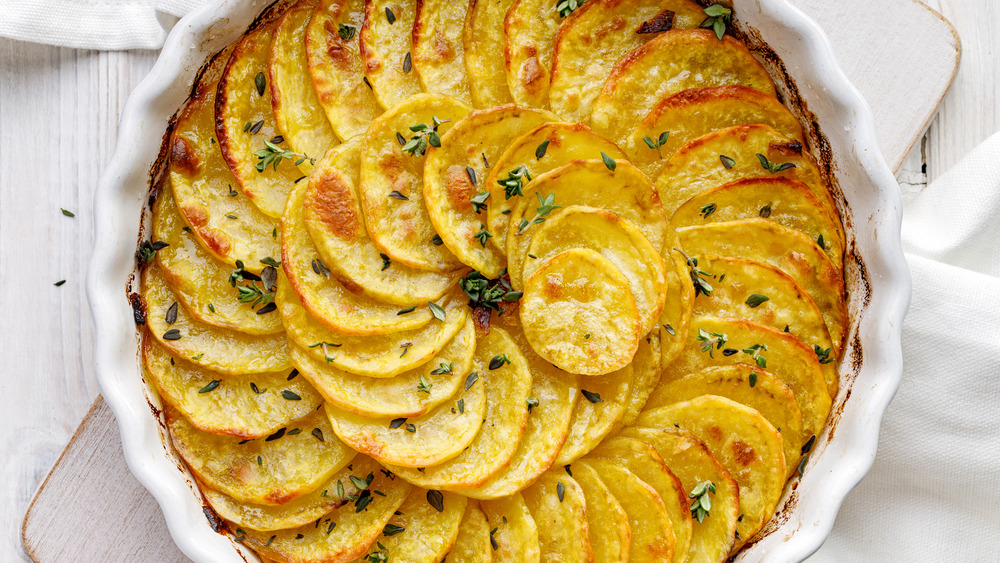 Shutterstock
With the holidays at our doorsteps, now's the perfect time to break out the tried and true recipes, alongside your favorite potato showstoppers. Scalloped potatoes come to our rescue as a great side dish that can please a crowd, while also showing off our skills in the kitchen. According to The Kitchn, these potato delicacies consist of thinly sliced potatoes baked in a casserole dish alongside heaping portions of cream, herbs, and spices. While the standard recipe comes across as fairly straightforward, it's possible to take your scalloped potatoes to the next level using a trick developed by the chef Michael Symon.
According to Food Network, Symon steps up his scalloped potato game by covering the dish of potatoes, herbs, and cream in aluminum foil before it hits the oven. By covering the potatoes with aluminum foil, the chef creates a barrier that allows the thinly-sliced potatoes to steam and cook evenly without breaking apart in the pan (via Food Network). Regularity plays a key factor in ensuring your potatoes come out of the oven in the best way possible, and using a mandoline to evenly slice your potatoes before you bake them ensures you can get the creamy, luxurious consistency that truly makes this side shine.
The gooiest scalloped potatoes for the holiday season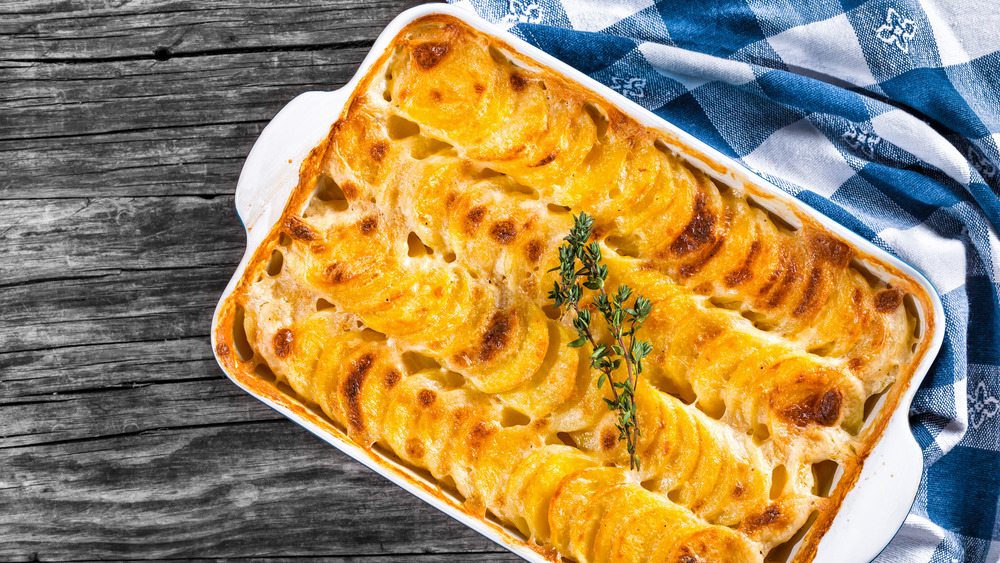 Shutterstock
If this dish sounds overly complicated to make on a time crunch, have no fear! According to Spend With Pennies, you can whip up the dish ahead of time by partially baking it before the day of festivities. To get the perfect, pre-cooked product, cover the prepared scalloped potatoes in a casserole dish, cover with aluminum foil, and bake them in the oven for 50 to 60 minutes. Let the casserole cool on the counter and stick it in the fridge when it hits room temperature. On the day of the celebration, warm up the dish in the oven uncovered for 35 minutes, and you'll have an instant family favorite.
Whipping up the perfectly-uniformed scalloped potato side feels intimidating, but with the right tips and tools, any home chef can create this special side! As long as you remember to cover the dish with aluminum foil before baking, you'll end up with the best version of this dish you have ever tasted and everyone who indulges in the side will have to come back for seconds.