Tasty Ways To Cook Potatoes You Never Thought Of Before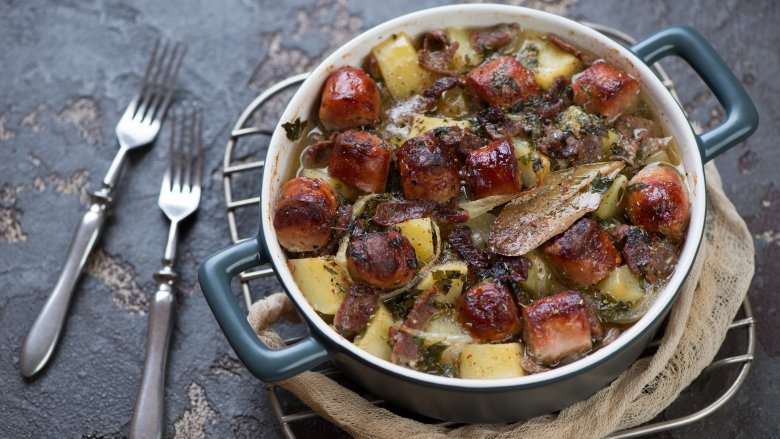 Shutterstock
Potatoes are one of the basic staples of our diet, and it doesn't matter where in the world you are, chances are pretty good you have potatoes at least once a week, you always pick some up at the store, and you always have some on hand.
But, there are only so many nights you can eat mashed or baked potatoes. They might be a staple, but they can also be kind of boring. They're the stand-by side when you don't have time to whip together anything else, and there's no reason it needs to be that way. There are a ton of delicious dishes you can make with potatoes, and none of them are any harder or more time-consuming than your normal sides and mains. Potatoes can be a great — and creative — addition to any meal, and that's true whether we're talking breakfast, lunch, or dinner. Let's talk about how you can turn your potatoes from boring to spectacular.
Boxty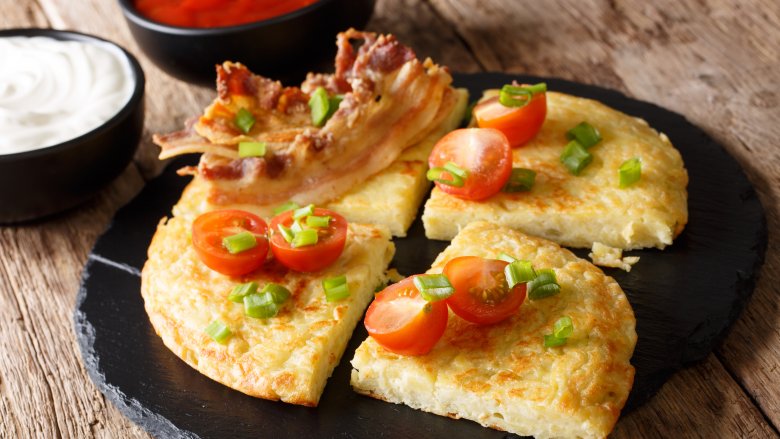 Shutterstock
Potatoes are a major part of the Irish diet, and generations of Irish cooks have spent time perfecting some of the simplest, most filling, most delicious potato dishes you can imagine. Boxty is one of those, an easy but versatile potato pancake that goes with any meal and works any time of the day.
The basics couldn't get more straightforward: take a cup of grated potatoes, a cup of mashed potatoes (making this a great way to use up leftovers), a cup of flour, two eggs, half a cup of milk, and a dash of baking soda, salt, and pepper. Mix everything together into a batter that's slightly thicker than pancake batter, and add more milk or flour if needed. Then, just fry it in a pan like you would a standard pancake. That's it!
Serve them for breakfast along with eggs and bacon, for lunch with a dollop of sour cream and some chives, or use them as a dinner side with any protein.
Aloo gobi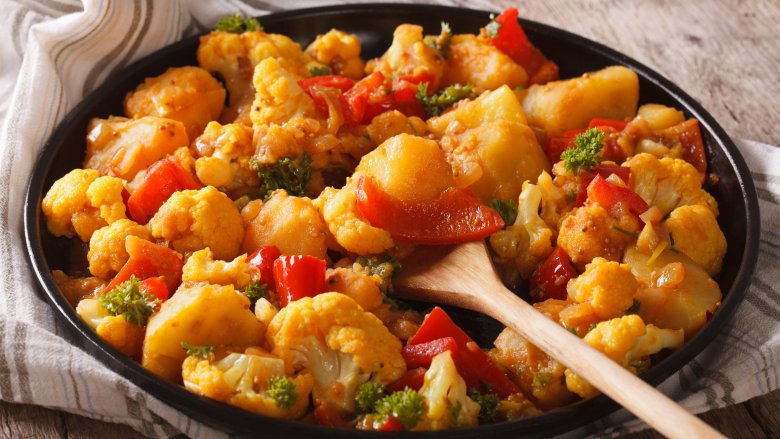 Shutterstock
Aloo gobi is a brilliant way to not only cook potatoes, but it's great for adding a vegetarian dish to your regularly made meals. It's hearty enough that it's perfect for even the most cynical carnivores, and with a super dose of spicy curry, it's definitely not boring.
Plus, it's easy — and we all love easy. First, fry up some cauliflower florets, and a few minutes after you throw them in the pan, add your sliced potatoes. Take them off when they start to brown (but be sure you don't overcook them, or they'll turn soggy). Then, use the same pan to heat onions to translucent, and season with ginger-garlic paste and cumin. Cook for a few minutes, then add the rest of your ingredients: rough-chopped tomatoes and a bit of puree, red chili powder, coriander, and turmeric. Feel free to spice it up if you like some extra heat, and add some fresh chilis or extra curry flavor if you like. Simmer the sauce, then add your cauliflower and potatoes back in to cook the rest of the way. Serve just like you would curry, with rice or a side of naan.
Chicken fried potatoes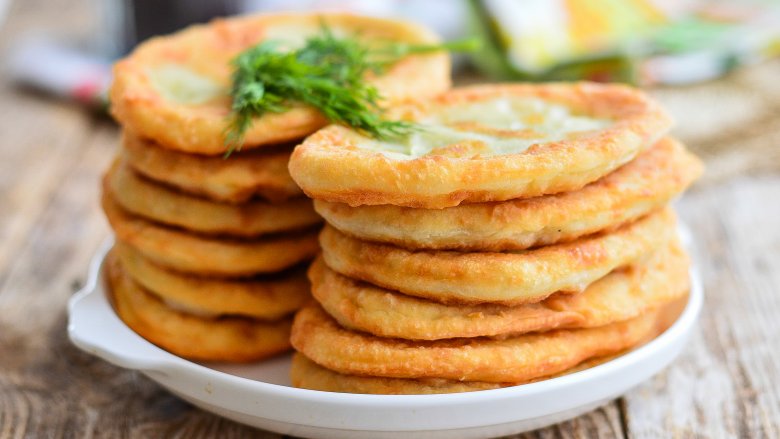 Shutterstock
You love fried chicken, right? How about chicken fried potatoes? They make a delicious side, appetizer, or addition to a party platter, and they're definitely easier than fried chicken.
Just slice the potatoes, keeping them around a quarter of an inch thick. Preheat oil in a skillet while you prep your potatoes, and start by covering them in a mixture of buttermilk, thyme, salt, pepper, and garlic. In another bowl, mix up the batter. You can use any fried chicken batter recipe, but if you don't have a favorite, start with flour seasoned with things like onion powder, mustard, paprika, salt, and pepper. Dredge your potato slices — just like you would chicken — and fry them up. They should take only about 6 to 8 minutes in the pan, and you'll have a crispy, crunchy, side dish guaranteed to get all kinds of comments, especially if you serve them with some blue cheese, Sriracha-mayo, or BBQ sauce for dipping. 
Poutine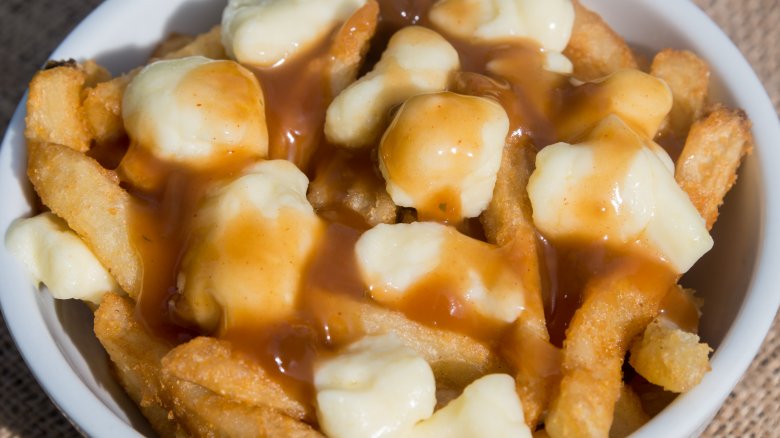 Shutterstock
Poutine is a traditional Canadian dish that will absolutely take your fries to the next level — and we're not joking. There are a ton of ways you can put this one together, but if you want something super-traditional, you'll need to pile your fries high with cheese curds and a gravy that's somewhere between chicken- and beef-based. Use a stock that's half-and-half, and you're there.
Depending on where you live, getting cheese curds could be a challenge. If that's the case, swap them for some chunks of fresh mozzarella and you'll get sort of the same effect. If you're less concerned about tradition, mix it up by adding some maple bacon crumbles, top it with a fried egg, or replace those fries with a baked potato or potato gnocchi. This is a great way to use up leftovers, too. Dice some ham, slice up some meatballs, cover with pulled pork or chicken, or slice up that last piece of sausage.
Aloo pies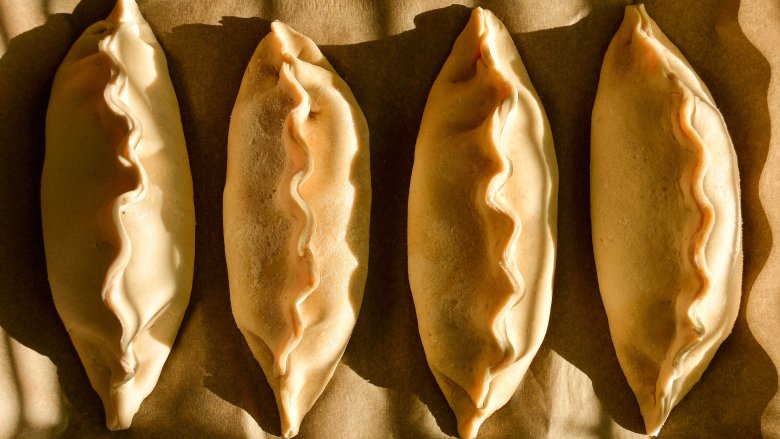 Shutterstock
Aloo pies are another idea you can adjust in almost an infinite number of ways to make them completely your own. They're potato-filled pies, but they're also so much more than that!
Let's talk basics, and while you can definitely make your own thin pie crust, you can also use filo dough or any kind of premade pie crust. Then, make your filling. You're going to start with cubed, boiled potatoes, then add whatever veggies and seasonings you like. For example, let's talk Caribbean-inspired. Add in some corn, onion, and peas, then season with ginger, cumin, paprika, curry powder, cayenne, parsley, and cilantro, all to taste. You could also opt for a beef-based sauce, or something with a chicken-based gravy. 
Whatever you decide to go with, just roll out your dough while your filling is simmering away on the stove. Slice the dough into pieces large enough to accommodate your mix with enough space left to pinch them firmly shut. Since the filling is already cooked, all that's left to do is fry them up a bit so the dough is crisp, and you have some delicious, handheld pies perfect for a hot lunch.
Salt potatoes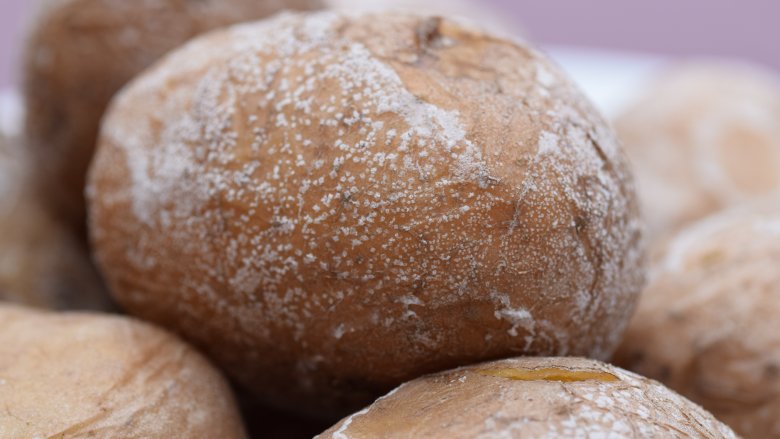 Shutterstock
It's entirely possible you're not familiar with salt potatoes if you're not from New York, and that's a shame — they're amazing, and they're so simple they're bound to become a favorite side. They're heavy on the salt, of course, and while that means they might not be for you if you're watching your sodium intake, it also means they're perfect for serving alongside anything that comes off the grill.
Start with fairly small potatoes — fingerlings are perfect. Just boil them in a pot filled with a ratio of a little more than a cup of salt to four cups of water, and we did say this wasn't for the faint of heart! Let them boil for around half an hour, then take them out and let them dry in a colander. The salt will crystallize on the potato skins, and all you need to serve them with is a side of melted butter.
Clapshot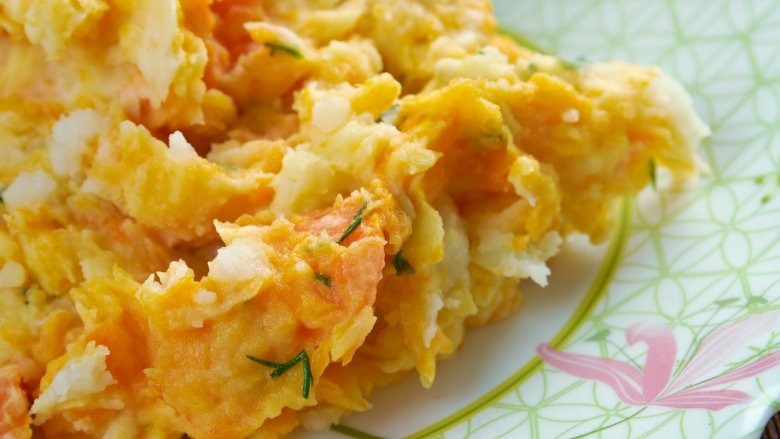 Shutterstock
Clapshot is a traditional side dish from Scotland, and you usually see it served alongside haggis. You definitely don't need to make — or even like — haggis to appreciate clapshot, though, and it's super easy to make. It's a version of mashed potatoes with a few extra ingredients that completely change the flavor profile, and it's nondescript enough it can be served with pretty much any protein.
Take a healthy helping of peeled and cubed potatoes, along with half as much peeled and cubed turnip. Add to a pot with a few sliced carrots and a dash of salt, then cover with water. Boil and simmer until everything is tender, then mash (as smooth or as chunky as you like) and serve with slabs of butter and a drizzle of heavy cream on top. While that's the simple, traditional version, you can also add chives, onion, green scallions, or bacon to dress it up a bit. Let's face it — everything's better with bacon. Bacon and butter? Yes, please.
Dublin coddle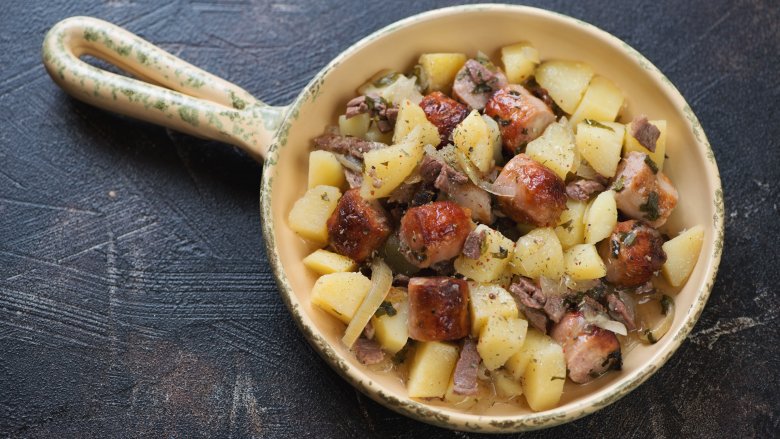 Shutterstock
A lot of Irish food is definitely of the comfort-food variety, and Dublin coddle is definitely that. There aren't too many ingredients — so quality is key here — and this potato-based casserole is  super easy to make.
Start by frying up your choice of sausage and slices of streaky bacon, and while you don't technically need to do that, it'll add a brilliant texture to what might be otherwise slightly objectionable. Set those aside. Grab a casserole dish (the stovetop sort), and start putting your ingredients in one layer at a time. Start with the bacon, sausages, and a few bay leaves, then add a layer of barley, then a thick layer of sliced (or cubed) potatoes. Cover the whole thing with chicken stock, and cook until it all starts to boil. Simmer for half an hour, then finish it off in the oven. You know it's done when the potatoes turn a golden brown, then serve up this hearty dish with a side of fresh bread.
Kugel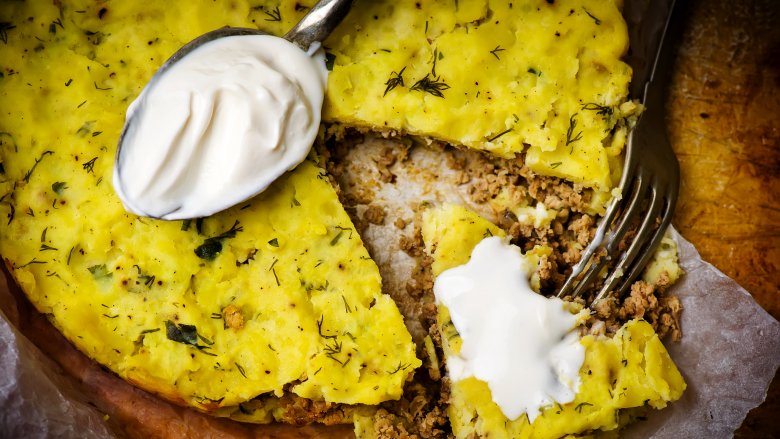 Shutterstock
Kugel has been around for hundreds of years, and it's another dish with a ton of variations. Let's talk about the soul of the dish first, then how you might mix it up and make it your own.
The basics are simple: peeled and grated potatoes, (enough to fill your casserole dish), a couple peeled and grated onions, with eggs and vegetable oil to bind the entire thing together. Mix, add salt and pepper to taste, and bake until browned. That's it! Adjust the amounts to whatever you need for the number of people you're feeding, and you can also use giant muffin tins to turn out some pre-portioned, single servings.
You can see how this is a brilliant base to dress up any way you like. Add a crumble topping (try potato chips or corn flakes), a layer of cheese, or stir some spinach or broccoli into the base. Sure, it might not be as traditional, but it'll still be delicious!
Potato waffles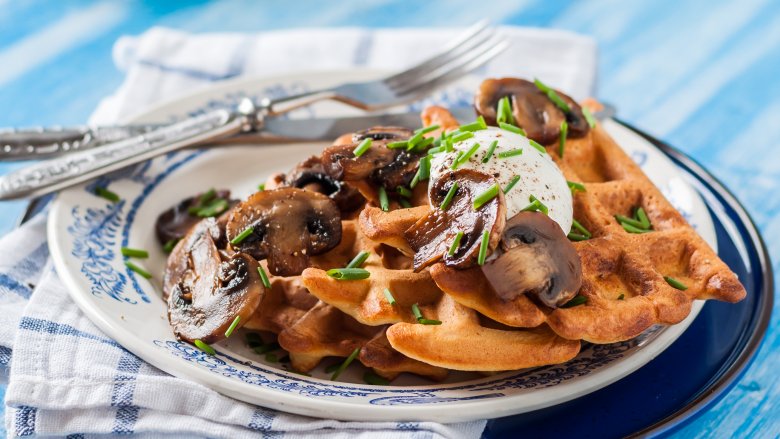 Shutterstock
Hit any British or Irish grocery store, and you'll find potato waffles are a staple. There's no reason to pick them up there, though, not when you know you always have leftover mashed potatoes every time you make them. Turn them into potato waffles!
Just mix your mashed potatoes with flour in a ratio of 8:1, then add a few eggs for a binder and salt and pepper to taste. Scoop some of the mixture into your waffle iron, and make just like you'd make any other type of waffles.
The potato waffles that come out are a great base for pretty much any meal. Serve with a side of bacon and a few sausages for breakfast, top with a dollop of sour cream and chives for a light lunch, or serve them under or alongside virtually any protein. Chicken and potato waffles, anyone? You can also mix them up right from the beginning, and add things like bacon and cheese to the batter.
Stuffed twice-baked potatoes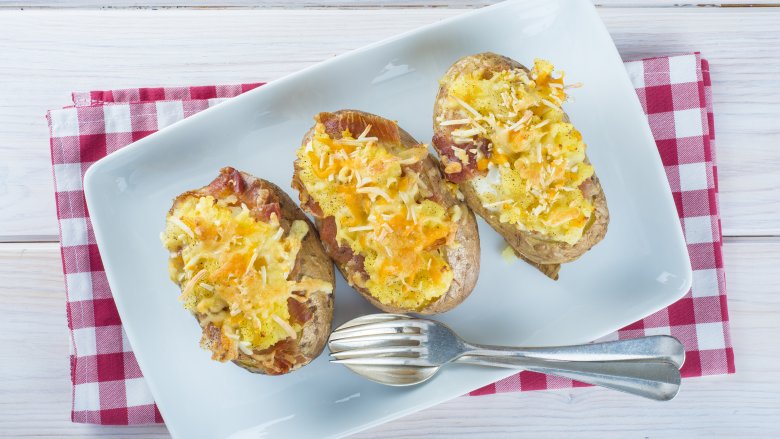 Shutterstock
You've probably made twice-baked potatoes before, and they're delicious, right? We're talking about switching that favorite up in ways you probably never thought of, so let's take just one example that combines shepherd's (or cottage) pie with twice-baked potatoes.
It's easier than it sounds, albeit a little time-consuming. You're going to make twice-baked potatoes the same way you always do, but instead of just filling the skins with potatoes, you're going to cook up a bit of shepherd's pie filling (by browning lamb, then adding carrots, celery, onions, garlic powder, stock, and a dash of Worcestershire sauce and cooking to a thick gravy), then fill your skins, add a dollop of mashed potatoes on top, and bake again. Brilliant, right?
There are a ton of ways you can mix up this concept for a potato dish hearty enough to be the main course. Use beef instead of lamb for a cottage pie, layer in your favorite meat-based or vegetarian chili, or hide some caramelized onions in the center.
Chocolatey potato truffles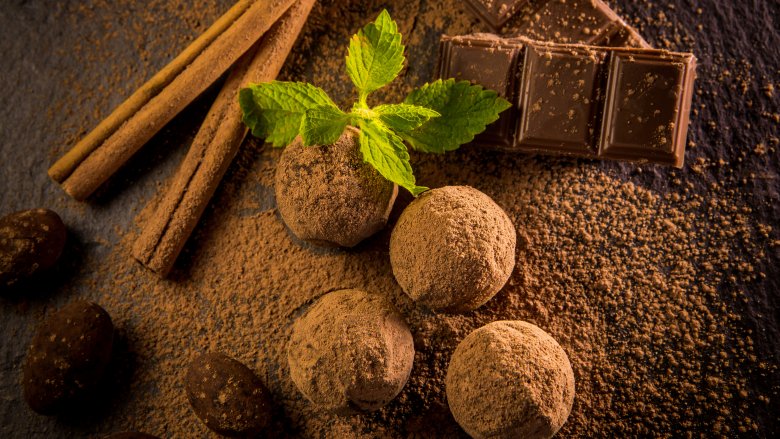 Shutterstock
We know what you're thinking, and it's probably equal parts skepticism and wondering why you haven't thought of trying this before. Potatoes are hugely versatile, and they're well-adapted to partnering with any stronger flavors you care to mix them with. That makes them the perfect way to make a healthier version of chocolate truffles that will satisfy your sweet tooth while not destroying your diet.
They're easy, too. Just start with a cup of mashed potatoes, made with a touch of butter and milk. Add your ingredients to taste: dark or regular cocoa powder, vanilla, rum, or almond extract, and sweetener (like honey or golden syrup) to make them as chocolatey and as sweet as you like. Then, mix and form into balls while you melt your chocolate, then dip your truffles into the chocolate to make that hard shell that covers your soft, sweet center. Set the truffles on a plate, and spoon toppings over before the chocolate solidifies. Use shredded coconut, more cocoa powder... anything you like!