How American McDonald's Burgers Differ From Germany's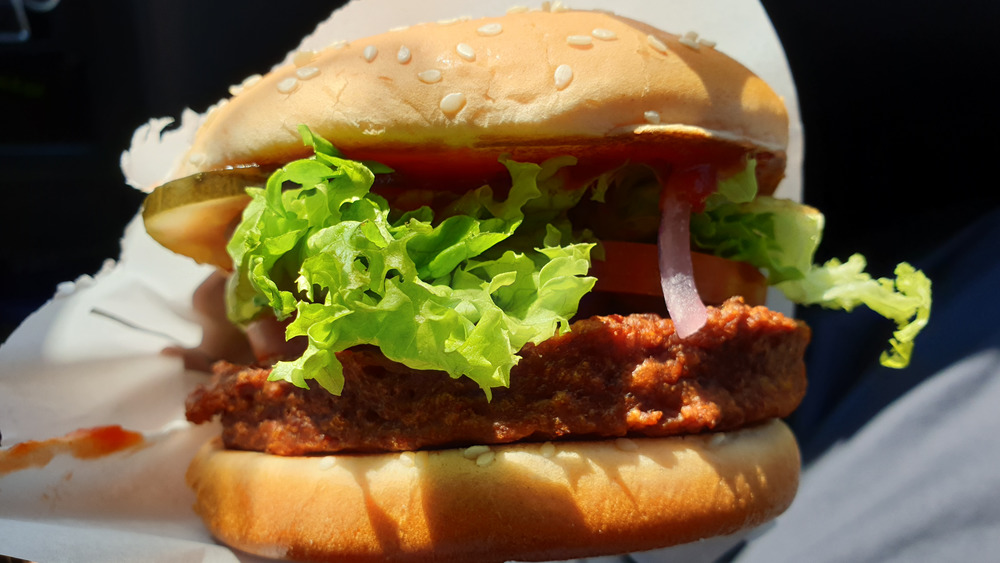 Shutterstock
There are over 34,000 McDonald's locations in 118 countries across the world, from China to Australia to the Netherlands. While the McDonald's menu stays the same from state to state in the U.S. (Big Mac, Chicken McNuggets, fries, McFlurry — the usual), it isn't the same in other countries. I.e. your trip to an American McDonald's will look (and taste) very different than your trip to a French or a Japanese McDonald's. Each country has its own line-up of unique menu items. 
Take Germany, for instance, which is McDonald's' biggest European market, according to Academy of Strategic Management Journal. Sure, you can still order the classics at McDonald's in Munich, along with a pint of beer — yes, really (via Thrillist). But there's one popular food that looks a lot different at a German McDonald's: the burgers. Here's what you can get in Germany that you can't get in the U.S. when it comes to McDonald's' famous patties.
German McDonald's have everything from vegan burgers to surf and turf
Forget plain old cheeseburgers. In Germany, they take their McDonald's burgers very seriously, meaning there are tons of unique options that you won't find on the menu in America. There's the Signature Surf n' Turf (which features breaded shrimp, avocado cream, and bacon) and the Signature Salsa Avocado Burger with the same avocado cream along with spicy jalapeños and salsa for anyone craving some Tex-Mex flavors. And if you like your beef with a side of more beef, you can order the McDouble Chili Cheeseburger, which is two burger patties topped with a hearty helping of meaty chili cheese sauce.
There's even a meatless burger for vegans and vegetarians. The Big Vegan Burger has a patty that's made of soy and wheat, which the Independent says has a meaty taste despite containing zero animal products. The vegan burger is topped with salad, tomatoes, pickles, and fresh red onion and is yet to be made available in the U.S.