This Is How To Choose The Best Wine For Mulled Wine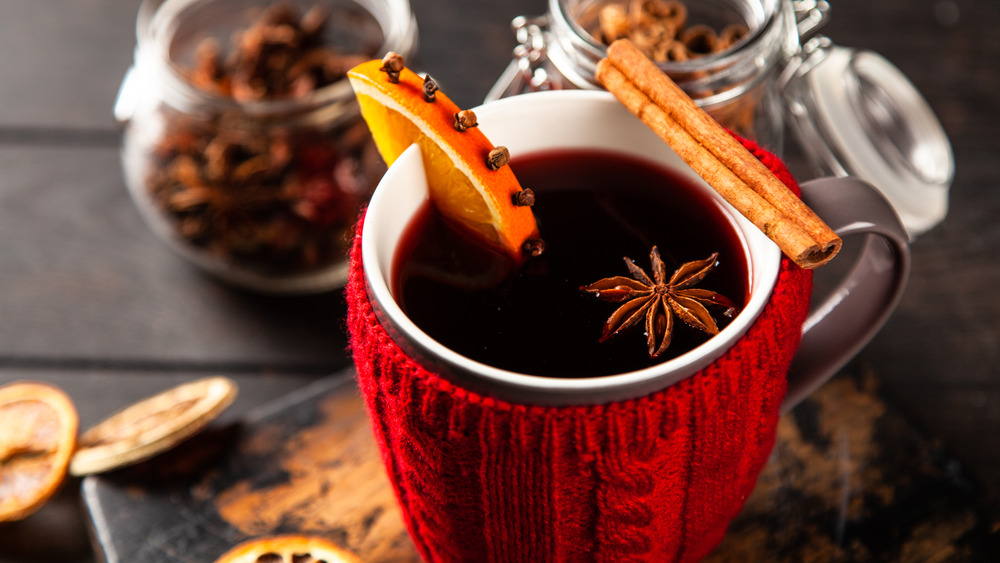 Shutterstock
As the temperature continues to drop, nothing hits the spot like a warm drink. Curling up with our favorite hot chocolate or seasonal latte can feel cozy, but if we want to take relaxing drinks to the next level, a glass of mulled wine can lift anyone's spirit to new heights. This warm alcoholic beverage dates back to 2nd century Rome and quickly spread across the far corners of the ancient empire (via Vivino). The recipe has changed very little over the centuries — heat your favorite wine together with a mix of spices and aromatics, and you have a comforting drink perfect for anything that cold weather can throw at you.
If you haven't ever tasted mulled wine, this might be the year to start! Mulled wine doesn't take much effort to make and anyone who craves a break from the cold can whip up a ton of the beverage with no problem. While you have some options in terms of which spices and aromatics to use in your recipe, finding the right starting bottle of wine to mull takes the most skill. According to Good Housekeeping, you need to find a solid mid-range, fruit-forward, unoaked wine for the perfect batch of mulled wine. Look for Italian red wine, Southern French, and New World Merlots and Shiraz for the ultimate mulled wine starting point and whatever you do, don't spend too much — you wouldn't want to lose the flavor of a really good bottle to all those spices.
How much should I spend on a bottle for mulled wine?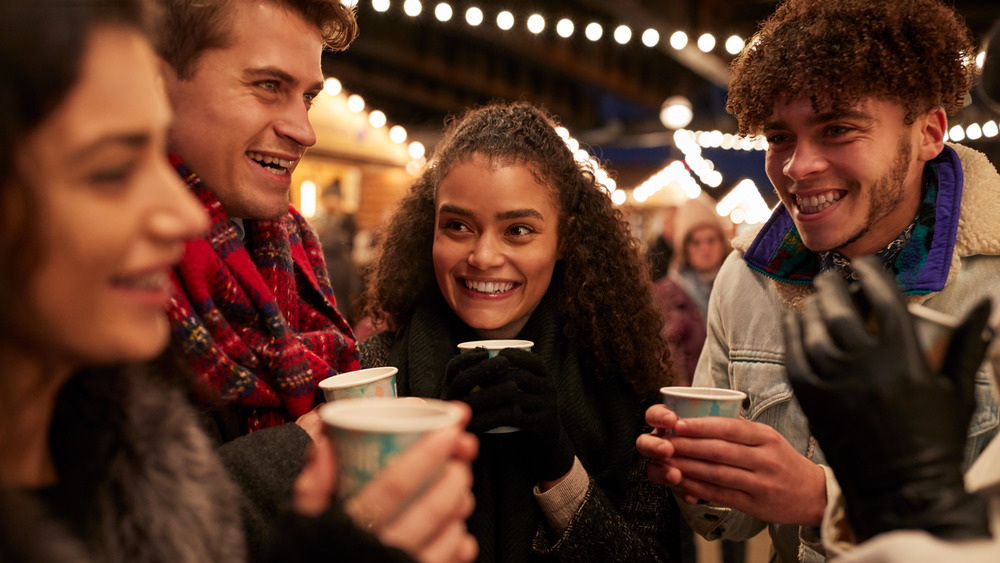 Shutterstock
According to Eater, the perfect price point for your starting wine lies anywhere between $12 – $40. To make this level of wine shine, you want to heat up the alcohol with clove, cinnamon, star anise, nutmeg, a bit of honey, brandy, and an orange slice for garnishing, but don't feel afraid to add in some cardamom, lemon zest, chamomile flowers, apple, pear, or ginger. These flavors pair perfectly with a red wine that has high amounts of tannins, a solid alcohol content, and a ton of fruit notes in the bouquet.
If you want to really step up your mulled wine game, you can look for some very specific wine varieties. According to The Manual, the 10 best wine varieties for mulled wine include Montepulciano d'Abruzzo, Nero D'Avola, Alentejo Red Blends, Beaujolais Nouveau, Nahe Riesling, Australian Shiraz, Californian "Petite Sirah" Blends, West Coast Pinot Noir, Carolina Muscadine Blends, and Argentinian Malbec. If none of these options ring a bell, don't worry — midrange wines can't let you down, and if you have to make a ton of mulled wine for a crowd, don't feel guilty choosing a boxed wine to keep flavors high and prices low. No matter your budget, you can always turn a comfy day inside into a magical experience with this rich, relaxing beverage that makes any day better.