Candied Yams Recipe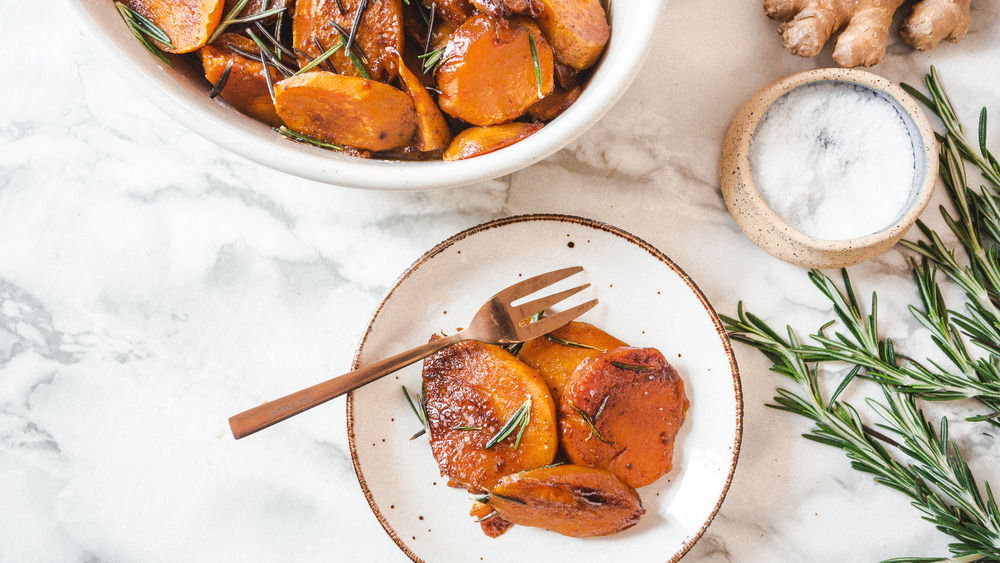 Ksenia Prints/Mashed
At dinner tables across the United States — and even in the South, where they hail from – candied yams are a subject of debate for many families. Some families insist on piling their candied yams with marshmallows. Others boil them. Still others do nothing but drizzle oil and sugar before sending them into the oven to roast.
But in our classic candied yams recipe, their natural sweetness is enhanced in much more traditional ways: by roasting it with butter, maple syrup, and sweet and aromatic spices. Best enjoyed family-style, these candied yams with rosemary and maple syrup make a rich and elegant side, beloved by kids and adults alike. You can serve them alongside perfectly roasted chicken, turkey or even lamb for a complete meal people will rave about for days!
Although they are often relegated to the holidays, candied yams with maple syrup and rosemary are a side dish that you'll be craving throughout the entire year.
Yams versus sweet potatoes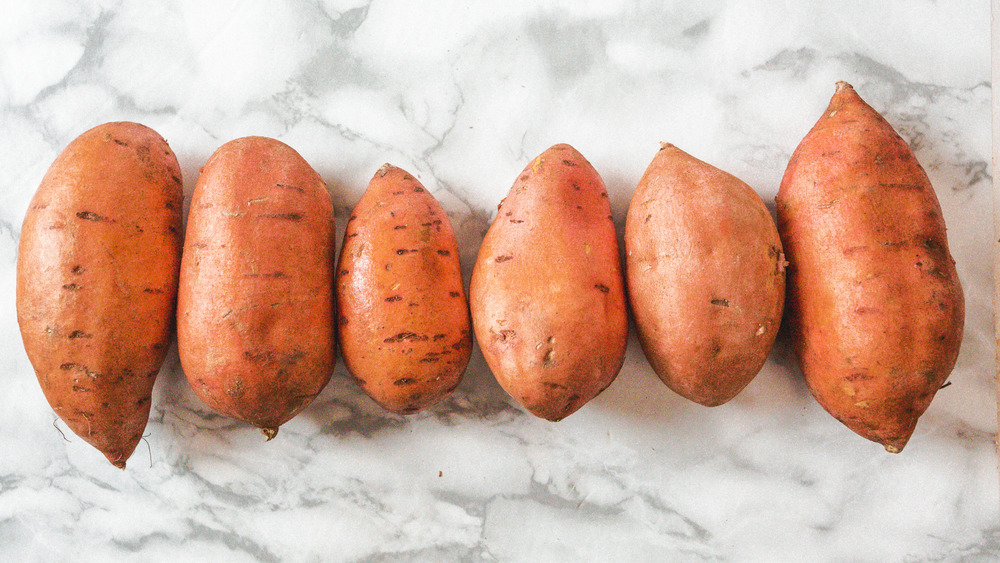 Ksenia Prints/Mashed
Candied yams have an interesting, slightly controversial, transatlantic history. First off, their name itself is a misnomer: the vegetables Americans call yams are actually sweet potatoes, that originated in South America. Yams are a starchier root with a pale inside that are mostly used in Asian and African cooking.
In the Americas, sweet potatoes were a staple of Native American diet for eons. They were first popularized across Peru, then Mexico, and then the Southern United States, where they grew beautifully in the warm climate. Sweet potatoes made their way across the pond with Columbus and became candied yams after 1597, when a British chef recommended they be boiled with wine or prunes to enhance their natural sweetness.
Fast-forward a few centuries later, when a U.S. marshmallow company executive came up with a marketing campaign in 1917 to pair his product with sweet potatoes, and a craze for candied yams was born.
Gather the ingredients for classic candied yams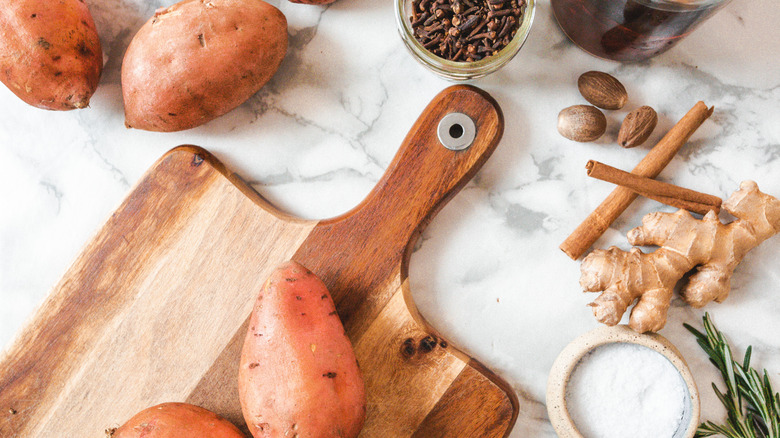 Ksenia Prints/Mashed
First off, you'll need as many sweet potatoes as you have people eating (we usually count about a sweet potato per person, thus allowing for glorious leftovers). Next you'll need butter and maple syrup. Maple syrup lends the dish a more aromatic and nuanced flavor than old-fashioned brown sugar, though you can also use that instead.
In the herbs and spices department, you'll need a few sprigs of fresh rosemary, and some pinches of dried and ground nutmeg, cinnamon, ginger, and cloves. If you're missing any of these dried herbs, don't fret — the difference will be minuscule. You can even grate fresh ginger or use dried rosemary if that's all you have. All spice can be used instead of nutmeg and cloves.
Prep your candied yams ingredients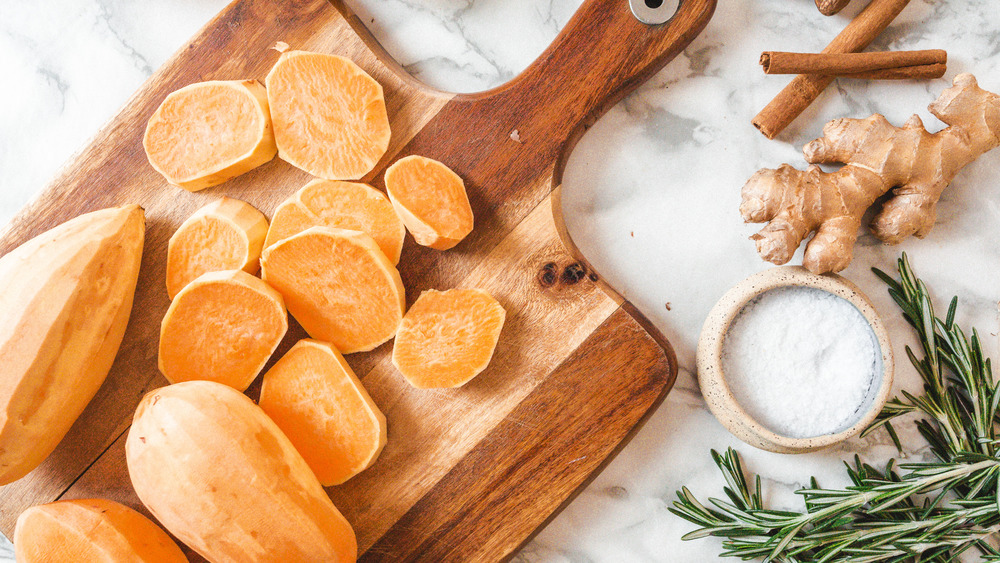 Ksenia Prints/Mashed
Now it's time to prep your candied yams ingredients. Pick a nice baking dish (a glass or ceramic casserole dish is best), and spread it with a thin layer of butter. For easier digestion, peel the sweet potatoes and slice them into ½-inch rounds. You can leave the peel on if you're feeling lazy or going for a more rustic look.
We like to cut our sweet potatoes slices a bit on the diagonal. That makes the pieces a bit longer and more elongated, allowing for maximum surface area to soak up all that sweet and spiced goodness of the sauce.
If you're practicing your knife skills, you can even dice the sweet potatoes into 1-inch cubes. They'll cook a bit faster that way, so make sure you check on them about 10 minutes earlier if following this advice. 
Make the spiced buttery sauce for candied yams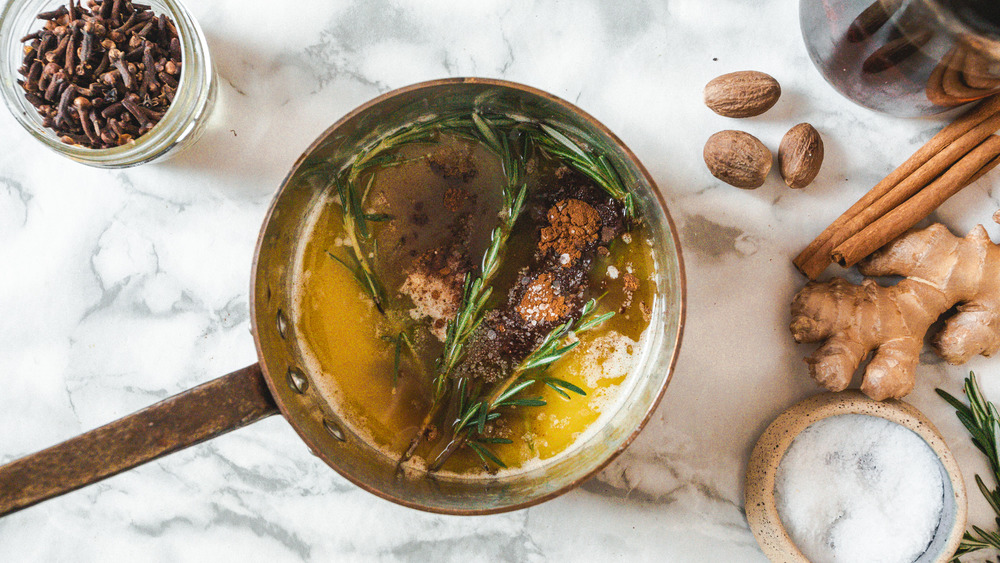 Ksenia Prints/Mashed
The secret to great candied yams is all in the sweet, spiced, buttery sauce. So let's make it! Set a small saucepan set on medium heat, and wait for it to warm up sufficiently. Add butter, and allow it to melt fully, giving it an occasional stir and poke to hurry it along.
When the butter is completely melted, add the remaining ingredients: maple syrup, rosemary sprigs, cinnamon, nutmeg, cloves, ginger and salt. There is no reason to remove the rosemary from the sprigs — leave it whole for the visual effect.
Bring the mixture to a boil, stir it a few more times, lower heat and allow it to simmer for three minutes. Once it's done cooking, remove the candied yam butter and maple syrup sauce from the stovetop. Your house should smell like a candy shop at this point!
Arrange everything for the candied yams in a baking dish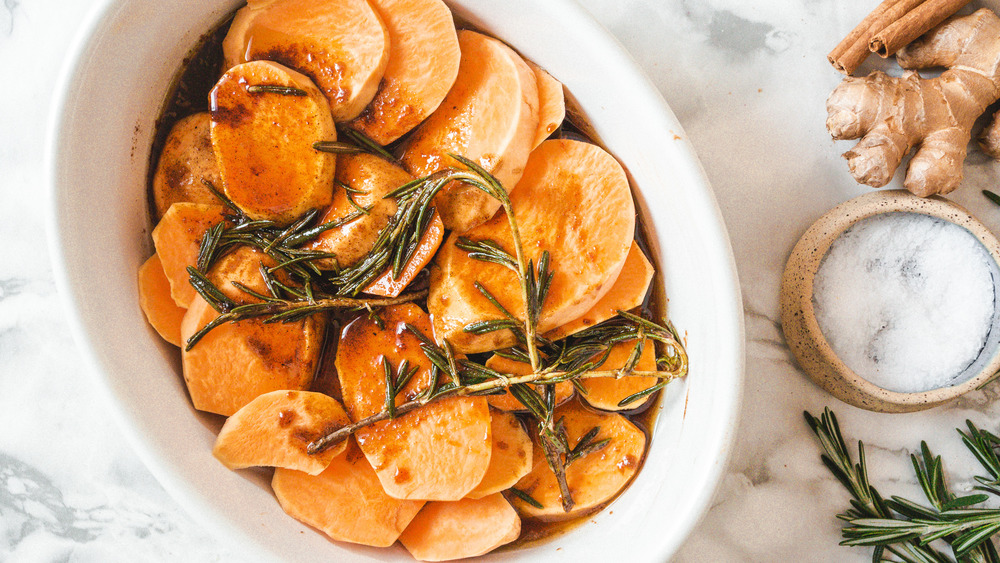 Ksenia Prints/Mashed
Once your sauce is done cooking, it's time to join the forces of sweet potatoes, butter and maple syrup. Your tastebuds will thank you.
Arrange the sweet potato slices in your prepared baking dish. Try to have the sweet potato slices overlapping each other only slightly. This allows for their edges to brown better. If your baking dish is small, don't worry — even fully overlapping, layered candied yams taste divine!
Pour the butter, maple syrup and spice mixture over the sweet potatoes. Stir everything lightly, helping the sauce get into all the little nooks and crannies. Place a few more rosemary sprigs on top, and cover baking dish with aluminum foil, making a nice, warm bubble for your candied yams to cook in.
Baking the candied yams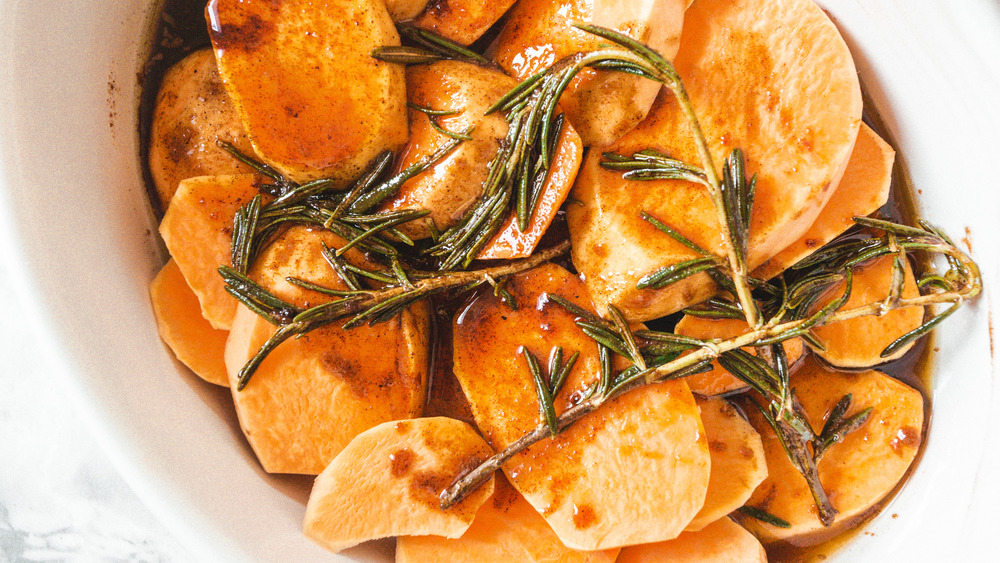 Ksenia Prints/Mashed
Wrapped up in aluminum foil and all nice and snug inside their baking dish, your candied yams are ready for their sojourn in the oven.
Place candied yams in a preheated 375 Fahrenheit oven for 30 minutes. This will steam the sweet potatoes and help the butter, maple syrup, rosemary, and spices penetrate their flesh as much as possible. Not only will this stop the sauce from just evaporating in the first 10 minutes, but it will result in soft and gooey candied yams.
If your casserole dish has a lid, you can also use it instead of aluminum foil, though it does conduct the heat a bit differently.
Remove the foil and brown up the edges of your candied yams for maximum taste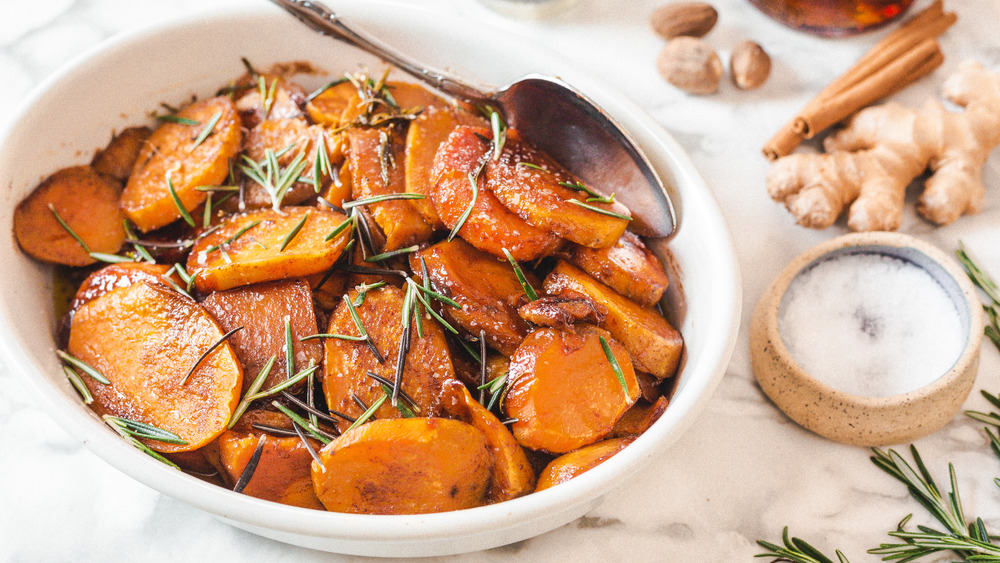 Ksenia Prints/Mashed
Put on some oven gloves because it's about to get hot! After 30 minutes have passed, you'll need to remove the aluminum foil and allow the candied yams to bake for an additional 20 minutes, as naked as the day they were taken out of the earth. This helps brown their edges and creates a beautiful caramelization. Don't skip this step!
After a total of 50 minutes in the oven, your candied yams will come out slightly browned, perfectly soft, and extra gooey with all that maple syrup and butter.
Serve candied yams as a drool-worthy side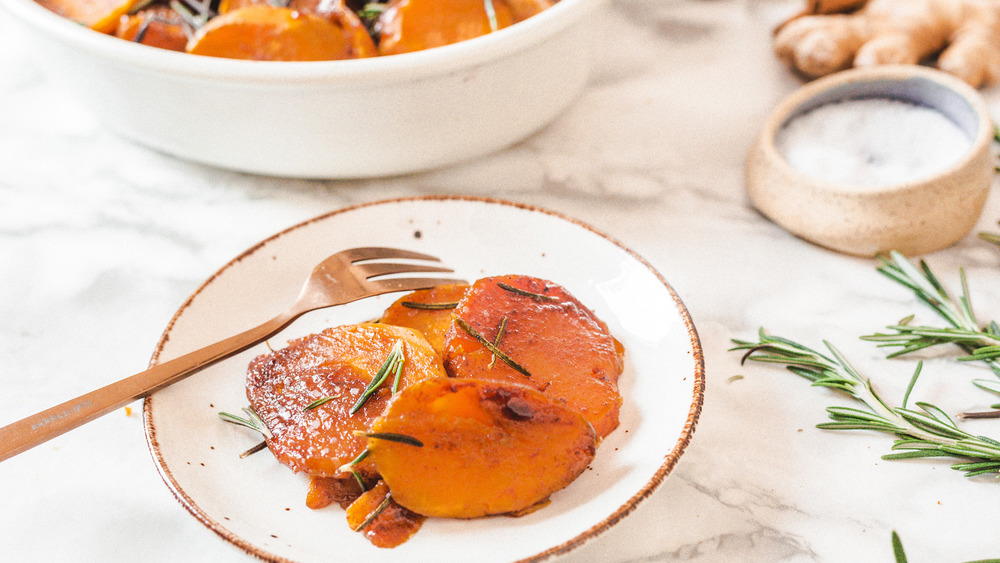 Ksenia Prints/Mashed
After all that baking and saucing, your house smells divine, and you have a beautiful candied yams side dish on the table. But just you wait.
No, literally, wait. It takes the leftover sauce an additional ten minutes to cool down and thicken slightly. This makes it feel extra luxurious when it's served, rather than just looking like a big pool of spiced oil on the plate. Top the candied yams with a fresh spring of rosemary for visual effect.
You can serve the candied yams at this point with a refreshing salad for a light vegetarian meal. Or pair them up with some turkey, duck, chicken or lamb for a pampering, elegant and delicious feast. Either way, you've just won the side dish game, big time. 
Candied yams can also be made in advance and reheated in the oven before serving.
Delicious candied yams variations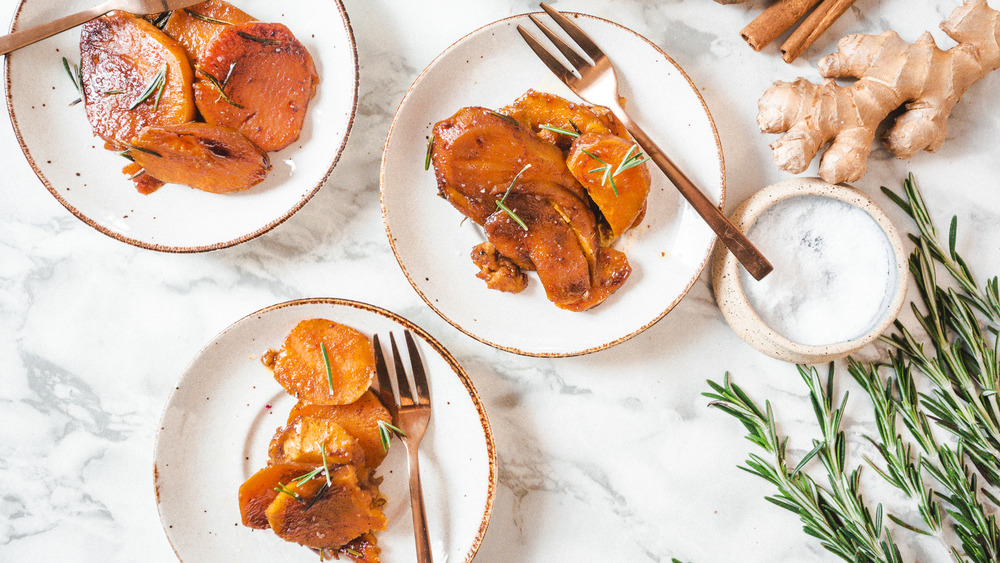 Ksenia Prints/Mashed
Our classic candied yams with maple syrup and rosemary is incredible just as it is. But if you're looking for even more exciting variations, try any of the following candied yams variations:
Orange zest – add the zest of one orange to your melted butter, along with the maple syrup and other ingredients. Grate some more fresh orange zest when serving.

Vanilla extract – add 1 teaspoon of vanilla extract to your melted butter, along with the maple syrup and other ingredients.

All spice and star anise – for a touch of exotic flavor, add ¼ teaspoon inch of grated dried all spice and star anise to your melted butter, along with the maple syrup and other ingredients.

Bourbon – add 1 tablespoon of good Southern bourbon to your melted butter, along with the maple syrup and other ingredients.

Pecans – add ¼ cup of chopped pecans to your candied yams before pouring on the butter sauce. Stir everything well to combine.
Candied Yams Recipe
Candied yams (which are really sweet potatoes) are a savory and sweet side dish that are a hit during the holidays with both kids and adults alike.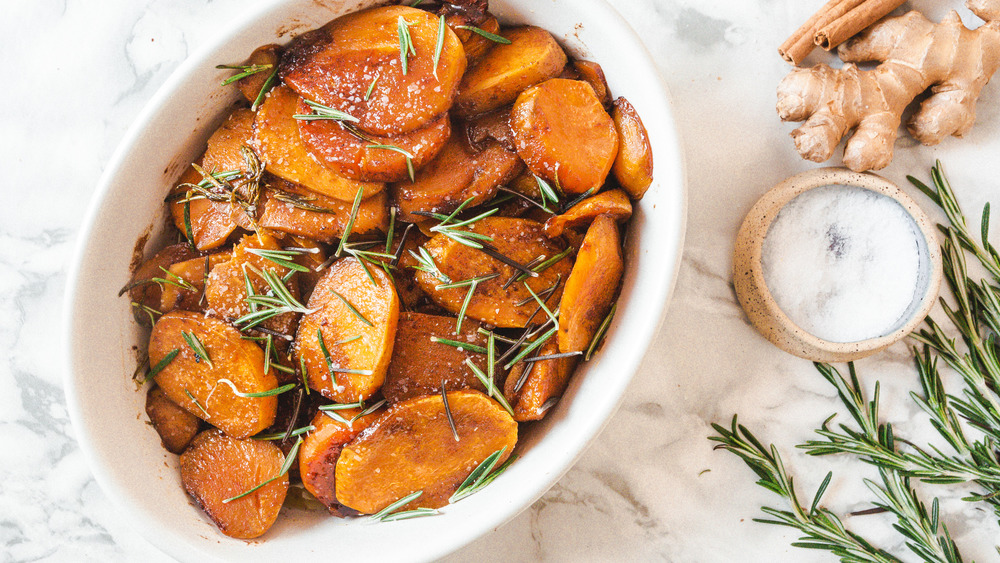 Ingredients
6 sweet potatoes (4 lbs)
½ cup (1 stick or 113g) butter
¼ cup maple syrup
1 teaspoon cinnamon
½ teaspoon nutmeg
¼ teaspoon cloves
¼ teaspoon ginger
fresh rosemary
½ teaspoon salt
Directions
Preheat oven to 375F. Butter and prepare a baking dish.
Peel the yams and cut them into ½ inch thick slices. Arrange the yams in baking dish.
Place butter in a small saucepan. Melt over medium heat, stirring occasionally. When butter has fully melted, add maple syrup, rosemary, spices, and salt. Bring to a boil and let simmer for 3 minutes. Remove from heat.
Pour mixture over yams. Stir, trying to coat them as much as possible.
Cover baking dish with aluminum foil. Place in oven for 30 minutes.
Remove foil and let yams bake, uncovered, for another 20 minutes. Remove rosemary stems. Let candied yams sit for another 10 minutes, allowing the sauce to thicken.
Serve topped with additional chopped rosemary and sea salt.
Leftover candied yams will keep covered in the refrigerator for a week. The sauce will thin as you reheat them, but will thicken as they cool.
Nutrition
| | |
| --- | --- |
| Calories per Serving | 291 |
| Total Fat | 7.8 g |
| Saturated Fat | 4.9 g |
| Trans Fat | 0.3 g |
| Cholesterol | 20.2 mg |
| | |
| --- | --- |
| Total Carbohydrates | 53.1 g |
| Dietary Fiber | 6.8 g |
| Total Sugars | 17.1 g |
| Sodium | 316.5 mg |
| Protein | 3.5 g |