This Costco Shortcut Makes Indian Dinners A Breeze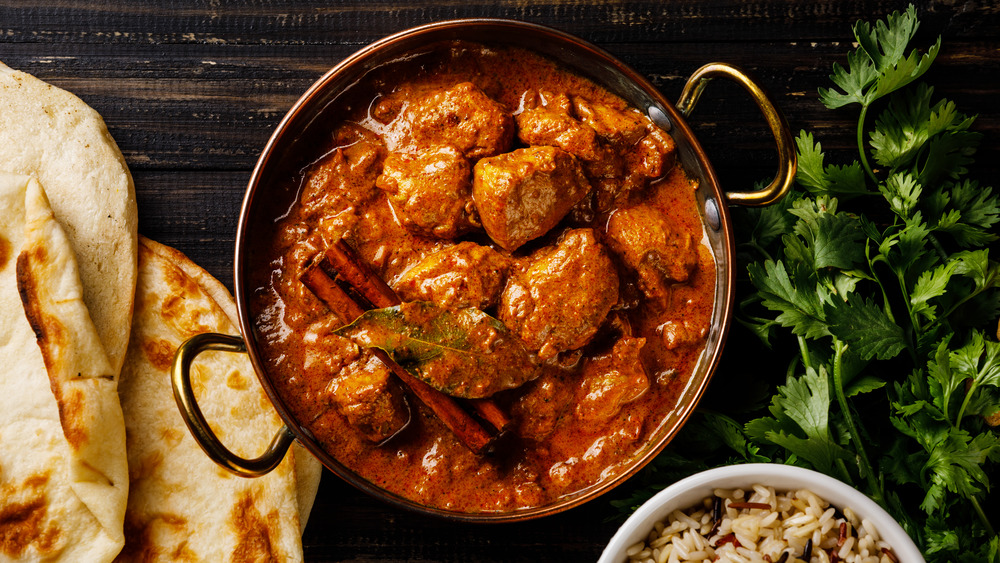 Shutterstock
If you're craving the mouth-wateringly aromatic flavors of Indian food at home but your spice cabinet isn't as well-equipped as it should be, or you simply don't have the know-how to whip up a rich, saucy curry on your own, you're in luck. With one quick trip to Costco, you can stock your kitchen with Indian simmer sauces that basically do all the hard work for you. Costco aficionado @costcobuys posted about the warehouse club's Maya Kaimal simmer sauces on Instagram, letting followers in on all the savory details.
The caption reads, "These delicious @MayaKaimalFoods Coconut Curry and Vindaloo simmer sauces are inspired by Maya's family recipes. To capture the true taste of fresh Indian home cooking, Maya Kaimal uses only all natural ingredients and traditional techniques to build deep, layered flavors." The sauces are available in the refrigerated section of select West coast Costco locations. Maya Kaimal's website notes that both the sweet and mildly spicy coconut curry and the chili-filled, tangy vindaloo simmer sauces are vegan, gluten-free, and non-GMO. They recommend simmering meat or vegetables in the richly-flavored simmer sauces, using the sauces in tacos or on pizza, or even just spooning them over noodles. Curious about what else to do with them? Food bloggers around the internet have some suggestions for you.
Make easy curry dishes at home with Costco's simmer sauces
Like many of us, the blogger behind Crock Pots and Flip Flops claims, "I love curry but can't ever seem to get the sauce quite right." Adding Maya Kaimal's simmer sauces from Costco to their kitchen arsenal solved that problem in a snap. To make a simple chicken curry out of the vindaloo simmer sauce, they combine diced chicken, frozen peas, cauliflower, potatoes, and a jar of the simmer sauce in a crock pot and set it on high for three to four hours. When the time is up, the curry is thickened with a cornstarch slurry before being served over rice with a side of naan.
Meanwhile, Diet Assassinista makes use of the Maya Kaimal coconut curry simmer sauce from Costco by turning it into coconut shrimp curry. They begin by sautéing onions, garlic, and jalapenos in oil before adding the coconut curry simmer sauce along with a can of crushed tomatoes and more chilies. After the sauce has simmered and thickened, frozen peas and shrimp seasoned with salt, pepper, cayenne, and lemon juice go in. Five more minutes of simmering and the curry is done and can be served over steamed rice with cilantro and lime wedges. Diet Assassinista reports this simple dish is "bursting with sweet, spicy, and exotic flavors."
Stock up on Maya Kaimal simmer sauces on your next Costco run and you'll always be just a few steps away from a quick and delicious Indian dinner at home.