Starbucks Vs. Dunkin': Which Has Better Holiday Drinks?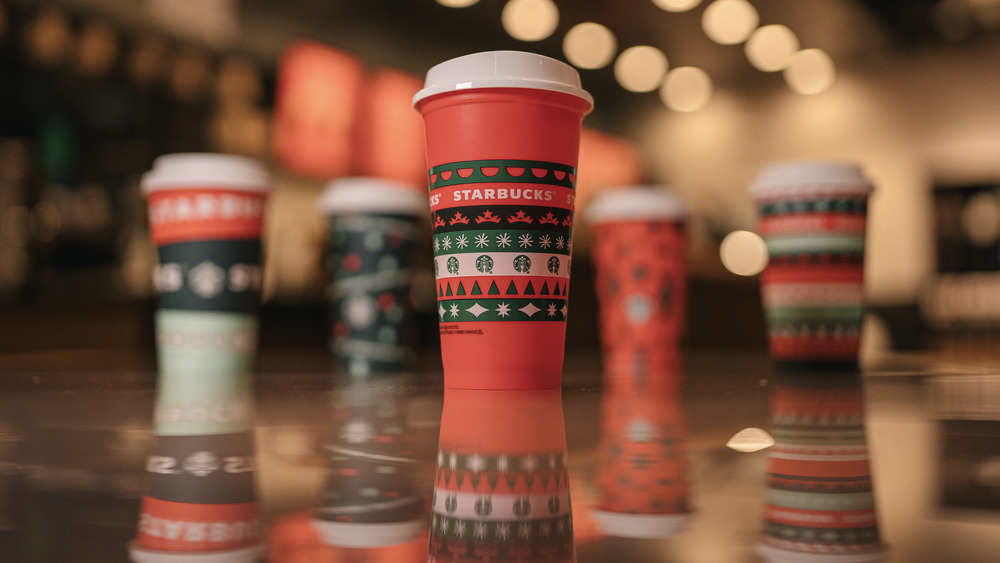 The weather outside may be frightful, but the holiday drinks are more than delightful. Whether you favor the gingerbread, peppermint, or even the slightly more questionable sugarplum flavors mixed with your caffeine, there are plenty of festive themed drinks at your local Dunkin' Donuts and Starbucks coffee shops to satisfy even the sweetest of teeth. The only question is: which shop's seasonal stock is superior?
Yahoo! Finance did a taste test of three Starbucks drinks (the Peppermint Mocha, Caramel Brulee Latte and Iced Toasted White Chocolate Mocha) and compared them to Dunkin's competing drinks (namely the Peppermint Mocha Latte, Gingerbread Latte and the new Sugarplum Macchiato). Starbucks won the battle of the tastiest peppermint mocha, while Dunkin' came in clutch with the winning gingerbread latte. However, both chains tied for worst holiday drink with its Caramel Brulee Latte and Iced Sugarplum Macchiato. Both were ranked as "too sweet" with "too many strong flavors." People also ranked Starbucks the overall winner in terms of the flavor of its seasonal beverages, but Dunkin' won for their iced and frozen drinks and their hot chocolate.
Comparing Dunkin' and Starbucks holiday drinks across the board
In most direct comparisons between the holiday 2020 drinks at Starbucks and Dunkin', Starbucks seems to take the edge for tasty but not too-sweet drinks. Specifically, its Peppermint Mocha and Chestnut Praline Latte got high praise from multiple outlets (via Her Campus). However, so did the Dunkin' Gingerbread Latte (via Insider). Looks like the only real way to know which one is better, is to try them yourself.
What we can say is that Dunkin' definitely has the edge when it comes to both variety and quality of sweet treats to pair with your holiday beverage, with its variety of tasty donut options (via People). Meanwhile, Starbucks gets points for its greater variety of savory foods and for being the first chain to introduce the idea of a limited-edition decorated cup for the holiday season. After all, its annual red cup promotion has been part of the appeal of its unique holiday drinks since 1997, to the point where Dunkin' started its own cup campaign back in 2015 just to compete (via Spoon University). 
Luckily, such tight competition from drinks to branding means whether you are team Dunkin' or team Starbucks, you should be able to find something fun and festive at either coffee shop throughout the season.