French Onion Soup Recipe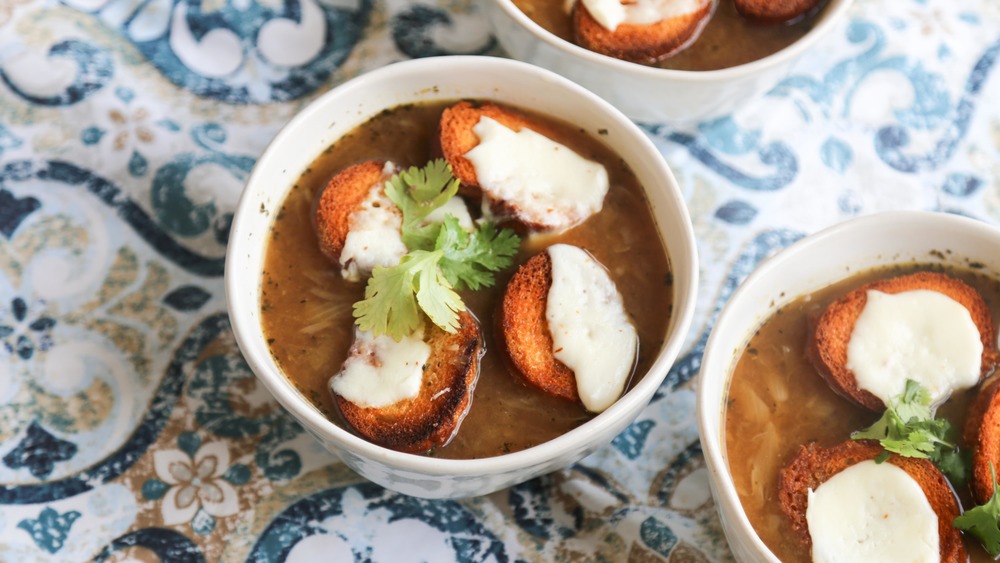 Maren Epstein/Mashed
There are many recipes out there that seem like they should be quick and easy to make, but are more complicated than they seem. French onion soup and its close cousin, English onion soup, are two of these somewhat tricky recipes. If you're nervous to take the plunge, take heart. "Onion soup is a fussy dish that is definitely a bit harder to make," says Maren Epstein, cook and writer behind Eating Works. Don't worry, she says, because "once you get the hang of it, it's easy." 
You will want to follow the recipe very closely the first few times you make this soup, as it's admittedly easy to mess up both the flavors and the consistency. But, once you get it down, there's plenty of room for innovation. For example, says Epstein, "to make this soup vegan, swap out the butter for oil and the beef stock for vegetable stock. To make it vegetarian, you can leave the butter (for sautéing) and use vegetable stock instead of beef stock. Just keep in mind that a French onion soup is only as good as the stock used to make it."
Also, be careful that you don't burn the onions. We'll get to that later. For now, let's get started.
Gather your ingredients for French onion soup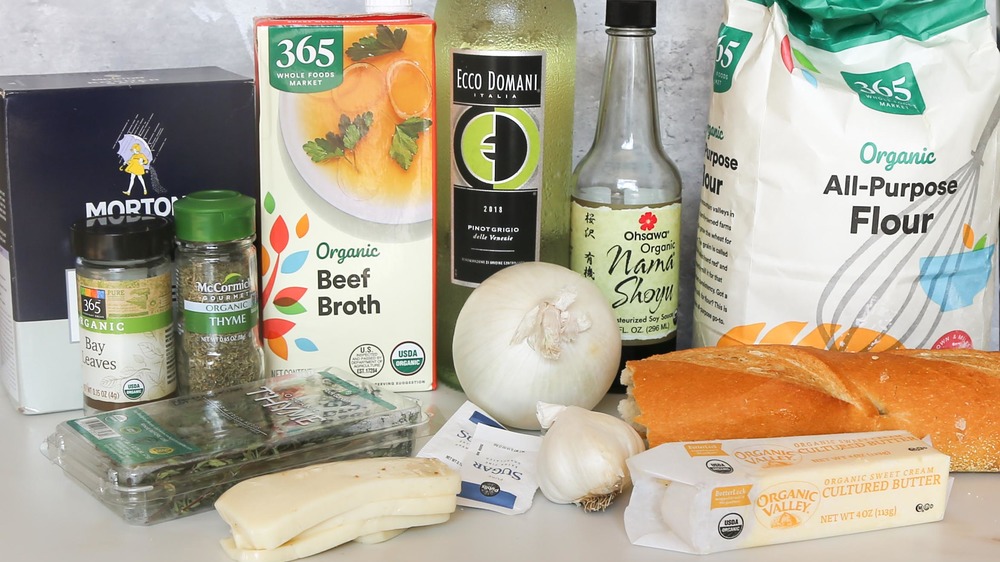 Maren Epstein/Mashed
Chances are good that, with the exception of a high-quality baguette, you probably have most of the ingredients needed for this classic take on French onion soup in your home already. Liquid beef broth may be a second potential call for a shopping trip, though you can always use bouillon instead. 
You will need 4 tablespoons unsalted butter, about 4 pounds sliced sweet white onions (this will make about 10-12 cups sliced onion), ½ teaspoon soy sauce, 1 teaspoon sugar, 1 teaspoon garlic powder, 1 tablespoon salt, 2 tablespoons dried thyme, 2 tablespoons all-purpose flour, ½ cup wine, and about 9 cups beef broth. By the way, any home cooks wanting extra credit can make their own beef broth ahead of time. You will also want about ½ baguette loaf sliced into ½-inch discs and an 8-ounce block of mozzarella cheese, sliced thin.
Cook the onions for French onion soup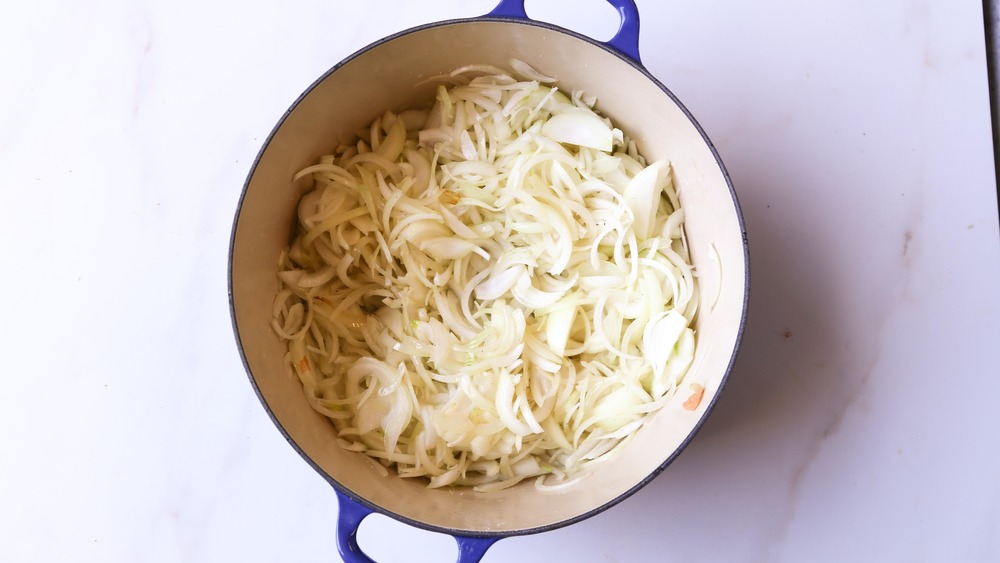 Maren Epstein/Mashed
"The most important part is to not let the onions burn," says Maren Epstein. "Make sure you cook them on a medium heat and stir them often, as burnt onions will make the soup bitter."
To masterfully cook the onions, first, melt the butter in a Dutch oven, then toss in the onions, sugar, salt, dried thyme, and garlic powder. If you don't have this exact equipment, you can substitute a large soup pot for a Dutch oven. Sauté this savory mix on medium-low heat for 30 minutes or until the onions are golden brown. Make sure to stir them every couple minutes to ensure the onions don't burn. Toward the end of the 30 minutes, you can stir them a little less often, though keep an eye on the pot. If the mixture gets dry towards the end of the caramelization, add an extra tablespoon of butter to keep the onions from burning.
Add liquids and simmer your French onion soup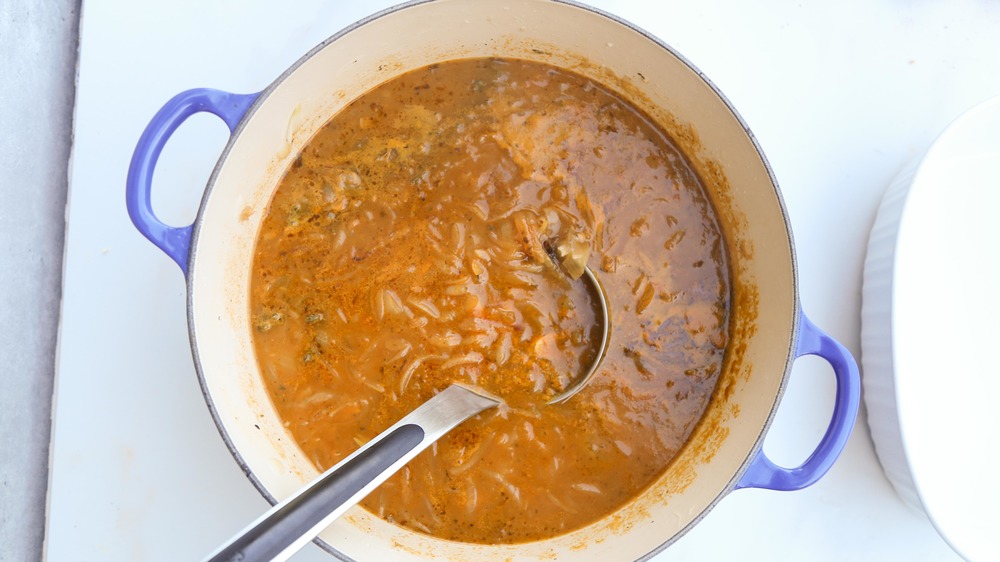 Maren Epstein/Mashed
Once the onions have cooked down and fully caramelized, add the flour and stir it into the onions until it's mixed in. Next, deglaze the pan with white wine, pouring it in along the sides as much as possible. As the white wine lifts the brown bits, also known as fond, off of the bottom of the pot, gently scrape them out with your spatula. 
Next, add the beef stock and a bay leaf, then bring the soup to a boil. Once the boil commences, you can lower the heat to a simmer with the lid partially off the pot. Give the soup about 20 minutes to continue cooking. While you wait, preheat the oven to 350 F.
Prepare the bread for the French onion soup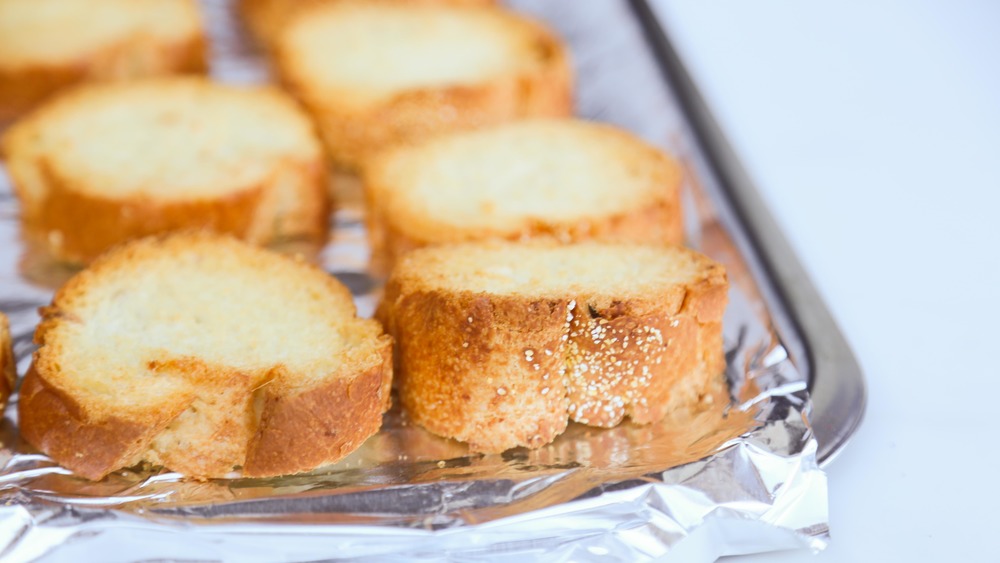 Maren Epstein/Mashed
Slice about ½ a French baguette into discs about ½-inch thick. Then, place the baguette slices onto a baking sheet lined with aluminum foil and spray or paint the bread lightly on both sides with olive oil. Toast them in the oven for about 5 minutes. Make sure you flip the bread and cook for another 5 minutes, or until they're golden brown along the edges. Towards the end of that time, watch them carefully to keep the bread slices going from perfectly toasted to burned.
Lower the oven to 300 F and move the rack to the middle of your oven if it isn't already there. Cut the mozzarella into thin slices, if you haven't already done so.
Serve French onion soup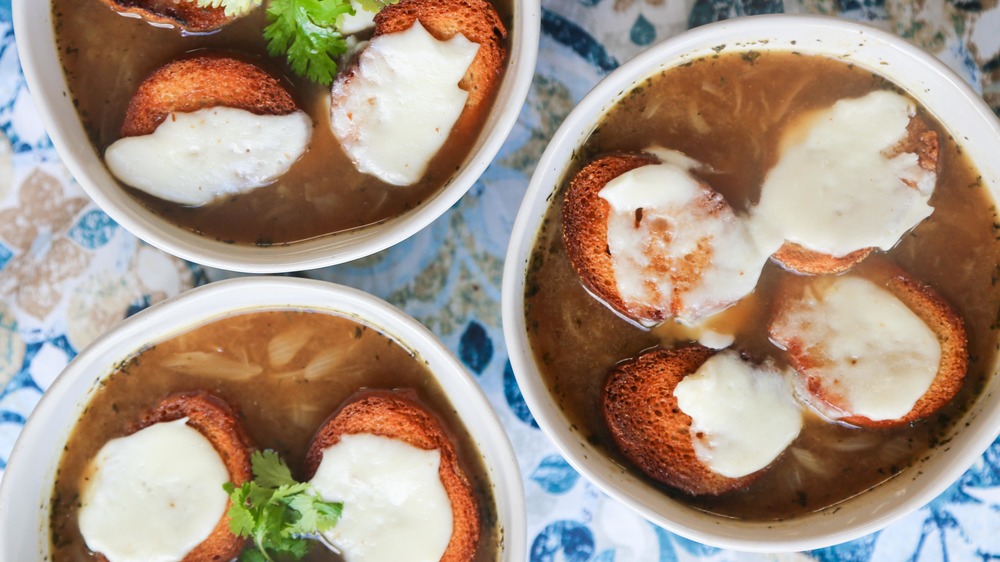 Maren Epstein/Mashed
Ladle the soup into oven-safe bowls or crocks. This recipe will make about 7 servings. Layer the top of each bowl with the baguette pieces, then place one slice of mozzarella cheese on top of each baguette. Put the soup bowls into the oven on the middle rack and bake until the cheese melts, about 5 minutes.
Just to cover our bases, please remember to use oven mitts when you get the soups back out. Also, be sure to warn your dinner guests that this stuff will be as hot as it is fresh!
Serve and enjoy. French onion soup is delicious on its own and can also be employed as a side to other dishes like steak, salmon, or even a toasted sandwich.
French Onion Soup Recipe
French onion soup may seem intimidating, but this dish is easy to learn with some patience and plenty of onions. Once you get the hang of it, it's simple.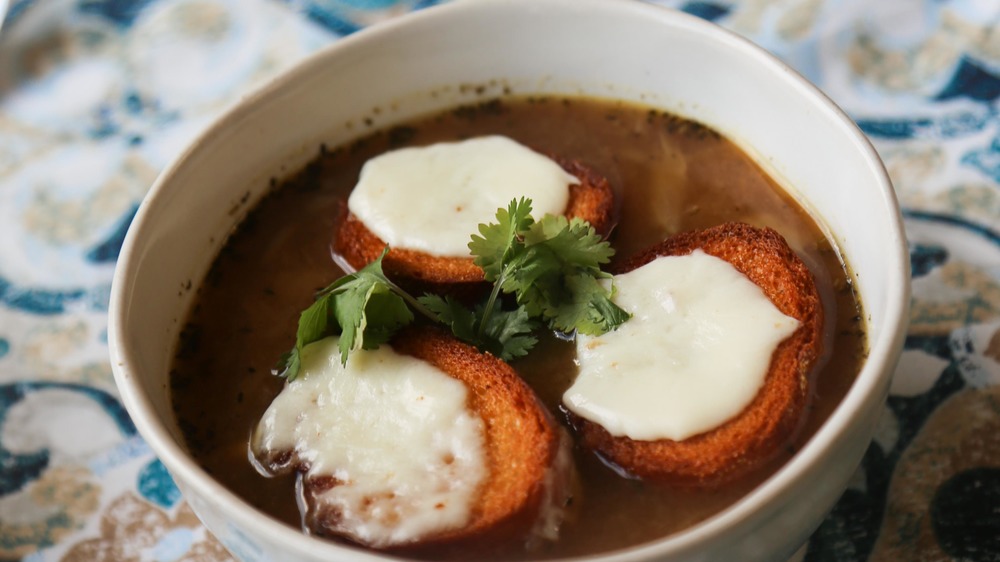 Total time: 1 hour, 20 minutes
Ingredients
4 tablespoons unsalted butter
4 lbs sweet white onions, sliced
1 teaspoon sugar
1 teaspoon kosher salt
2 teaspoons dried thyme
1 teaspoon garlic powder
2 tablespoons all-purpose flour
½ cup white wine
½ teaspoon soy sauce
8-10 cups beef stock
½ baguette, sliced ½ inch thick
8 oz mozzarella cheese, sliced
Directions
Preheat the oven to 350 degrees Fahrenheit. Melt the butter in a soup pot. Add onions, sugar, salt, dried thyme, and garlic powder. Sauté on medium-low heat for 30 minutes or until onions are golden brown. Make sure to stir them every 1-2 minutes to ensure that they don't burn. Towards the end of the 30 minutes, you can sir them less often. If the pot gets dry towards the end of caramelization, add an extra tablespoon of butter
Add the flour and stir it into the onions. Next, deglaze the pan with white wine. As the white wine lifts the fond (brown bits) off of the bottom of the pot, scrape It up with your spatula
Add the beef stock and a bay leaf. Bring the soup to a boil. Then, lower the heat to medium and allow to simmer with the lid partially off the pot for 20 minutes
Place sliced baguettes onto a half sheet tray. Spray or lightly brush with olive oil and toast in the oven for about 14 minutes or until they're golden brown along the edges. Flip halfway through. Lower the oven to 300 degrees
Ladle the soup into an oven-safe bowl or crock (or individual oven-safe bowls). Line top with sliced baguettes and mozzarella cheese. Put in the oven on the middle rack. Bake until the cheese melts, about 5 minutes
Nutrition
| | |
| --- | --- |
| Calories per Serving | 390 |
| Total Fat | 15.7 g |
| Saturated Fat | 9.6 g |
| Trans Fat | 0.3 g |
| Cholesterol | 46.3 mg |
| | |
| --- | --- |
| Total Carbohydrates | 43.1 g |
| Dietary Fiber | 5.1 g |
| Total Sugars | 14.8 g |
| Sodium | 1,272.1 mg |
| Protein | 18.7 g |