Aldi Shoppers Can't Get Enough Of These Cheesy Snack Packs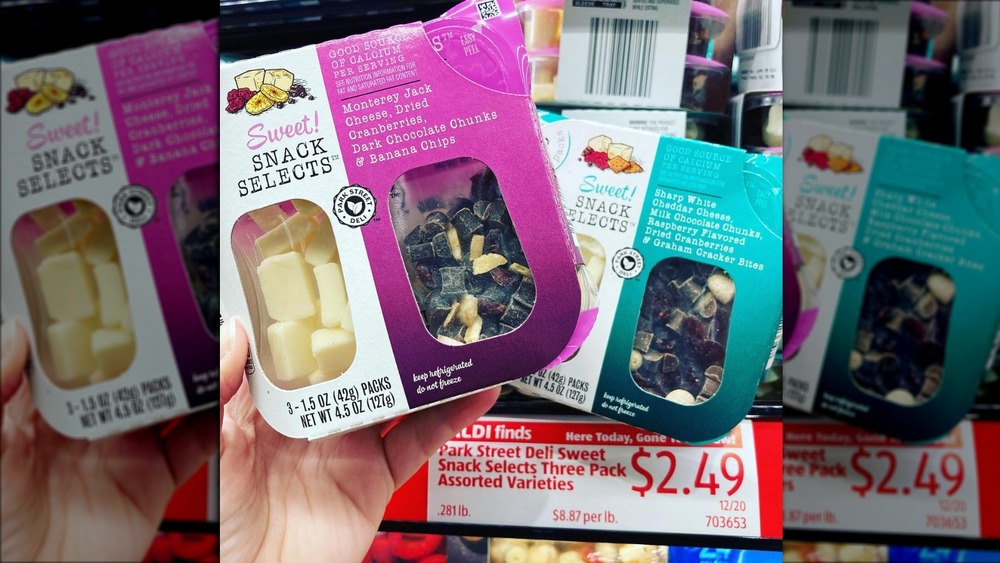 Shopping for snacks can be much more difficult than it seems — you know in theory that you should be choosing healthy foods to keep you satisfied throughout the day, but you can only eat so many raw almonds before it gets sad, and nobody's going to get excited to eat flaxseed. Now, thanks to Aldi, you can have a snack that's both healthy and tasty without breaking the bank. 
Aldi spotting Instagrammer Aldi Favorite Finds just posted these cheesy snack packs, and fans are obsessed. Two different flavors were spotted: one with Monterey Jack cheese, cranberries, dark chocolate pieces, and dried banana chips and the other with sharp white cheddar, milk chocolate chunks, raspberry flavored cranberries, and graham cracker bites. They're both available for $2.49 for three snack packs.
"Our house has 3 generations and we all LoVe all the flavors!" raved one commenter. "My fav thing," agreed another. "Pair with wine after the kid goes to sleep."
Great snack packs with lots of different combos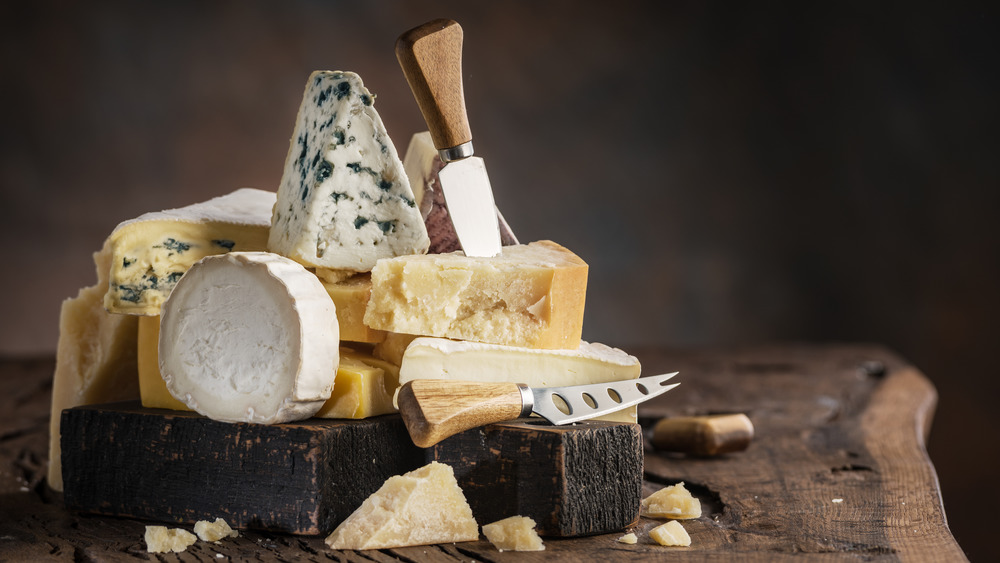 Shutterstock
"ALDI-exclusive Park Street Deli Snack Selects Three Packs are the perfect on-the-go snack to keep you full and energized throughout the day with 7 grams of protein per serving," reads the product description (via Snack Food and Wholesale Bakery). 
In addition to the flavors spotted by Aldi Favorite Finds, there's also a pepper jack cheese, raisins, and honey roasted peanuts variety; a sharp yellow cheddar cheese, cherry-juice-infused dried cranberries, and roasted cashew splits with sea salt pack; and a sharp white cheddar cheese, dried cranberries, and roasted almonds with sea salt option (via Aldi). These snack packs are well-reviewed, not just by Instagram Aldi fans but also by the masses. In addition to being voted the Best New Snack Pack by shoppers, the Deli Snack Selects 3-Packs also received a 2020 Best New Product Award, a 2020 World Food Innovation Award, and a 2020 Product of the Year award in the Snack Pack category, according to the 2020 Best New Product Awards survey conducted by BrandSpark International. So try them today — you'll be in great company.