Dangerously Easy Two-Ingredient Snacks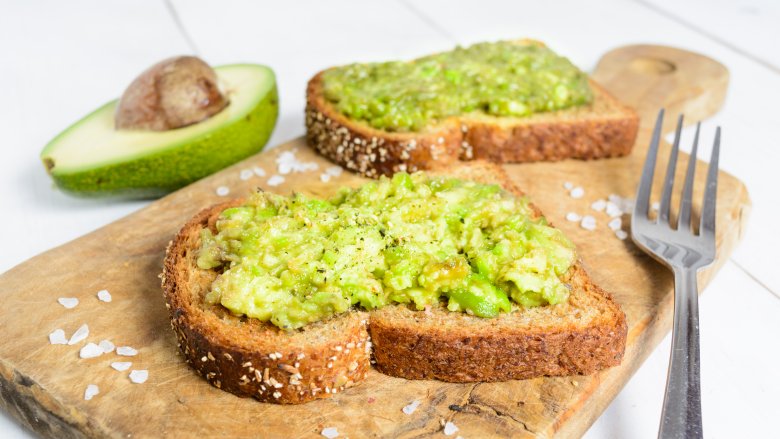 Shutterstock
The moment your stomach starts to grumble, you may be dreading your snacking options. You could simply satiate yourself with a calorie-filled bag of potato chips or scarf down those break room cookies causing your blood sugar to spike, but that doesn't exactly sound appetizing, now does it? You want something satisfying, but whipping up a quick fix may sound too labor intensive. That's why we rounded up these delicious, dangerously easy two-ingredient recipes. With these easy ideas, snack time doesn't have to be a hassle. Next time hunger strikes, you'll be ready.
Roasted mini bell peppers stuffed with feta cheese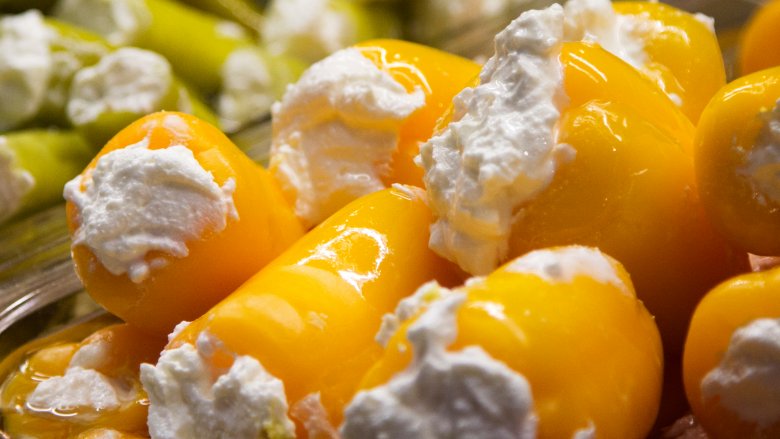 Shutterstock
Everything tastes better stuffed with cheese, including roasted bell peppers. The sweet, juicy peppers paired with the slightly tangy flavor of feta will have you munching down the whole snack almost faster than you can make it.
To start, slice off the tops of mini sweet mini bell peppers and remove seeds. Next, place mini sweet bell peppers on a baking sheet lined in foil or parchment paper. Drizzle with olive oil then roast at 375 degrees Fahrenheit for 20 minutes, flipping half way through. Once the skin of the peppers are slightly charred, remove them from the oven and let cool. Stuff with feta and snack away!
Watermelon and goat cheese slices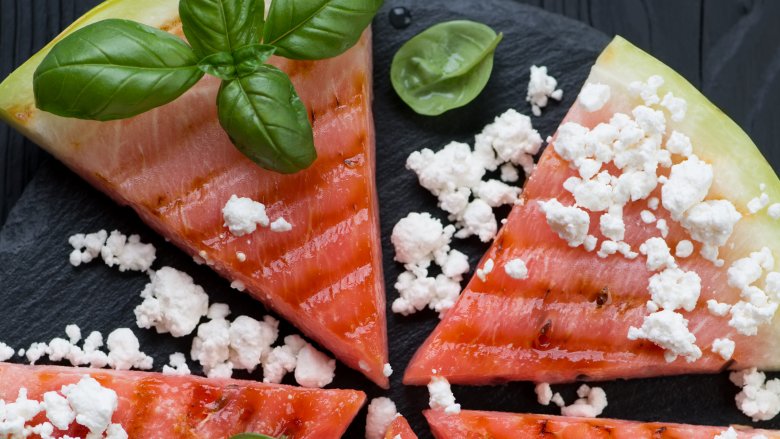 Shutterstock
Watermelon is tasty by itself, but add in cheese and you have yourself a refreshing, creamy snack. Ideal for any summer afternoon or backyard barbecue, this snack will keep you satisfied until dinner is ready.
All you need to do is slice watermelon into triangular pieces and then top with crumbled fresh goat cheese. That's it! You can add on some cracked pepper for an additional kick or you can even grill the watermelon to enhance the flavor. To do this, brush the slices with a bit of olive oil then grill each side for two minutes. Once you get some nice grill marks, top with goat cheese and cracked pepper.
Heirloom tomatoes and basil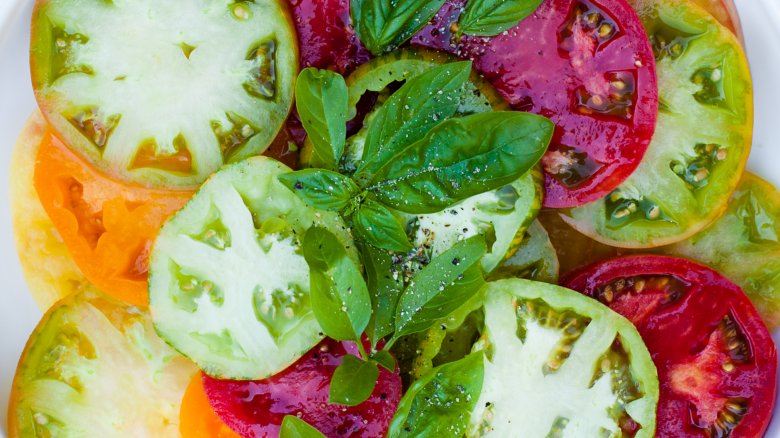 Shutterstock
Fresh, ripe heirloom tomatoes are easily a snack all in itself, but add in fresh basil and you have a game changer.
Slice a couple medium-sized heirloom tomatoes and arrange on a plate. Sprinkle with salt and drizzle with olive oil. Next, slice a handful of fresh basil leaves in strips, then sprinkle on top of the tomatoes. One bite of this farm-to-table recipe and you'll rethink how you've been doing snack time.
Homemade potato chips and sour cream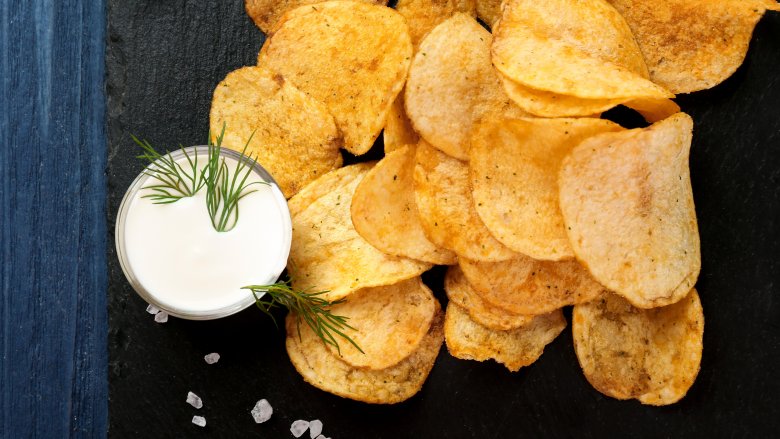 Shutterstock
When hunger strikes, it's hard to resist ripping into a bag of potato chips. But why gorge yourself on junk food when you can not only make a healthier version at home, but one that tastes even better? Leave the guilt out of snacking, and opt for crisp homemade potato chips instead.
Making homemade potato chips is easier than you think. Take a few potatoes and slice into 1/8-inch slices — I recommend using a mandolin if you have it. Once your potatoes are sliced, brush each slice with olive oil, then arrange them on a baking sheet lined with parchment paper. Sprinkle with sea salt and bake at 450 degrees Fahrenheit for 15 to 20 minutes, or until the chips turn golden brown. Serve with a side of sour cream for dipping. While you can wait for them to cool, these taste best served warm.
Sweet potato fries and blue cheese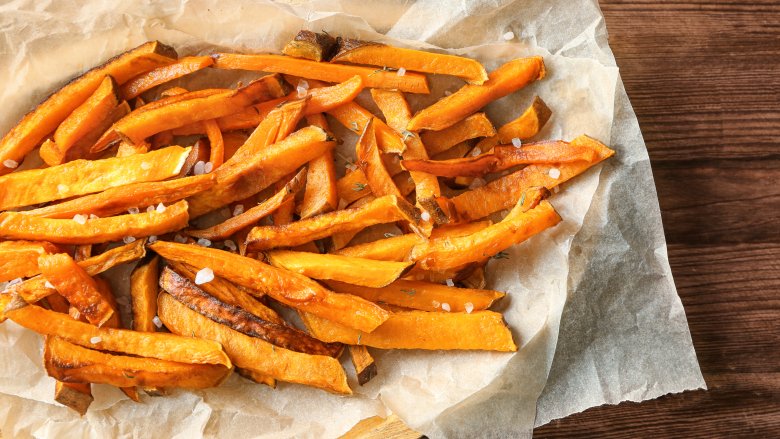 Shutterstock
Why buy greasy, soggy fries when you can eat delicious homemade fries that are simple to make? Homemade sweet potato fries and blue cheese will satisfy your fry craving without the need to hit the drive-thru. And best part is, it only takes two-ingredients!
Cut three sweet potatoes, with skins, lengthwise into 1/4-inch slices. Place the sweet potatoes on a baking sheet lined with parchment paper. Next, drizzle on olive oil and toss the potatoes until they're evenly coated. Sprinkle with salt, then bake at 400 degrees Fahrenheit for 30 minutes, or until the potatoes are golden brown. Be sure to turn the fries so they bake evenly. Once ready, sprinkle on chunks of fresh blue cheese, and give in to your cravings.
Avocado toast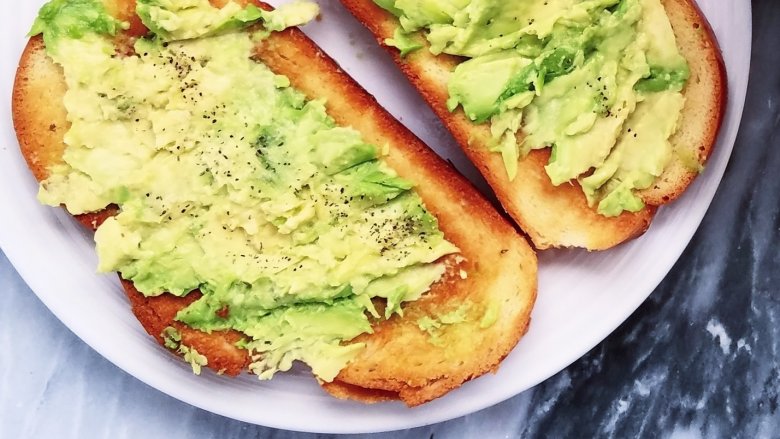 Shutterstock
Need a quick snack fix? Avocado toast is your answer. A toasted slice of bread is the perfect serving vessel for this creamy, nutrient-rich superfood.
This snack practically makes itself. Toast your bread of choice until golden brown — or until it pops out of the toaster. Taking half an avocado, mash it onto your bread until the toast is covered. That's it! You can add some chili flakes or sprinkle on paprika for a bonus.
Avocado egg salad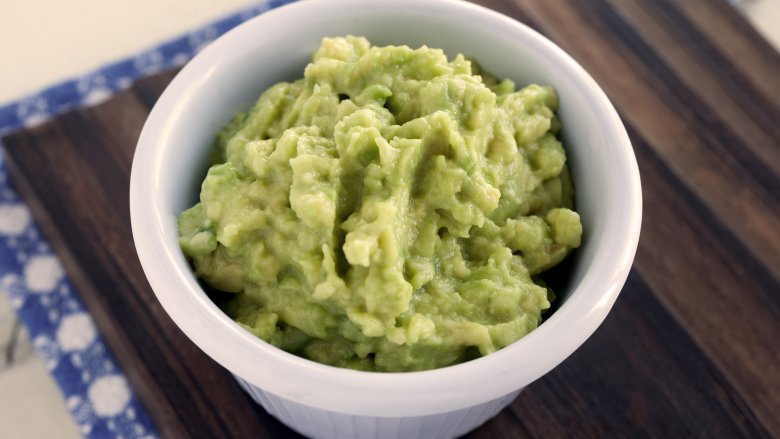 Shutterstock
Avocado egg salad is not only delicious, but it's a rich source of protein and nutrients that will fill you up and keep you energized.
The trick to this recipe is all in the mashing. In a bowl, add one ripe avocado and four hard boiled eggs, then mash with a fork. Season with salt and pepper. Creamy and savory, there's no need to add mayo to this egg salad.
Popcorn and nutritional yeast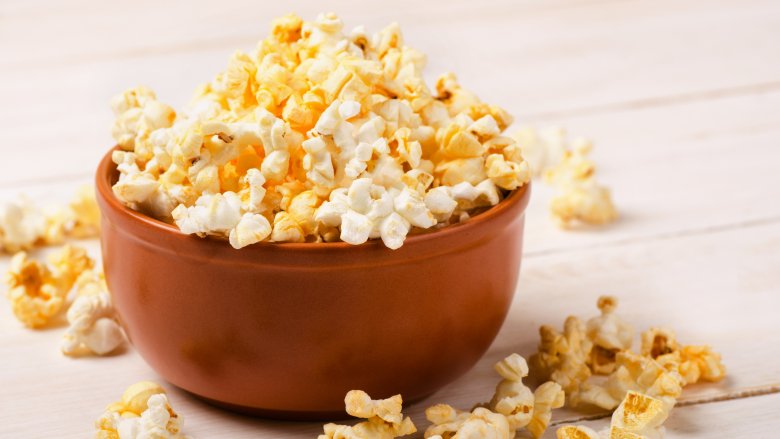 Shutterstock
Nutritional yeast may not be the first popcorn topping that comes to mind, but it should. It's cheesy flavor turns those fluffy kernels into an addictive healthy snack.
To make this snack healthier (and better tasting), pop the kernels yourself. Heat a few tablespoons of coconut oil in a pan. To test if the oil is ready, toss in a couple kernels. When they pop, add in 1/3 cup of popcorn kernels. Immediately cover and remove from heat for 30 seconds. Put the pot back on the heat and shake the pot occasionally until the popping sound slows. Once the popping slows, add the popcorn to a large bowl, drizzle with olive oil, and toss to coat. Add salt to taste and a generous amount of nutritional yeast, then toss until evenly coated.
Spicy roasted chickpeas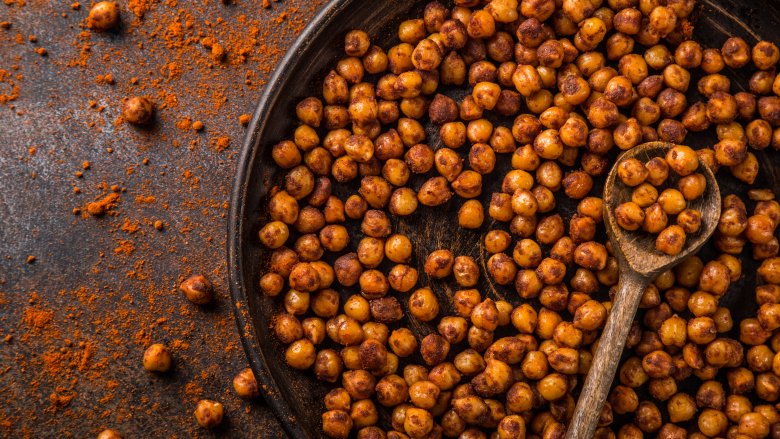 Shutterstock
You simply haven't snacked until you've snacked on spicy roasted chickpeas. Crunchy, spicy, and dangerously delicious, this is the snack that's been missing from your ideas list.
Take that lone can of chickpeas out of your pantry and drain out all the liquid. The next step is crucial, dry your chickpeas! Wet chickpeas won't crisp in the oven, which means soggy chickpeas. To prevent that, dry the chickpeas on a paper towel and pat dry. Once they are fully dry, coat with olive oil and spread them out on a baking sheet lined with parchment paper. Sprinkle on cayenne pepper – or paprika if cayenne is too spicy – and a pinch of salt. Bake at 400 degrees for about 20 minutes. Be sure to check on those little guys, shaking the pan halfway so they cook evenly. Once crisp, get ready to start munching — but let them cool just a bit first.
Grilled shrimp and pineapple skewers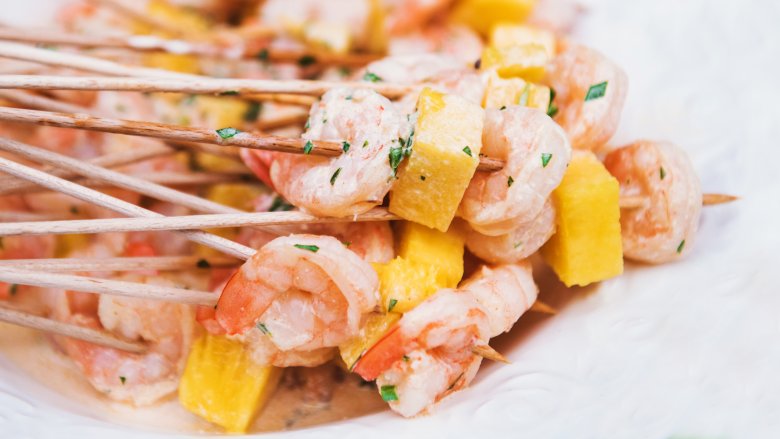 Shutterstock
Kabobs, skewers, whatever you want to call them, food on a stick was meant for snacking — like the combination of grilled shrimp and pineapple. Sweet and savory, the grill only enhances the flavor of this foolproof combo.
When skewering, alternate between shrimp and pineapple. This will allow the flavors to meld while grilling evenly. Brush the skewers with olive oil then get ready to grill. Over medium-high heat, grill on each side for about 2 minutes. Once you get some nice grill marks, you're ready to indulge.
Prosciutto wrapped figs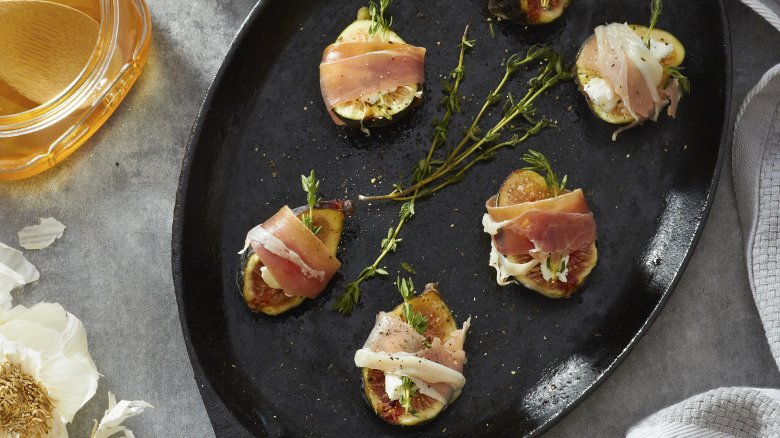 Shutterstock
Sweet figs wrapped in salty prosciutto are a match made in heaven. While the combination may sound like a gourmet snack, and to be truthful, it kind of is, it's dangerously easy to make.
For this snack, ditch the dried figs because fresh is the way to go. Slice the figs in half, then wrap a slice of prosciutto around it. Place on a baking sheet lined with parchment paper, then bake at 350 degrees Fahrenheit for about ten minutes. As you biteinto the juicy fig and crispy prosciutto, you'll be thanking whoever invented the idea of snack time.
Chia pudding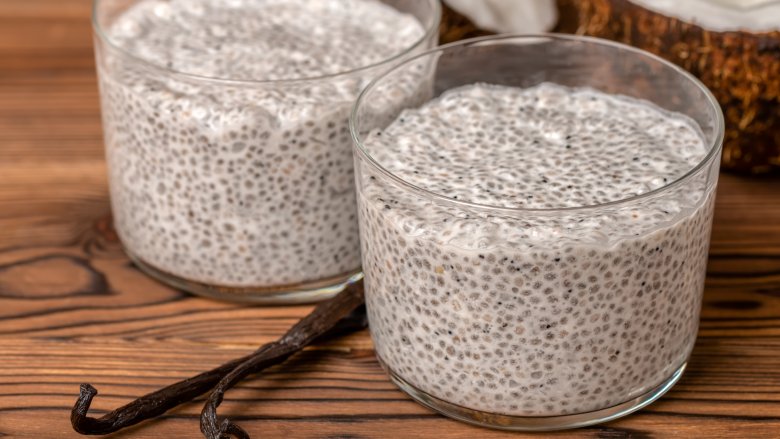 Shutterstock
Is your morning breakfast not fueling you until lunch time? Chia pudding can solve that. Chia seeds are packed full of energizing nutrients that when wet, expand into a gelatinous form that are the ideal base for a filling pudding.
When it comes to making chia pudding, there's really nothing to it. In a mason jar, add two tablespoons of chia seeds, then pour in a cup of milk. There are a variety of milks out there, but almond, cashew, or coconut milk work the best. Almond milk will make the pudding taste a bit nuttier, cashew milk will make it creamier, and coconut milk will add a more tropical flavor. Let the mixture then sit in the refrigerator overnight and come snack time, all you have to do is grab and go.
Banana smoothie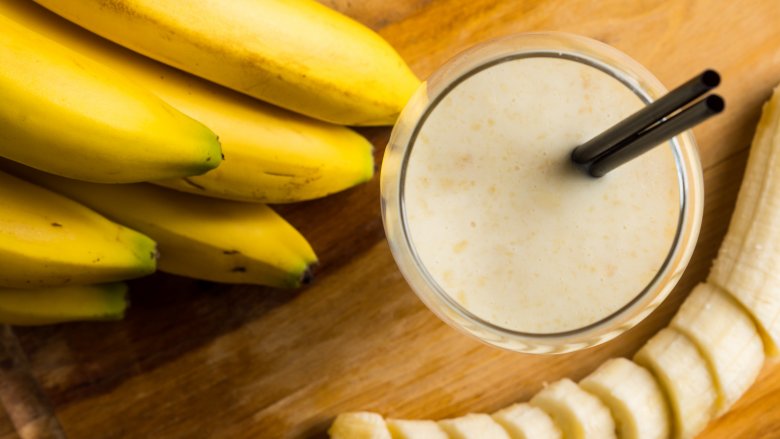 Shutterstock
Smoothies are a fast way to fill up when you're on the go, and what better way to do that than with a banana smoothie.
In a blender, add in a whole banana — obviously no peel — and a cup of cashew milk. Blend until smooth, pour into a cup, then sip your away your hunger. Not big on cashew milk? Almond milk or any other milk also work to give this smoothie a creamy consistency.
Oatmeal date bars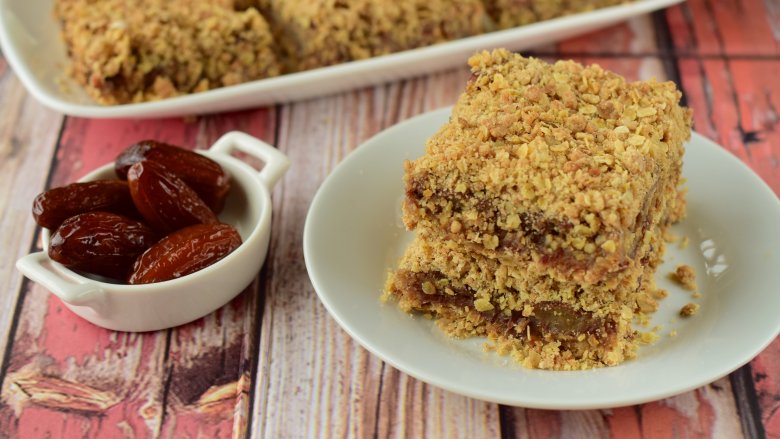 Shutterstock
Oatmeal date bars are the perfect snack for granola bar lovers. Leaving out all the added sugar and preservatives, these energy bars only require two ingredients to make.
In a food processor, add medjool dates and a bit of water until a jam like consistency is formed. Next, toss in the oats and pulsate until everything is well incorporated. Press the mixture into a glass pan, about half an inch thick, then let it sit in the refrigerator until it sets. Next, slice out your desired bar size, wrap each one in wax paper, and store in an air tight container until you're ready to snack.