This Is How Red Lobster's Endless Shrimp Was Born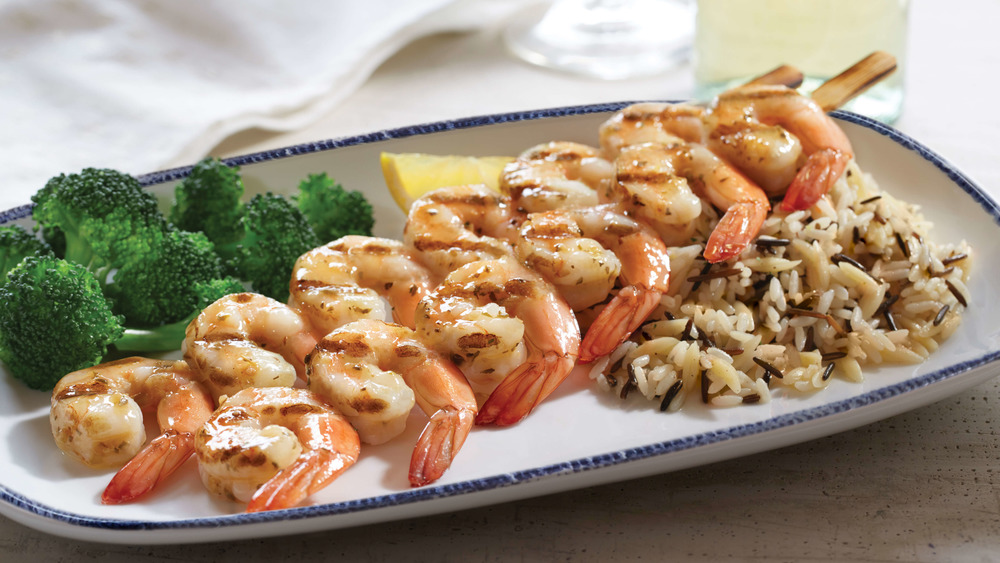 Red Lobster
Casual dining restaurants know what American diners want, all-they-can-eat menus without the hassle of a buffet. So, in an effort to please them, chains like Olive Garden roll out seasonal specials such as the Never-Ending Pasta Bowl and, in Red Lobster's case, Endless Shrimp. According to Delish, here's how the Endless Shrimp promotion works: You get a menu of five shrimp dishes to choose from and you pick two to start, which are served alongside biscuits, salad and your choice of a side. Once you're done with the first batch of shrimp, you can order more, whatever you like from the five options and the promotion truly is endless. You can have as much shrimp as you want.
It's easy to see why the Endless Shrimp promotion is so popular and, in Fall 2020, Red Lobster acknowledged this fact by making Endless Shrimp a weekly thing, rather than only a seasonal event. Now, every Monday is Ultimate Endless Shrimp Monday, wherein you can mix and match shrimp choices endlessly for $18, picking from Parrot Isle Jumbo Coconut Shrimp, Walt's Favorite Shrimp, Garlic Shrimp Scampi and Wood-Grilled Shrimp Skewers (although the weekly Endless Shrimp promo only comes with one side and no salad).
But Endless Shrimp hasn't always been a staple promotion for Red Lobster. It first came about in the early 2000s as a way to recoup Red Lobster revenue, following some huge losses.
Endless Shrimp made (and continues to make) big money for Red Lobster, when the chain needed it most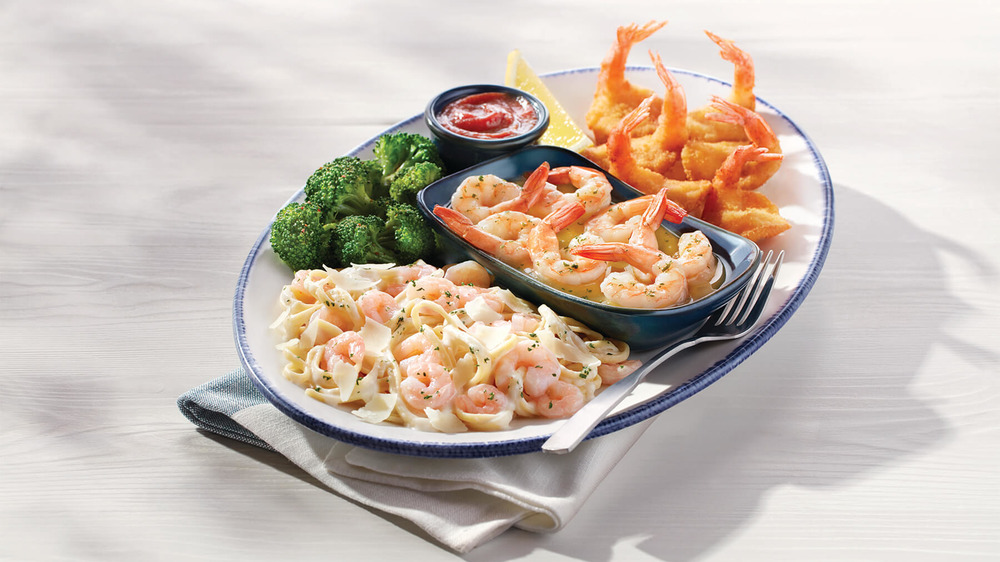 Red Lobster
The New York Post reported that in the early 2000s, Red Lobster decided to run a similar promotion, way before anyone ever thought up the Endless Shrimp concept: Endless Crab. Unfortunately, the public's appetite for crab was much more ravenous than what Red Lobster execs predicted and the promotion resulted in a $405.9 million loss in stock value, as diners ordered third and fourth servings of crab like it was nothing, for a mere $23. While the public may have loved Endless Crab, Red Lobster certainly didn't, so the chain turned to a more affordable variant of the same concept, Endless Shrimp. The year after Endless Crab met its death, Endless Shrimp appeared in 2004, per Business Insider.
Even though the Endless Shrimp promotion really is endless, according to a Red Lobster employee on Reddit, it turns out that it really doesn't cost a lot for Red Lobster to fill up its customers on shrimp, especially when they're chowing down on Cheddar Bay Biscuits at the same time. In fact, in order for a customer to even get their money's worth on the promotion, one employee said that you'd need to eat 2-4 (times) your initial meal.
Regardless, Endless Shrimp remains popular, as director of culinary at Red Lobster, Dustin Hilinski attested in a 2019 statement saying, "Every year, our guests count the days in anticipation of Endless Shrimp. We know it's a guest favorite."