Simple Roasted Carrot Recipe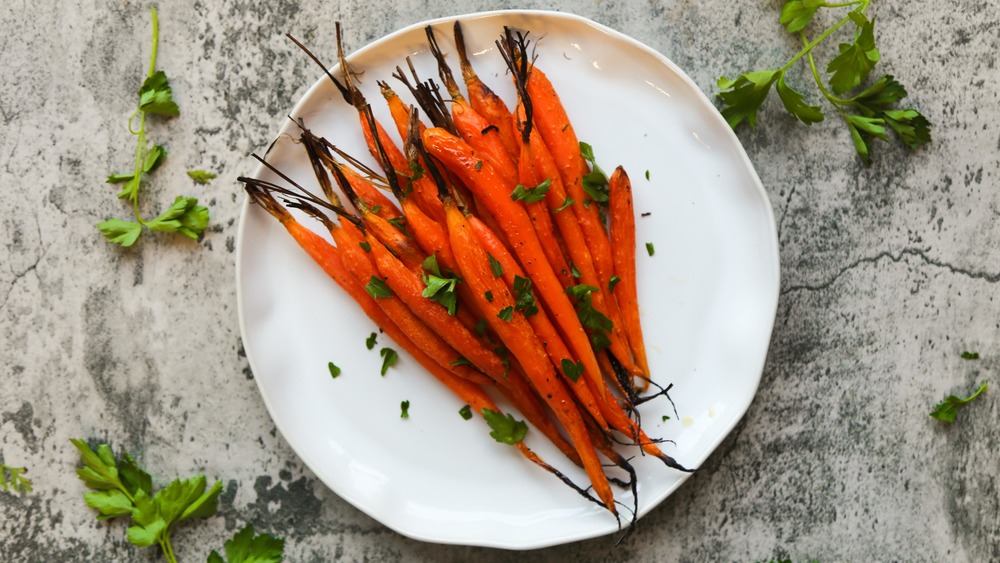 Maren Epstein/Mashed
If you are looking for an easy, unique side dish to serve for your family — or to enjoy yourself — meet roasted carrots, brought to you by healthy eating advocate Maren Epstein, who blogs at Eating Works. As the Florida-based professional chef told Mashed about this approachable, yet interesting dish, "I love to make these carrots as a main dish for myself following a fall salad, or as a side for a larger dinner with protein." 
So, if you are in the mood for a light meal, or if you're left scratching your head as you wonder what to pair with a chicken, beef, pork, or fish meal, try this five-ingredient dish on for size. We love how you can customize the sweetness, depending on your taste. Plus, the roasted carrots, which Epstein described as "ultimately soft, with the tiniest hint of crunch, with a sweet finish," can come together quickly, perhaps without even so much as a trip to the grocery store.
Enjoy this recipe that is sure to become a go-to dinner staple in your home!
Gather your ingredients for roasted carrots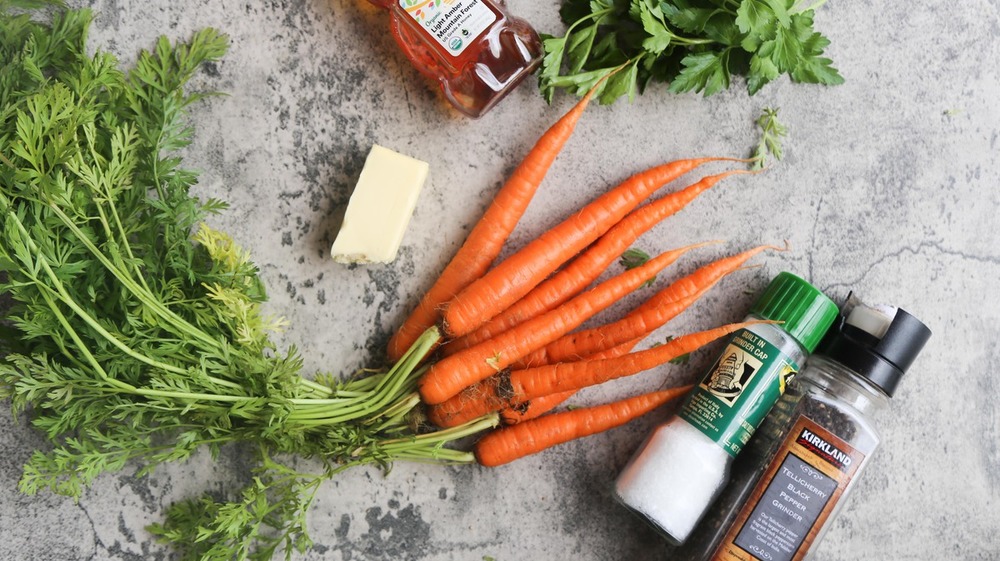 Maren Epstein/Mashed
Epstein's roasted carrot recipe is a winner because you can easily decide last minute to whip it up for a dinner party or add it to your stable of weeknight meal recipes. You'll only need the carrots, naturally, as well as butter, coarse sea salt, black pepper, and honey. By the way, the honey is optional, depending on whether you're hankering for a sweet side dish or not. Although, as Epstein told Mashed, "I do recommend adding the honey." She noted that "While the carrots are already naturally sweet, adding the honey helps caramelize the carrots further and bring out their natural sweetness even more." 
Still, you can experiment with a batch that has honey added to it, and perhaps in the future, one that does not. Eventually, you can settle upon the version of this simple side that appeals most to you and your family. You can also go with half the recommended amount of honey or add more to make this dish your own.
Get your carrots ready to roast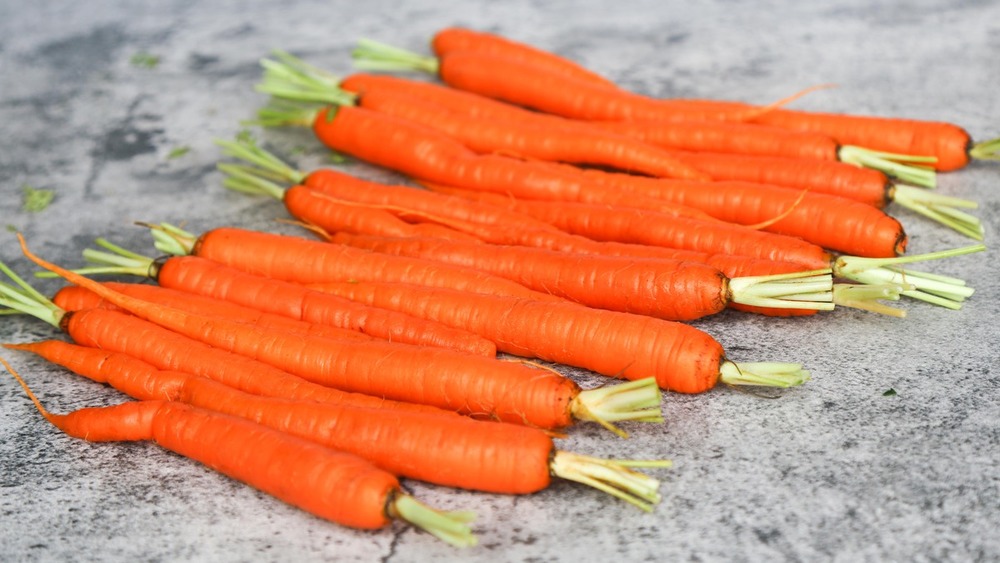 Maren Epstein/Mashed
The very first step of your prep is to preheat the oven to 425 degrees Fahrenheit. Next, you will peel your three bunches of carrots, which will be the longest step in the process of turning out this dish. Epstein advises cutting off the green tops of the carrots, which you should do anyway to keep your carrots fresh. Consider saving those carrot greens and eating them later. Either way, make sure to leave a little bit of the greens behind on the carrots themselves. You'll then peel them to a pointed edge for a nice visual effect. 
She adds about this fancy-looking treatment of the veggies, "When you get to the top of the carrot that had the green stem, a lot of dirt will be stuck on the green root. You can just cut off the root to save time, but for an extra 'wow factor,' use the peeler to cut away at the outer part of the stem." How you cut away that stem is surprisingly simple. "Just like you would sharpen a pencil with a knife, peel the tip until any dirty part of the stem is gone," Epstein says. And yes, your dinner guests will likely be fooled into thinking you spent hours preparing this dish. We won't tell anyone the truth.
Dress your carrots for roasting in the oven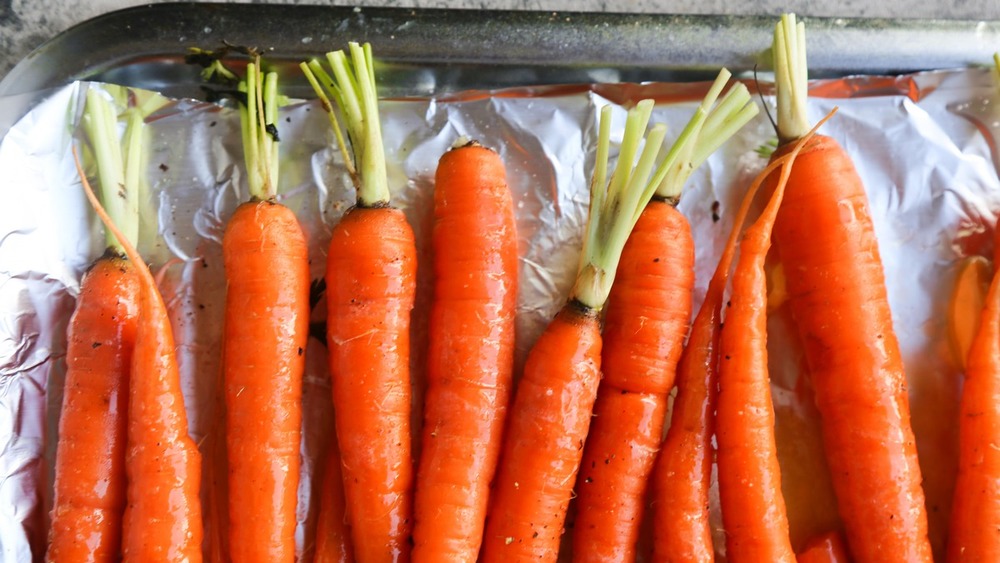 Maren Epstein/Mashed
Okay, so your carrots are now looking super fancy. Time to dress 'em up for the roasting process and get them tasting super sweet and delicious. First, you'll line up your carrots on a foil or parchment paper-lined baking sheet for easier cleanup. Then, toss the carrots with the melted butter (which you can briefly cook in the microwave first to get it melted), as well as some salt and pepper. For sweeter carrots, you will also drizzle a tablespoon of honey over the carrots. 
Then, you'll pop your carrots in the oven for a bit to cook. This leaves ample time for you to fix a protein main dish or enjoy a starter salad, as Epstein is apt to do. Have your main ready to go? Take some time to sit down or do whatever else it is you need to do. These carrots don't require much fuss once you have them situated in the oven. Don't you wish every dish was this easy?
Roast those carrots to perfection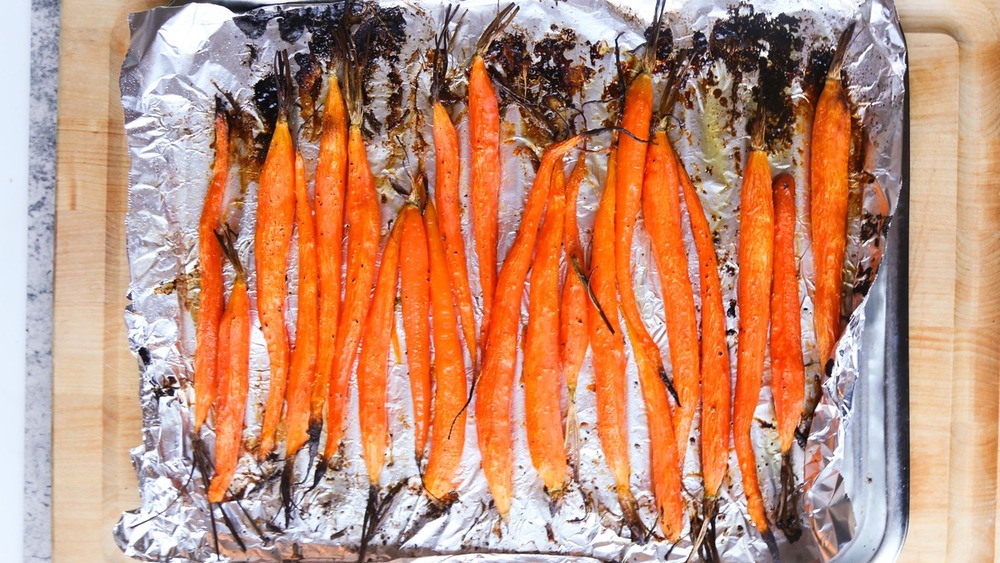 Maren Epstein/Mashed
You will roast your seasoned and possibly-sweetened carrots on the middle rack of your oven for 40 minutes, or until the carrots soften and the ends start to brown up. Be sure to rotate the carrots halfway through the cooking process so you get an evenly-roasted product. We asked Epstein how to know if you have under or overdone your carrots, and she simply answered, "If the carrots start burning, you've overcooked them." 
Okay, we can handle that tip! But the really good news for kitchen novices, or super busy cooks, is that, as Epstein told Mashed, "It is very hard to overcook carrots." Phew! Still, it's worth keeping an eye on your veggies toward the end of cooking so you don't have to suffer through burned carrots. We would not wish that on anyone, and we are pretty sure Epstein wouldn't either.
Prep the roasted carrots to serve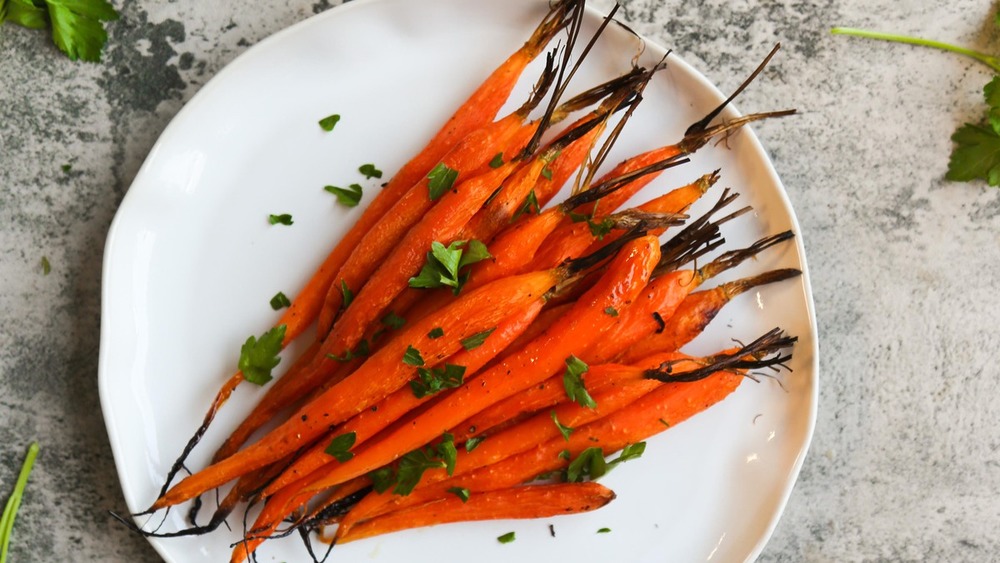 Maren Epstein/Mashed
Now it's time to serve up your beautiful, fancy-looking carrots. Go ahead and sample one before sharing with a crowd, because, as Epstein says, "I will sometimes add salt and pepper after I roast, but only if I taste the carrots and they don't have enough." Ultimately, you'll want to season your dish to your own taste. Once you've done that, arrange the carrots on a platter and wow your dinner guests. Or, just admire them on your own. Either way, it is time to dig into this aesthetically-pleasing treat for your taste buds, whether it's an accompaniment to the main dish or a meal on its own. 
Here's hoping you enjoy this new recipe. Share it with your friends or keep it as a secret weapon to pull out in order to impress dinner guests on short notice. Happy cooking and eating!
Simple Roasted Carrot Recipe
If you are looking for an easy, unique side dish, meet healthy and delicious roasted carrots. This recipe is sure to become a go-to dinner staple in your home!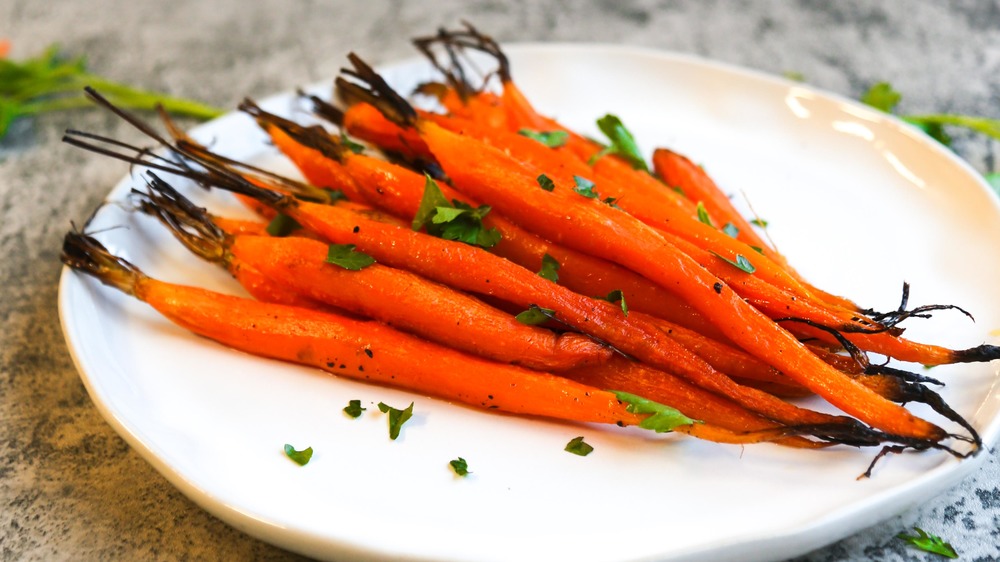 Ingredients
3 bunches carrots
2 tablespoons butter
¼ teaspoon coarse sea salt
¼ teaspoon black pepper
Optional Ingredients
Directions
Preheat the oven to 425 degrees Fahrenheit.
Peel carrots and cut off most of the green tops. Leave a little bit of green and peel to a pointed edge.
On a foil or parchment paper-lined baking sheet, toss the carrots with melted butter, salt, and pepper. You can also drizzle a tablespoon of honey over the carrots if you want a sweeter dish.
Roast on the middle rack for 20 minutes. Rotate the carrots and cook for another 20 minutes, until the carrots soften and the ends start to brown.
Nutrition
| | |
| --- | --- |
| Calories per Serving | 96 |
| Total Fat | 4.2 g |
| Saturated Fat | 2.5 g |
| Trans Fat | 0.2 g |
| Cholesterol | 10.2 mg |
| | |
| --- | --- |
| Total Carbohydrates | 14.5 g |
| Dietary Fiber | 4.2 g |
| Total Sugars | 7.1 g |
| Sodium | 182.4 mg |
| Protein | 1.4 g |