Here's Why Your Mexican Wedding Cookies Came Out Flat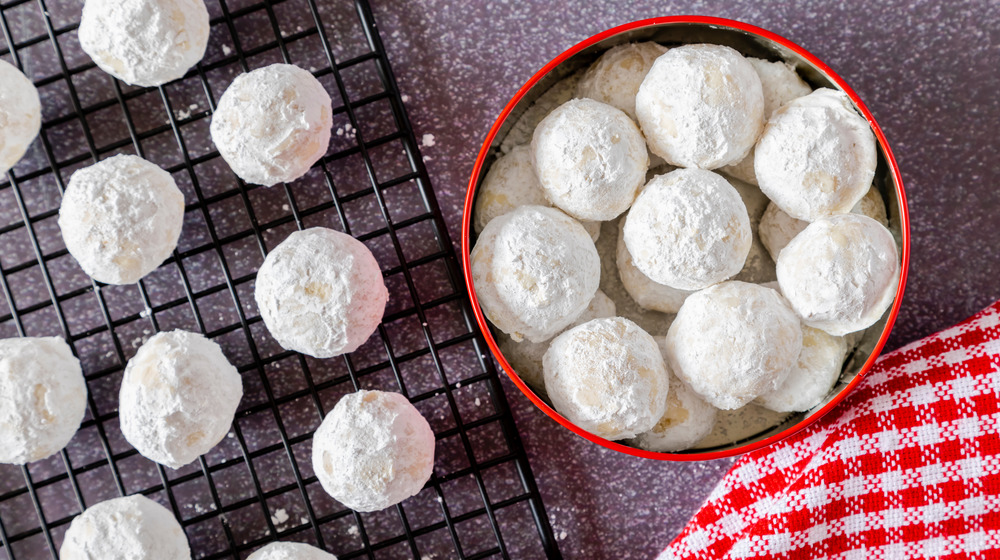 Shutterstock
You might know them as Mexican wedding cookies or you might know them as Russian teacakes. According to The New York Times, they also moonlight as polvorones or snowballs, too. Regardless of what you call them, most of us can agree that the bite-sized orbs are deliciously addictive. Made with a buttery shortbread-like dough, the cookies are rolled into tiny balls and, after baking, rolled in a powdered sugar coating. Tastes of Lizzy T compares their flavor to that of a pecan sandie (but a little more sweet).
For as tasty as Mexican wedding cookies are, they're just as easy to make. The dough requires just a few basic ingredients (typically just butter, flour, chopped pecans, vanilla extract, and confectioner's sugar) and the cookie-making process is as uncomplicated as mixing, rolling, baking, and powdering (via I Heart Naptime). However, there is one common mistake people often make when baking snowballs that results in flat cookies.
When it comes to Mexican wedding cookies — don't overwork the dough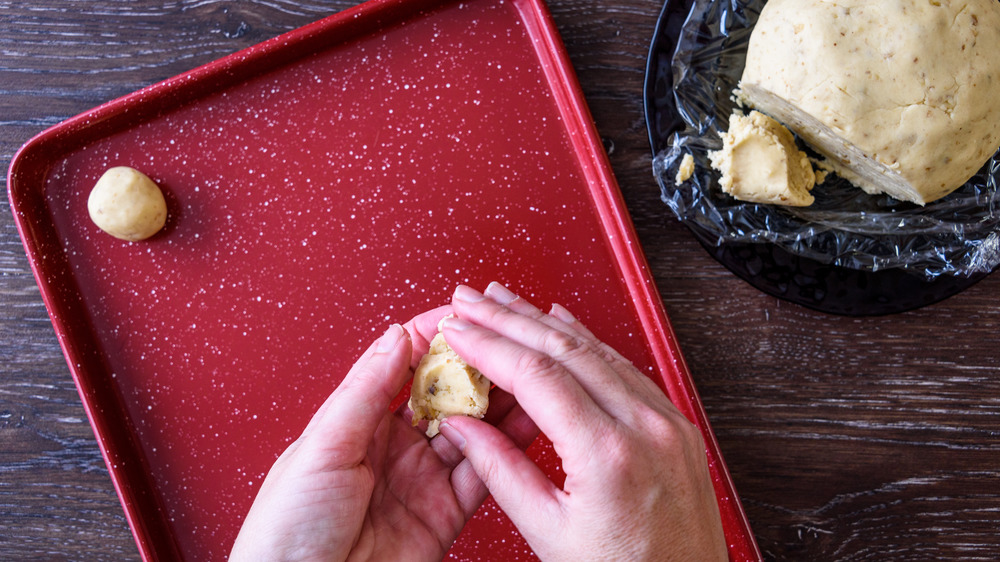 Shutterstock
The trick to making perfectly round, fluffy Mexican wedding cookies is handling the dough as little as possible. The blogger behind Mexico In My Kitchen warns that overworking the dough will result in flat cookies, so make sure you only roll your dough as much as you need to form tiny spheres and only mix the ingredients until they're combined (don't endlessly beat it with your mixer).
Why is overworking the dough so disastrous when baking? Insider explains that the more you mix your dough, the more air gets beat into it. This causes the cookies to rise and fall more dramatically when they're baking in the oven. You'll know when your dough is combined enough when you no longer see any streaks of flour in the batter. Once this happens, you should step away from the mixer and move onto rolling. In taking these steps, you'll soon likely be rewarded with round, fluffy Mexican wedding cookies, trust us.