Over 30% Of People Think This Is The Best Chick-Fil-A Chicken Sandwich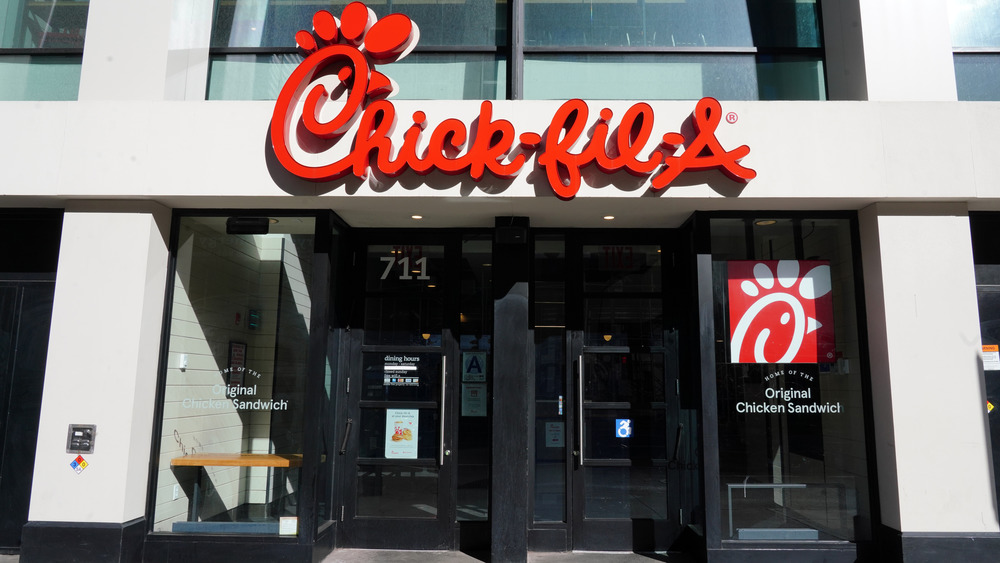 Cindy Ord/Getty Images
Since Chick-fil-A, as reported in The Washington Post, became the third-largest restaurant chain in the U.S, in 2019, the matter of which of its offerings is the best has become a matter of import. So, Mashed set up a poll to discover what was the best sandwich at Chick-fil-A, and 656 people responded.
Tied for last were both grilled varieties, the grilled chicken sandwich, and the grilled chicken club sandwich. With each receiving 9.76 percent or 64 votes, it is clear that very few people go to Chick-fil-A for their grilled chicken. This is despite Eat This, Not That!'s recommendation of the grilled chicken sandwich as a healthier option.
The next tier up consists of their Deluxe Sandwich and Spicy Deluxe sandwich, with the former receiving 97 votes, or 14.79 percent, and the latter 103 votes, or 15.7 percent. So while the fried chicken was more popular than the grilled, perhaps the added tomato, lettuce, and cheese hold the sandwiches back from top-tier popularity.
In second place, with 130 votes, or 19.82 percent, lands the spicy chicken sandwich, leaving the winner's spot open for Chick-fil-A's chicken sandwich, which won over 198 people, giving it 30.18 percent of the poll.
Simplicity is key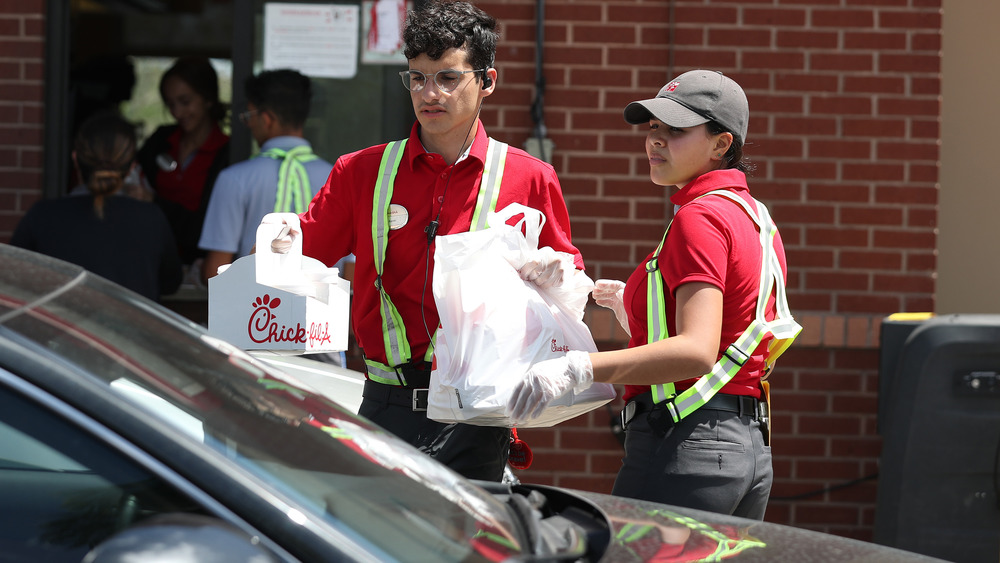 Joe Raedle/Getty Images
Considering how simple the recipe for a Chick-fil-A chicken sandwich is, a breaded fried chicken, pickles, and toasted butter bun, it may surprise some to learn that it held off its more complex competition. The chicken sandwich may have won out because, as the original offering, Chick-fil-A's serving process is made specifically for it.
Plenty of rumors and explanations concerning the process behind the chicken sandwich circulate. According to Eat This, Not That!, a good portion of the sandwich's juiciness is due to Chick-fil-A picking smaller birds. "[We]don't like bigger birds," David Farmer, the company's vice president of menu strategy and development, explained. "We like the texture that comes from the smaller bird." Then it is a question of employing the proper breading technique and pre-buttering your buns.
Taste of Home, however, credits the speculation that Chick-fil-A marinades their chickens in pickle juice, which is a byproduct of the other essential ingredient for a Chick-fil-A chicken sandwich: pickles. Since pickle juice contains salt, the theory goes, marinating the chicken in it would carry moistness even deeper into the meat as well as breaking down a few proteins, resulting in a less stringy texture. Moreover, we expect fast food to taste salty, so this fits in. The theory gathered further credence from a former Chick-fil-A employee who explained on Reddit that before dipping the chicken in buttermilk, they marinade it in pickle juice.
Probably, these ideas come together best in the plainest form, hence the chicken sandwich's popularity.