Easy Granola Bar Recipe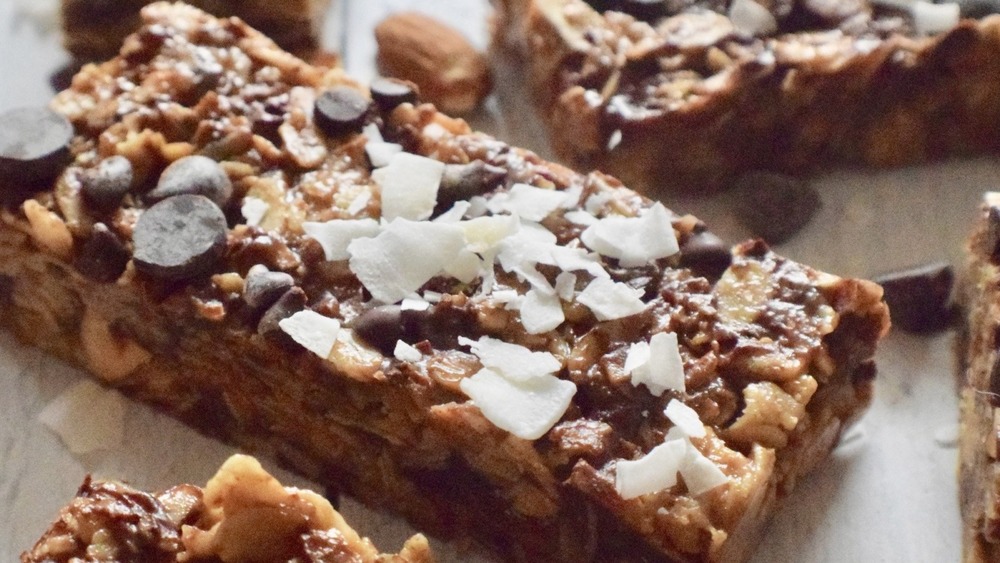 Tara Rylie/Mashed
We couldn't agree more with Tara Rylie of Rylie Cakes when she says, "I adore granola bars when on-the-go, but also feel like store bought granola bars are missing something." It is true that homemade granola bars are, well, better, and Rylie adds that the ones that come in wrappers, "are either unhealthy, or super healthy, but then too chewy or tasteless." 
Given these observations, Rylie tells us, "I wanted to find my perfect version of the granola bar!" And we are so glad she did, with the mindful baker explaining, "I created a bar with clean ingredients that was packed with all the little extras I love, like toasted coconut, toasted almonds, and of course, I added a few chocolate chips." 
We love that you can also personalize this recipe, making the bars less sweet by sticking with all-natural peanut butter, or, as Rylie explains, "I like to use a little bit of nut butter — be it almond butter or cashew butter — because it helps add a depth of flavor to these granola bars."
Rylie says, "I usually make a batch or two every month and then freeze them. That way, I can grab one when I'm heading out the door or when I'm in need of a quick snack at home but am short on time. They're just nice to have around."
Gather your granola bar ingredients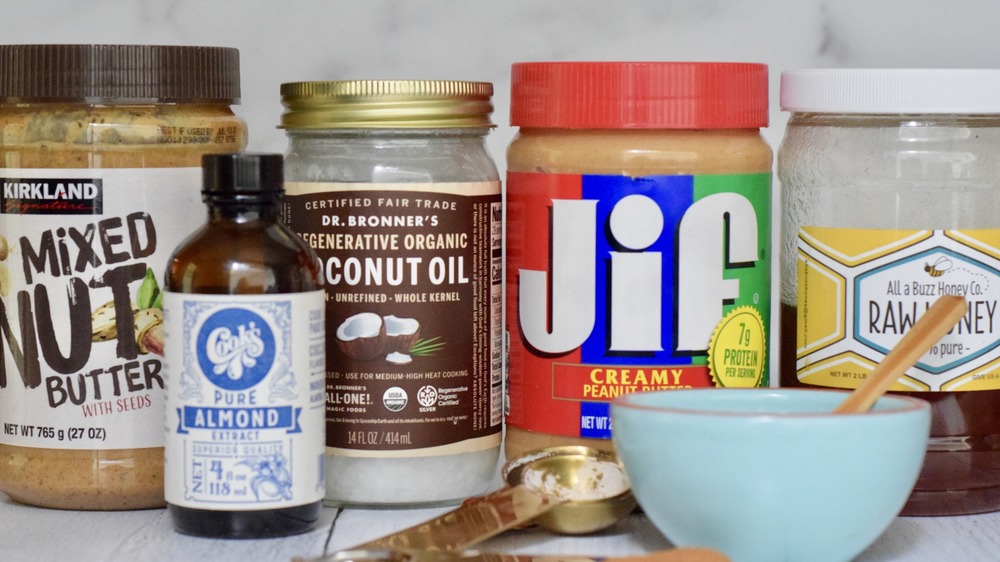 Tara Rylie/Mashed
Gather almonds, coconut flakes, peanut butter, nut butter if you plan to use it, honey, coconut oil, vanilla extract, salt, cinnamon, old-fashioned oats, and mini chocolate chips. 
Meanwhile, as Rylie tells us, "You can replace almonds with pecans, walnuts, or peanuts." 
Another way to customize this mouthwatering snack is to substitute vanilla extract with the almond version. As Rylie explains, "Almond extract pairs well with toasted almonds and nut butter, helping to accentuate their flavor profiles." She also notes, "Vanilla extract is a more subtle flavor. Almond extract has a strong and sweet flavor. Using almond extract will actually make these bars a bit sweeter than using vanilla extract."
Toast your almonds and coconut for the granola bars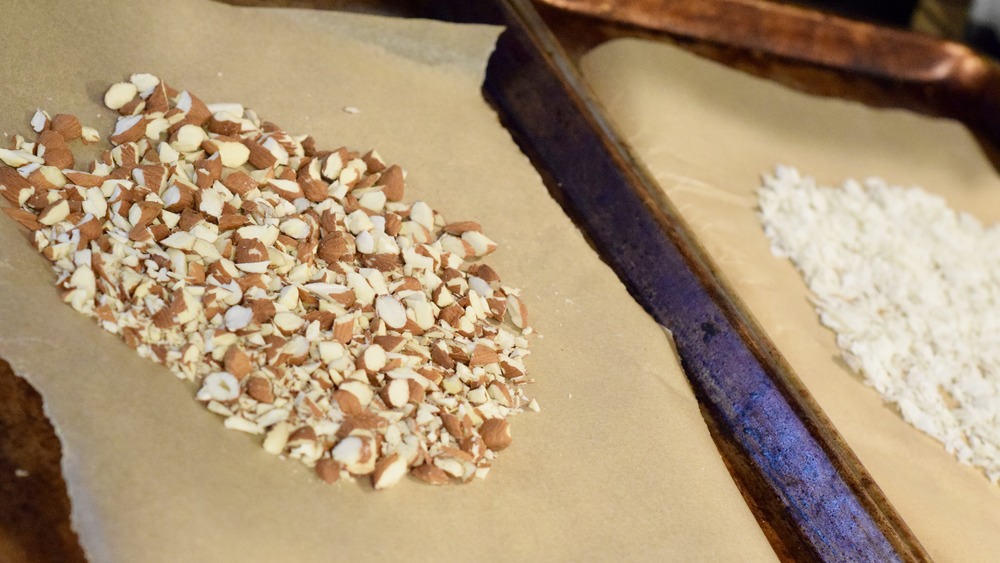 Tara Rylie/Mashed
Go ahead and line an 8x8-inch square baking pan with parchment paper and then set it aside. Preheat your oven to 375 F and line two half-sheet pans with parchment paper. Place your chopped almonds on one of the pans and the coconut flakes on the other. Toast both ingredients until they are brown and fragrant; each will be ready at a different rate. Rylie says that the latter takes about five minutes, while the former takes about ten minutes.
You'll want to keep an eye on the oven and remove each pan when it's good to go. Rylie explains that toasting these ingredients leads to a "Flavor explosion!" She also notes, "Toasting both the coconut and almonds adds so much more flavor to the recipe than just tossing them in raw. Plus, I prefer the texture of toasted nuts over raw nuts."
Start combining the granola bar ingredients in a pan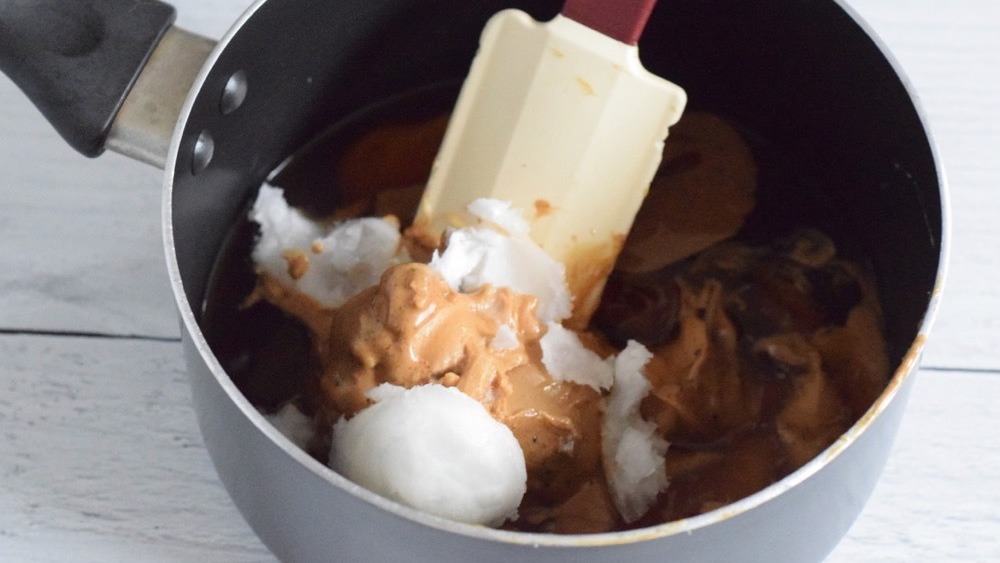 Tara Rylie/Mashed
While your almonds and coconut are cooling, combine your peanut butter, nut butter — again, only if you are using this ingredient — as well as honey, coconut oil, and vanilla or almond extract together in a medium saucepan, over medium to low heat. You don't want your peanut butter to clump up here, so Rylie recommends that home cooks stir the mixture occasionally until it is well-combined. Meanwhile, simmer the mixture for two to three minutes, and then, remove it from the heat. 
Next up is to add the rest of your ingredients, save the chocolate chips, because you don't want them to melt into the warmed-up ingredients! Consider that as the gluten-free baking expert shares, you have the option to make these granola bars vegan. She suggests using Enjoy Life Mini Chocolate Chips. She also shares another vegan baking tip: "Simply replace the honey with agave; it's that easy!"
Add your granola bar oats, coconut flakes, and chocolate chips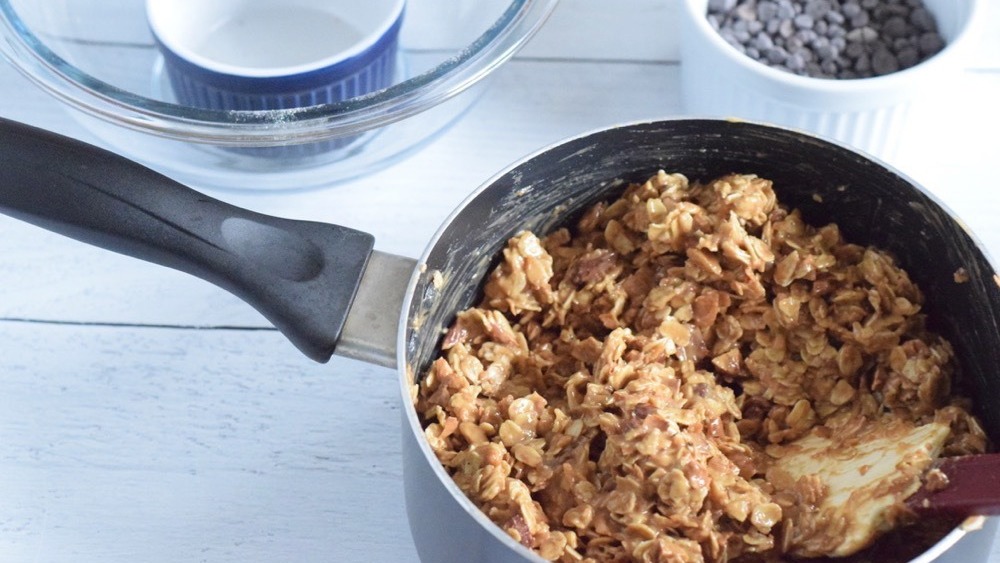 Tara Rylie/Mashed
At this stage, once your peanut butter mixture is removed from heat, go ahead and add your salt, cinnamon, and oats. Stir everything until it is combined. Time to employ those toasted, chopped almonds and the coconut flakes. Once again, stir everything until it is thoroughly combined. 
Now is the tough part — because you have to let the mixture cool for about 15 minutes. And then, sorry, but you'll need to soon refrigerate your granola bars for an hour before you can enjoy them. But before you get the mixture ready to stick it in the fridge, go ahead and add half a cup of those mini chocolate chips to your granola mix. You haven't snacked on all of them by now, right? 
Spread the granola bar mixture in a square pan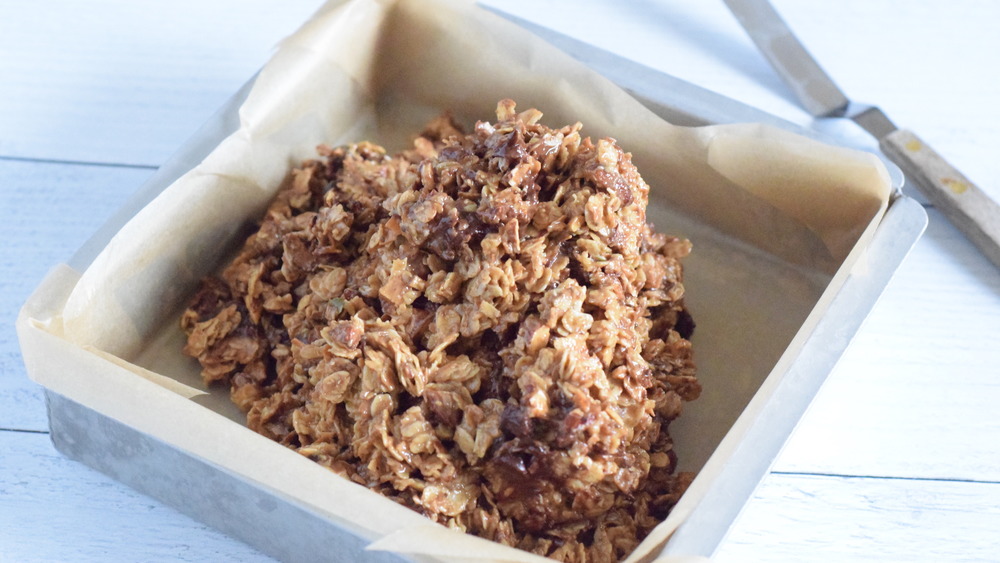 Tara Rylie/Mashed
Okay, so your chocolate chips are added and the mixture is well-combined. Now, transfer the granola bar mixture to that prepared pan from the beginning, and press it down firmly. Rylie recommends using a small offset spatula to create an even layer, which will make for easier cutting once the granola bars have been refrigerated for an hour — or until they are nice and firm. You will need the bars to be firm, because once the (very long seeming) hour is up, Rylie says you should remove the bars and slice them into even pieces. 
We are loving how you can slice them to your preference, and depending upon how you plan to serve or use the bars. As Rylie explains, saving them for future enjoyment is as easy as, well, sampling a granola bar the second they are ready!
Cut the granola mixture into bars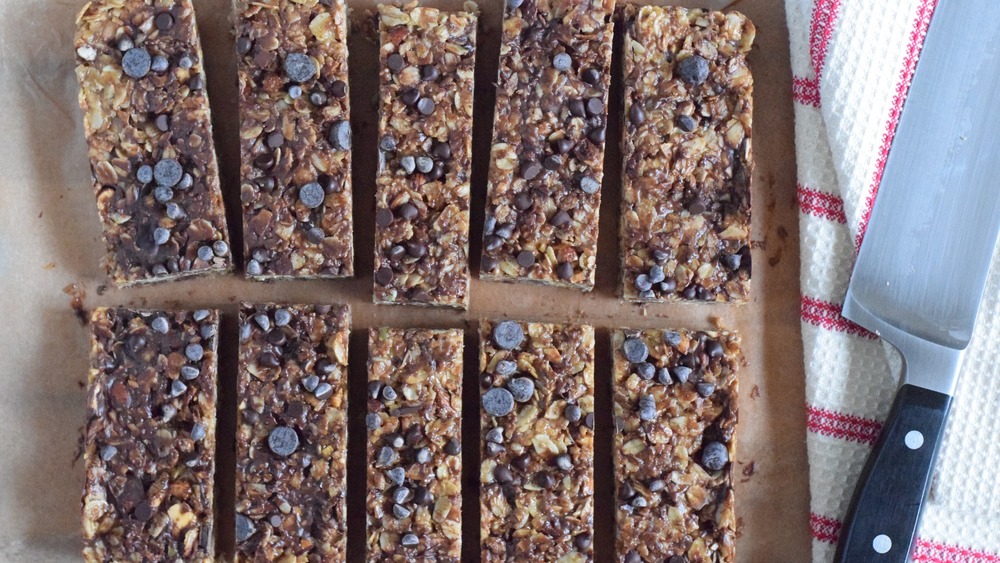 Tara Rylie/Mashed
These yummy, filling, sweet and savory granola bars can be cut into up to a dozen bars, depending upon whether you desire a larger or smaller on-the-go snack. Rylie has a few suggestions for storing your bars, noting an airtight container in the refrigerator yields firmer bars. "Store them on the counter for chewier bars," she advises. She recommends individually wrapping each bar if you plan on freezing your creation. "They last two weeks in the fridge," she tells us, adding, "and a few months in the freezer." They also last a few minutes if you set the granola bars out on a platter right away and have grabby fingers lurking around the kitchen. 
The good news is that even if these bars are snatched up right away, they're simple enough to make again and again. And next time you prepare a batch, try experimenting with different nuts or nut butters. 
Easy Granola Bar Recipe
Granola bars might just be the perfect snack. These homemade granola bars are healthier than many of the store-bought varieties, without sacrificing on taste.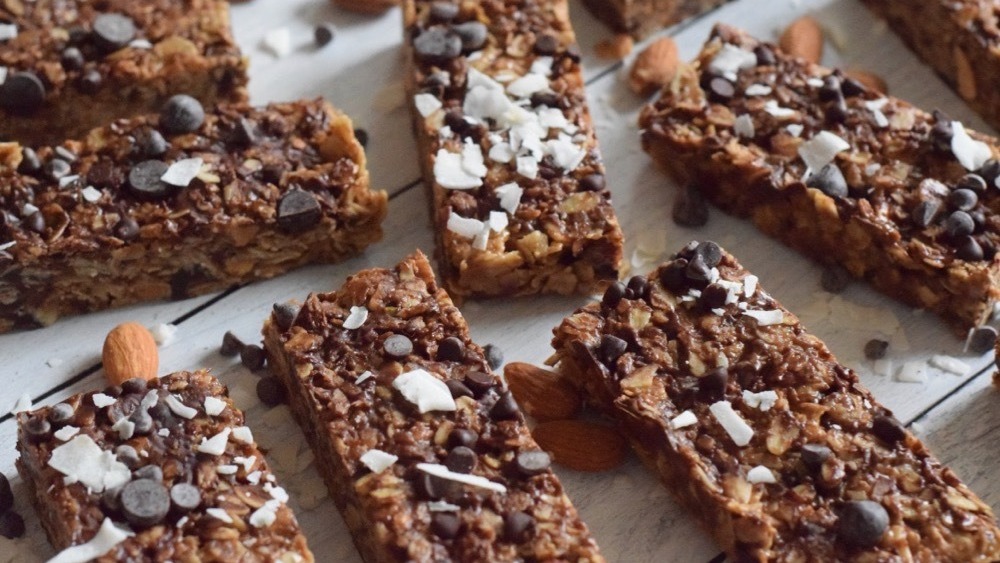 Ingredients
½ cup almonds, chopped
½ cup coconut flakes
½ cup peanut butter
¼ cup nut butter (optional; can use all peanut butter)
½ cup honey
2 tablespoons + 1 teaspoon coconut oil
½ teaspoon vanilla extract
½ teaspoon salt
½ teaspoon cinnamon
2-½ cups old-fashioned oats
½ cup mini chocolate chips
Optional Ingredients
pecans, walnuts, or peanuts
Directions
Line an 8 x 8-inch square baking pan with parchment paper. Set aside.
Preheat oven to 375°F. Place chopped almonds on one half-sheet pan lined with parchment and coconut flakes on another. Toast almonds and coconut until golden brown and fragrant. Coconut flakes will take approximately 5 minutes to toast and almonds close to 10 minutes. Keep an eye on the oven and remove individual pans when ready. Set aside to cool.
In a medium saucepan, stir peanut butter, nut butter, honey, coconut oil, and almond extract together over medium to low heat until combined. Let simmer for 2-3 minutes, stirring occasionally; remove from heat.
Add salt, cinnamon, and oats, stir until combined.
Add toasted almonds and coconut, stir until thoroughly combined. Let mixture cool for approximately 15 minutes and then add mini chocolate chips; stir to combine.
Transfer granola to prepared pan and press down firmly with small offset spatula creating even layer. Refrigerate for 1 hour or until firm.
Remove granola from pan and cut into desired size and number of bars. Store in airtight container in refrigerator for firmer bars or on the counter for chewier bars. Individually wrap if freezing.
Nutrition
| | |
| --- | --- |
| Calories per Serving | 331 |
| Total Fat | 20.6 g |
| Saturated Fat | 9.6 g |
| Trans Fat | 0.2 g |
| Cholesterol | 11.6 mg |
| | |
| --- | --- |
| Total Carbohydrates | 34.0 g |
| Dietary Fiber | 3.8 g |
| Total Sugars | 19.3 g |
| Sodium | 108.1 mg |
| Protein | 6.7 g |