The One Thing Giada De Laurentiis Wishes Her Fans Would Stop Doing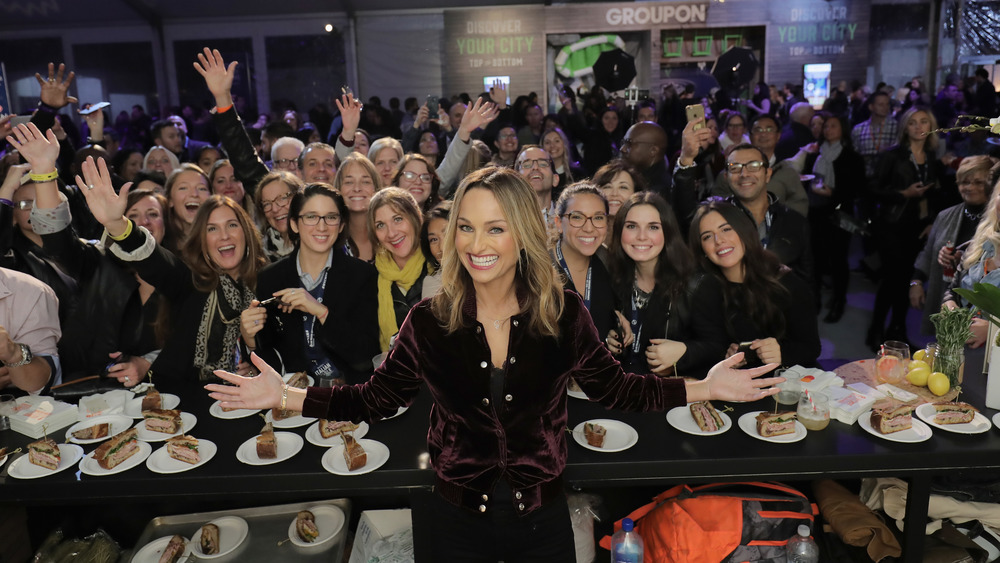 Neilson Barnard/Getty Images
With good looks, charm, and loads of culinary talent, it didn't take Food Network star Giada de Laurentiis long to gain star status. De Laurentiis first gained fame with the popularity of her "Everyday Italian" show on the Food Network in 2003. As De Laurentiis' profile rose, she has amassed a large fan base through her subsequent television shows "The Next Food Network Star," "Giada At Home," "Giada Entertains," and "Beat Bobby Flay." Fans have also embraced her cookbooks, including Giada's Family Dinners and Giada's Italy, and have flocked to her Las Vegas restaurant Giada.
But fame was never the goal, according to De Laurentiis. As she told Food & Wine, the magazine she was working for when she was discovered by a Food Network executive, "I wasn't looking to get into TV. My family was in the movie business, so I was never interested in that world." 
So it's not surprising that the self-described "very shy" De Laurentiis has an ambivalent relationship with her fans (via People).
Giada de Laurentiis doesn't appreciate touchy-feely fans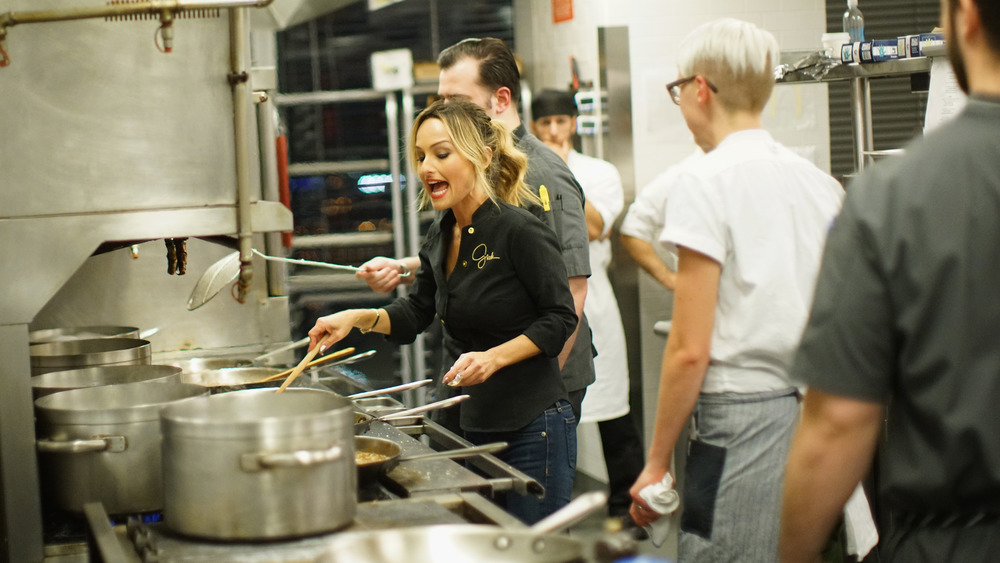 Bennett Raglin/Getty Images
We're sure Giada De Laurentiis appreciates the fans who have made her shows, books, and restaurants such a huge success. After all, they are the reason her astonishing $30 million net worth she holds (via Celebrity Net Worth). However, there's one aspect of interacting with fans that De Laurentiis could do without: Touching. She confessed to the Bon Appetit "Foodcast" podcast that she is "anti-social," and avoids large crowds whenever possible. This is especially true when it comes to people who tend to get touchy-feely after enjoying wine or cocktails at her Las Vegas restaurant Giada.
De Laurentiis wondered aloud if people feel less inhibited because of her gender. "I don't know that they touch Gordon Ramsay or Jean-Georges [Vongerichten] as much as they love to hug and touch me," she said, adding "In a venue like that where people drink a lot and all their inhibitions are sort of gone, that's where it gets a little tricky."
Of course, De Lauretiis acknowledges that not all fan interactions are bad and said that she gets satisfaction from watching people enjoy her food. "Their stories and the sheer fact that they love food and they're willing to spend their time and hard-earned money" at Giada are gratifying to her.
Overall, Laurentiis finds the celebrity chef world a bit curious, noting they were once content to "feed people and make people happy...behind closed doors."  Celebrity life? We still suspect it has more positives than negatives for De Laurentiis and other star chefs.