Why Cracker Barrel's Mac And Cheese Is The Perfect Comfort Food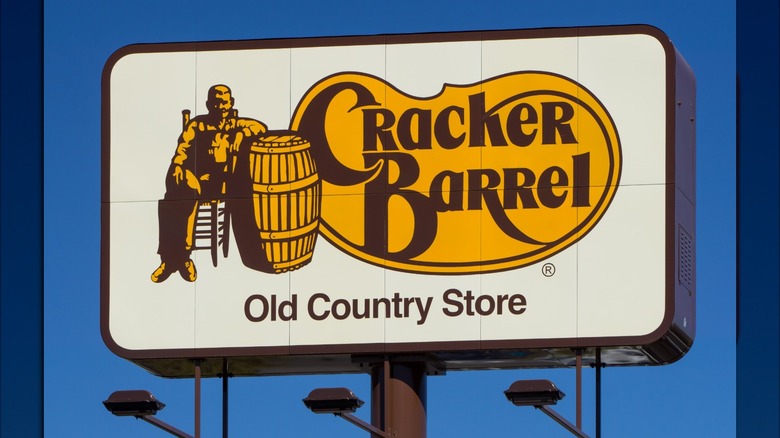 Shutterstock
Cracker Barrel is the perfect place to go if you're looking for a bit of Southern-style comfort food with a huge serving of nostalgia. According to Country Living, when Cracker Barrel opened its first restaurant back in 1969, the brand was serious about keeping their ingredients fresh, preparing even their cornbread from scratch. Cracker Barrel is known for its uniqueness to this day, offering customers an old school dining experience replete with antique décor, homestyle cooking, and a porch full of rocking chairs.
Cracker Barrel loyalists will agree: One of the best dishes from the restaurant is their homestyle mac and cheese. Whether you're recovering from a long week or want to reward yourself at the end of a tiring work day, the chain's version of the classic dish never disappoints. As Spoon University points out, a bowl of Cracker Barrel mac and cheese is as creamy and gooey as you could possibly want it to be and perfect in basically everyway. Seriously — you don't need to modify the dish at all with fancy additions like pulled pork or blue cheese. Plus, let's be honest here: it's mac and cheese, one of the most comforting meals ever created.
What we're saying is, if you're looking for something that will make you feel all warm and fuzzy, you should definitely consider this Cracker Barrel menu staple.
This cheesy dish is super satisfying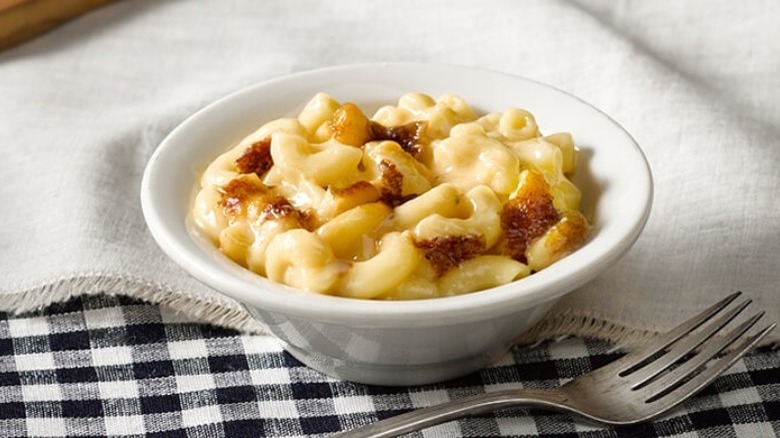 Cracker Barrel
So, what sets Cracker Barrel's mac and cheese apart from its fast food peers? For one, it is made with a perfectly balanced cheese and noodle blend to take you straight to taste bud heaven. Secondly, the side is baked perfectly, producing a dish that is super creamy, with patches of crispy cheese for that special something that keeps you coming back for more. This dish is so simple, but it doesn't require anything complicated to make you fall in love. Really, what more do you need from life?
This scrumptious dish works well as a side, but can also make a filling main for those days where you really just need a heaping bowl of mac and cheese to help raise your spirits. There's a reason it's called comfort food, after all. The Cracker Barrel website even lists larger size options as part of their catering menu if you know your whole family will want to dig in at home.
Customers really do love it
With Cracker Barrel's vast menu, it makes sense that a newbie reached out on Reddit to ask Cracker Barrel fans for food recommendations. They shared, "I have a gift card to Cracker Barrel and I've never been there before. What's the best thing they offer? Going for dinner." One person vouched for the mac and cheese, saying that they worked as a sever at the restaurant. They wrote, "A lot of the food there is really good. I especially like their chicken ... fried chicken, hash brown casserole, and pancakes. Their Mac and cheese is really good too." (Pro tip: an employee recommendation is always worth checking out — after all, they know every single one of their employer's dirty secrets.) In another Reddit thread, this time an AMA (which stands for ask me anything) from a Cracker Barrel dish washer, the mac and cheese was named again as an employee fav. The worker was kind enough to answer basically the same question twice, responding that the mac and cheese was one of the restaurant's best dishes.
A diner on TripAdvisor was full of praises for Cracker Barrel's mac and cheese, writing that they found the dish to be "phenomenal" and were more than satisfied with the side portion size. Unsurprisingly, the dish has a cult-like following online, with loads of copycat recipes for those willing to put in the work and prepare the meal at home.
It leaves room for other options
Another great thing about of this Cracker Barrel menu item? If you're really craving mac and cheese, but not totally sure it's all you want for your meal, you'll still have plenty of room left to try other dishes at the restaurant. According to the chain's nutritional guide, a side order of the dish contains only 270 calories and 16 grams of fat, and has 10 grams of protein. A side serving of this comforting dish does however contain 700 milligrams of sodium, so you might want to be mindful if you're watching your salt intake.
Perhaps what's the most appealing about Cracker Barrel's mac and cheese, however, is that it retains its classic flavors by keeping things relatively simple. The dish features a recognizable combo of elbow macaroni noodles and gooey cheese (no one knows the exact cheese used, but Eat This, Not That! recommends Colby in its copycat recipe) which really make it feel like home, offering up a nostalgic trip down memory lane. Is there anything more comforting than feeling like a child again, digging into a warm bowl full of macaroni and cheese?