Costco Fans Can't Stop Talking About This Dairy-Free Fettuccine Alfredo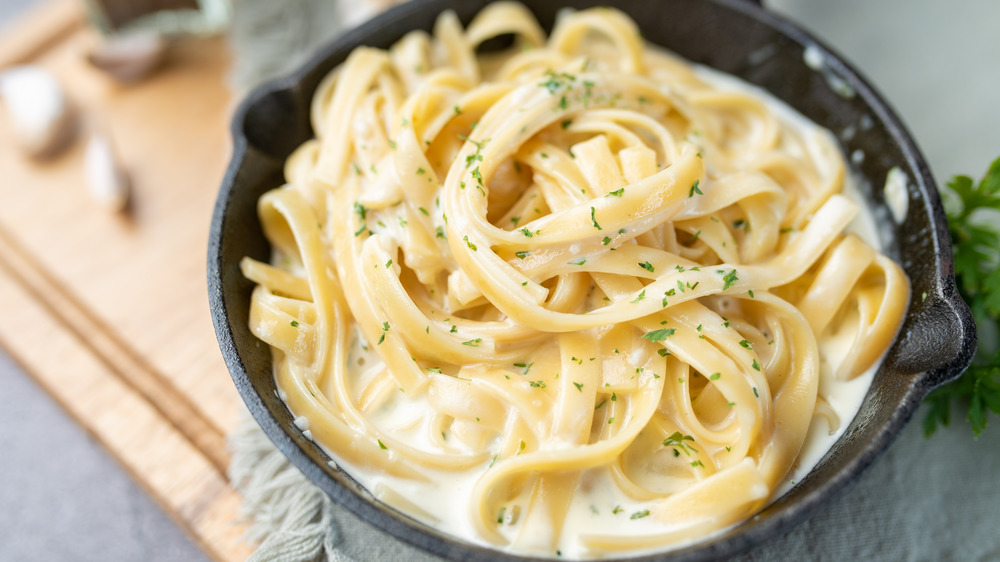 Shutterstock
Those who are new to veganism or those who simply want a more convenient, easy option for making plant-based, dairy-free Alfredo sauce are in luck. However, you will need a Costco membership to get this latest product. According to Costco fan Instagram accounts Costco Buys and Costco Deals, the bulk retailer is now carrying Freshly Delicious Monterey Gourmet Foods Organic Plant-Based Alfredo with Fettuccine. The only catch? The product is limited to Costco stores in Los Angeles and Hawaii at the moment, according to Costco Deals.
The photos and details of the new bags of vegan-friendly Alfredo and pasta were both posted on Instagram on Wednesday, Jan. 6, 2021. The captions on the posts certainly have fans and followers excited to try this new product. Costco Deals said, "Monterey Gourmet Foods just came out with an incredibly rich and creamy Plant-Based Fettuccine Alfredo Pasta that deserves a prime spot in your busy weeknight meal rotation!" 
The captions revealed more details about the dish itself, too. According to the caption Costco Buys posted, "The pasta sauce is cloaked in a velvety coconut cream with a creamy cashew butter sauce for a delicious, guilt-free meal everyone will love — especially with a side salad or some garlic bread!" Both also described the Alfredo and fettuccine as being "100% plant-based" and "ready in minutes." So, it sounds like a great answer to any need for a quick vegan meal.
Followers are excited about Costco's new vegan option
Needless to say, posts about Costco carrying a new vegan Alfredo and pasta product were very popular. Costco Buys received more than 1,400 likes on the post in less than one day, while Costco Deals received more than 4,500 likes for the post. Commenters to Costco Buys were quick to chime in with their thoughts on the new convenience item too. Though one commenter said, "give me the cream and butter," most were happy to have the vegan option.
One person said, "I tried it! The sauce is garlicky, like garlic butter bread. I thought it was good! I added broccoli and black pepper to mine." Another fan simply tagged someone and said, "I NEEEEED." Many of those who commented tagged someone else. However, another commenter said, "gluten is plant based also," and added a frowny face emoji.
Whether you are anxious to try it or not, it's worth noting the nutrition that is readily available from the photo of the bagged pasta dish. Per serving, the dairy-free Alfredo sauce and fettuccine packs 250 calories, eight grams of saturated fat, 550 milligrams of sodium, and one gram of sugar. But, the upside is that the product microwaves in just six minutes, so you can eat in next to no time.