2021's Newest Cake Decorating Trend Is Easier Than It Looks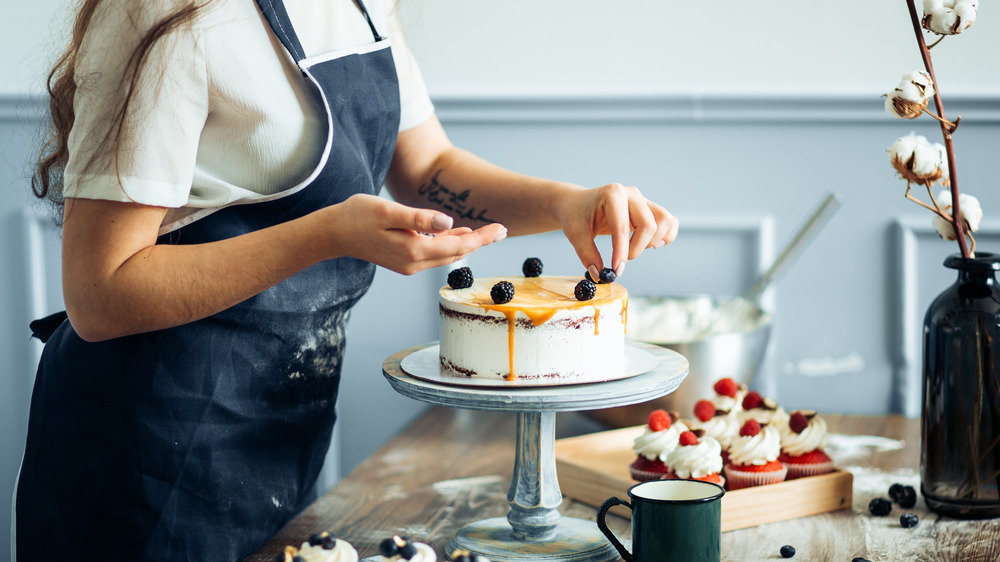 Shutterstock
Someone finally put the finishing touch on all those 2020 baking trends. The latest baking craze on social media isn't about the baking. It's about the icing on top. We're talking about tsunami cakes, and you can find them on Instagram or TikTok by searching for #tsunamicake. That hashtag has been used more than 3,700 times on Instagram, and videos with that hashtag have been viewed 3.7 million times on TikTok.
While bakers usually labor behind the scenes in flour-dusty kitchens, putting the final layer of icing to their cakes, adding icing to a tsunami cake is all about presentation. According to NDTV, the cake is built inside a clear plastic sleeve with liquidy icing that's the result of adding milk and corn starch to the recipe. (We haven't tried making one of these ourselves, but knowing how corn starch works we figure that the more you add, the slower the icing will flow.)
When done well, the effect has been called mesmerizing, so you'll want to gather your family or party guests around the table for the finale. Pull the acetate sleeve straight up and away from the cake, and the icing will cascades down the cake on all sides. A good demonstration of how to make a tsunami cake, from start to finish, was posted to TikTok by the Mexican bakery Decorando Pasteles.
The secret to a good tsunami cake is in the corn starch
Tsunami icing has been used to good effect to make Disney-themed cakes, such as a cake by TikToker @madbatterpty depicting Belle from Beauty and the Beast. In this instance, the icing descends to form her flowing gown.
The queen of tsunami cake-decorating may be Nayane Capistrano, who has been posting her cakes-as-performance art on Instagram since August at least. Her creative confections have been made to resemble rainbows, sundaes, tubs of popcorn — with real popcorn on top — and even Starbucks Frappuccinos. Insider reports that Capistrano uses a secret coating. If it is corn starch and milk, mixed with standard cake icing, then she doesn't skimp on the corn starch. Her icing flows with almost serene beauty, taking several seconds to reach the bottom of the cake.
More corn starch rather than less is the key to a successful tsunami cake. Browse the #tsunamicake hashtag on TikTok long enough, and you'll find some cakes that don't succeed because the tsunami icing is too runny. It may take a little trial and error to get the icing right, so you may want to practice in private before the big tsunami cake reveal in front of your guests.