Aldi Fans Can't Stop Talking About This Dairy-Free Strawberry Yogurt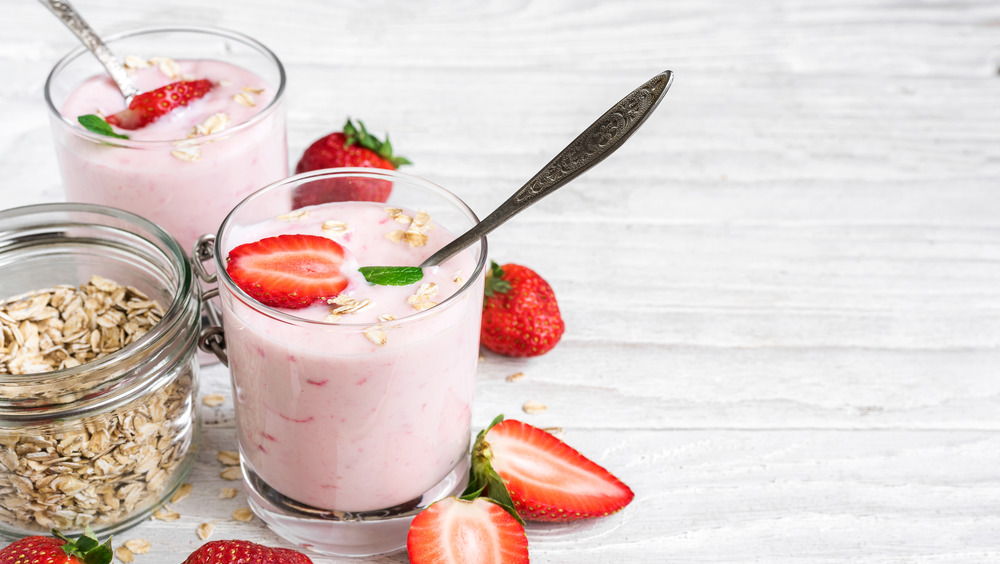 Shutterstock
For those who have been vegan for some time now or even those who are dabbling in the dairy-free lifestyle, there's certainly good news from Aldi. Though the budget grocery store carries alternative, dairy-free beverages like coconut milk, it now stocks dairy-free yogurt too (via Aldi). According to a fan Instagram account, @theamazingaldi, individual cups of coconut milk yogurt were spotted and posted on Thursday, January 7.
The post included a caption that read, "spotted vegan yogurt at Aldi! Lots of vegan items out this week." More specifically, the post showed that the yogurt was Earth Grown Vegan Coconut Milk Strawberry Yogurt Alternative if you want to keep an eye out for it at your local Aldi. To sweeten the deal, each cup of the strawberry coconut milk yogurt was just $1.39. That means you should definitely be able to stock up on several cups of vegan yogurt. Best of all, the post garnered even more information about the new vegan yogurt in the comments.
Here's what people have to say
Naturally, fans of Aldi and followers of the account had things to say about the latest product to hit the shelves. Tons of the comments were simply tagging other Instagram users to alert them to the good news. Many others shared their excitement in their comments, though. One wrote, "Finally! Coconut milk yogurt!!! It's good for hypothyroid folks." Another said, "ALDI FINALLY HAS DAIRY FREE YOGURTTTTT." A third response simply read, "yassss."
But one conversation among two commenters provided new insight into the strawberry coconut milk yogurt from @theamazingaldi's original post. The first commenter tagged a friend and wrote, "wow, more goodies." The reply read, "I know! My store had different ones that were chocolate or plain!" The original tagger replied with, "oh wow, the strawberry sounds yum but at least the plain can be jazzed up or used in recipes." So, you can rest assured that strawberry flavor should not be the only flavor to hit your store's shelves in the not-so-distant future.