Don't Serve Borscht Without This Traditional Side Dish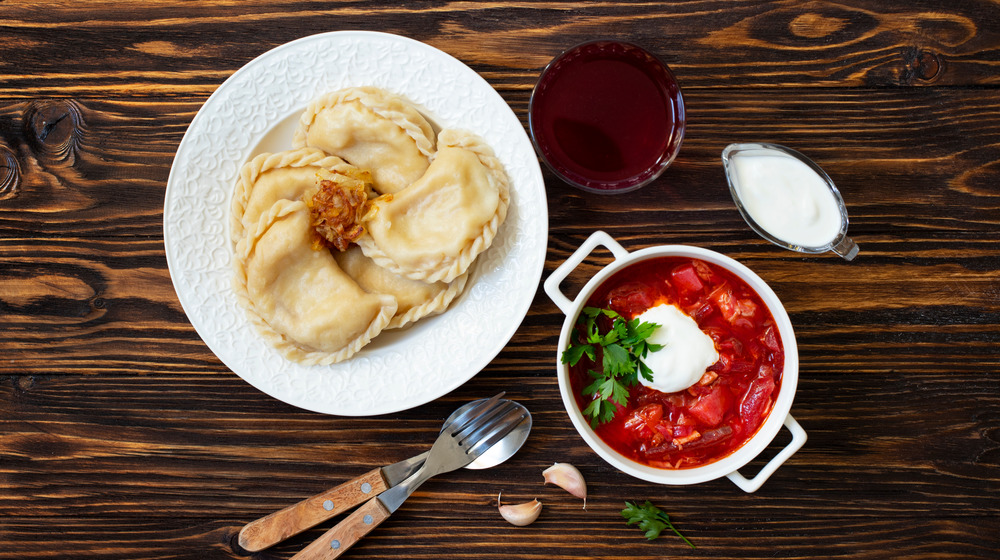 Shutterstock
One of the best antidotes to a cold winter day is a hot bowl of soup. While some prefer brothy chicken noodle or creamy chowder, don't overlook borscht. The hearty Ukrainian (and Russian, and Polish) soup is traditionally made with beets, cabbage, vinegar, root vegetables, and meats like ham hock or beef, The New York Times explains. Atop the soup goes a scattering of dill and a bit of sour cream, the latter of which the Times notes is optional.
While borscht is definitely a hearty soup, serving it alongside a side dish can make for a more varied and filling meal. If you want to lean into Eastern European tradition, the classic culinary pairing recommended by the Times is borscht and small savory pastries called pirogi (also spelled "piroshki" or "pierogi"). The food blog Eating European explains that it's traditional to eat borscht on Christmas Eve alongside small, ravioli-like pierogi filled with mushrooms.
While mushroom pierogi and borscht is a holiday tradition, other popular pierogi fillings that would go well with borscht include potato and cheese, sauerkraut and mushroom, and meat and onion (via Tasting Poland).
Other delicious borscht side dishes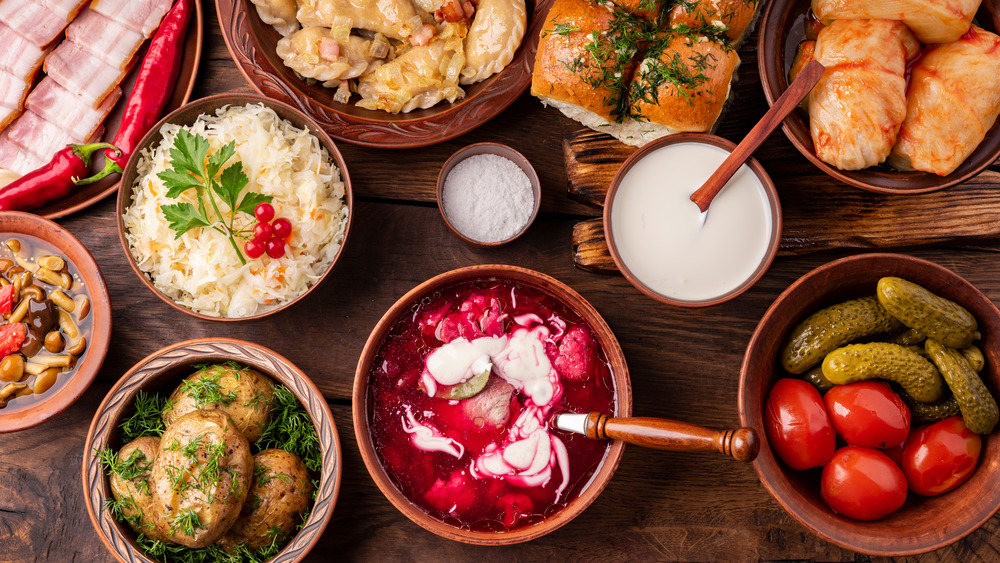 Shutterstock
Traditional borscht is just one of many ways to make this soup. As the Times puts it, "the only constants in borscht are beets and the balance of sweet and sour." Some borscht is even served cold, topped with summer-y garnishes like boiled eggs, radishes, and scallions (via Jewish Food Society).
In their article on borscht, the Times offers up two recipes: a traditional hot borscht, and a vegetarian hot borscht made with mushrooms instead of meat. But that's just the beginning. The Times also mentions borscht that includes goose or fried fish instead of beef or pork, and "white borscht" that swaps beets for cabbage.
Many variations of borscht means many delicious side dish options. Food blog Our Everyday Life recommends serving the sweet, tangy soup with "starchy comfort foods," such as buttered bread, baked potatoes, or small sandwiches made on rye toast. For something lighter, Our Everyday Life suggests simple, crisp garden salads.
The next time you're looking to warm up with some steamy borscht, give equal thought to what you'll serve it with. The combination of flavors will be a more than sufficient reward.