You Should Start Eating More Borscht. Here's Why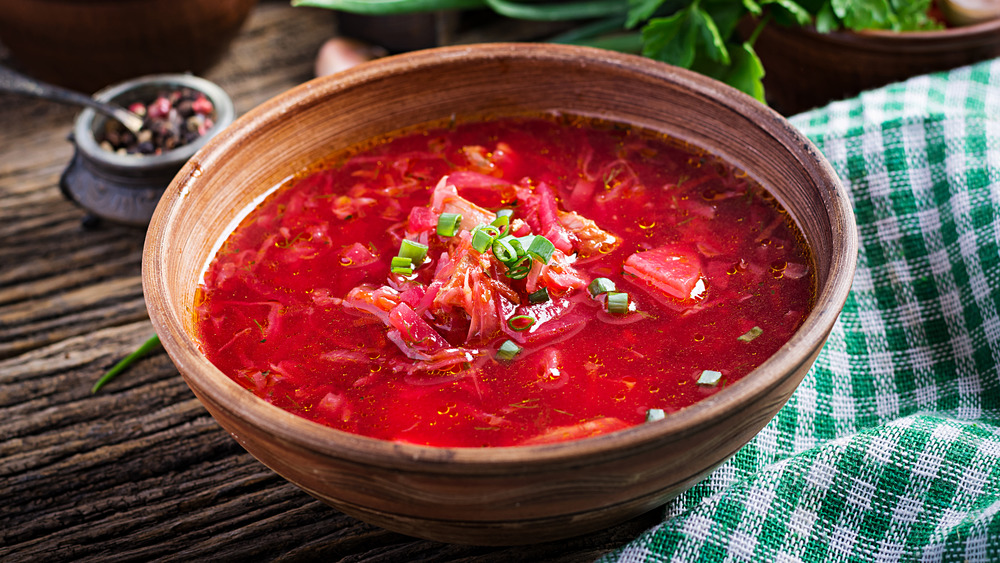 Shutterstock
You might never have guessed it, but the origin of borscht has started a small culture war. According to BBC, both Ukraine and Russia have claimed this iconic soup as part of each country's respective cultural history, making it a matter of national pride. And with a soup that tastes this good, it's no wonder it has started a fight. This versatile beet-centric dish comes in a hot and chilled version, making it the perfect choice regardless of season (via Food Network). Known as a classic Eastern European staple, borscht doesn't just taste great, it provides a ton of health benefits in every bite, too.
Any classic borscht should contain a few common vegetables, including carrots, onion, red beets, potatoes, white cabbage, and garlic (via Happy Kitchen). On their own, these ingredients contain a good number of nutritional benefits. According to Harvard Health Publishing, root vegetables like potatoes and carrots contain a wide variety of vitamins and minerals and high amounts of antioxidants. Beets play a star role in the dish and deliver a good amount of iron, manganese, folate, and vitamin B6 when you eat a full serving (via Healthline). After combining these vegetables together with the rest of the ingredients, you end up with a health-boosting combo that anyone can get behind.
There are a ton of nutrients in every bite of borscht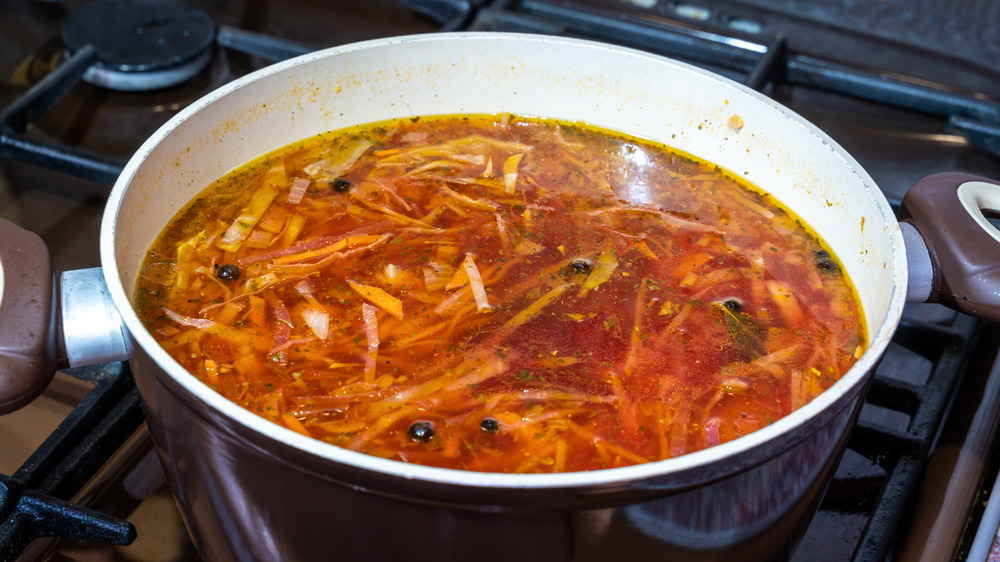 Shutterstock
If you love packing flavor into every bite of a healthy meal, borscht is for you. According to Happy Kitchen, borscht helps control blood pressure, while preventing heart, liver, and stomach diseases. The meal contains few calories, making it the perfect choice for folks following specific diets. It also accommodates anyone with celiac disease or gluten intolerance due its natural lack of gluten. You can even make vegetarian and vegan versions of this dish, which means it's a great choice for anyone looking to cut out animal-based fats, too (via Happy Kitchen).
If the health benefits can't get you excited for a bowl of this soup, the taste alone of homemade borscht compares to nothing else. Find out why this soup has found such a large audience over the ages and whip up a batch at home next time you want to take your taste buds on a journey to Eastern Europe. After one bite, you'll discover why so many have fallen in love with its comforting combination of flavors.