Quick Crepe Recipe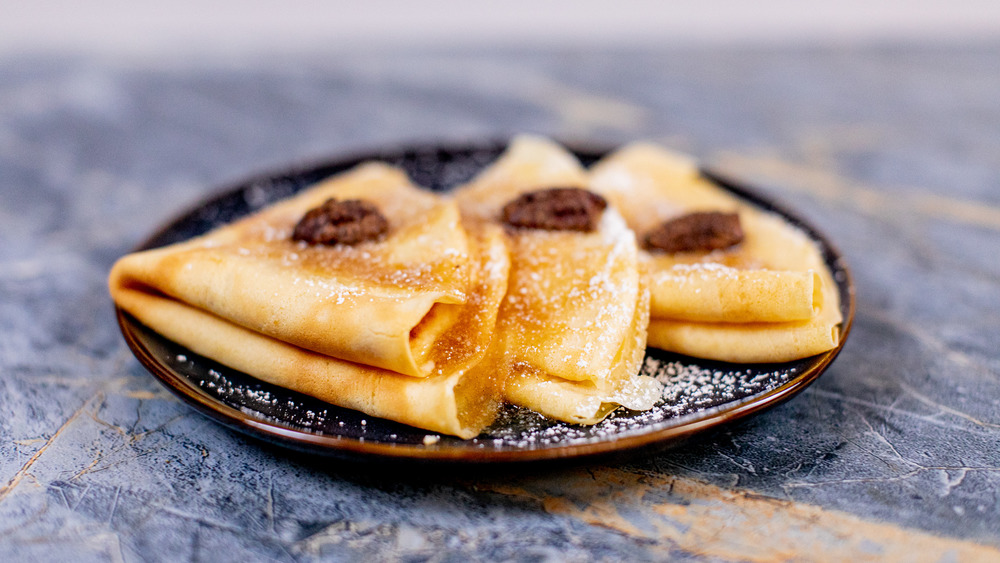 Mashed/Nathaniel Lee
There are so many dishes out there that seem beyond the abilities of the casual chef but are actually so simple they should be among the first recipes learned, serving as a foundational food on which to build out ever more complex concoctions. Among these are potato leek soup, the omelet, and, to keep with the whole French vibe here — crepes. And when it comes to the crepe, it's almost certain you already have everything you need to make them right there in your kitchen.
Crepes are a wonderfully versatile food, says Nathaniel Lee, chef and food writer behind Beginner Food. "At our house we normally flambé them suzette with orange liqueur, butter, and sugar, but a good savory crepe is hard to beat. This recipe specifically avoids things like baking spices, sugar, or vanilla so that the crepes can be used for either preparation," meaning you can sweeten these with Nutella or berries or wrap them around ham and eggs. Just don't do both at the same time.
Gather your crepe ingredients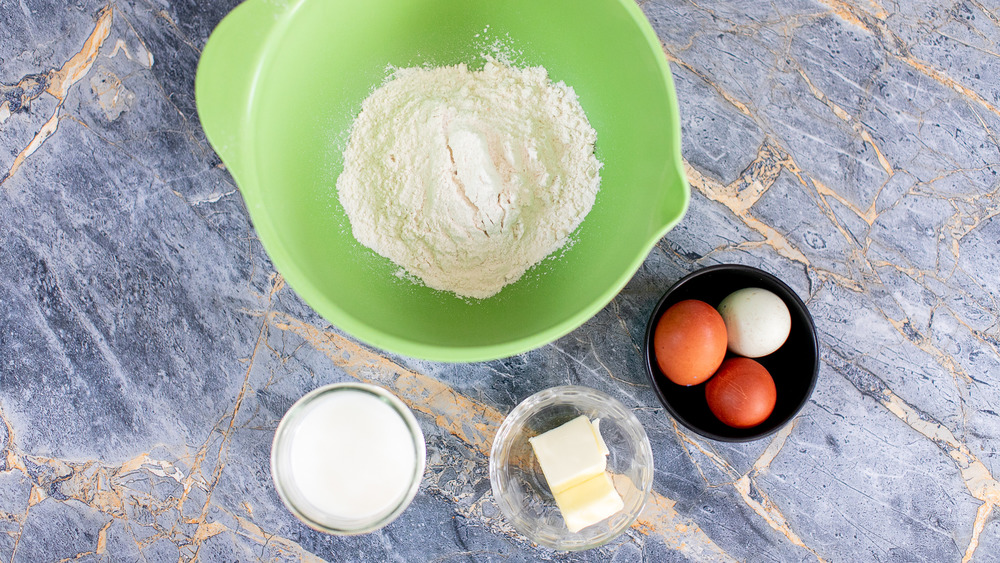 Mashed/Nathaniel Lee
The ingredient list for these most basic (aka most classic) crepes is so brief you might miss it if you blink. Eggs, milk, flour, butter, and salt.
Did you blink? Yeah, that's it. Truly to be specific, to make four crepes of a decent size, you'll need thee eggs, a cup and a half of milk, a cup of flour, two tablespoons of melted butter, and just a pinch of salt.
If you want to avoid dairy, that's no problem. Lee says: "I have done this recipe substituting pretty much all milk types," so go ahead and use almond, soy, or what have you. He does advise thinning any thicker milk alternatives with water as needed until it matches the viscosity of regular dairy milk, though.
Mix together all the crepe ingredients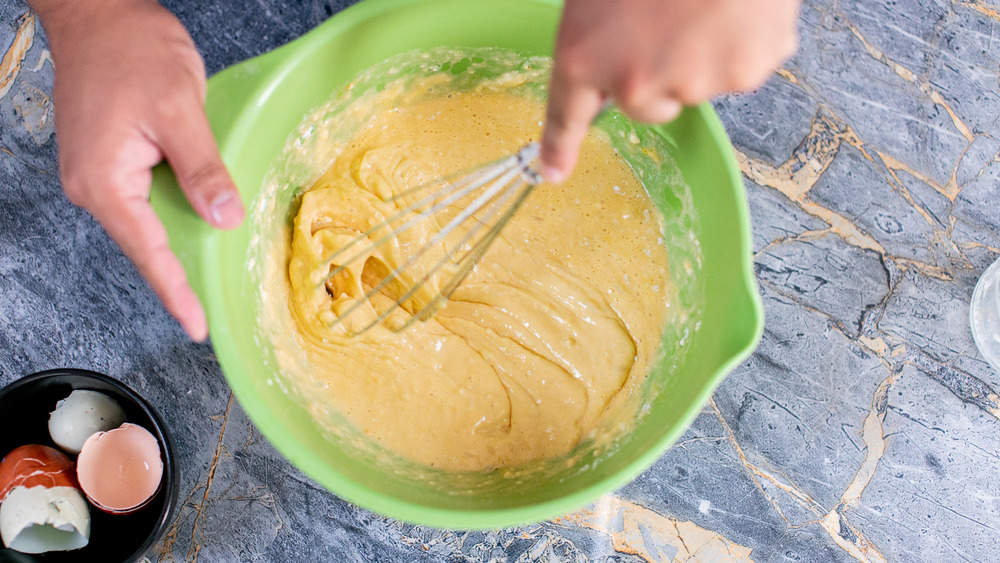 Mashed/Nathaniel Lee
In this step, you will mix everything together, by hand, in medium-sized mixing bowl. It's best to start with the wet ingredients, but there's really no special order here so long as it all gets added and stirred together just enough to fully blend. 
There is a crepe making mistake that you should be especially careful to avoid, however: "Overmixing the batter. Unlike with pancakes," says Lee, "you do not want bubbles in the crepes. Additionally, you do not want gluten to form," which happens with more mixing. "I like to tap the bowl down on the counter top a few times to get the bubbles out before pouring [the batter into the pan," he adds.
Make your crepes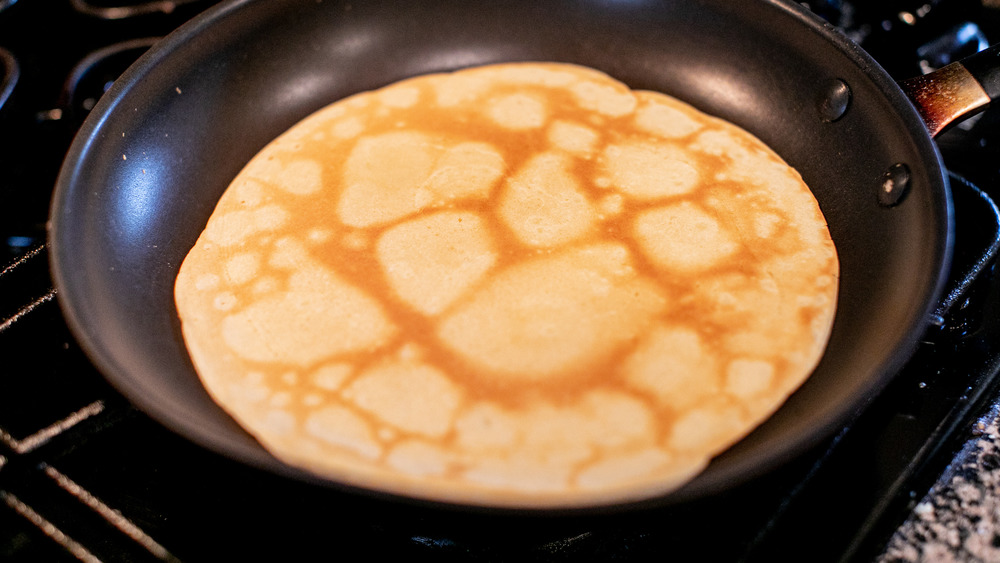 Mashed/Nathaniel Lee
Heat a medium-sized (say 10-inch if you want to talk numbers) nonstick pan (a clean pan without oil is ideal here) over a medium heat, then pour in a half cup of the batter (which should be about a quarter of all the batter you've prepped). Keeping the pan near the heat if possible, gently but swiftly rotate it so the batter spreads out into an even, thin disc.
Now let it cook until it begins to set and easily releases from the pan, then flip the crepe and cook the other side until solidified, which will be about two minutes.
Repeat this process for each crepe. You may want to reheat the first couple for a few seconds using the hot pan prior to serving which, as noted, can be done with butter and powdered sugar, eggs, bacon, berries, or whatever sounds appetizing.
Quick Crepe Recipe
Simple and delicious, you're sure to love this simple crepes recipe when paired with syrup, berries, sausage, or Nutella.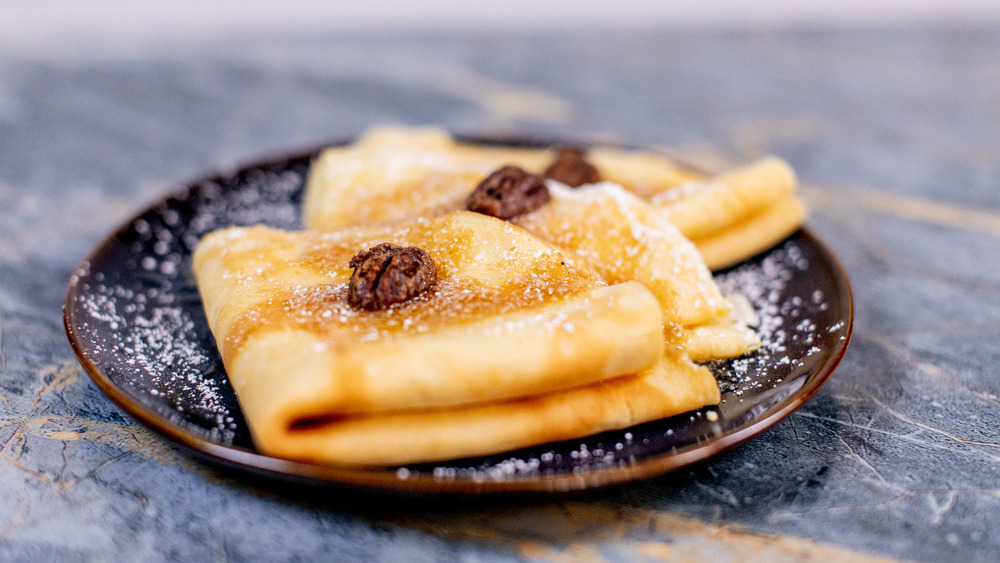 Ingredients
3 eggs
1 ½ cup milk
1 cup flour
2 tablespoon melted butter
pinch of salt
Directions
Mix together eggs, milk, flour, salt, melted butter.
Heat non-stick pan on medium heat.
Pour ½ cup of batter into the pan per crepe for a 10 inch crepe.
Rotate pan to cook thinly and evenly.
Flip when batter sets and releases from pan.
Cook until the second side is solidified (roughly another 2 minutes), then serve immediately.
Nutrition
| | |
| --- | --- |
| Calories per Serving | 267 |
| Total Fat | 12.1 g |
| Saturated Fat | 6.4 g |
| Trans Fat | 0.2 g |
| Cholesterol | 144.4 mg |
| | |
| --- | --- |
| Total Carbohydrates | 28.5 g |
| Dietary Fiber | 0.8 g |
| Total Sugars | 4.8 g |
| Sodium | 123.4 mg |
| Protein | 10.2 g |