Krispy Kreme Has Good News For Fans Of Its Dessert Donuts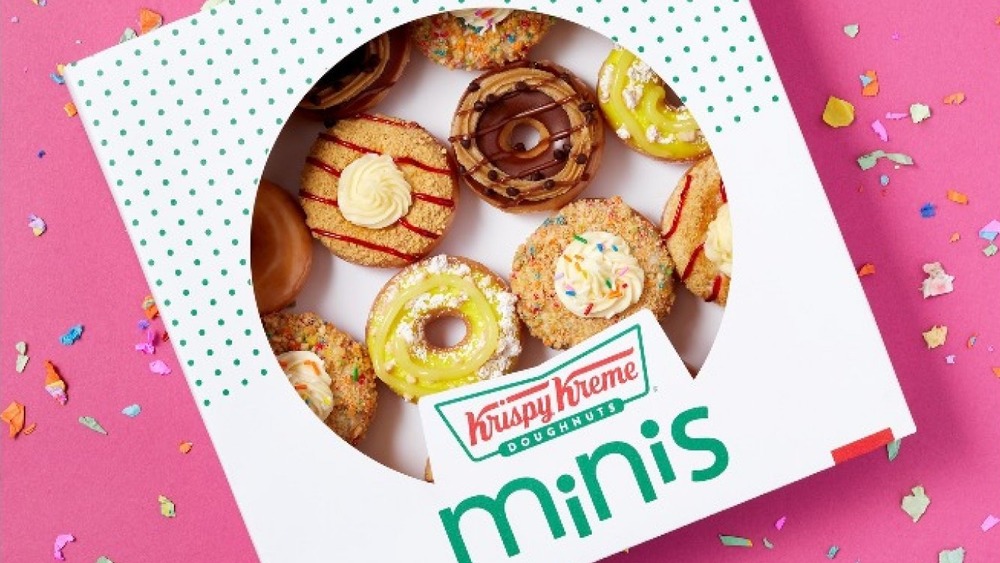 Krispy Kreme
Krispy Kreme has dominated the donut market for a good, long while. According to Statista, the chain raked in almost $900 million in sales in 2019 and with its latest promotion, it don't show any signs of slowing down. Krispy Kreme plans to start rolling out a slew of new dessert donut minis starting today, per a press release sent to Mashed. These new, limited edition flavors include some truly mouthwatering options like: Chocolate Chip Cookie Dough, Lemon Bar, Strawberry Cheesecake and Birthday Cake Mini Doughnuts. These new items come on the heels of the brand's mini dessert donuts, a line of new donut flavors inspired by non-donut desserts (via Fox).
According to the statement, these treats come in a brand-new four-count box, guaranteeing you won't miss out on any of these flavors that can make your week better. While Krispy Kreme only plans to keep these new minis for a limited-time, the press release didn't state the length of the run, so if these flavors sound appealing, make sure you go out and grab some ASAP. And if your sweet tooth craves even more donuty goodness, Krispy Kreme has another delicious surprise in store for you. 
Krispy Kreme has sweet deals to help you make it through the winter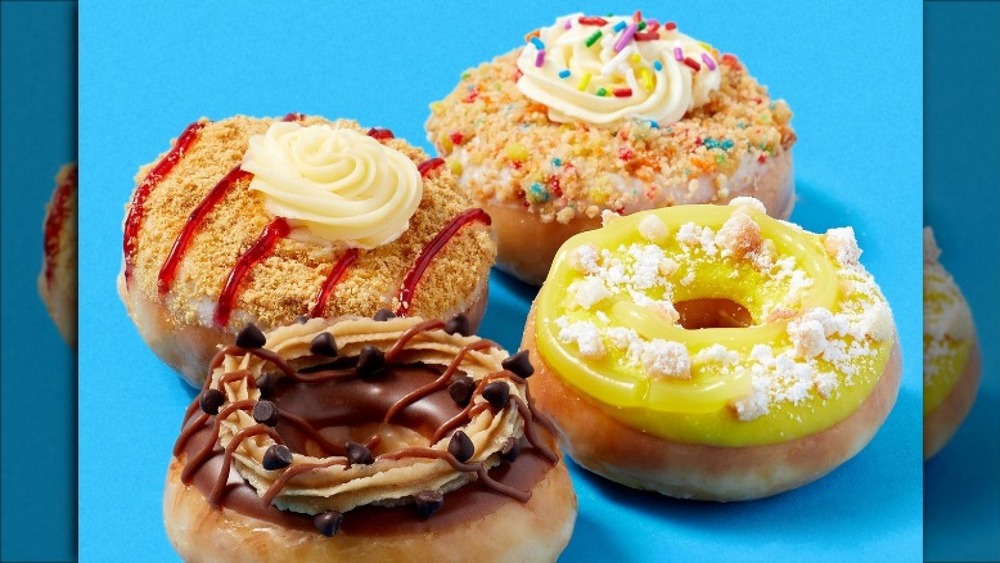 Krispy Kreme
Starting on Jan. 13, the donut chain plans to introduce a concurrent promotion that can really help us celebrate "hump day." According to the statement, Krispy Kreme plans to turn every Wednesday during the month of January into "mini-win" days, celebrating the little victories we achieved in our daily work week. Each Wednesday, the chain plans to offer a different promotion for donut-hungry fans. In order to keep track of which promotion occurs on which Wednesday, anyone interested in participating needs to follow Krispy Kreme using the social media handle @krispykreme to learn about the offers. Check in soon — this new offer starts this week!
For those of us who need that little, sweet pick-me-up to make it through the week, help has finally arrived. These extra-sweet dessert mini donuts should help make January extra special and help us celebrate the minor things. Thanks to Krispy Kreme, we can keep our spirits high.