Good News For Fans Of Blue Raspberry-Flavored Sour Patch Kids
Back in September, Sour Patch Kids announced that in response to a nationwide vote to determine the most popular flavor, the company was releasing an all Blue Raspberry bag (via Instagram). If, like the plurality of Americans, you agree that Blue Raspberry is the best flavor around, you're in luck. 
"'Feeling blue' is going to take on a different meaning in 2021," the company posted to Instagram earlier this month. What does that mean? As Spoon University explains, these all-blue bags are sticking going to stick around. No more picking your way through the reds, pinks, yellows, oranges, greens, purples, and whites—like a best-of album from your favorite band, the Just Blue bag is only the hits. 
The bags are available in three different sizes: 3.6 ounces, 5 ounces, and 8 ounces. So check the candy aisle of your local pharmacy or grocery store to see if they have these Just Blue bags in stock.
What if they're not on the shelves?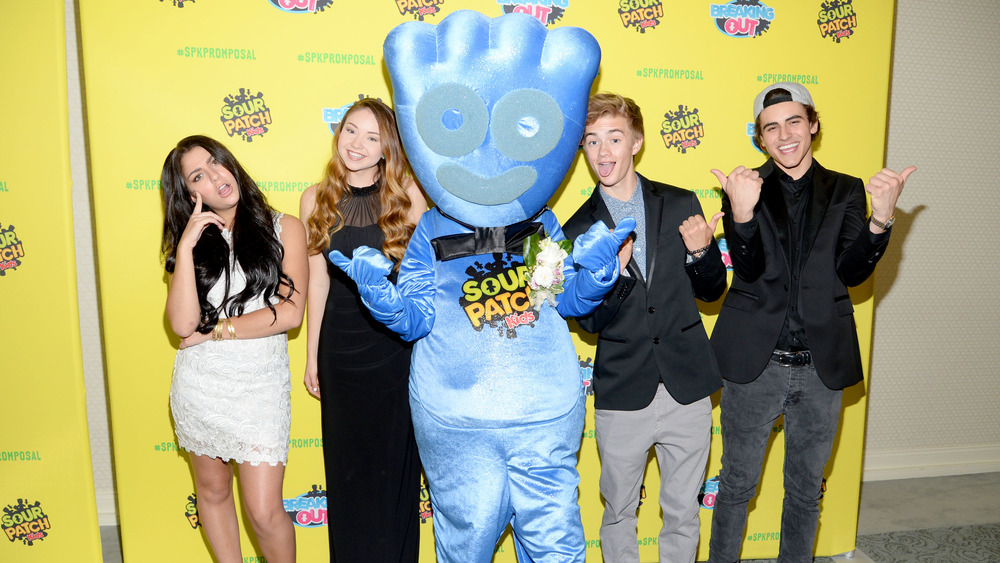 Michael Kovac/Getty Images
You can also order the Just Blue bags of Sour Patch kids online from a bunch of different retailers. Not very hungry? You can get a pack as small as two ounces from the online grocery store Mercato. Conversely, do you have a sweet tooth that just can't be satisfied? Consider buying this two-pound bag from the Sour Patch Kids site for $15.99 or the five-pound bag available for $34.99.
Plus, if you're really really into the Blue Raspberry Sour Patch Kids, you can buy blue Sour Patch merch from the site, including a pillow shaped like it, a beanie with the blue Sour Patch emblazoned on it and with a blue pom-pom, or even an air freshener that will make your car smell like blue raspberry, which we wouldn't necessarily recommend, since it'll probably make you hungry all the time.