Simple Corn Pudding Recipe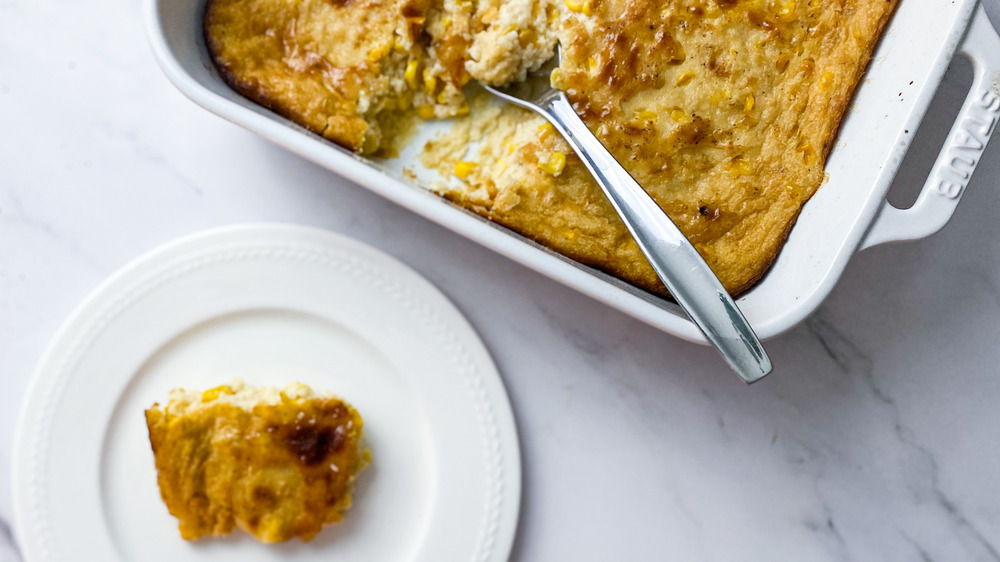 Erin Johnson/Mashed
Looking for a perfect side to go with everything from burgers to roast chicken to fried fish to roasted veggies? Look no further. Chef and food writer Erin Johnson of Probably in the Kitchen calls this corn pudding recipe "very simple and almost impossible to mess up," adding that it "can be eaten hot or cold as a side dish." And because you can store it in the fridge for up to three days after making it, you can plan ahead for that big BBQ, holiday dinner, or Sunday spread meant to fill the whole family.
If you find your gang of mouths to feed is especially fond of this side dish — and you can pretty much guarantee they will — you can keep the few non-standard ingredients on hand at all times as they are good and shelf stable. You likely have most of the stuff needed for a corn pudding already in the kitchen. And the time needed to prep the dish? About five minutes all in, then an hour of baking. So let's get to it!
Gather your corn pudding ingredients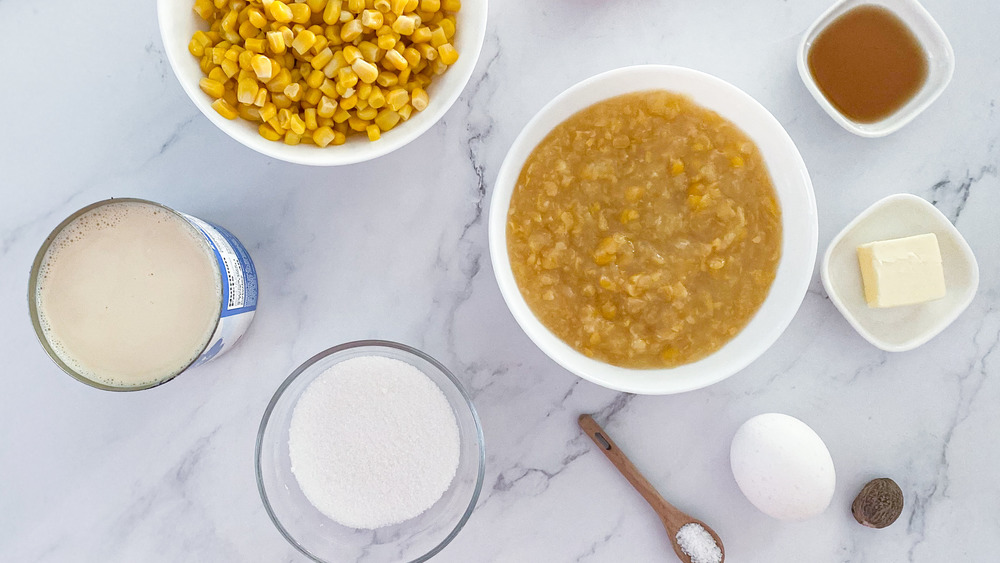 Erin Johnson/Mashed
As noted, you'll have most of these ingredients on hand, and you can stock the canned stuff regularly if you love the outcome here. Want to make the finished corn pudding a bit more customized to your taste? According to Johnson, that's easy. "If you'd prefer a less sweet version, skip the vanilla and nutmeg. And add jalapeño and sprinkle with a little cayenne for spice," the chef explained. 
For a reliable crowd-pleaser, you'll need one egg, 1/4 teaspoon of salt, a 1/4 cup of sugar, a 1/4 cup of flour, a 1/4 teaspoon of vanilla extract, one can of evaporated milk (if you'd prefer to use another milk, feel free to substitute 1 1/4 cup of regular milk or a non-dairy milk), one can creamed of corn, 1 cup of corn kernels, 1 tablespoon of butter, and some fresh grated nutmeg.
Begin mixing together the corn pudding ingredients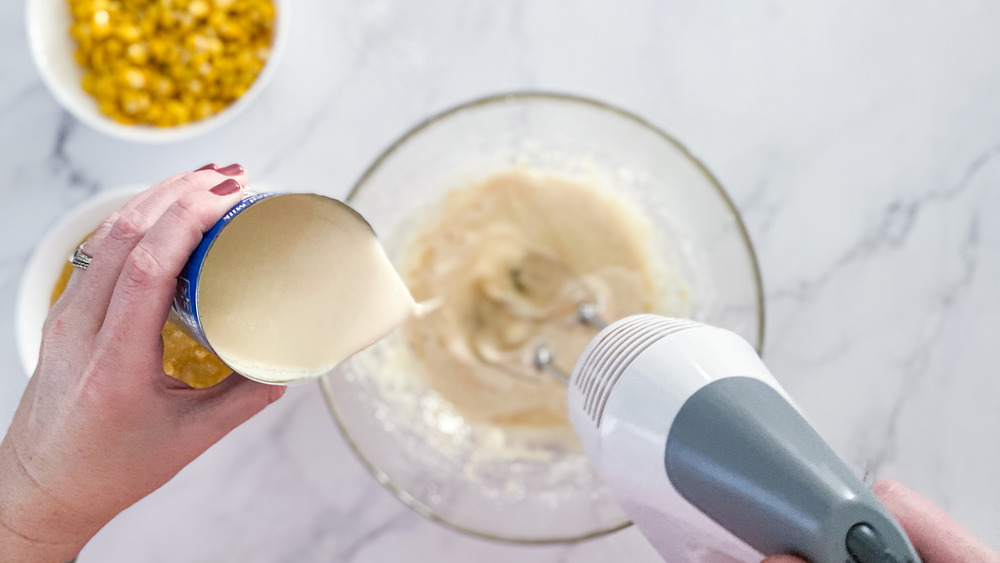 Erin Johnson/Mashed
In a medium sized bowl, beat together the egg, salt, sugar, flour, and vanilla and whip away at them all until they are well combined. Now add the milk into the bowl and continue beating until everything is good and frothy.
This is a good time to pre-heat your oven to 350º Fahrenheit. Now prepare a two-quart baking dish (a 9x9x3-inch or thereabouts) by greasing, buttering, or lightly oiling the sides.
Fold in the corn and bake the corn pudding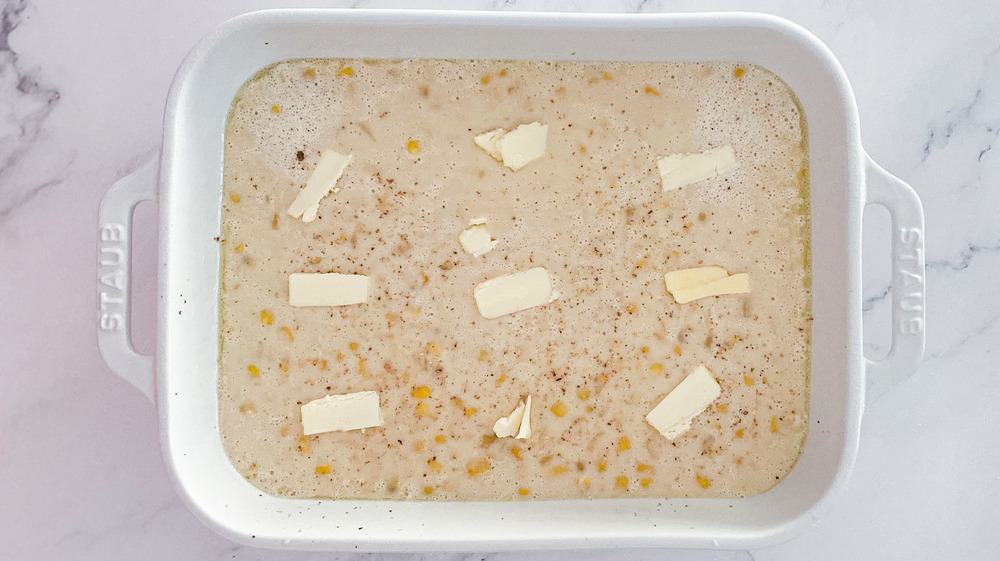 Erin Johnson/Mashed
Fold the two types of corn into the bowl (folding basically means gently stirring) and then mix everything together with a spoon. Now pour the blended mixture into a greased baking dish and dot the top with evenly spaced dollops of butter. Finally, sprinkle the surface lightly with freshly grated nutmeg. All out of nutmeg? Don't fret, there are nutmeg substitutes that can work in a pinch. 
Now bake at 350º until the center is firm, which will take about one hour. Let the corn pudding sit a few minutes to partially cool, and then serve it up.
Simple Corn Pudding Recipe
Served hot or cold, this corn pudding is sure to be a hit with your family for a weeknight meal or at a weekend potluck.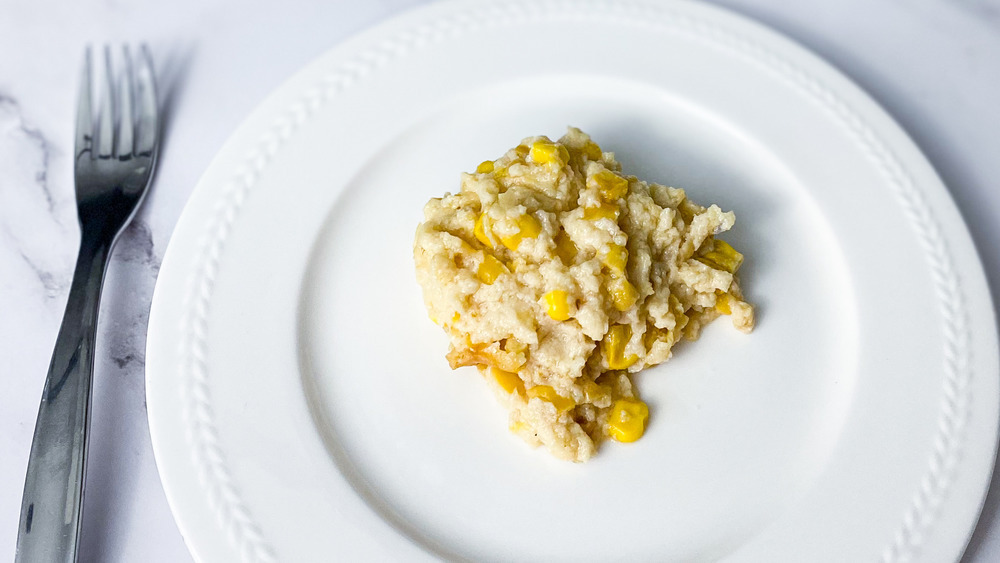 Ingredients
1 egg
¼ teaspoon salt
¼ cup sugar
¼ cup flour
¼ teaspoon vanilla extract
1 can evaporated milk
1 can creamed corn
1 cup corn kernels
1 tablespoon butter
fresh nutmeg
Optional Ingredients
Directions
Preheat your oven to 350º and beat together the egg, salt, sugar, flour, and vanilla in a bowl until well combined.
Add milk and beat until frothy.
Fold in the corn and mix together evenly.
Pour the corn pudding mixture into a greased baking dish and dot the top with butter. Sprinkle lightly with fresh grated nutmeg.
Bake until the center is firm, about 1 hour.
Nutrition
| | |
| --- | --- |
| Calories per Serving | 163 |
| Total Fat | 6.1 g |
| Saturated Fat | 3.3 g |
| Trans Fat | 0.1 g |
| Cholesterol | 37.2 mg |
| | |
| --- | --- |
| Total Carbohydrates | 22.4 g |
| Dietary Fiber | 1.2 g |
| Total Sugars | 12.1 g |
| Sodium | 179.0 mg |
| Protein | 5.5 g |