Chick-Fil-A Has Good News For Fans Of Its Grilled Spicy Chicken Deluxe Sandwich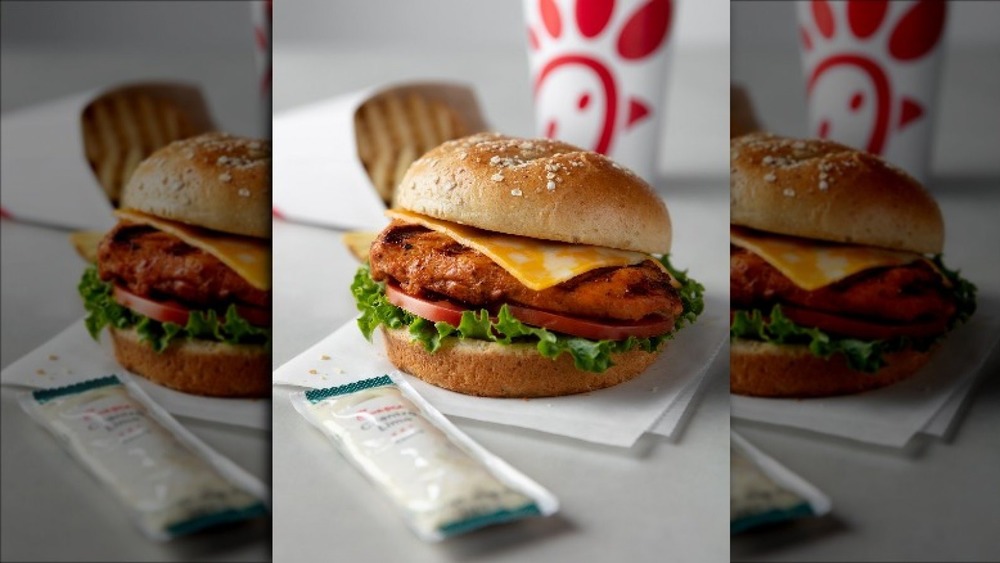 Press Release
If you love a good chicken sandwich, 2021 might just be the year for you. Boston Market recently announced a brand-new chicken sandwich this week after a handful of other brands have thrown their hats into the proverbial ring in the past few weeks with their own announcements of new chicken sandwich items. Riding on this momentum, Chick-fil-A has announced in a statement to Mashed that they plan to add a Grilled Spicy Chicken Deluxe Sandwich to their menu starting on January 25 at select locations for a limited time! The sandwich first made its debut in select markets back in 2019, and thanks to popular demand, we can hope to see the menu item make an appearance in our areas next Monday.
This sandwich comes as a much-needed break from the parade of fried chicken sandwiches we have seen in the past few months. According to Chewboom, the sandwich comes with a piece of grilled chicken that has marinated in a spicy seasoning, alongside a toasted multigrain brioche bun, lettuce, tomato, Colby-Jack cheese, and a packet of Cilantro Lime sauce made specially for this dish. If you love Chick-fil-A's signature flavors, this sandwich has your name on it.
A sandwich any chicken lover can get behind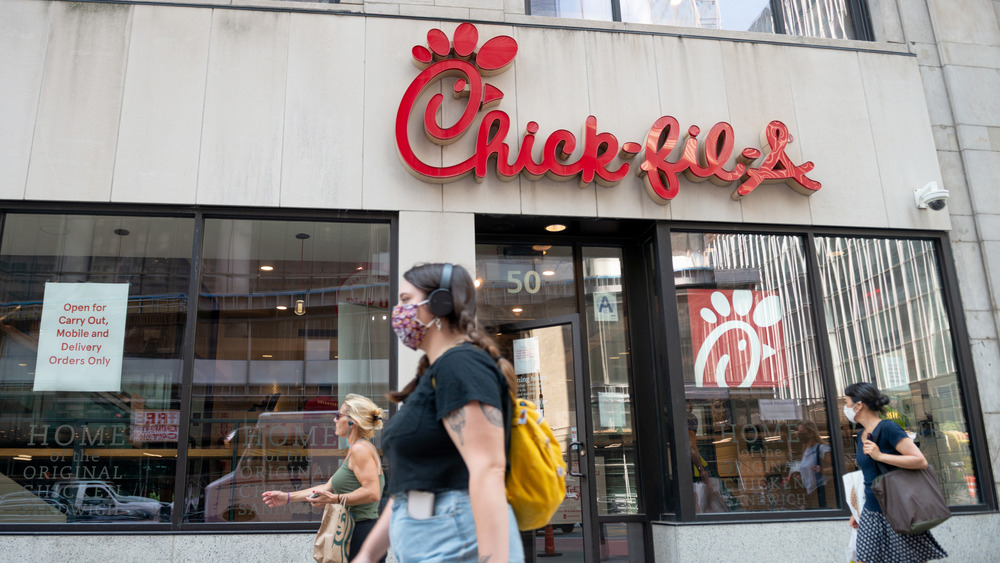 Alexi Rosenfeld/Getty Images
The new sandwich should get you excited if you love the brand's original Spicy Chicken Sandwich. According to Chick-fil-A, the Grilled Spicy Chicken Deluxe Sandwich features the exact same spice blend as the restaurant's current deep fried sandwich, making it a perfect option when you feel like some chicken with a new spin.
The spiciness of the original item inspired this latest creation. "While our guests already love our spicy menu, we wanted to offer a grilled twist that allows them to enjoy the layers of bold flavors," Chef Angel Wadlington, one of the creators of this new menu item, said via a press statement. "Our Grilled Spicy Deluxe Sandwich got great feedback from guests in our test markets, so we knew we needed to expand the offering to Chick-fil-A restaurants nationwide."
If you can't wait to get your hands on this latest offering, make sure to move fast. The chain only plans to keep this new sandwich around for a limited time and you don't want to get left out of the bold flavors that Chick-fil-A plans to serve up. Make sure to stop in to your local branch on Monday to taste what has inspired all the hype!