Aldi Shoppers Are Divided On These Unique Pigs In A Blanket
Most people are familiar with pigs in a blanket, a classic American hors d'oeuvre of hot dogs wrapped in pastry. Now, not only is Aldi selling a quick and easy version of this appetizer in their frozen section, Aldi's Everything Franks in a Blanket kicks their version up a notch by adding tasty everything bagel seasoning and a crispy, buttery pastry to their franks. The franks sell for $3.99 for a box of around 12 mini dogs (via Almost All Aldi).
Many Aldi shoppers were big fans of the item, saying the flaky crust and unique seasoning made for a delicious snack, but not every shopper was excited about this product. Many Aldi fans on social media were skeptical that this product was truly worth the price, when it could just as easily be replicated at home for a fraction of the cost. 
The popular Instagram account @aldifavoritefinds posed the question to their followers, saying: "Everything Frank's in a Blanket $3.99 @aldiusa. Will you grab these or will you grab the ingredients to make them yourself? Normally I would grab the frozen ready made item but in this case I would probably just buy the crescent rolls, little cocktail sausages, and Everything bagel seasoning." It's a doable Aldi hack. Back in December 2020, three types of everything bagel seasoning hit Aldi shelves (via Delish). Follower @leeniliz agreed, posting: "Cheaper to make my own! Which I've been doing...using mini kielbasa, crescent roll dough and bagel seasoning." 
Some Aldi shoppers felt the convenience was worth the price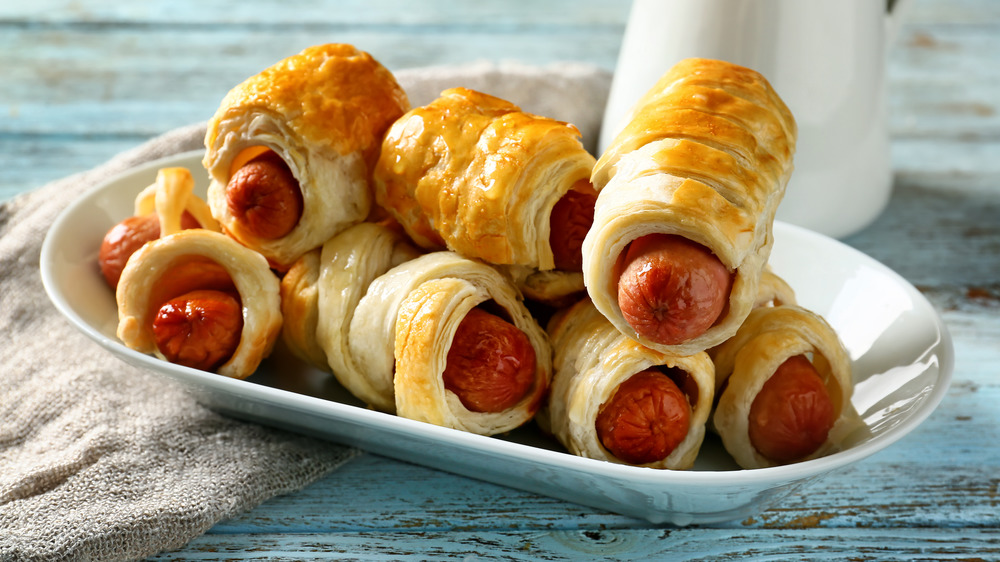 Shutterstock
However, some Aldi shoppers felt that the Appetitos pigs in a blanket shouldn't be dismissed so easily. User @stephanie_ann_h wrote: "The crust is a flaky pastry crust!!! Definitely try these before making them yourself! The crust on these is the best part — idk any crescent rolls like these!" And some people simply felt that the convenience of Aldi's frozen version won out, like @julharakal, who recommended: "These were a great in the air fryer too! Definitely easy to make homemade but the ease of this was definitely something I'd buy again for a quick game day snack!"
If you are fond of baking and feel up to the task, pigs in a blanket should be relatively quick and easy to replicate in your own kitchen. But if you're looking for an appetizer to make your dinner or date night feel extra special, but don't have the time to spend whipping something up from scratch, then Aldi's franks could be just what you're looking for.