Don't Make A Pastrami Sandwich Without One Of These Condiments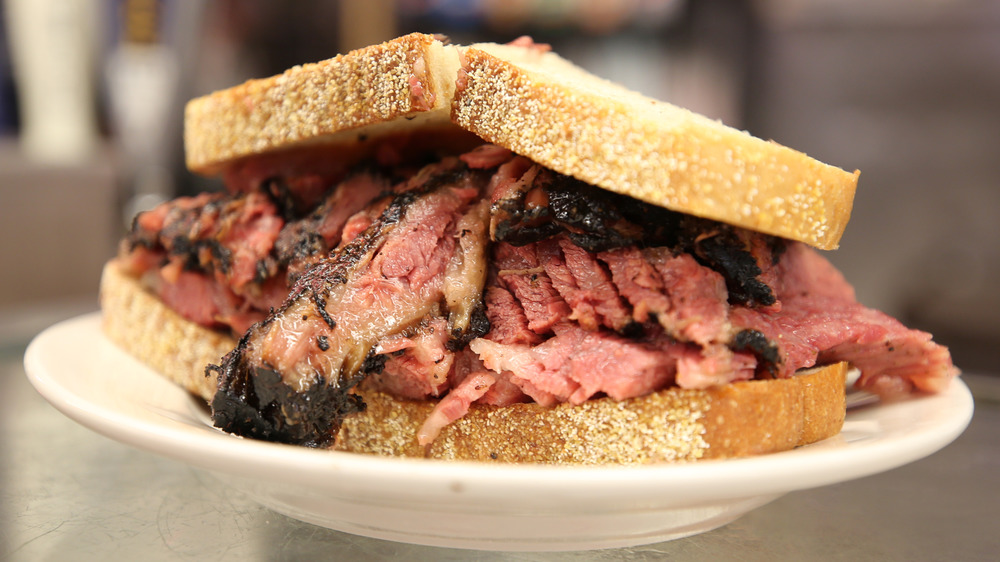 Shutterstock
From cold cuts to lox and shmear, there are a lot of delicious sandwiches you can order at the neighborhood New York City deli. But for the most authentic Big Apple bite, it's hard to argue with the classic pastrami sandwich. Thick, fluffy slices of seeded rye bread piled high with slices of meaty, peppery pastrami — drooling yet? It's a dish that came to New York back in the late 1800s via Eastern European immigrants, Serious Eats reports. One of the first places (if not the first) to serve the smoky, spicy sandwich was the iconic Katz's Delicatessen on the Lower East Side.
But there's more to a pastrami sandwich than just meat and bread. As is the case with most sandwiches, the condiments you smear on top can make or break the final creation. And according to foodies, there are some condiments that just belong on a pastrami sandwich. I.e. eating one without these would be a disgrace to New Yorkers everywhere.
People are divided on which topping is best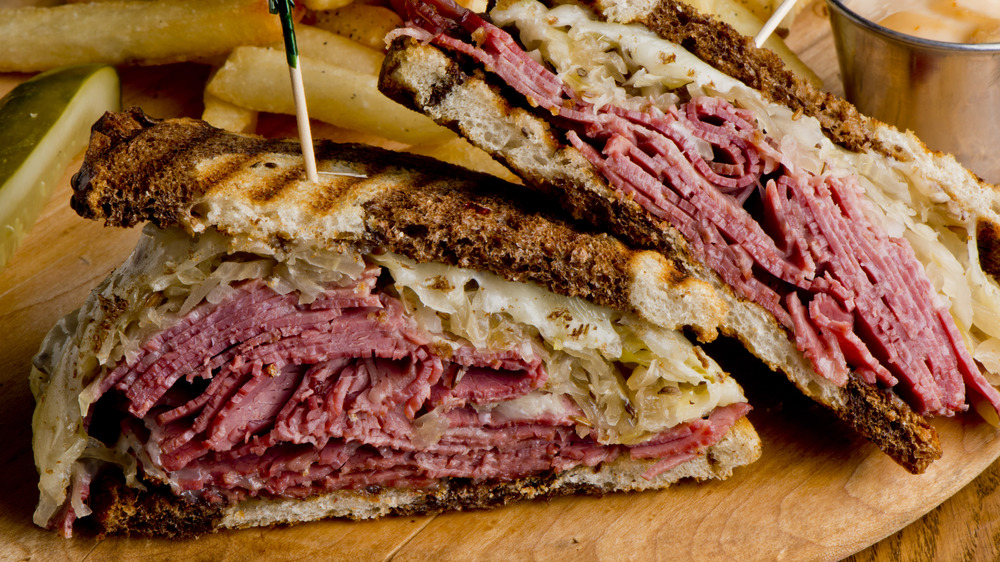 Shutterstock
So what should you be spreading between those slices of pastrami and hunks of rye? Turns out there's some debate on the topic. There are two condiments that have sandwich eaters divided: mustard vs. Russian dressing. According to Syracuse.com, your topping preference could depend on where you live. The news outlet reports that New York City tends to lean towards the classic spicy brown mustard (a la Katz's OG creation) while central New Yorkers seem to prefer Russian dressing (likely due to the popularity of the Reuben sandwich).
Foods Guy agrees that spicy mustard is by far the most popular condiment. However, it adds that other options (besides Russian dressing) can include Thousand Island dressing, horseradish sauce, and even mayonnaise. It all depends on what flavor you're looking for, but one thing's for certain among pastrami sandwich fans: Some type of condiment, no matter your preference, is a must.