Crab Cake Recipe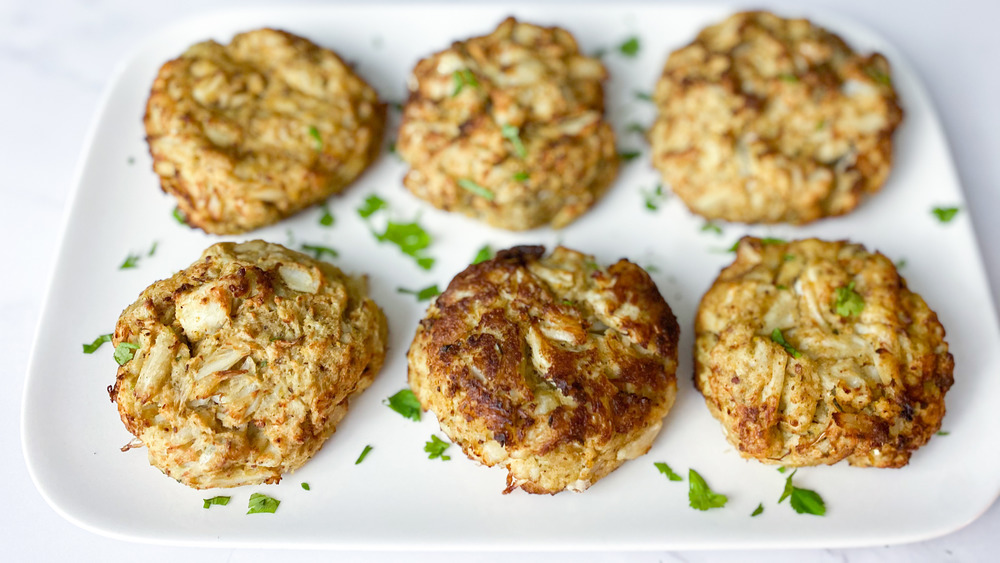 Erin Johnson/Mashed
Chef and food writer Erin Johnson of Probably in the Kitchen calls herself "someone who grew up on the Chesapeake Bay" and thus she rightfully has a few thoughts when it comes to making crab cakes. One thought that's sure to steer you right: "Put Old Bay [Seasoning] on everything. I add more than one teaspoon to my crab cakes; if you love it, add more." Johnson also recommends that "for an extra layer of flavor, ground buttery crackers are another option that works beautifully [instead of breadcrumbs]."
As it happens, crab cakes are that rare food that you'll love preparing as a chef because they're actually quite simple to make, though you'll surely love serving these to your family or guests because they seem like a delicacy that took lots of work and kitchen know-how. Most of all, you'll be sure to enjoy eating them because they are simply amazing. And aside from the crab meat itself, which can admittedly be a bit tough to find at a low price, the ingredients used for this classic take on crab cakes are all easy to find. Yes, that includes even the Old Bay seasoning, which you can order online or get in most grocery stores for cheap.
One more thing to note before we scuttle sideways into this recipe (yes, that's a crab joke): though Johnson here lays out the standard approach of cooking crab cakes, which is to fry them, she says that "Frying and broiling both are great ways to cook crab cakes. I prefer to broil them for less mess and [have] even started air frying them. You can toss these in the air fryer at 400 degrees [Fahrenheit] for about seven minutes until the crab cakes are golden brown."If you're
Let's dive into the crab cake recipe everyone will love!
Gather your crab cakes ingredients
Erin Johnson/Mashed
As we discussed a few seconds ago, the ingredients here are really nothing complex. Instead, the flavor and delight of these crab cakes come largely from the technique. That is, it's all about how you handle them. You'll need one egg, a ¼ cup of mayonnaise, 1 tablespoon of Worcestershire sauce, 1 tablespoon of stone-ground or Dijon mustard, 1 tablespoon of chopped parsley, a one-pound lump of (raw) crabmeat, ¼ of a cup of breadcrumbs or crumbled crackers, 1 teaspoon of Old Bay Seasoning, and, of course, salt and pepper to taste.
Quick pro tip from Chesapeake native Johnson: "Pick through crab meat to ensure there are no pieces of shell!" Your teeth will thank you.
Blend your wet ingredients for crab cakes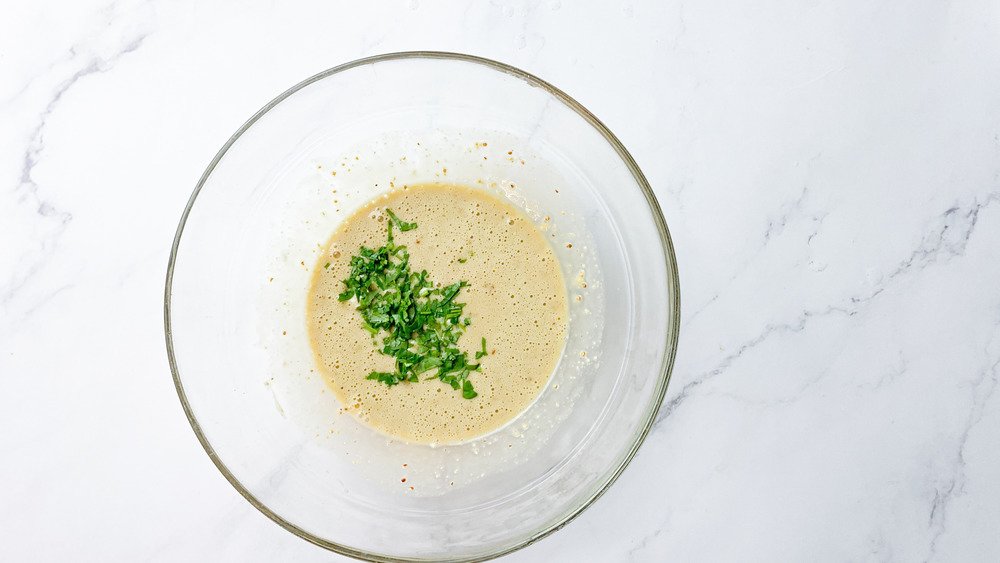 Erin Johnson/Mashed
To start, you'll need a small bowl and small whisk, or a fork if you don't happen to have the appropriately sized whisk for this task. Whatever tool you're using, whisk together the egg, mayonnaise, Worcestershire, and mustard. Stir until these wet ingredients are well mixed. The egg and mayonnaise will help crease an emulsion that keeps all of the ingredients nicely blended.
Now make sure the parsley is well chopped into fine pieces. Then add the parsley to the egg mixture and stir to combine. Set aside while you work on the crab and dry ingredients.
Combine crab and crumbs to make the cakes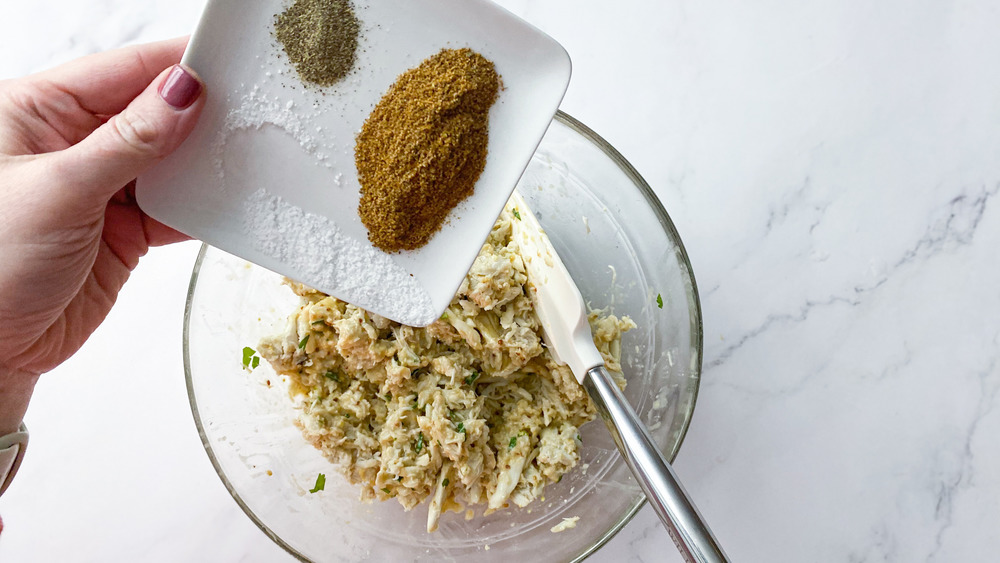 Erin Johnson/Mashed
Put that crab meat (that you double-checked for shell bits, right?) into a medium-sized mixing bowl. If you're using crackers for your crumbs, now is the time to break them up. Use a plastic bag and a wooden mallet if you have it or your palm to mash the cracker into crumbs. Or, if you went with the readymade bread crumbs, grab those off the shelf. However you've procured them, add the crumbs to the crabmeat and combine. To fully incorporate everything, it's best to use your fingers. However, you're also welcome to use a fork if that's more your style.
Now pour the egg mixture over the crabmeat and add the Old Bay, salt, and pepper to taste. Mix again to combine. This time your hands really work best, as you'll be able to gently mix everything without mashing up the ingredients and losing the texture of the crabmeat and crumbs.
Form and fry the crab cakes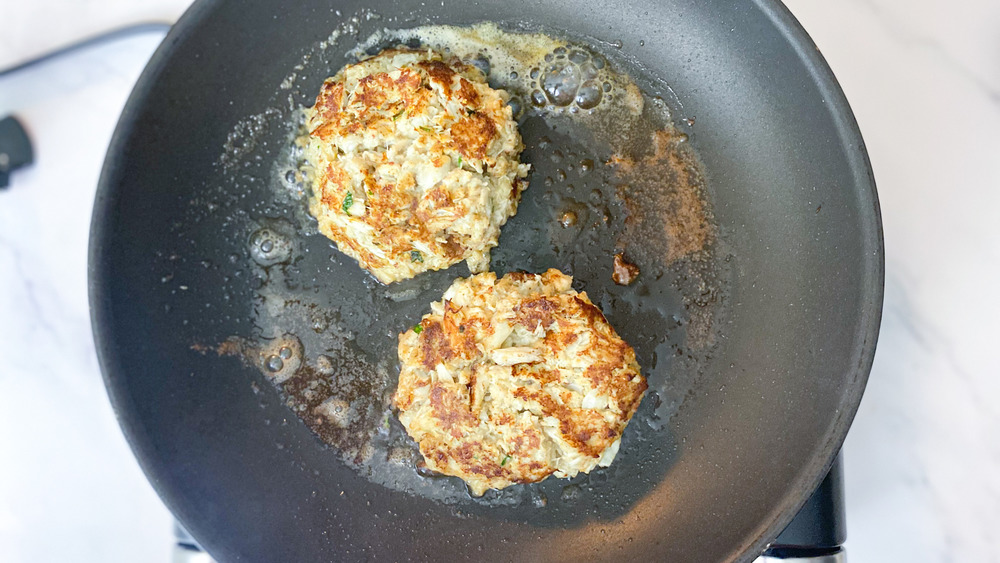 Erin Johnson/Mashed
Use your hands to form six equally sized crab cake patties, gently pressing them enough so that they are relatively smooth and hold their shape well. Note you may want to rinse your hands after forming a couple of cakes so the ingredients won't stick to your skin and pull apart when you're trying to form cakes.
If you find yourself making a big batch of crab cakes but suddenly realize that your dinner party isn't quite as big as you thought, don't worry. You can easily freeze any extras, though be sure to do it before you cook anything. According to Johnson, "crab cakes are great frozen! Make the cakes and freeze them uncooked, and plan to put them in the fridge overnight the day before you want to cook them to thaw." This also means crab cakes are a great plan-ahead meal. If you want to save yourself some effort later, save some of this batch by freezing them at this stage. Use a plastic baggie and parchment paper between cakes to keep them from freezing together.
As for those soon to be enjoyed, pan fry them in butter until they are golden brown all around. You can also broil them. Either step should take only a few minutes for perfectly cooked crab cakes. As always, keep a watchful eye on them to make sure they're perfectly browned and not utterly burned.
How to enjoy them? On their own is just fine, or, as Johnson says, "crab cake sandwiches are delicious on brioche or Kaiser rolls. Serve with cocktail sauce or tartar if you prefer." Whatever way you choose to eat them, you'll soon understand why this is a beloved sandwich in Maryland and beyond.
Crab Cake Recipe
Crab cakes are an East Coast favorite for good reason with delicious taste and fried texture. Make them at home with this crab cake recipe everyone will love!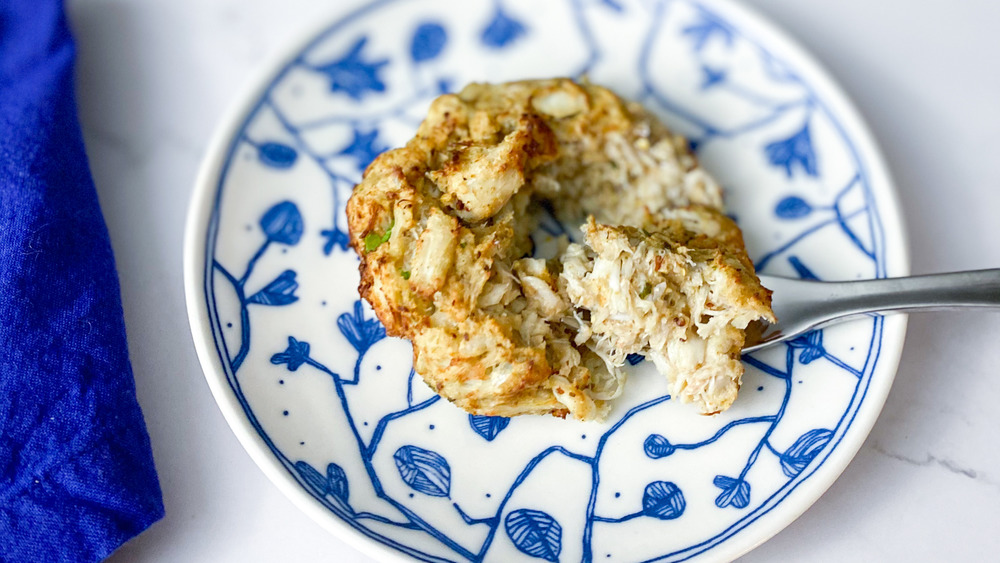 Ingredients
1 egg
¼ cup mayonnaise
1 tablespoon Worcestershire
1 tablespoon stone-ground or Dijon mustard
1 tablespoon chopped parsley
1 lb lump crabmeat
¼ cup breadcrumbs or crumbled crackers
1 teaspoon Old Bay Seasoning
Salt
Pepper
Directions
Whisk together egg, mayonnaise, Worcestershire, and mustard
Add parsley to the egg mixture
Pick through crab meat to ensure there are no pieces of shell, and then add to a mixing bowl
Add the breadcrumbs or crackers to the crabmeat
Pour the egg mixture over the crabmeat and add the Old Bay seasoning, salt, and pepper to taste
Mix gently until just combined
Use your hands to form 6 equal-sized cakes. Rinse hands frequently to keep the mixture from sticking to your hands.
Fry in butter or broil until golden brown, flipping cakes halfway, about 10 minutes
Nutrition
| | |
| --- | --- |
| Calories per Serving | 163 |
| Total Fat | 9.0 g |
| Saturated Fat | 1.6 g |
| Trans Fat | 0.0 g |
| Cholesterol | 103.7 mg |
| | |
| --- | --- |
| Total Carbohydrates | 4.4 g |
| Dietary Fiber | 0.4 g |
| Total Sugars | 0.6 g |
| Sodium | 581.2 mg |
| Protein | 15.2 g |