Taco Salad Recipe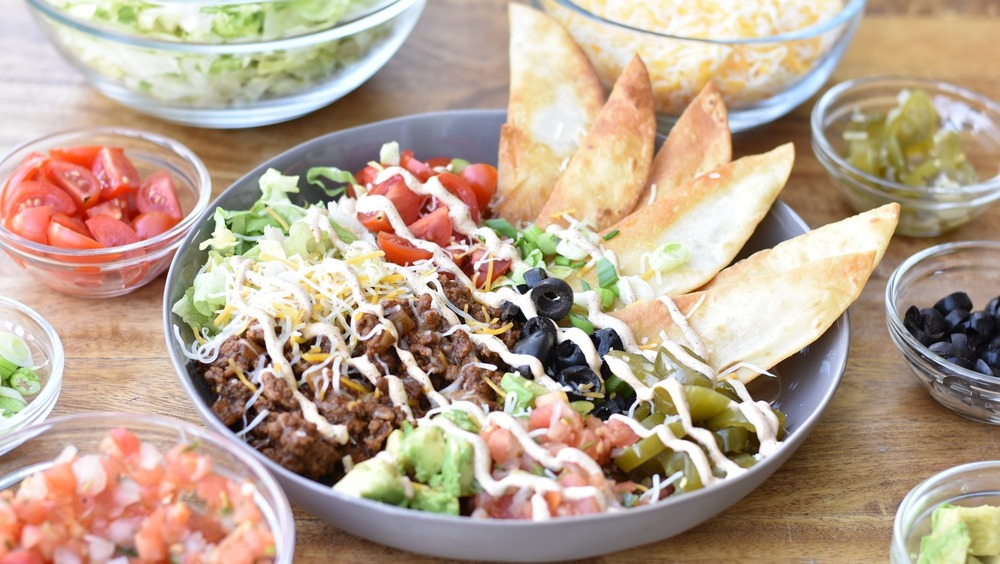 Stephanie Rapone/Mashed
Did you know that the taco salad was created by the founder of Fritos? According to OC Weekly, the first taco salad was called by its creator a "Tacup" and was served in a bowl made entirely of Fritos, which must have been seriously delicious. The Fritos bowl morphed into a deep-fried flour-tortilla bowl that is served at most Mexican restaurants today. 
This healthier recipe is from Stephanie Rapone, whose blog Pantry to Plate helps families make yummy meals that are quick, easy, and inexpensive. "My personal motto is "progress, not perfection," Rapone told us. "With this recipe I think it makes sense because this is one of those meals that is totally easy when you just feel like getting take-out, but it's healthier and cheaper than take-out." This is an adaptable recipe for a casual taco Tuesday or a full-on family feast. With so many fresh ingredients, this taco salad will be the best you've ever tasted.
Gather together the ingredients for the taco salad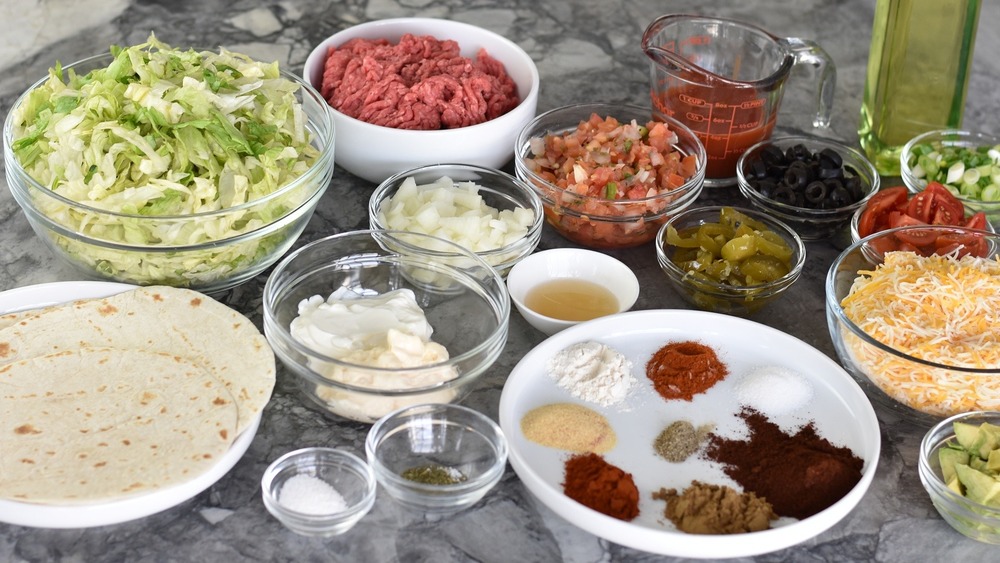 Stephanie Rapone/Mashed
The basic ingredients for this extra-tasty taco salad are actually pretty minimal — ground beef, onion, taco seasoning, taco sauce — and an easy dressing that can be whipped up in about a minute. Rapone's recipe is like building a taco bar at home, and you can prepare whatever toppings you like.  "This is a very family-friendly recipe," Rapone told us. "Kids love making their own plates and choices about their nutrition, and this has enough variety to let them roam." 
Most of us have lettuce and tomatoes on hand, and the sliced jalapeños and sliced black olives require nothing more strenuous than opening the can and draining them. Rapone recommends a shredded Mexican blend of cheese, but use what cheese you prefer because cheese is a must for a Tex-Mex taco. The method for this recipe is surprisingly simple and super fast. From start to finish you can have this Mexican-style banquet on your table in 30 minutes. 
Make the dressing for this tasty taco salad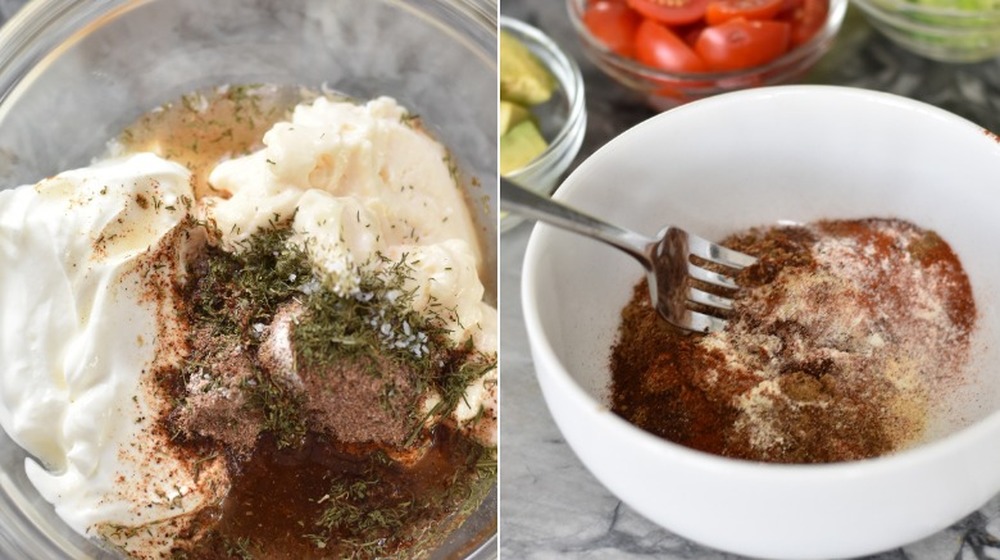 Stephanie Rapone/Mashed
There's a little bit of prep to get out of the way before you start cooking. The first step is to make the dressing that's drizzled over the top of the salad. Combine the mayonnaise, sour cream, apple cider vinegar, dried dill, 1/8 teaspoon of Kosher salt, and one tablespoon of packaged taco seasoning in a small bowl. (A packet of taco seasoning is one ounce, the equivalent to two tablespoons.) Whisk it together with a fork until it's thoroughly combined, and set the bowl aside. 
Rapone prefers making her own taco seasoning, and it's made from common seasonings that you'll have in your spice rack. Her recipe for taco seasoning makes more than you'll need for the taco salad, so you can store the leftover in a jar, and use it for another time. 
Here's how to mix up Rapone's taco seasoning. Combine 1-1/2 tablespoons of chili powder, 2 teaspoons ground cumin, 3/4 teaspoon paprika, 3/4 teaspoon garlic powder (not garlic salt!), 1 teaspoon onion powder, 3/4 teaspoon smoked paprika, 1/4 teaspoon ground black pepper, and 3/4 teaspoon sugar in a small bowl. Mix everything up so it's well-combined, and there you have your taco seasoning. How easy is that? You can switch up amounts, add other spices, and create your own "signature" brand!
You could make your own tortilla chips for this taco salad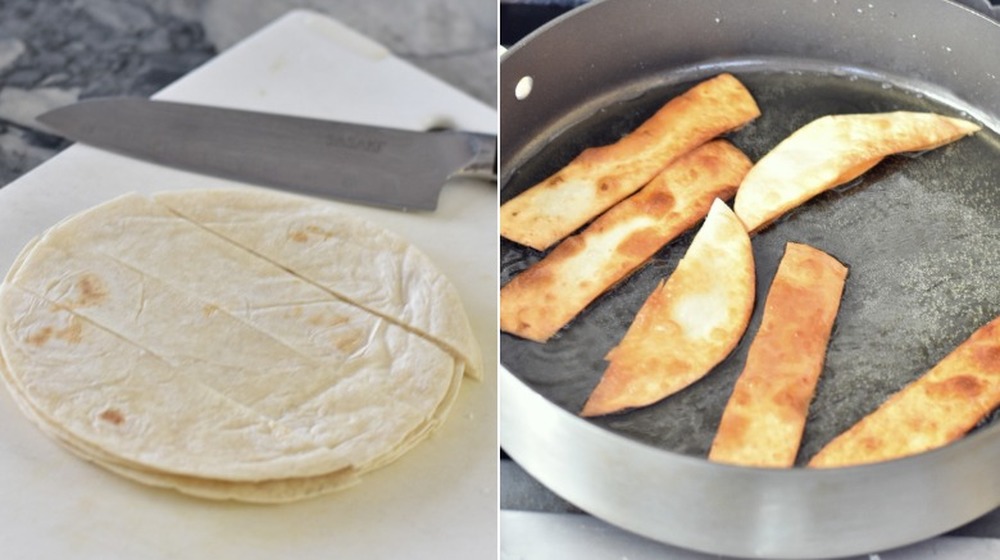 Stephanie Rapone/Mashed
You could rip open a bag of tortilla strips or chips for this taco salad. Or you could do what Rapone does, and make them yourself. It's really very easy, and they taste much fresher than anything you could buy in the supermarket. All you'll need is five flour tortillas, a cup of canola oil, and a sturdy skillet or heavy-bottomed pan. If you don't have canola oil, other oils with a high smoking point — peanut oil, avocado oil, or good ol' vegetable oil — will work just as well. 
Slice the tortillas into four roughly equal strips. Line a baking sheet with paper towels, and have a pair of tongs nearby. Heat one cup of oil in the skillet over medium-high heat until you see the oil shimmer. Carefully lower four to six tortilla strips into the oil with tongs, and make sure they're in a single layer. (If you don't see bubbles right away, the oil isn't hot enough.). When the first side browns — in about 45 to 60 seconds — turn the strips over, and brown the other side. When they're golden brown, take the strips out of the pan, and drain them on the lined baking sheet. Sprinkle the tortilla strips with a little bit of salt, and then fry the remaining tortilla strips. When the oil is cool, don't dump it down the train. Transfer it to a disposable container, and toss in the trash.
Brown the ground beef and onion for this taco salad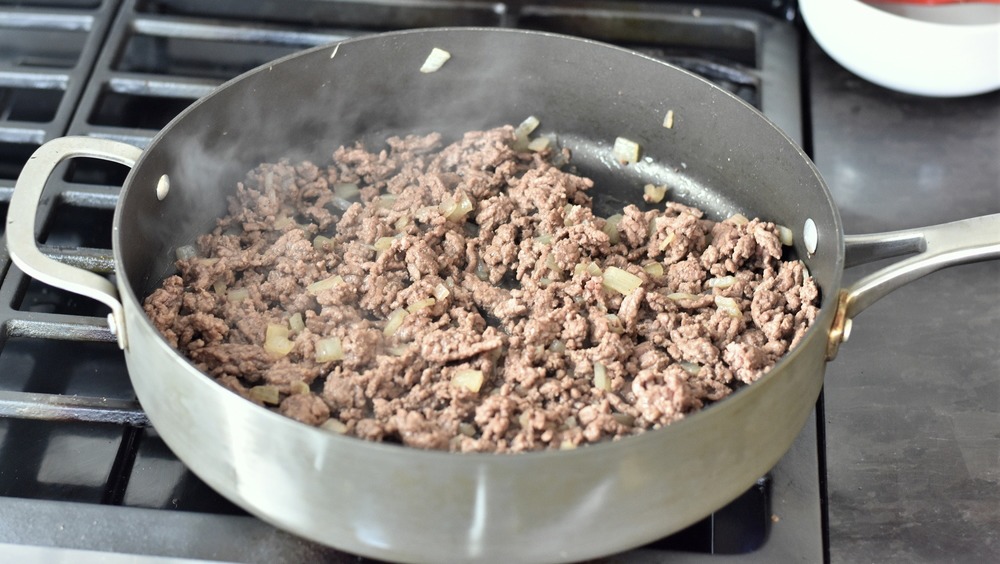 Stephanie Rapone/Mashed
The last cooking you need to do for this easy taco salad is to brown the taco meat. Rapone likes 85/15 (lean to fat) ground beef, but you could use a higher lean-to-fat ratio or ground turkey instead. (If you opt for ground turkey, go with the dark meat, which has a lot more flavor that breast meat.) Heat up one tablespoon canola oil (or if you fried the tortilla strips, whatever oil you used) in the skillet over medium-high heat, then add the chopped onion and one teaspoon of Kosher salt. 
Sauté the onion until it's translucent and just starting to brown around the edges. Add the ground beef and the beans, if you're using them. Brown the beef — breaking it up with a wooden spoon or spatula — until it's about 70-percent done (you should still see some pink meat). You could carefully drain away the fat (in the same disposable container for the tortilla oil), or wad up a few sheets of paper towels, and using tongs, soak up the excess grease.
Stir the seasoning and taco sauce into the browned ground beef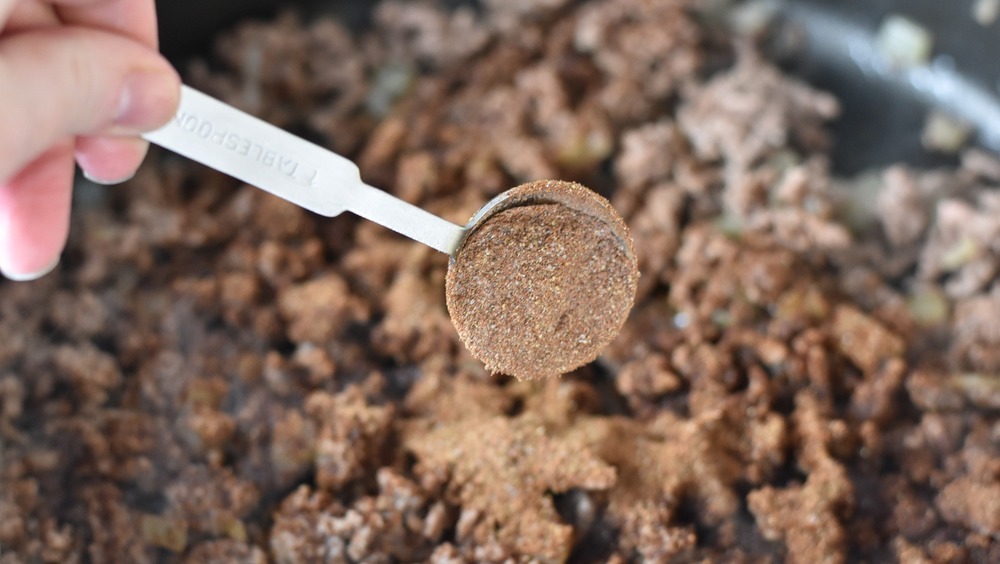 Stephanie Rapone/Mashed
You're now at the final step before assembling your taco salad. Once the ground beef is thoroughly browned, sprinkle on one tablespoon of the taco seasoning. Stir the seasoning to evenly coat the beef and onion, and toast the spices for about two minutes. Add the taco sauce, and stir thoroughly to combine. When the taco meat is bubbling, remove the pan from the heat. Taste the taco beef to make sure it has enough salt and pepper, and, if needed, correct the seasoning to suit your taste. If you'd like a little more heat, mix in one-eighth teaspoon of cayenne pepper.
Assemble the taco salad and serve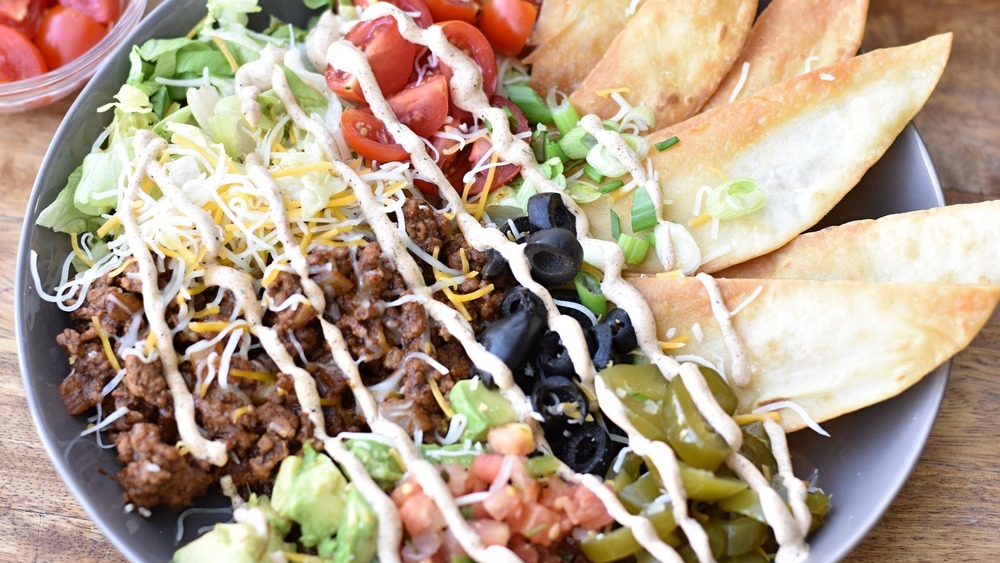 Stephanie Rapone
There are a few ways to put the taco salad together. You could transfer the taco meat and all of the toppings into separate bowls, and let everyone serve themselves. Or for a prettier, professional presentation, you could assemble individual plates. Start by putting a portion of the taco meat in the center of the plate. Then surround the meat with small piles of each topping. If you have a squeeze bottle, transfer the dressing into it, and squeeze parallel lines of dressing over everything. Alternatively, drizzle the dressing with a teaspoon. Finally, place four or five tortilla strips on one side of the plate, inserting them slightly under the salad, and serve. 
If you're having a party, a fun idea is to arrange the salad on a large platter with serving utensils at hand. However you choose to serve this taco salad, it's sure to be the best one that you, your family, and your friends have ever tasted!
Taco Salad Recipe
Ready for a totally easy meal that's super customizable? This taco salad recipe is great for a weeknight meal and comes together in just half an hour.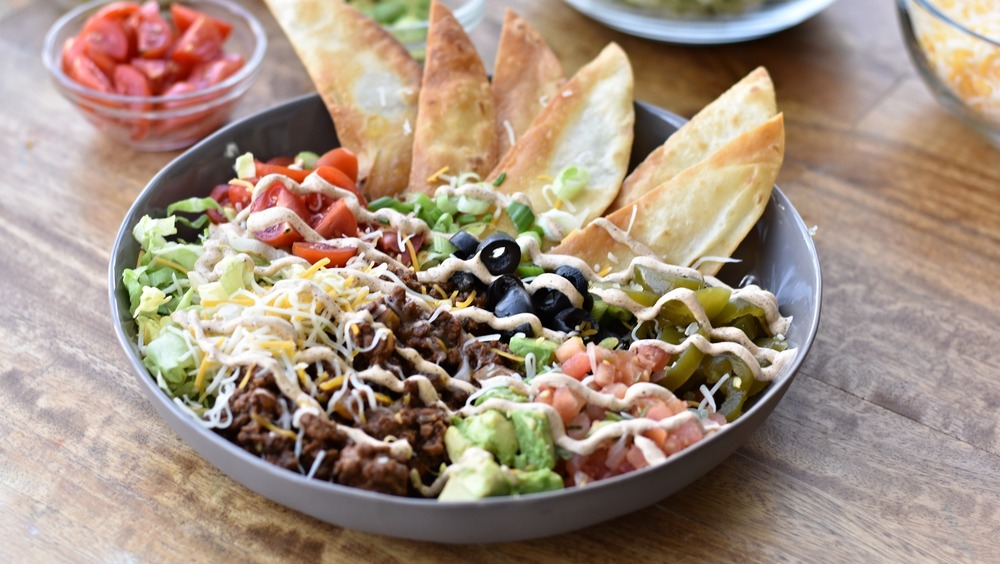 Ingredients
½ cup mayonnaise
¼ cup sour cream
1 tablespoon apple cider vinegar
½ teaspoon dried dill
1 ⅛ teaspoon Kosher salt, divided
1 tablespoon canola oil
2 tablespoons taco seasoning
½ yellow onion, chopped
1 to 1 ½ pounds ground beef (85/15)
1 can black beans, pinto beans, or kidney beans (optional)
½ cup taco sauce
Optional Ingredients
Tortilla strips or chips
Shredded lettuce
Sliced black olives
Sliced pickled jalapeños
Sliced green onions
Shredded Mexican cheese blend
Chopped tomatoes or quartered cherry tomatoes
Chopped avocado
Pico de gallo or other salsa
Directions
Combine the mayonnaise, sour cream, apple cider vinegar, dried dill, ⅛ teaspoon Kosher salt, and 1 tablespoon of taco seasoning in a bowl, and mix with a fork until the ingredients are well blended. Set aside.
Heat the canola oil in a skillet or heavy-bottomed pan over medium heat. Add the chopped onion and 1 teaspoon Kosher salt, and sauté until translucent and starting to brown.
Add the ground beef, and brown, breaking it up with a wooden spoon or spatula. When the beef is almost browned, drain as much fat as possible from the skillet. If you're using the optional canned beans, drain them and stir into the beef.
Add the remaining tablespoon of taco seasoning to the browned beef, and stir to completely coat the beef and onion. Stir in the taco sauce until thoroughly combined. Heat until bubbling, and remove the pan from the heat.
To assemble: Transfer servings of beef to the center of plates. Arrange the toppings around the beef. Drizzle the dressing over the salad, and garnish with the taco strips or chips. Alternatively, set up a taco bar with all of the toppings in individual bowls.
Nutrition
| | |
| --- | --- |
| Calories per Serving | 744 |
| Total Fat | 57.3 g |
| Saturated Fat | 16.1 g |
| Trans Fat | 1.7 g |
| Cholesterol | 119.4 mg |
| | |
| --- | --- |
| Total Carbohydrates | 23.7 g |
| Dietary Fiber | 8.4 g |
| Total Sugars | 2.8 g |
| Sodium | 827.7 mg |
| Protein | 31.7 g |