The Surprising Skill Joseph Gordon-Levitt Revealed On Hot Ones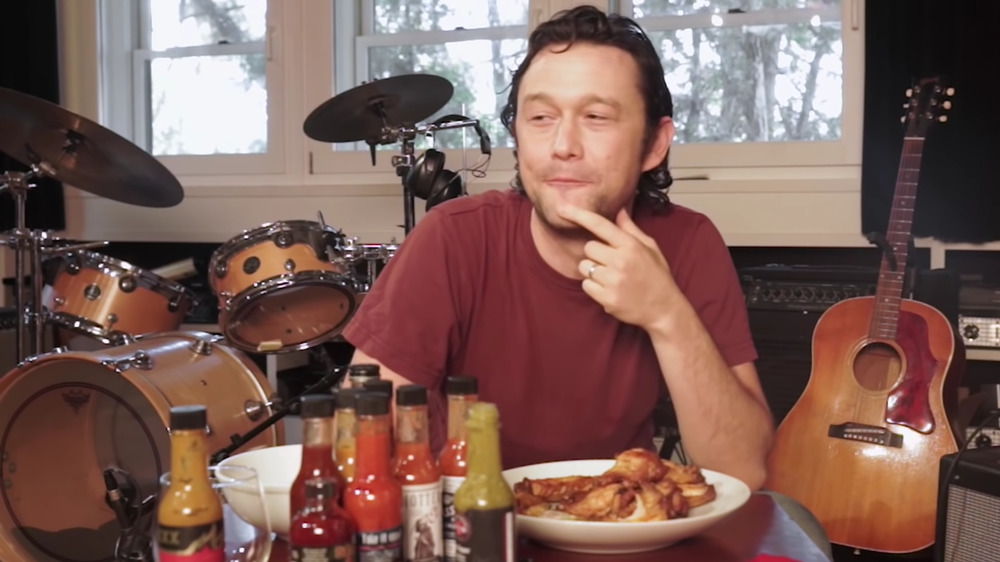 Joseph Gordon-Levitt's life kind of sounds like the opposite of Inception in that he seems to be living a dream that most of us couldn't achieve in our sleep. As a kid, he twinkled like the little star he was, landing such roles as young Norman in A River Runs Through It and Boy #1 on an episode of Murder She Wrote (via IMDb). Now that young boy is a #1 man. Far more than the flightless Robin to Christian Bale's Batman, Gordon-Levitt has cemented himself as one of Hollywood's most talented lead actors.
Gifted from head to toe, Gordon-Levitt is a writer, director, producer, and a fabulous singer (via YouTube). He also did a phenomenal job of pretending to sing Janet Jackson's "Rhythm Nation" and dropped jaws with his spectacular choreographed dance, according to The Guardian. And in an interview with People, the husband and father of two revealed that he puts his happy feet to even happier use by dancing with his sons on a daily basis, which makes him sound like equal parts Clark Kent and Superdad.
It might be hard to believe that a leading man who leads such a charming existence could have any more pleasant surprises hiding up his sleeve. (Doesn't the universe put a cap on per capita awesomeness?). But while Gordon-Levitt ate wings with increasingly tongue-torching sauces and photogenically sweated on the season 12 finale of Hot Ones, he discussed yet another impressive skill, one which we didn't see coming.
Joseph Gordon-Levitt takes clowning around seriously
Catching Gordon-Levitt off guard, Hot Ones host Sean Evans brought up the actor's years of extensive clown training (via YouTube). It turns out that while preparing for the Off-Broadway play, Slava's Snowshow, he learned the Russian art of clowning from performance artist Slava Polunin. This was a labor of love for Gordon-Levitt, who explained that Russian clowning is "a deep passion of mine that I don't really talk about."
Gordon-Levitt likened the performances to a Charlie Chaplin film with less slapstick, more sadness, and "the psychedelic color scheme of a Terry Gilliam movie." He called it "very, very real" and "very heartfelt," which he attributed to the costumes freeing performers to tap into deep emotions. He has plied his craft on Broadway and in France, and Gordon-Levitt said audiences don't really recognize him. Instagram images of him in clown makeup shared by Showbiz Cheat Sheet almost show the tears that normally hide behind a clown's smile.
His hidden clown love dovetails nicely with his affection for French culture. In 2015's The Walk, he portrayed Philippe Petit, a mime and street performer who entered the annals of funambulism by traversing a tightrope between the towers of the World Trade Center, per The Morning Call. Gordon-Levitt painstakingly trained under Petit, who not only taught him tightrope walking but how to ride a unicycle, according to the Motion Picture Association. So don't be surprised if you one day see Gordon-Levitt mime-climbing the M.C. Escher stairs from Inception.