Barilla's New Playlists Will Help You Cook Perfect Pasta
Cooking pasta is an art, and it deserves a culinary artist's touch at every step of the pasta cooking process. Get distracted and you wind up with limp, unattractive noodles no one wants to eat. If you are impatient, your pasta may end up having more of a crunch than a perfect al dente texture and taste. It's easy to make a mistake and mess-up your spaghetti, your fusilli, or your capellini. All of those different-tasting pasta shapes and their cooking times can make you crazy. Well, stress no more. Barilla and Spotify are showing us the intersection of the arts of cooking and music. The two companies have partnered up to create a collection of playlists so you can cook your pasta with perfectly timed music to give it the true artist's touch. 
Timing is everything when it comes to cooking pasta, which makes trusted pasta maker Barilla and music streaming giant Spotify a great combination in the kitchen. Per Marketing Dive, Barilla and Spotify have created the Playlist Timer to take the place of your kitchen timer. And not only does it serve as the countdown to alert you that your pasta is ready to drain, but it will also give you time to work on your favorite dance moves. (Did someone say running man?) Not to mention, you get to feed your ears with tunes that represent four of Italy's favorite music genres.
Jam out to perfectly timed Barilla pasta playlists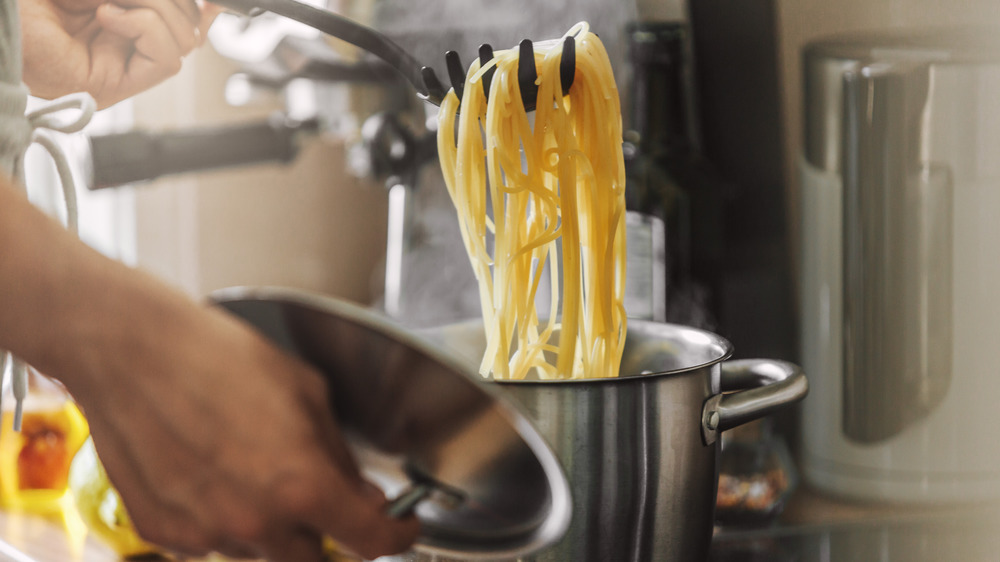 Shutterstock
Spotify and Barilla put some real thought into the pasta playlists, serving up a little something for everyone's musical taste buds. Marketing Dive notes that there are a total of eight different playlists that are dedicated to various types of pasta and their cooking times. Whether you are a fan of pop, hip-hop, indie, or classic music, there is a music playlist for you and your spaghetti, linguine, fusilli, and penne rigate. Check out "Mixtape Spaghetti" or rock out to "Boom Bap Fusilli." Feeling a little capricious? Cook some linguine and queue up "Moody Day Linguine."  And, if you are making some Pasta Puttanesca and need to cook up some penne rigate, they have you covered with "Best Song Penne." 
We are pretty excited to fire up the stove and our Spotify to put this new Barilla kitchen resource to the test. Honestly, it's an ingenious yet practical way to encourage music and pasta lovers to join the Spotify universe. This is not the music platform's first food rodeo. Spotify has also done campaigns with Campbell Soup's brand Late July and KFC.