Costco Fans Are In Love With These Chipotle Chicken Flautas
Don Miguel is already known as a king of snack foods, so this new Costco find sets some high late-night munchie expectations. This time we're all thrilled to try this tasty-looking twist on our regular flautas thanks to the added chipotle seasoning. Instagram account @costscodeals has sounded the alarm that Don Miguel's Chicken Chipotle Flautas have graced the shelves of Costco. And what could be even better than tasty chicken made into rolled spicy bites? The fact that these treats are currently on sale. "Perfect for a quick dinner or a late night snack! Grab this Don Miguel ABF Chipotle Chicken Flauta on sale for $7.49!! #deal ends 2/7!" the post read.
Normally available at Costco for $9.99, these 40-ounce packages feature 16 individual flautas that you can either microwave and serve or freeze according to package info. Made with all white meat chicken that's antibiotic-free, cheddar cheese, and mild chipotle chili, these savory snacks are served in a crispy flour tortilla. We'll admit, the level of crispiness is a little dependent on your cooking technique, and we foresee some air fryer taste tests in the near future.
Your old flautas and taquitos will take a back seat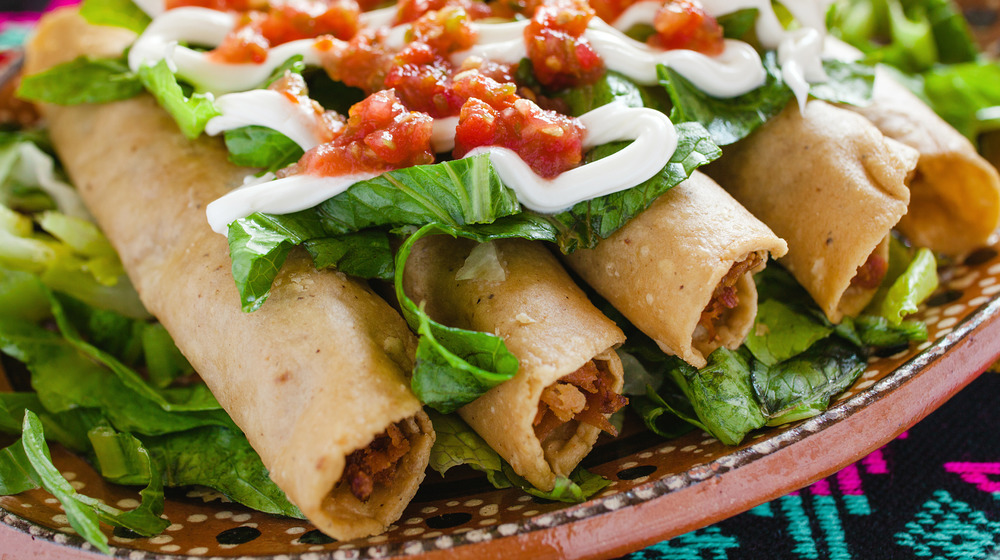 Shutterstock
But wait, what is a flauta anyway you ask? A flauta is kind of like a taquito, but not quite. Taquitos and flautas look quite similar at first glance. Both items contain a meat, often chicken, that's cooked and added to cheese and delicious Mexican-inspired seasonings. The meat filling is rolled inside a tortilla in a skinny tube, and then fried until crispy (via Fine Dining Lovers). The biggest difference is that taquitos are typically made with corn tortillas, and flautas are made with flour tortillas.
When it comes to the tastiness of these Don Miguel flautas, happy Instagram followers have described these as looking "bomb" and one longtime fan says, "For sure! I've been getting those for years! They're delicious with fresh guacamole and a salad," topping it off with a heart eyes emoji. Another fan suggeste dair frying the flautas for ever better results.
So, check out this sale before it's gone. We're excited to hear your favorite way to heat and enjoy!