These Chicken Flautas Have Costco Shoppers Divided
Street foods come and go, but nothing has won Americans over like flautas. According to Asenzya, flautas, or deep-fried taquitos, potentially originated from Sinaloa, Mexico and got their name due to their strong resemblance to flutes. These crispy treats get filled with shredded beef or chicken and come topped with shredded iceberg lettuce, tomato, sliced avocado, sliced onion, sour cream, cotija cheese, and whatever salsa you like, making for the perfect meal. If you struggle to find fresh flautas in your area, Costco has provided a solution.
Instagram user @costcobuys recently posted a picture of their latest find — a package of Sofia's Kitchen organic chicken flautas, alongside the caption "Have any of you guys tried these Sofia's organic chicken flautas? These are made with white meat chicken, black beans, a 3 cheese blend, and green chilis, all wrapped in a crispy flour tortilla! ($13.89)." Despite accruing over 1,500 likes, commenters haven't come to a consensus on the flautas. Some users loved the product, replying, "We love them! Add some salsa and the queso from Costco and it's the best! We even freeze them and they heat up and taste just fine!" and "Love them, toss them in the air fryer with a little sour cream to dip in. YummO." Others haven't quite warmed up, replying, "5/10" or "Not my favorite Costco meal."
Other considerations to keep in mind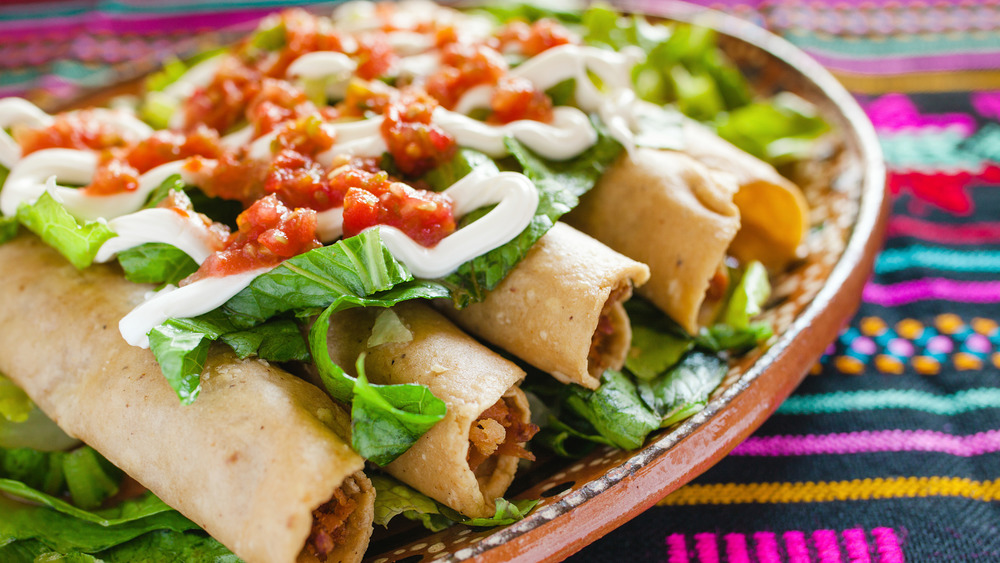 Shutterstock
While the taste has split Costco shoppers on this product, the nutritional benefits of this food leave something to be desired. According to Fooducate, a small 2.5 oz serving of these particular flautas packs in 13 percent of your daily fat and 14 percent of your sodium. While this small serving might work as a snack, eating several servings at once as a meal easily increases your fat and sodium intake, making for a nutritionally unwholesome experience. According to the Mid-Atlantic Permanente Medical Group, a diet too high in these substances greatly increases your chances of heart disease, making these flautas a potential long-term hazard.
Even so, when you want to send your tastebuds south of the border, nothing hits the spot like flautas. While Costco's latest Tex-Mex offering has left some shoppers a bit underwhelmed, others might argue that you can't beat this steal of deal. When you want to spice up your weekday meals or just indulge in a crispy snack, you could grab a pack of these flautas and see where you fall in the debate. If you do love them, just don't overdo it.