One Pan Tomato Basil Chicken And Rice Recipe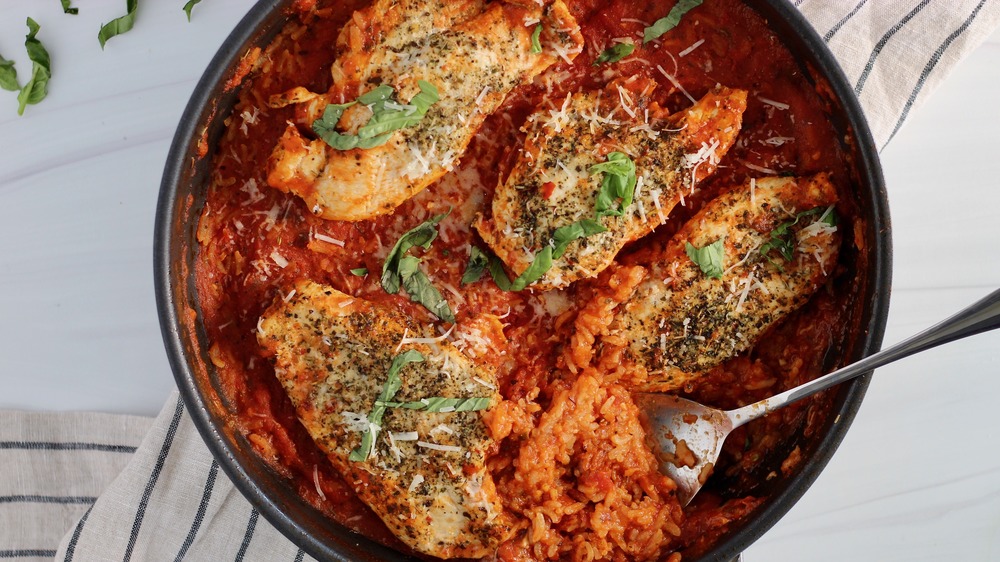 Mackenzie Burgess/Mashed
Chicken and rice, also known as "arroz con pollo" in Spanish is a popular Latin American dish. This simple dish can have various cultural twists depending on what spices or other ingredients are added.
Here, we've created one pan chicken and rice with a tomato basil twist. One pan recipes are about as easy as it gets when it comes to making a healthy meal. All ingredients are added to just one dish so it's super simple to make and allows for easy clean up. This one pan tomato basil chicken and rice calls for simple ingredients and is on the table in less than 30 minutes.
For many, when we say "chicken and rice," your mind is probably instantly reminded of basic, boring meal prep. Thankfully, this recipe is anything but bland. Simple additions like spices, sauce, browning, and toasting add major flavor. The low simmer cooking method helps the chicken turn out super juicy. Plus, this satisfying combo of protein and carbohydrates helps you feel fuller longer after meal time. Read on to see how to whip together this dinner in no time!
Check out other easy, healthy recipes by registered dietitian nutritionist Mackenzie Burgess on her blog at Cheerful Choices.
Gather your ingredients for one pan tomato basil chicken and rice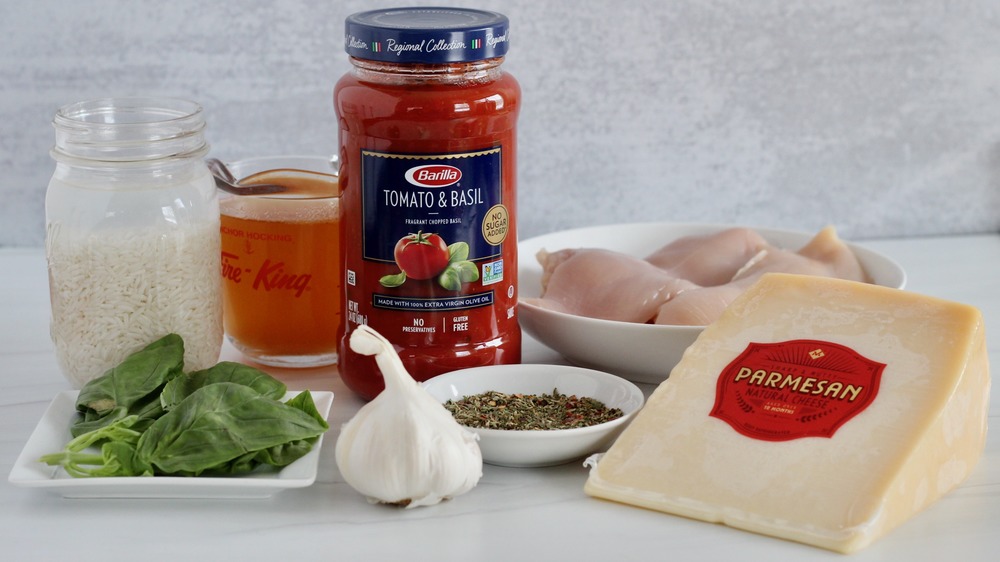 Mackenzie Burgess/Mashed
There are just ten simple ingredients used in this one pan tomato basil chicken and rice recipe. The recipe as written makes enough for four servings. If you are wanting to make more, simply use a larger pan and double the recipe.
Tomato basil sauce is typically associated with pasta, but for this recipe we are pairing it with rice. The rice cooks in this sauce and soaks up all the vibrant flavor. If you can't find a tomato basil variation, you can also use any other favorite tomato sauce you have.
The main prep work in this recipe is mincing the garlic. If you don't have time to do this or don't want to get your hands smelling garlicky, you can use pre-minced garlic.
Rub the chicken with spices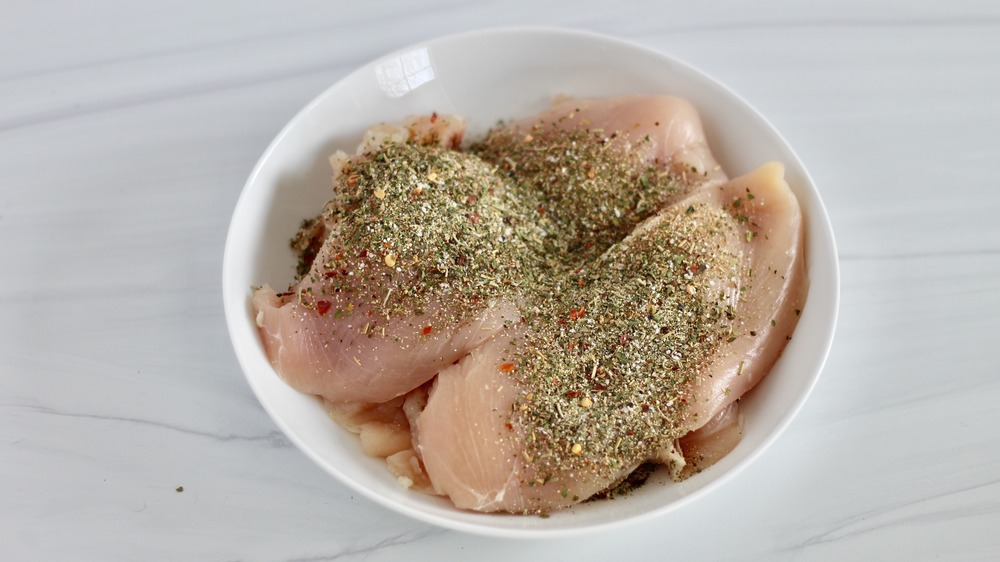 Mackenzie Burgess/Mashed
Fist, place your chicken breasts in a large bowl. When we were creating this recipe we used two large chicken breasts that equaled one pound. From here, we butterflied the chicken to create four equal size pieces. You can also use large chicken breasts, chicken breast cutlets, or chicken tenders.
Then, add 1 tablespoon of any spice mix or seasoning mix of your choice to the chicken breast. This means you can use any of your favorites stored away in the pantry. You can also make your own by combining a mixture of Italian seasoning, smoked paprika, garlic powder, onion powder, salt, and ground pepper.
Whatever spices you choose, you'll add 1 tablespoon to coat all sides of the chicken breast. This helps prevent bland chicken and adds major flavor when cooking.
Sear the chicken to golden perfection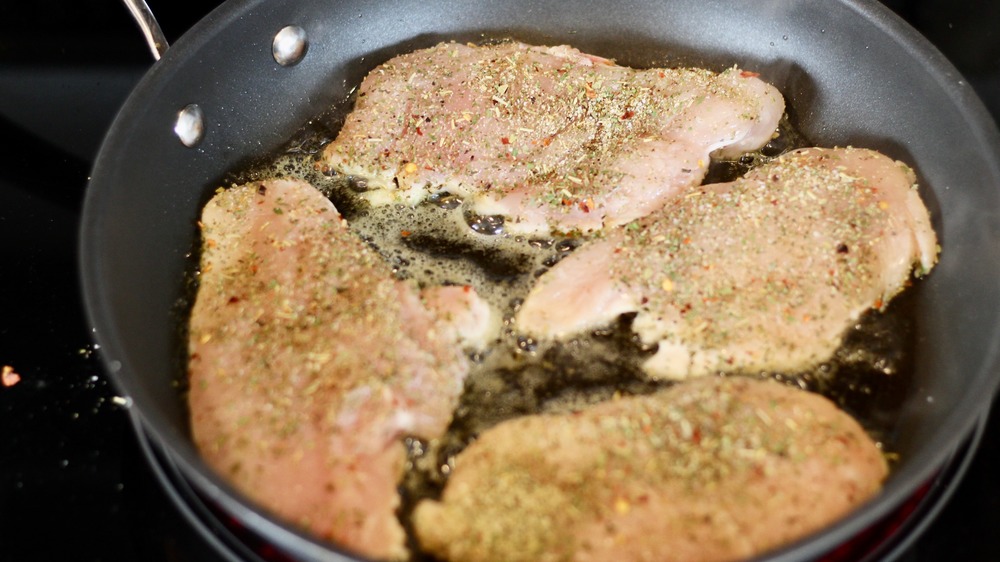 Mackenzie Burgess/Mashed
Once your chicken breasts are coated, add them to a hot pan with oil and sear to perfection on medium heat. We recommend using a large sauté pan that is about 9 inches to 11 inches wide in order to fit all the chicken breasts. Make sure you have a lid to fit this pan as well.
It will take about 1-2 minutes per side to get the chicken golden brown. This chemical reaction of browning, known as the "Maillard reaction," helps bring out all those wonderful savory flavors and aromas. Keep in mind, you will not be fully cooking the chicken at this step. This step just gets a nice sear on the chicken and then it will be fully cooked later on.
Add the rest of the ingredients for your one pan tomato basil chicken and rice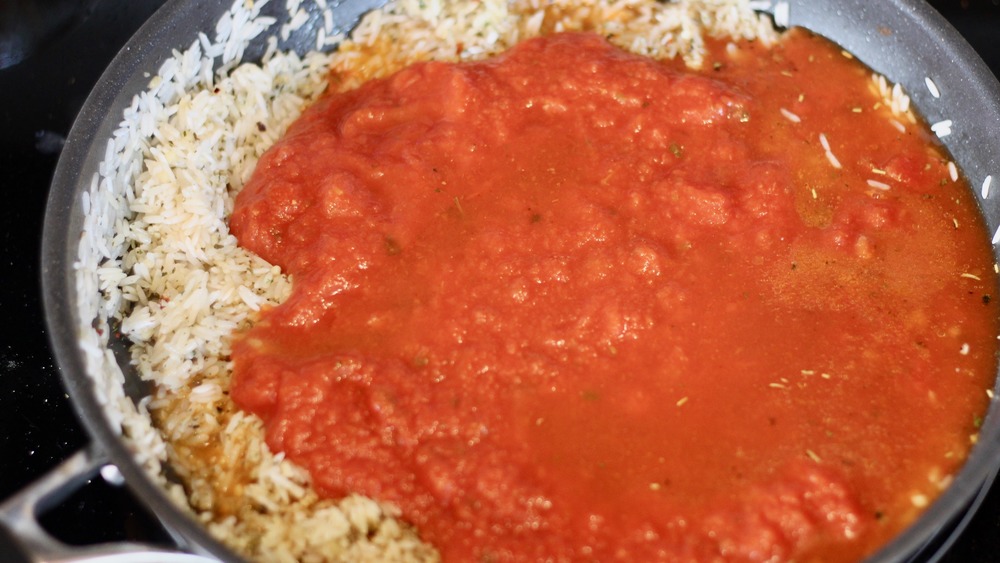 Mackenzie Burgess/Mashed
Once the chicken is seared, set it aside for later. Since this tomato basil chicken and rice is a one pan recipe, keep the same pan — no need to clean it. Add another 1 tablespoon of spice mix, garlic, and rice to the pan. Toasting the rice with these aromatics helps bring out a subtle nuttiness.
In this recipe, we like to soak the rice. You can do this by simply adding your rice to a mason jar and pouring water on top. Let this sit for 30 minutes or up to overnight. Soaking the rice helps make it extra fluffy and cuts down the cooking time. If you forgot to soak the rice, just add in dry.
Over the rice, add your tomato sauce and vegetable broth. Give it a good stir and let it come to a simmer. Once it's simmering, bring the heat down to low. Now add the seared chicken breast back in and cover the pan with a lid. This low simmer will perfectly cook both the chicken and the rice.
Simmer the one pan tomato basil chicken and rice until cooked through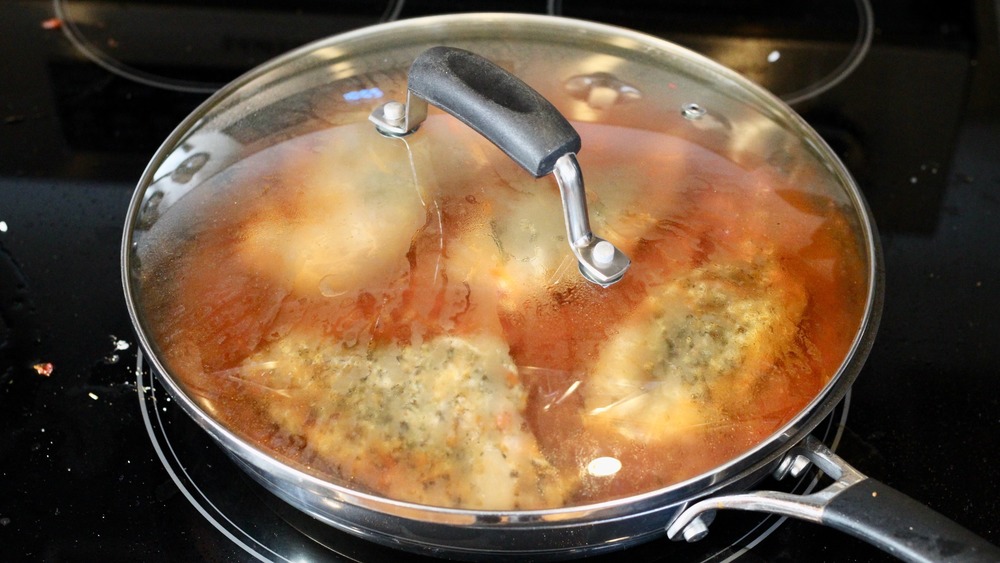 Mackenzie Burgess/Mashed
Once you add your lid on top of the pan, resist the urge to remove the lid to check on it. Removing the lid lets all the steam escape and can create dry chicken and uncooked rice. After 15 minutes has passed, then remove the lid and fluff the rice. Ensure the chicken has reached an internal temperature of 165 degrees.
If you notice any browning on the rice at the bottom, this is perfectly fine. This scorched rice, also known as "tah-dig", is super delicious and extra crunchy.
Top the chicken and rice with lots of basil and parmesan cheese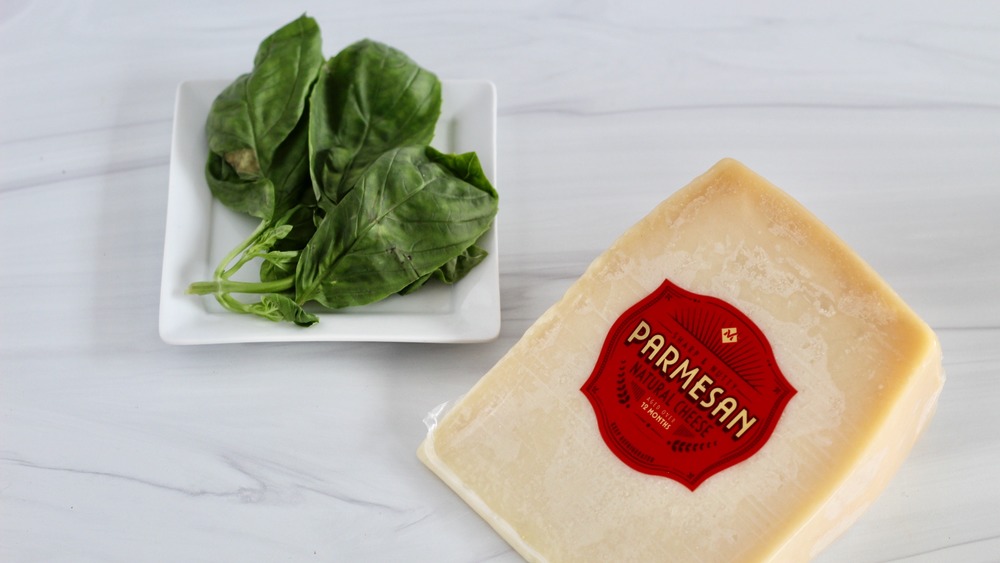 Mackenzie Burgess/Mashed
Once everything is cooked through, add your toppings for one pan tomato basil chicken and rice and serve hot. We recommended topping with fresh sliced basil and lots of shredded parmesan cheese. This helps add to the overall Italian tomato basil flavor.
This one pan recipe is a nice dish to place in the center of the table and have everyone dig in. Serve with steamed broccoli, roasted veggies, or a tossed mixed greens salad to pump up the nutrition of the meal and get your vegetables in.
You can also meal prep this recipe to eat on repeat throughout the week. Any leftovers can be stored in an airtight container in the fridge for up to three days.
One Pan Tomato Basil Chicken And Rice Recipe
One pan is all you need for this simple tomato basil chicken and rice recipe. Its simplicity delivers big flavor that is sure to be a dinner time hit.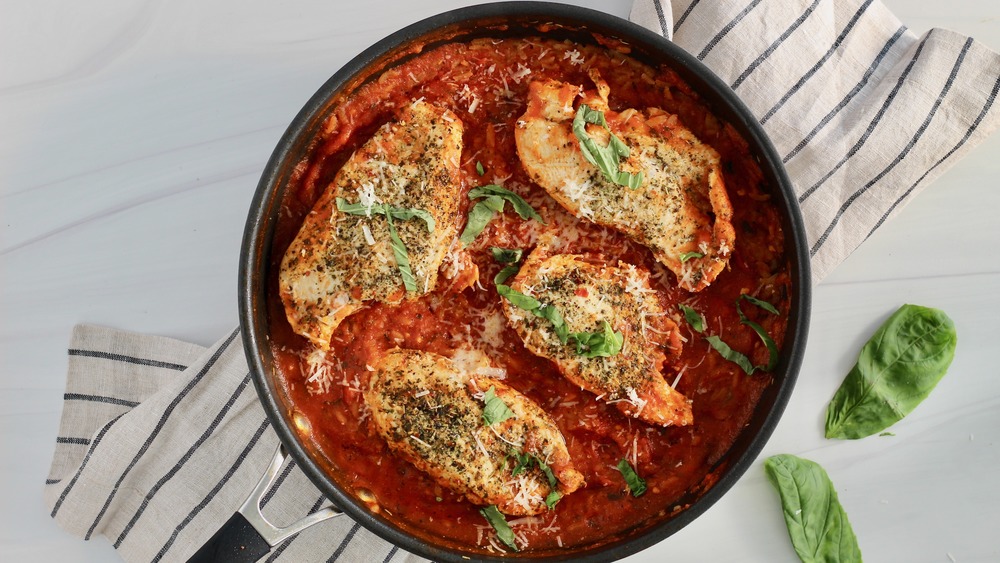 Ingredients
2 tablespoons oil
1 pound boneless skinless chicken breast
2 tablespoons spice mix of your choice, divided
2 large cloves garlic, minced
1 cup white rice, uncooked and soaked for 30 minutes to overnight
2 cups tomato basil sauce
1 cup vegetable broth
parmesan cheese, shredded (for topping)
fresh basil, thinly sliced (for topping)
salt and pepper to taste
Directions
Heat 2 tablespoons of oil in a large pan over medium heat.
In a large bowl, add chicken breasts and rub with 1 tablespoon of the spice mix and salt until all sides are completely covered.
Add chicken breasts to the heated pan and cook for 1-2 minutes on each side until browned but not cooked through. Remove and set aside for later.
In the same pan, add the remaining 1 tablespoon of spice mix, garlic, and rice. Toast for 1 minute until fragrant.
Pour over tomato basil sauce and vegetable broth and stir together. Let everything come to a simmer then turn heat to low.
Add chicken breast back into the pan, cover with a lid, and let simmer for another 15 minutes until everything is cooked through. (Ensure chicken breasts reach an internal temperature of 165 degrees.)
Top with Parmesan cheese, fresh basil, and enjoy hot!
Nutrition
| | |
| --- | --- |
| Calories per Serving | 449 |
| Total Fat | 12.4 g |
| Saturated Fat | 1.5 g |
| Trans Fat | 0.0 g |
| Cholesterol | 85.4 mg |
| | |
| --- | --- |
| Total Carbohydrates | 51.1 g |
| Dietary Fiber | 3.2 g |
| Total Sugars | 7.3 g |
| Sodium | 843.8 mg |
| Protein | 31.0 g |